One of the top wedding fashion trends this year is mirror work. Yes, the reflecting, silver embroideries are back with a bang. We have spotted breathtaking beautiful mirror work dresses worn by everyone from celebrity to real brides. They are pretty amazing and can be custom created to look both effortlessly chic, and the very essence of the glamorous-lit.
You must have a mirror-work dress in your wardrobe this season. May it be a saree, a lehenga, a shalwar suit, a jacket, or a maxi dress… you need these silver adorned reflected embroidery work to raise glances wherever you go. As shown in the pictures below, many brides and bridal fashion designers are using the mirror work embroidery as the latest fashion inspiration. Nomi Ansari, in particular, showed that he really can work with almost anything and turn in to a colorful spectacle. He showcased some of his best inspired reflective glass decorated dresses at the Fashion Pakistan Week 2019, with the girl-next-door Maya Ali as his showstopper. International designers, too, showcased similar bridal gown at the New York Fashion Week 2019, and we also spotted them on the ramps of the Mumbai Fashion Week this year.
As we said, you can go full mirror-mirror, or have subtle touches to enhance your wedding outfit with glass work. It's, by no means, a new thing to happen, but it certainly got a makeover with triangular and cubic glasses more as the order of the day, instead of circular glass with the embroidered circumference.
Happiness for a girl is a pretty dress, for the right occasion. These embellished and glossy dresses are your ticket to be the best dressed at any function in 2019 before it gets overrun.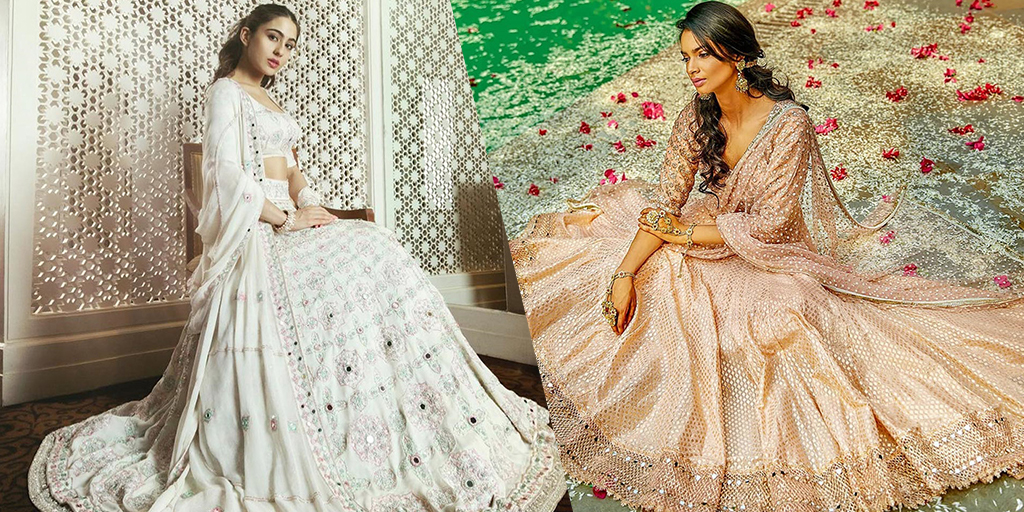 Mirror Work Motifs and Wedding Wear Is the Latest Fashion Chic
Description
Glossy and shiny mirror motifs, to make you the belle of any ball!
Admin
Bridals.PK
https://blog.bridals.pk/wp-content/themes/bridal/images/logo.png