Enameled jewels or more commonly known as meenakari jewelry is traditional gold jewelry enameled with bright colors. This particular type of jewelry never gets old because there is an endless number of colors and designs in meenakari that you can experiment with. Meena-work require detailing as well as the usage of gemstones which makes this art intricate. It is one of the more finer jewelry making techniques. Enameled or simply meenakari jewels are both vibrant and chic. The base metal can either be silver, brass, copper, and gold. The most distinguishing feature of this subtle type of jewelry making is that it can be molded to be appropriate for all kinds of formal occasions and weddings. 
There are two sub-branches of the subtle art of meenakari. One is called "Panchrangi Meena" while the other is known as "Ek Rang Khula Meena." As their names suggest; the former involves enameling jewelry with multiple colors while the latter involves using only a single color to paint jewels. "Ek Rang Khula" is usually used to make bridal jewelry whereas the second type involved multiple colors in order to make the jewelry suitable for multiple occasions. This field of jewelry making was invented by Iranian craftsmen and was brought to this region by the Mongols. If we have anything to thank the Mongols for its this. Meenakari jewelry will transport you to the time when Persia was an art center of the region and Persian poetry was read and admired all over the world. Here are some shots of millennial meenakari jewelry designs to make your day: 
These vivid images of beautiful meenakari jewelry are absolutely beautiful. Modern day brides should consider wearing vibrant meenakari jewels on their weddings in 2019. Did any particular jewelry article catch your eye? Truth be told, we are crushing on these jewels big time.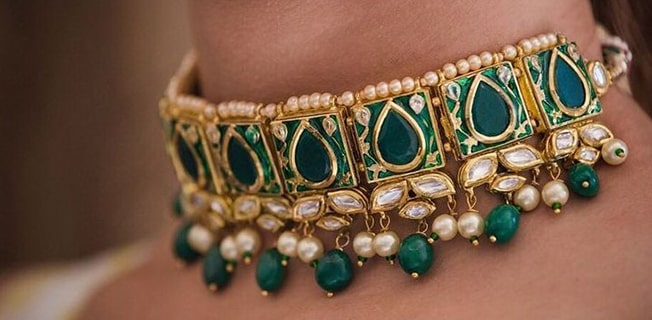 Beautiful Meenakari Jewelry Inspiration For Brides
Description
Chic meenakari jewelry for brides-to-be!
Admin
Bridals.PK
https://blog.bridals.pk/wp-content/themes/bridal/images/logo.png