Article by: Hazafa Hasan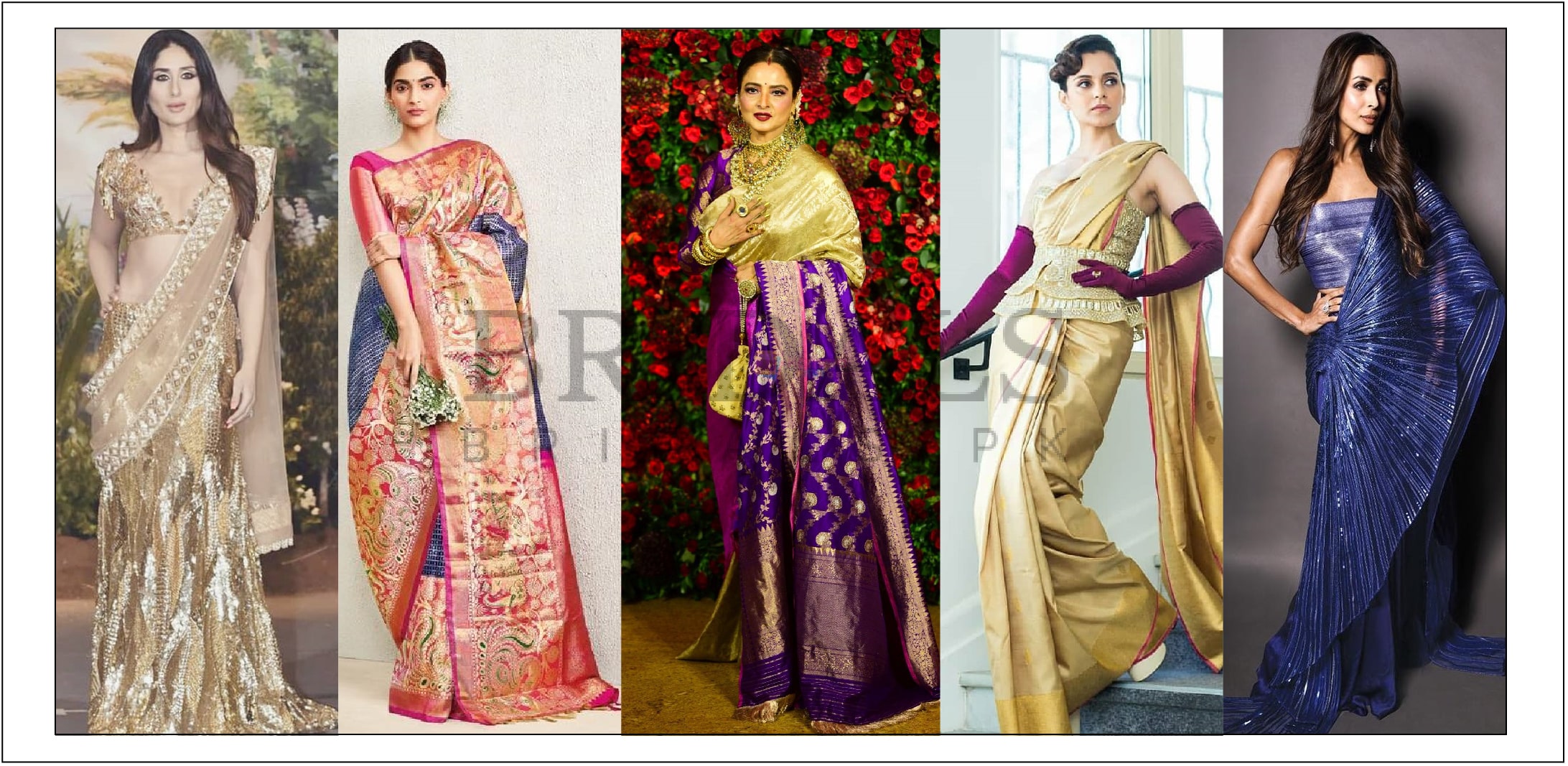 There's not even one single girl who doesn't remember the 90s diva Raveena Tandon drenched in rain – dancing to the beat of "Tip tip barsa pani" from the classic movie Mohra (yes, the image just replayed in our mind). And what was hard to miss was her yellow saree, which went viral overnight! Similarly, one can also not forget the spell casted by the charismatic late Sridevi jee in everyone's all-time favorite movie Chandani. This is a proof that this style staple is "THE" most classic and consistent wardrobe item when it comes to this (Asia) part of the world. The women of Bangladesh and India habitually wear the attire in their everyday routine.  Moreover, the breezy style of saree's is ideal for the blisteringly hot weather, which is why we thought that this would be an ideal time to review this style staple's looks from none other than the gorgeously stunning divas of Bollywood. After all, they exactly know how to manage their, "saree keh fall" like a pro. Observe:
As summer is progressing like no one's business, so are weddings! And we thought we at Bridals.pk should take charge of the situation and lend you a little helping hand! In this article, we have some of the best-worn sarees divided by their style quotient. You can take style notes from these Bollywood actresses as they dazzled in them by pairing their outfit with the best accessories and perfect hairdos to makeovers! They will be the perfect inspiration for recreating a head-turning saree look for this summer wedding season. Finally, straighten your slouch ladies and hold your breath in a little because it's time to get you drapin'!
Traditional Glory
How can we talk about traditional saree's and not mention a silk banarsi saree? After all, this is a staple wardrobe item that everyone should own. Regardless of one's complexion, age or physique; the right banarsi saree with a hair bun is a forever gorgeous style that always has your back. Scroll down to see how the original Umrao Jaan – Rekha Jee to the bold Kangna Ranaut, from the sensational Alia Bhatt to the charming Deepika Padukone and a few others show you how to steal the spotlight at a wedding with a traditional (not with a twist) look at its best!
Contemporary Chic
If you think all that golden luster isn't for you – you can still wear saree in a subtler way. Let these Bollywood beauties show you how to wear one in a more original way. These contemporary sarees are bolder with more delicate fabrics like sequins, chiffon, georgette, silk and THE LIST JUST NEVER ENDS!!! Simply, follow the suit as the (LITERAL) "Choti Rani" – Kareena Kapoor Khan leads the way like a queen and shows you how you can slay at a summer wedding without going overboard.
Contemporary Fusion
Over the years we've seen many A-list designers to different fashionistas add a twist to this traditional attire. For instance, Sonam Kapoor Ahuja is one name synonymous with being a pure style diva and that too for all the right reasons! Mrs. Ahuja along with her sister Rhea Kapoor (who also happens to be her stylist) time after time have shown us a variety of these contemporary fusion mashups and also how to carry them. After all, how can we forget Sonam's denim saree look – miss or a hit or yay or nay, both of these Kapoor sisters know how to make a fashion statement. Apart from them, there is Malaika Arora – who somehow always manages to look incredibly and effortlessly stylish, of course along with other beauties of the B-town!
We hope these outfits will resolve your conundrum of what to wear to the next wedding. Just pull out a good saree from your wardrobe or from your mother's – if not then even her mother's and you are good to go. That's another great thing about sarees what we at Bridals.pk simply love – they can become heirlooms if one has the right eye for them! In other words, sarees can be passed down to other women in the family. Provided that they don't look worn out and you have the right blouse and the accessories to match with it!
Spectacular in Saree: Style Cues from B-Town's Divas for A Summer Wedding!
Description
In this article, we have some of the best-worn sarees divided by their style quotient. You can take notes from these Bollywood actresses and how they carried their beautiful sarees like a pro.
Admin
Bridals.PK
https://blog.bridals.pk/wp-content/themes/bridal/images/logo.png