Crimson X Saira Shakira Is Hands Down the Prettiest Eid Collection So Far
May 23, 2019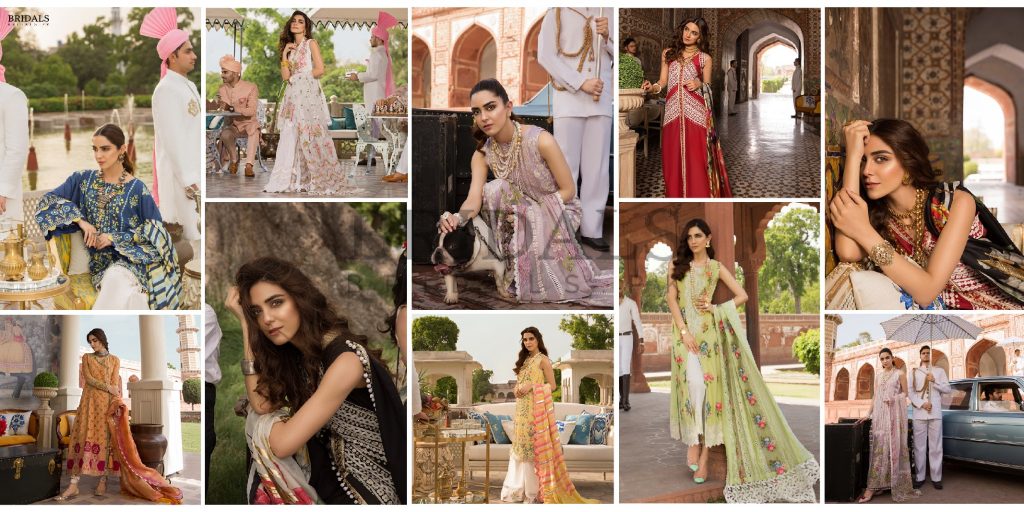 Article by: Hazafa Hasan
Crimson partnered up with the talented designer Saira Shakira and it's the best thing to have happened in lawn-athon underway in Pakistan. This year's Eid luxury collection is so fine that it's sure to make an immediate impression. Therefore, all you ladies who have recently gotten married and want to maintain their reputation of 'standing out' among the crowd (the in-laws) or all the one's who will soon be tying the knot and have a list of Eid dinners already aligned by the in-laws, which they have to grace with their presence – shouldn't worry, as this collection is their lifesaver! Actress Maya Ali was the law ambassador and the shoot for the campaign is lovely in all its nobility setting and intricate design patterns.
The clothes in this luxury line are appropriately festive and so feminine that they have bridal vibes written all over it. The color palette is tasteful and offers you many delightful options. This collection is the go-to option for all the Eid gatherings and BBQs which you have to attend – Why? (Well, aside from the fact it's really pretty – yes, it's worth mentioning repeatedly!) – that is something we leave on you to decide!
Above all, the art of hand printing mixed with organza applique and hand stitch inspired embellishing is really flawless in these clothes. After the recent comeback and popularity of mirror work, you will find that Saira Shakira has reimagined it quite nicely in this Crimson collection. The chata patti pattern is also a unique choice for lawn and it looks oh-so beautiful. Few designers have been able to up their lawn game as dramatically as the designer duo Saira Shakira.
(Video: Crimson Pakistan)
This collaborated collection incorporates a beautiful blend of vintage materials and contemporary styling and silhouettes. Scroll down to see everything lovely about this collection:
ENGLISH TAPESTRY – LAVENDAR
Eid fever is hitting it's peak and the struggle to find the right dress is endless. Or as a comic depicted:
What's more – if you do find the one, then comes the struggle with the tailors. You cannot get a tailor to agree to stitch your when Eid is just around the corner. He or she will probably cost you an arm to get your dress readied on Chaand Raat. We at Bridals.pk heartily approve this Crimson X Saira Shakira collection. Finally, we've also got our *fingers crossed* and are hoping we find an article before it's sold out! What are you waiting for???
Crimson X Saira Shakira Is Hands Down the Prettiest Eid Collection So Far
Description
Crimson X Saira Shakira collection incorporates a beautiful blend of vintage materials and contemporary styling and silhouettes. Click to see everything lovely about this collection:
Admin
Bridals.PK
https://blog.bridals.pk/wp-content/themes/bridal/images/logo.png