When it comes to heritage Indian bridal jewelry the first name that comes to mind is Sabysachi's. The legendary designer Sabyasachi has an uncanny knack for reinventing heritage Indian jewels, and reviving our medieval traditions through his designs. His jewels are made using the finest uncut diamonds, tourmalines and Kundan work in the land. His gold jewelry turns heads on runways and at weddings. Initially Sabyasachi was a bridal dress designer and as time elapsed, he realized that the local jewelry markets were not producing jewels that were worthy of being worn with his bridal dresses. Moreover, he felt that the local jewelry makers were straying from their primitive methods of designing jewelry. And consequently they were infusing modernity in their jewelry and deviating from their traditional methods. It is not essentially a good move in terms that a whole art form could end up forgotten.
Sabyasachis jewels are therefore purely conventional, unique and absolutely mesmerizing. Encrusted with precious gemstones to add a touch of royalty to them, these jewels will make you look like some kind of a deity. Some of his designs, though, have an oriental streak and are showcased on Chinese, Japanese or Korean models. He wished to attract international customers with these ideas and to demonstrate the rich heritage of India to all his overseas clients. His target market includes Bengali, Pakistani, Indian, oriental as well as European brides. There is worldwide acceptance for his campaigns because they include brides from all kinds of ethnicities and cultural backgrounds and he does not just feature "white skinned" models in his shoots. Here are some timeless treasures from his collection of necklaces and chokers:
These are some of Sabyasachi's regal bridal necklace designs. And we love every bit of these eternal beauties! Sabyasachi never ceases to impress us!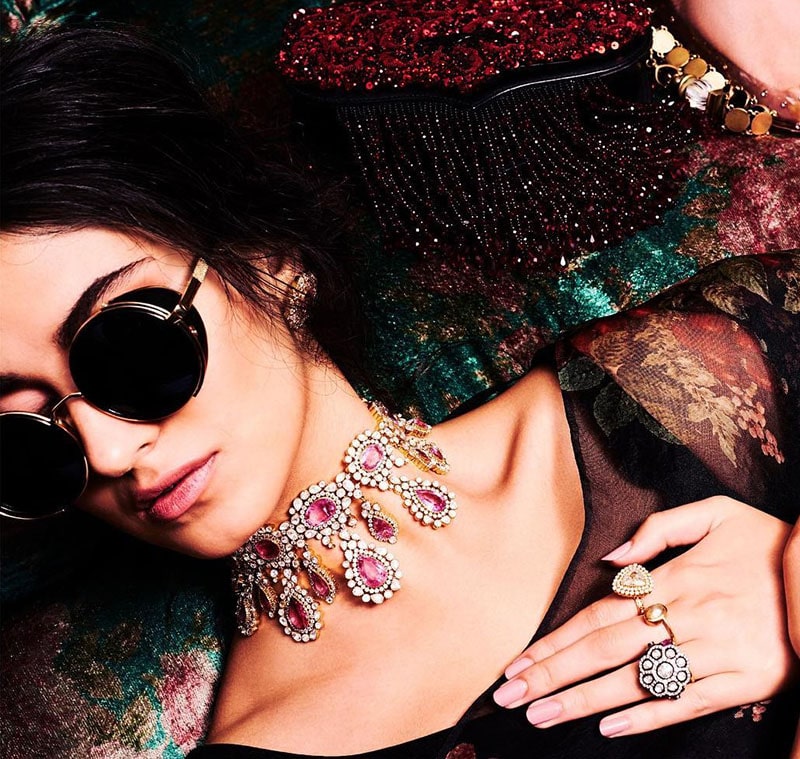 Stunning Bridal Necklaces by Sabyasachi That Are Fit For Royalty
Description
These necklaces will tug at your heartstrings and beguile you. Take a trip down memory lane with these heritage necklaces by the jewelry guru himself: