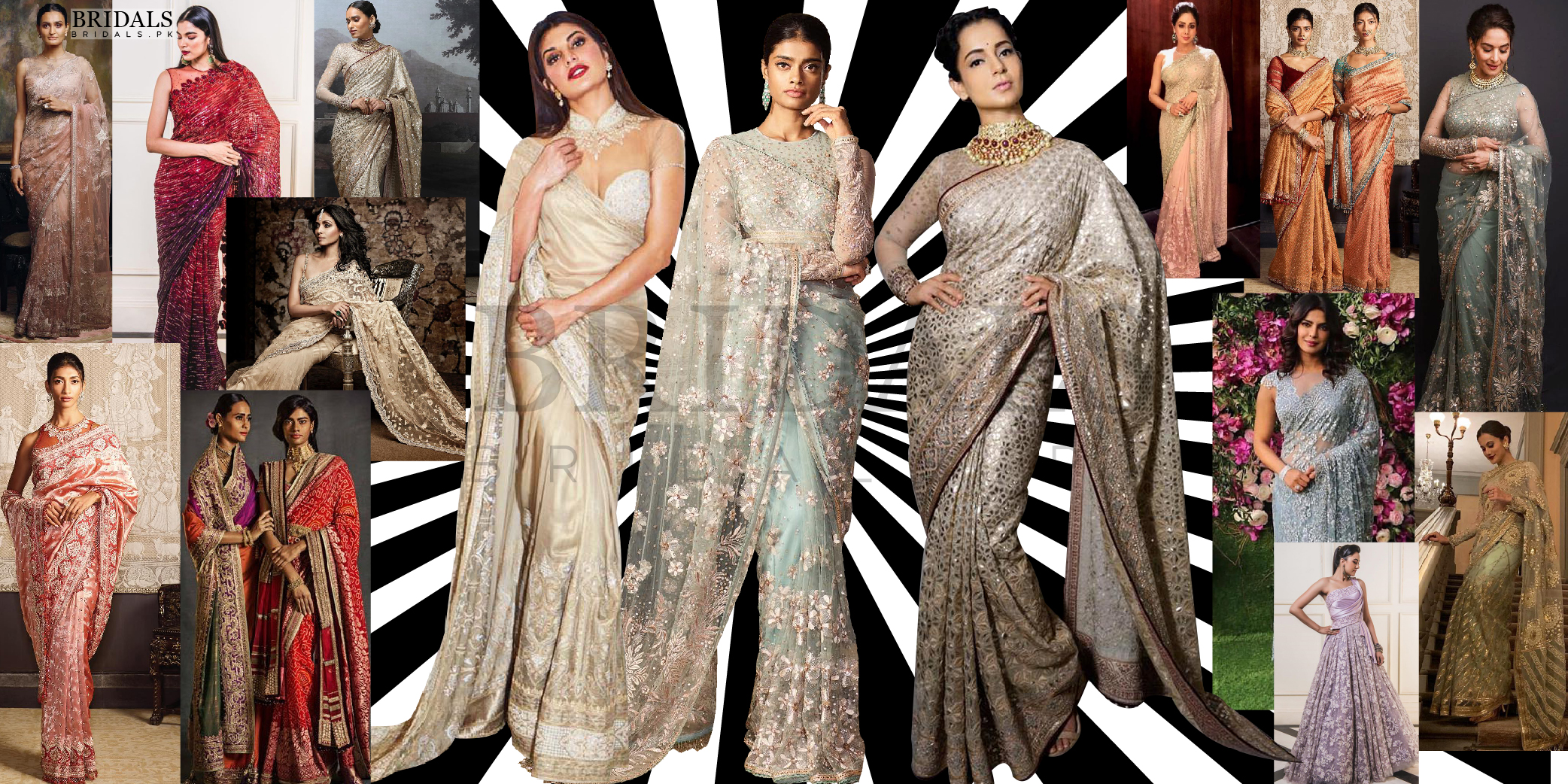 Article By: Ayesha Matloob
The Indian Bridal Couture maestro Tarun Tahiliani is indeed a legend! We all remember that one time he amazed us all at the Indian Couture Week (ICW) 2018 when he showcased 70 beautiful bridal outfits while others designers only displayed 15-20 of their creations. Tarun Tahiliani is an ocean of ideas just waiting to be realized into apparels. Over the years he's left us all stunned with his remarkable Swarovski crystal work, his chikankari lehengas and zardozi embroidery.
The intricacy and fine detailing in his work is extraordinary which is why celebrities such as Madhuri Dixit, Kajol Devgan and even Priyanka Chopra Jonas fall under his client list! Other celebrities who don on his sarees from time to time are Deepika Padukone, Jacqueline Fernandez, Kangana Ranaut and even Alia Bhatt! Tahiliani expertly introduces modern elements to traditional apparels.
Moving chronologically let's take a look back at some of Tahiliani's iconic sarees!
1. Bloom Collection
His most recent collection "Bloom" from India Couture Week 2019 is all about "bloom sarees" and features floral sarees as well as sarees in various shades of aqua as well as a breathtaking rouge saree. These sarees feature floral motifs made of delicate organza and silk on their Italian tulle bases. As his signature, Tarun Tahiliani has added Swarovski crystals to each saree that glisten like diamonds in daylight. Here are some designs from the "Bloom Collection."
2. Peacock Teal From AW'19
Tarun's Autumn-Winter Collection 2019 featured a vibrant blue draped saree which still has our hearts and minds fixated on it! Not only does this collection has draped sarees but it also has other Indo-Chic ensembles and other drape silhouettes that you will love!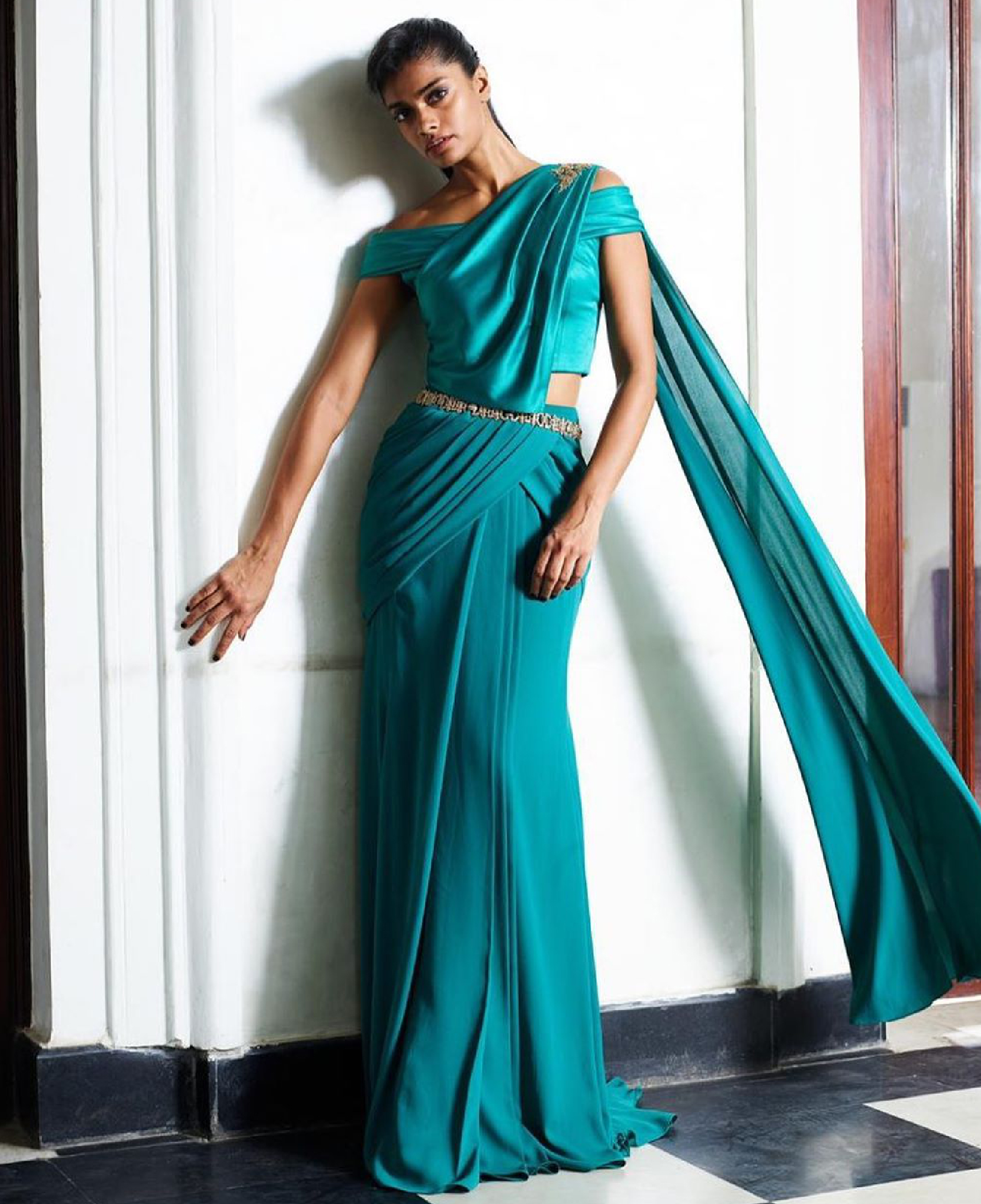 Photo: Instagram (@taruntahiliani)
4 . The Gold Series
Quite recently Tarun posted a series of gold colored sarees that he has designed in the past year and here they are:
This gossamer tulle saree was artfully made using intricate ari work and has a crystallized Swarovski border. This stunning piece is from his bridal and Couture Collection 2010 and features the sexy Lisa Haydon: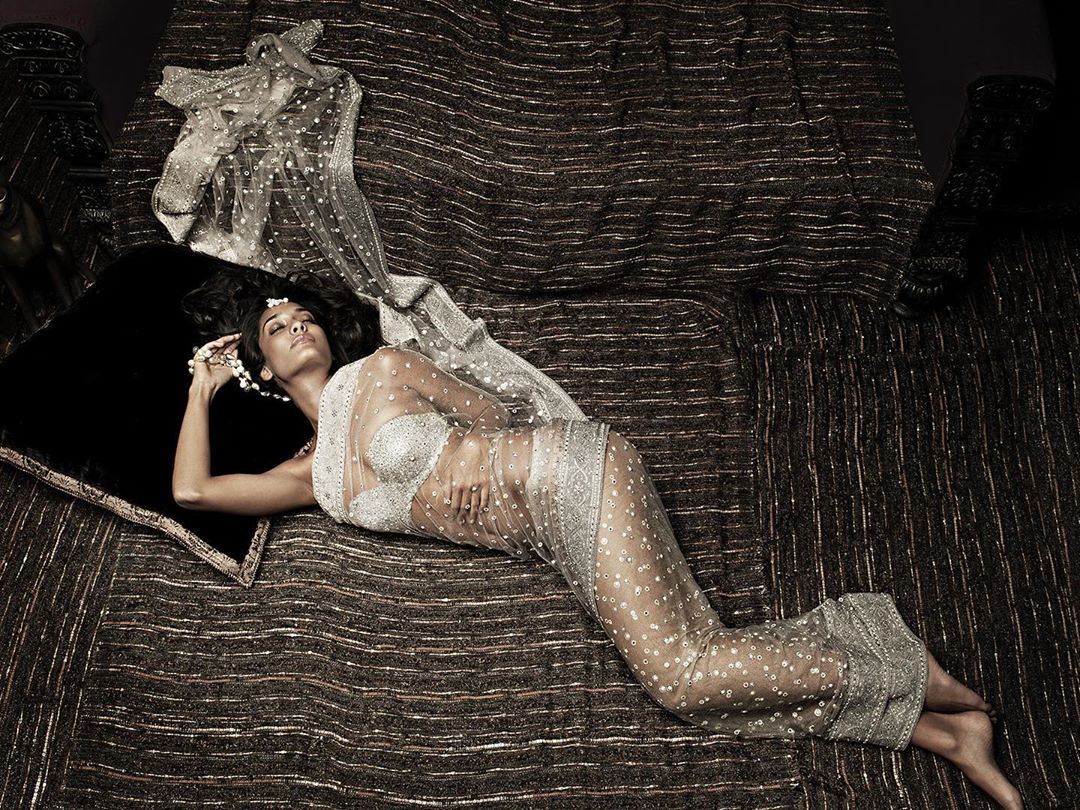 Photo: Instagram (@taruntahiliani)
This mesmerizing collection featured a truly drop-dead gorgeous saree made of sheer silk and embellished with Swarovski appliqué. It features the beautiful Kalyani Chawla and was part or his Bridal and Couture Collection 2011: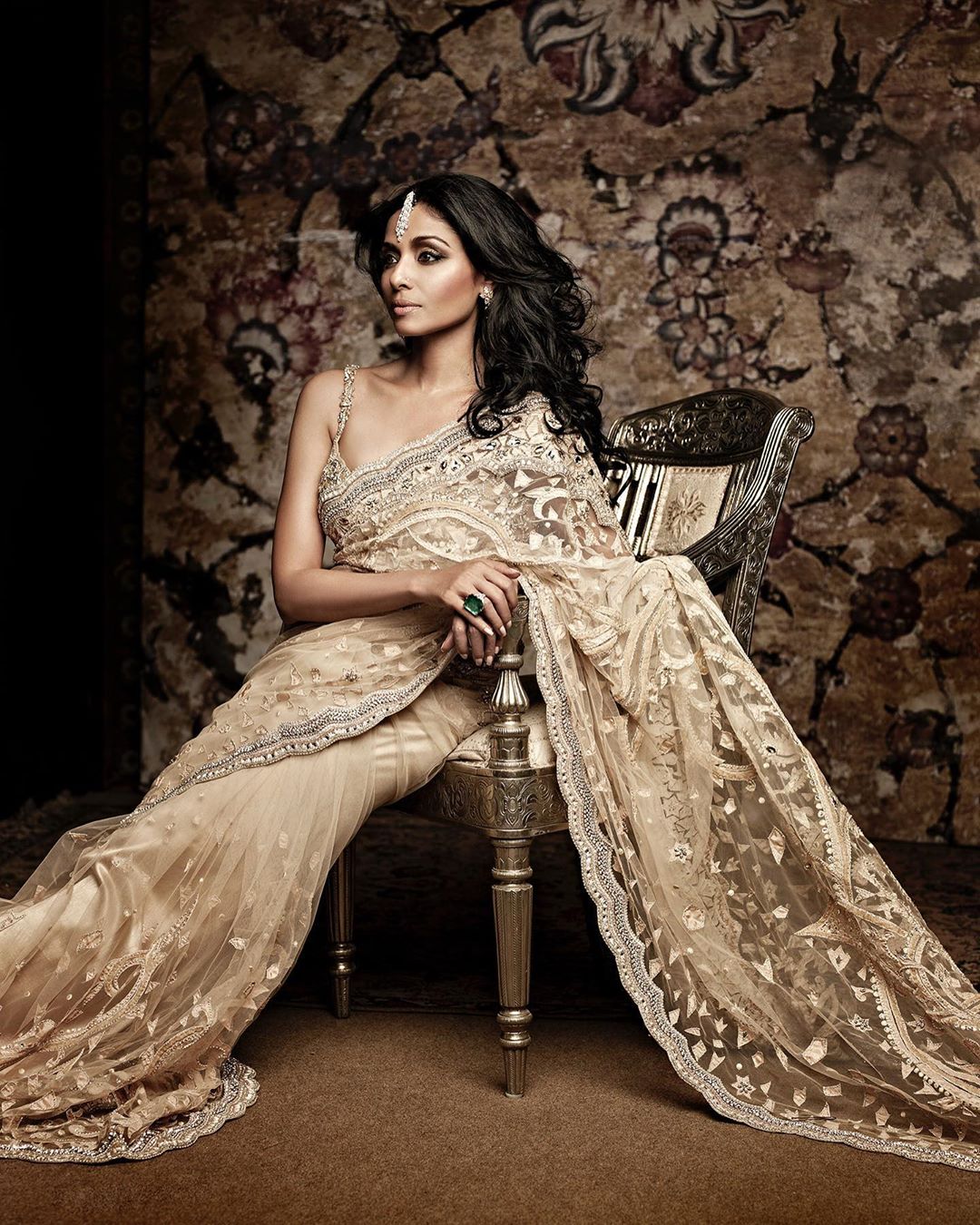 Photo: Instagram (@taruntahiliani)
This saree was part of Bridal and Couture Collection 2010. Its dull gold pharaonic sheathing will transport you to the age of the Nile! This saree is embellished with crystallized zardozi and the charismatic Hemangi has added even more charm to this beautiful gold saree.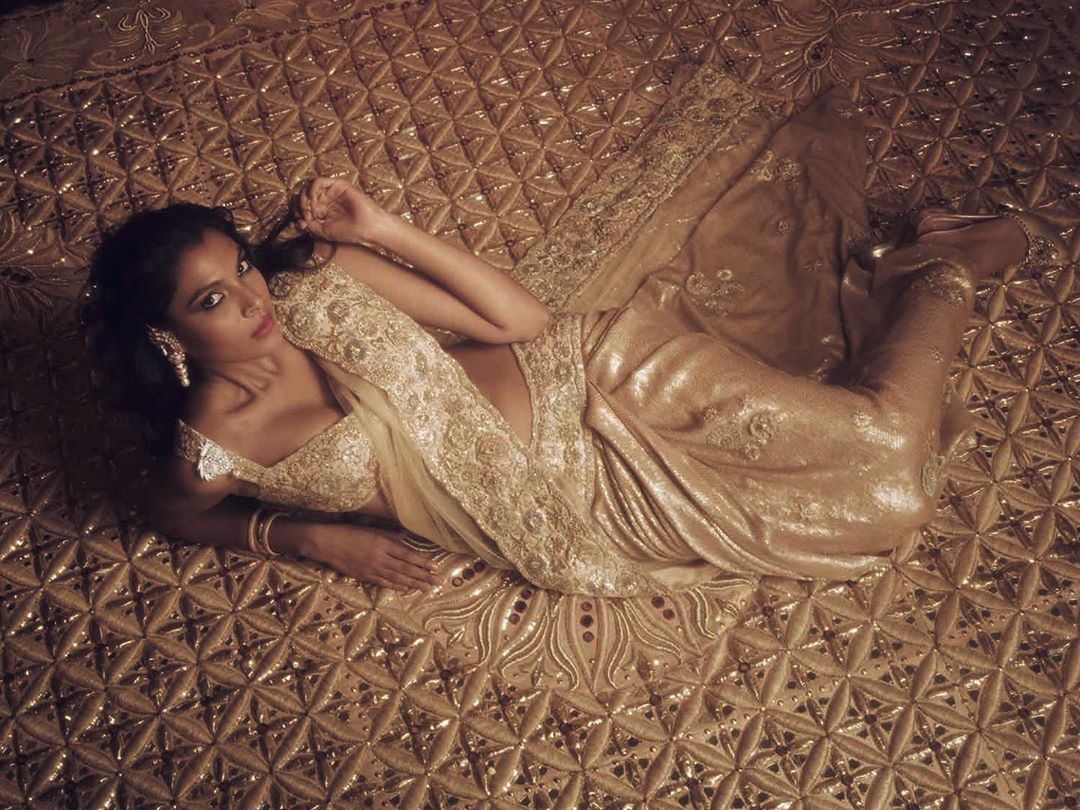 Photo: Instagram (@taruntahiliani)
4. Hand Embroidered Sarees
These designs are slightly more recent as compared to the rest and belong to Tarun Tahiliani Couture. Here are some sarees from Tahiliani Couture 2019. These sarees are made using Lamé tissue and is embroidered with silk and gota. Don't these models look decadent?
5. India By The Nile
Tarun's Spring-Summer 2019 Collection was inspired by the land of the Nile and had a hint of Ancient Egyptian silhouettes and handwork in the drapes. All the models wore floral wreaths and the sarees all reflected the hues of Ancient Egypt. Here is a sarees from the India by The Nile Collection: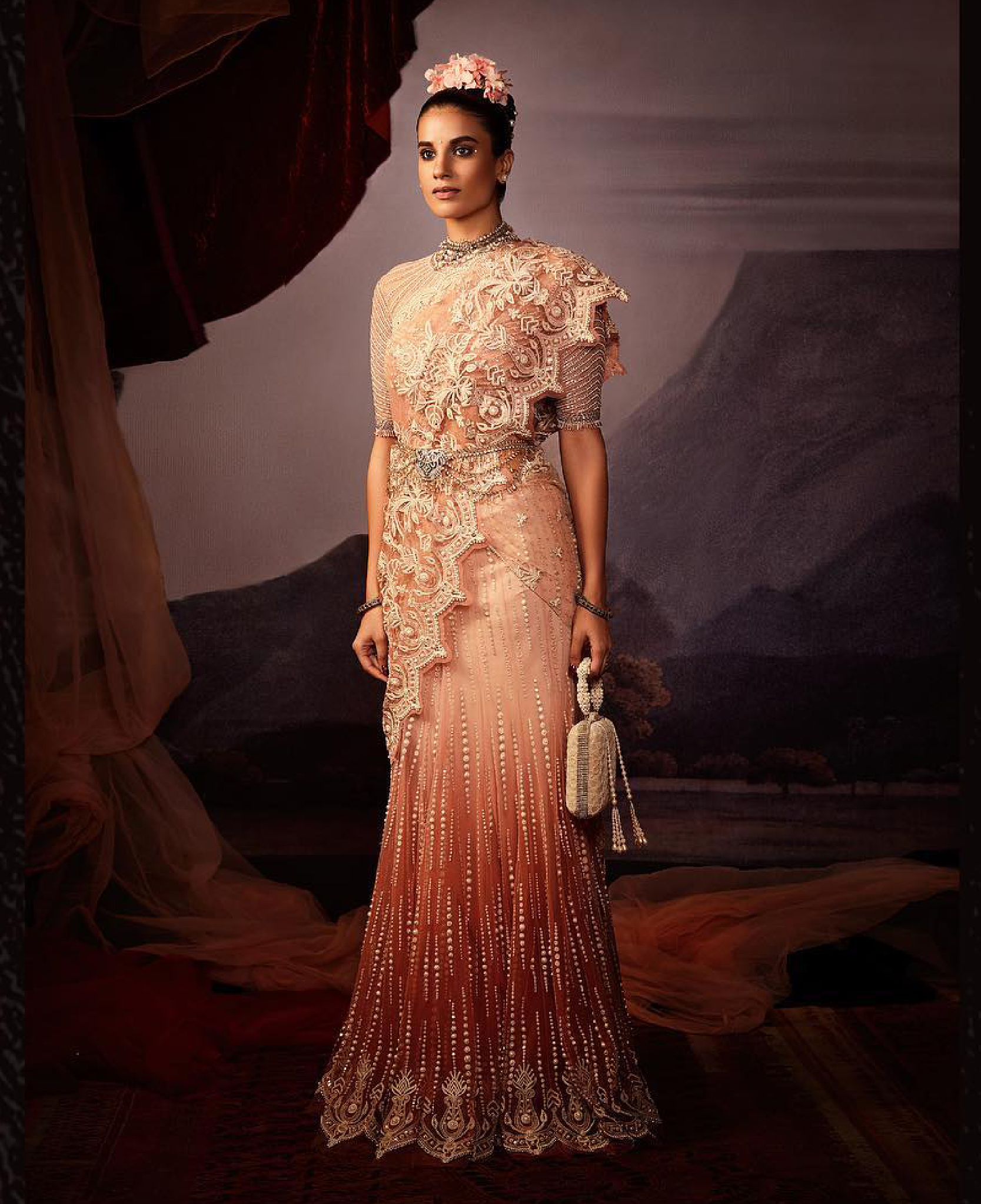 Photo: Instagram (@taruntahiliani)
 6. Handloom Brocade Sarees
The saree Guru that he is, Tarun Tahiliani has also designed traditional brocade sarees with zardozi borders embellished with tassels. These sarees are tastefully paired with silk velvet and brocade blouses. When worn with a classy choker, these sarees simply come to life!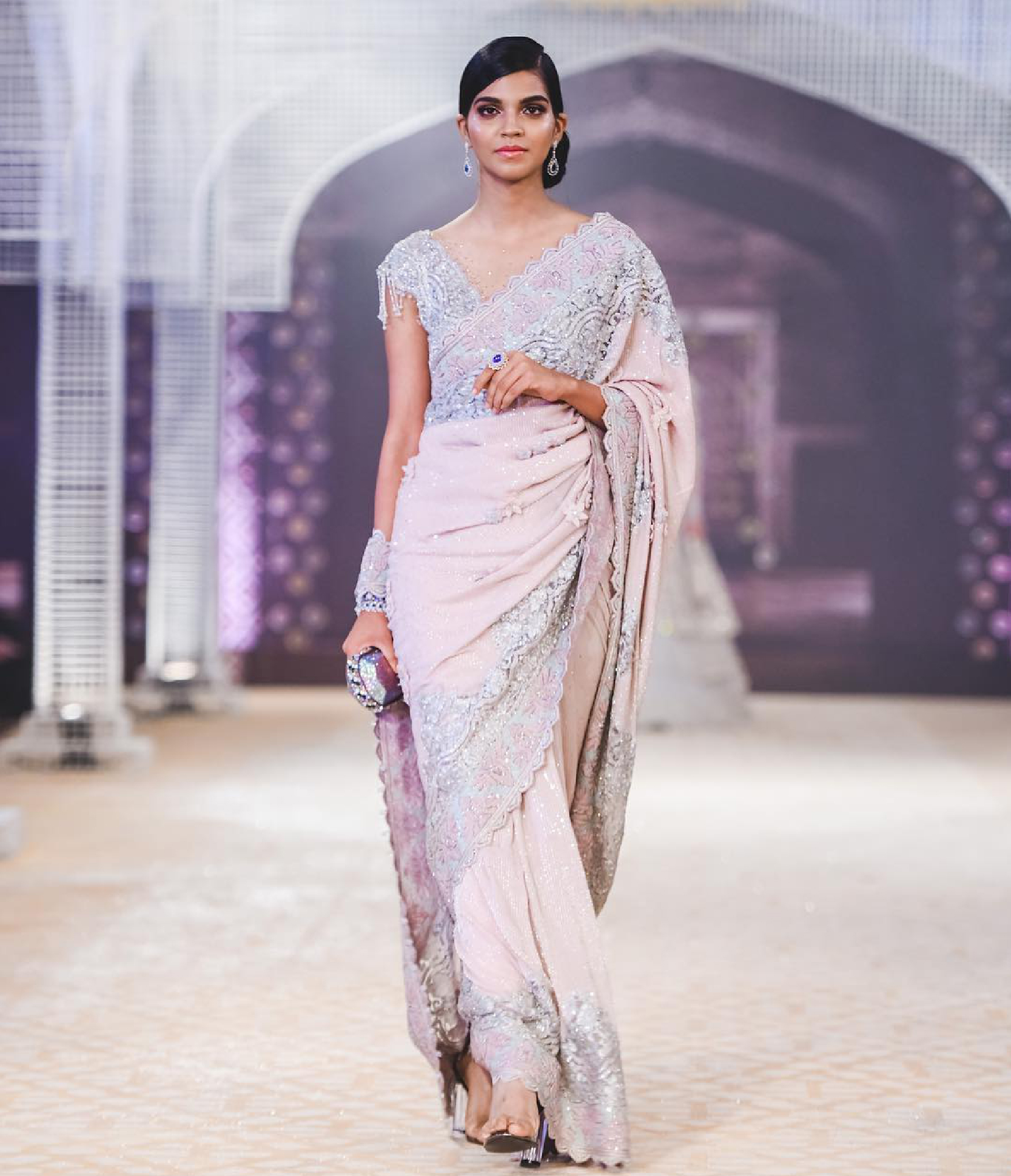 Photo: Instagram (@taruntahiliani)
7. Celebrities Spotted in Signature Tarun Tahiliani Sarees
Here are some celebrities looking graceful in custom-made Tarun Tahiliani sarees:
Madhuri occasionally clothes herself in Tarun Tahiliani sarees. Here are some of her most elegant looks by the ace designer: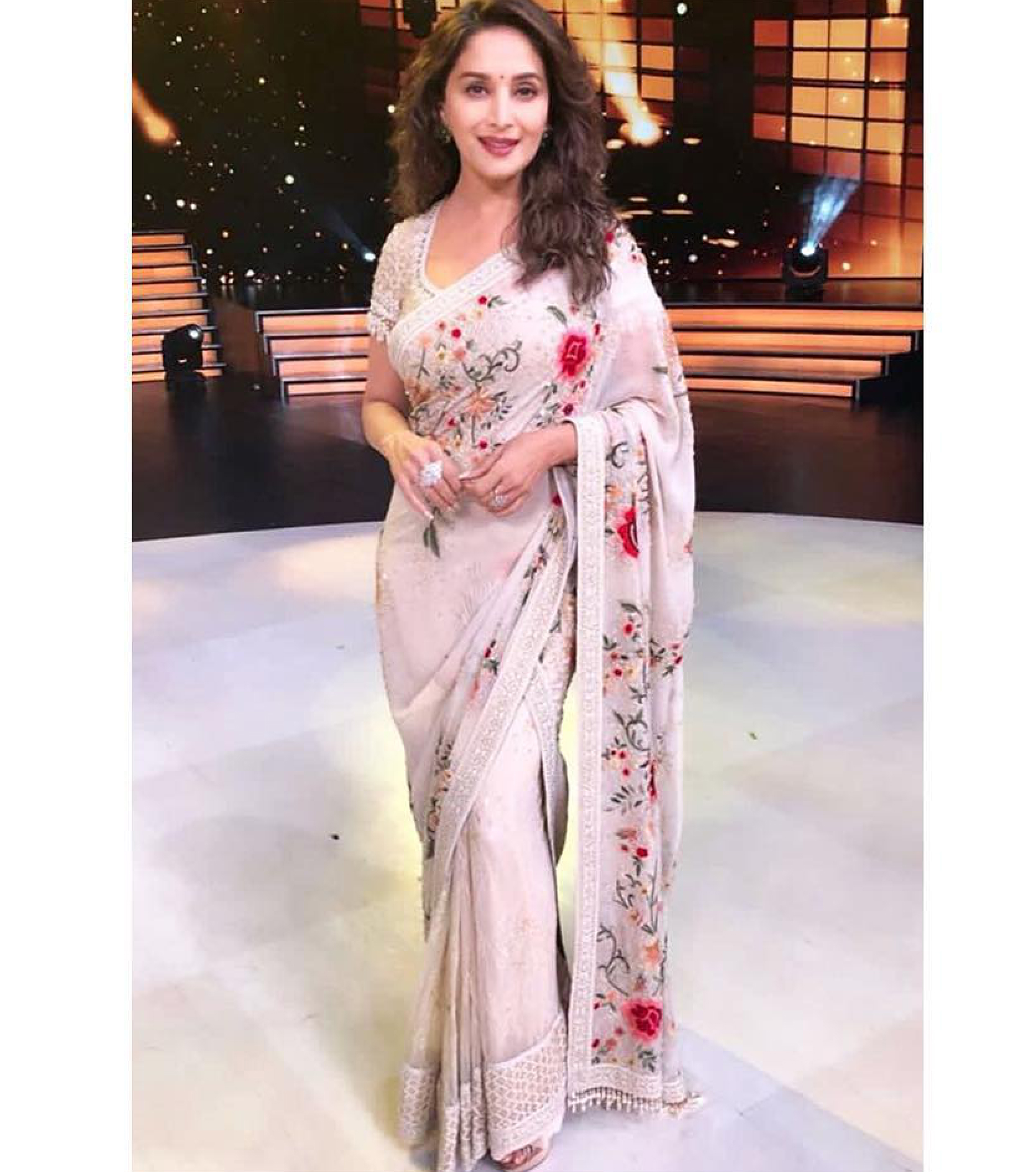 Photo: Instagram (@taruntahiliani)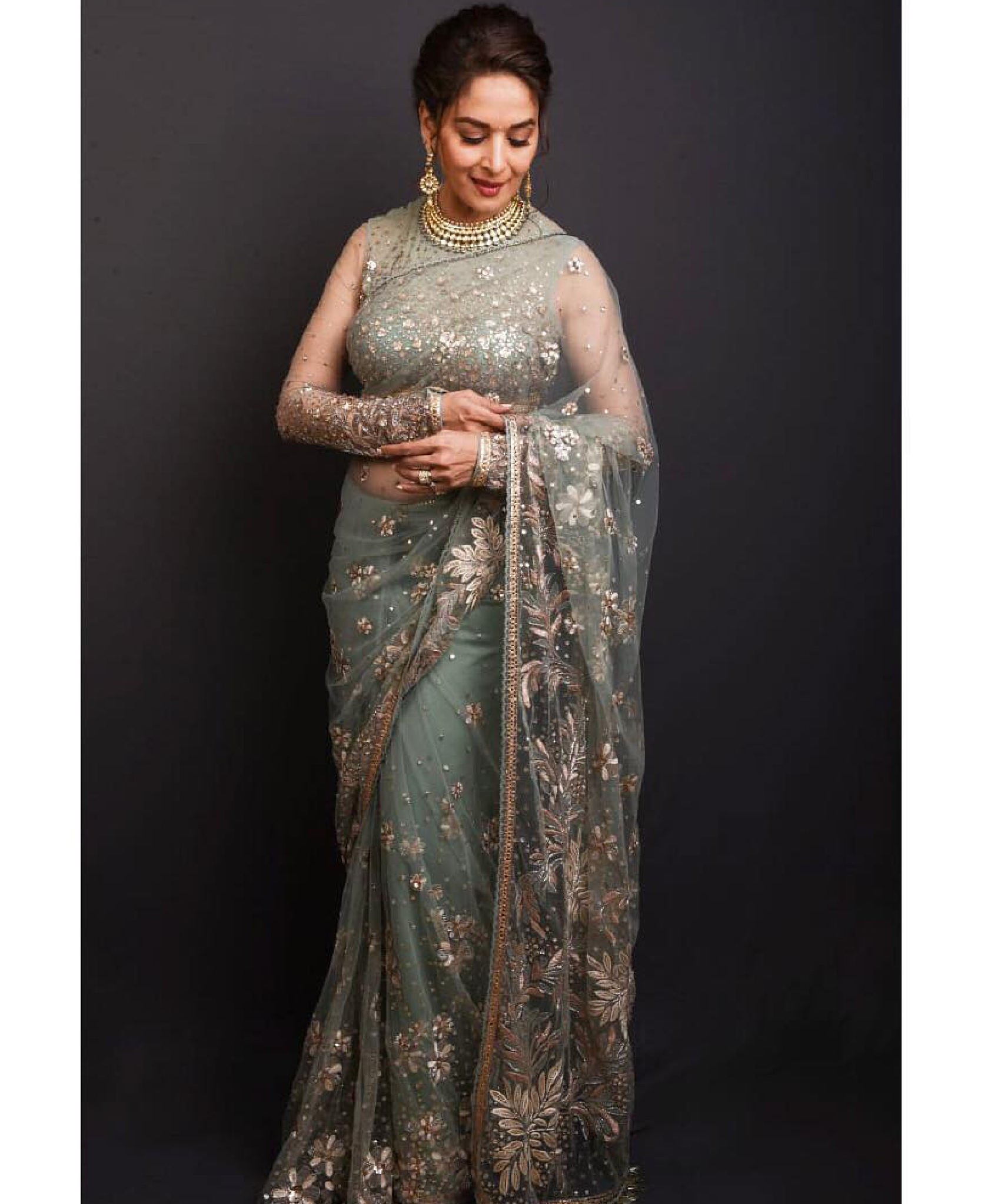 Photo: Instagram (@taruntahiliani)
Mrs. Jonas wore a gray lace Tarun Tahiliani saree on Akash Ambani's wedding shown below: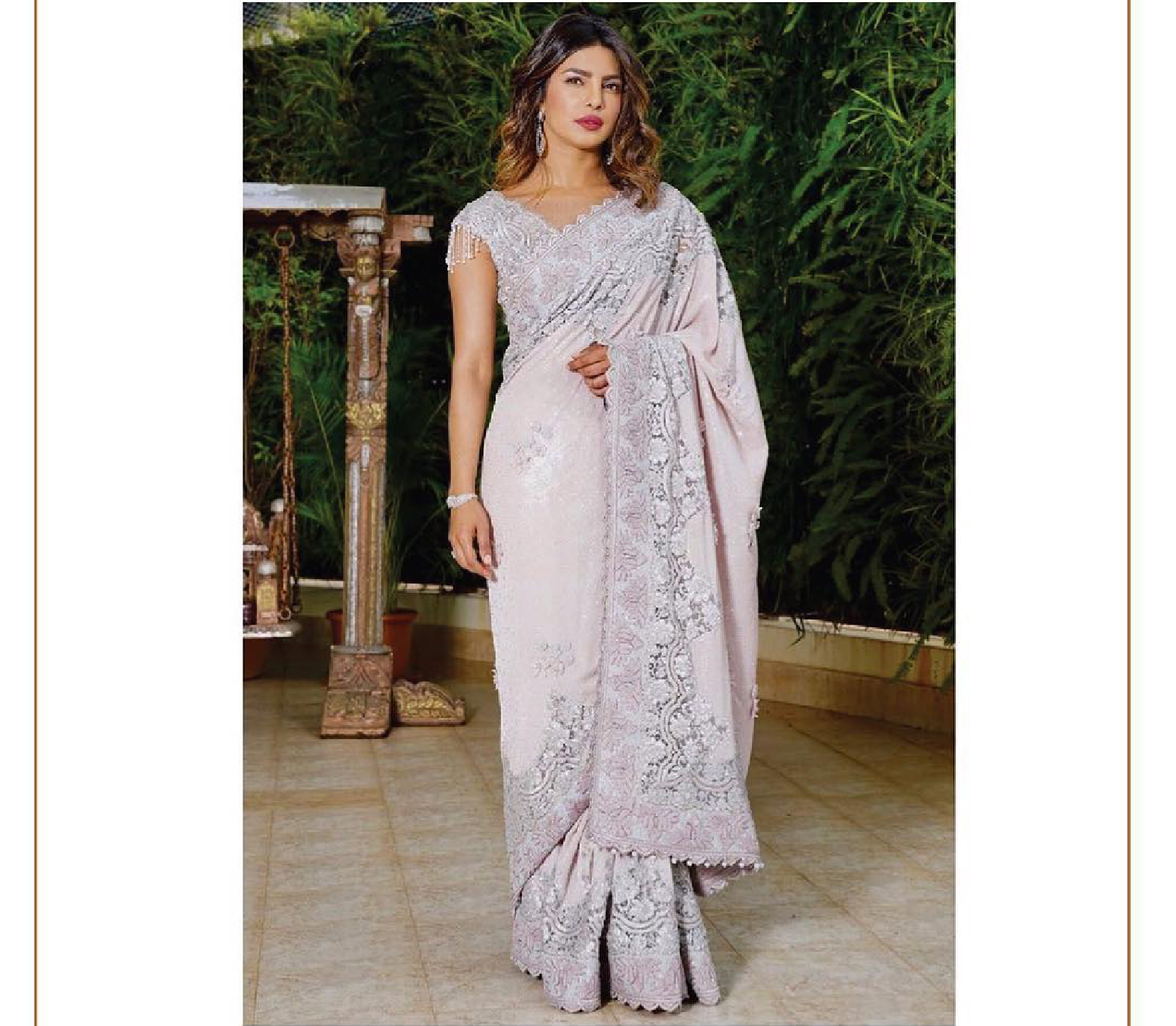 Photo: Instagram (@taruntahiliani)
Kangana wore this gold gota pattiwork saree embellished with signature Tarun Tahiliani Swarovski crystals: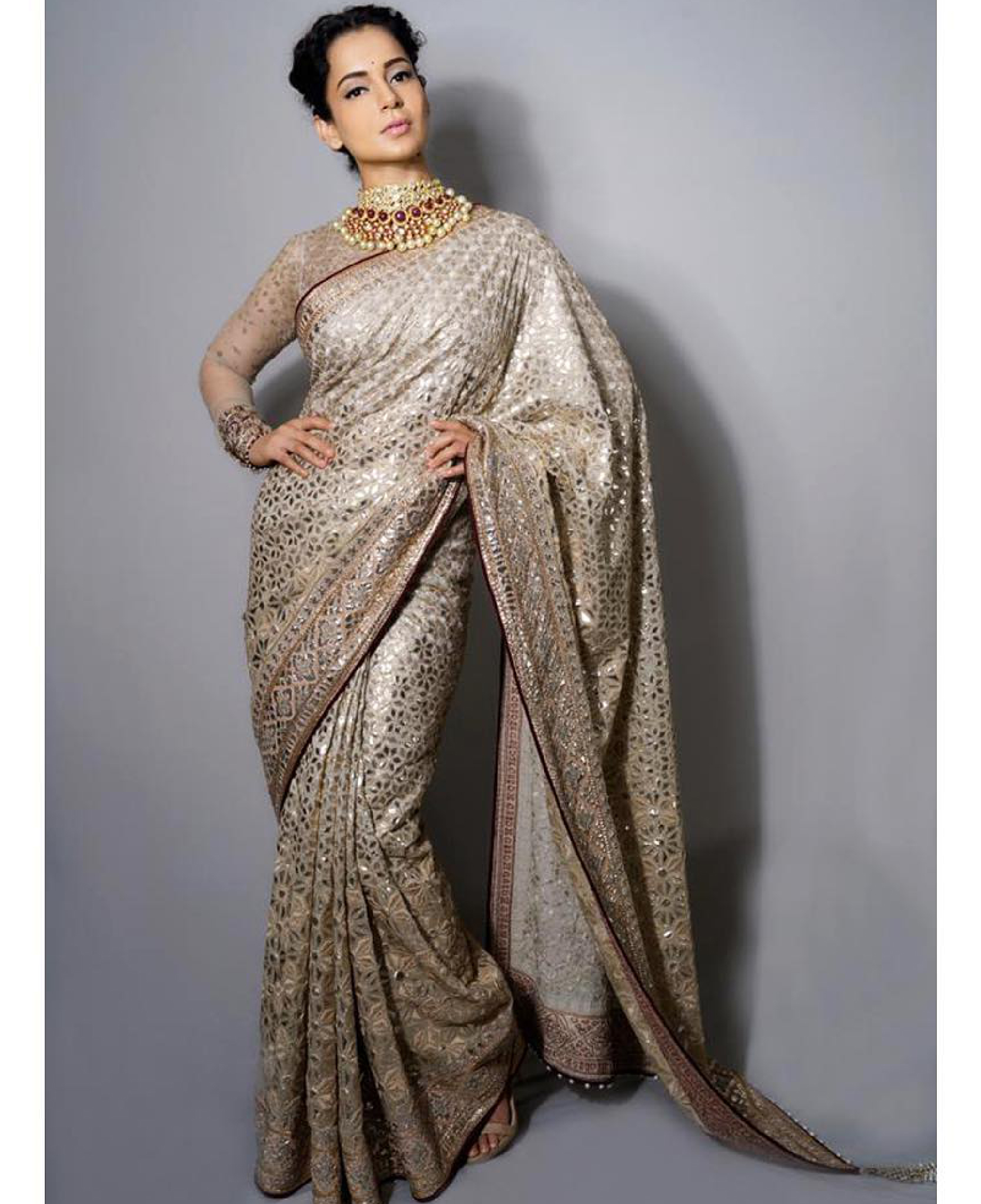 Photo: Instagram (@taruntahiliani)
It seems like ivory colored sarees are Jacqueline's cup of tea. Pair it with a sexy rouge pout and you will make men fall at your feet ladies! Here is Jacqueline rocking an ivory saree:
Photo: Instagram (@taruntahiliani)
Shilpa is a fan of slightly modern versions of sarees such as the palazzo sarees and sharara sarees. Here is Shilpa wearing a slightly version of the saree to the Ambani-Piramal wedding which was the wedding of the century! This saree was embellished with Swarovski crystals, sequins and a gota-patti embroidery.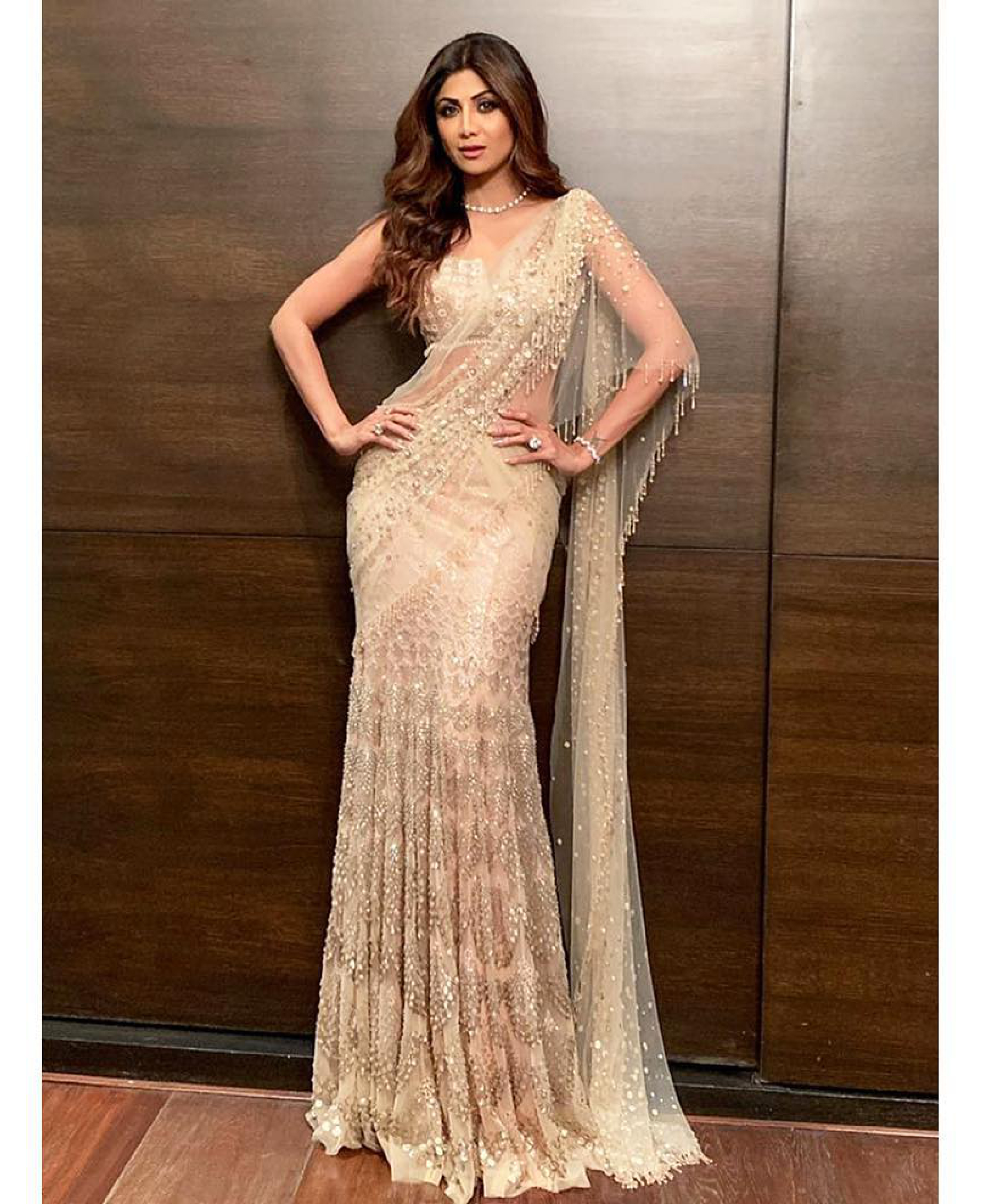 Photo: Instagram (@taruntahiliani)
We hope that you loved these sarees. If you're planning to get married this year, then you should take inspiration from this saree-guru and stock up your bridal trousseau with beautiful draped silhouettes such as these!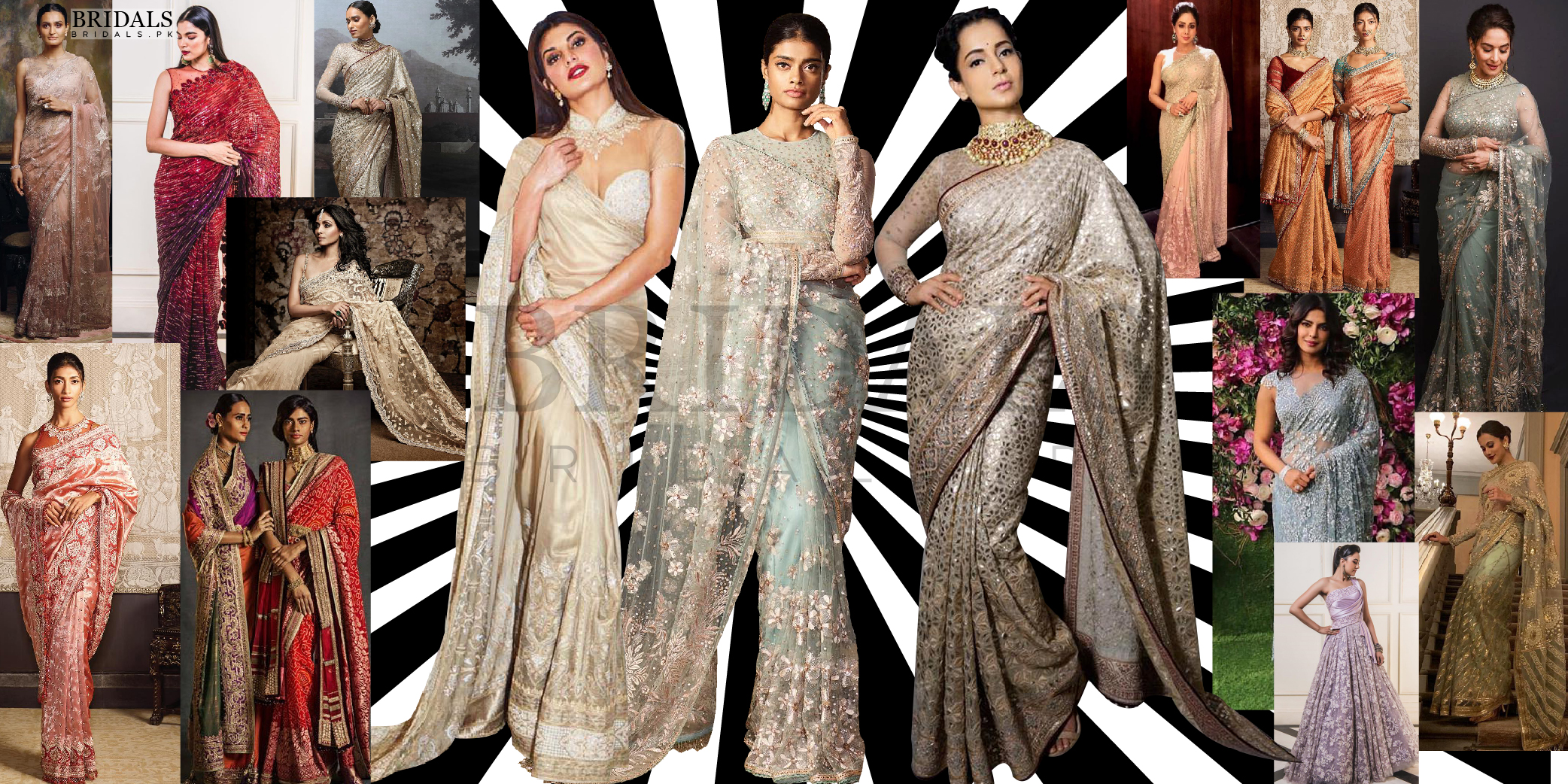 Style Notes: A Look Back At Tarun Tahiliani's Elegant Sarees
Description
Sarees by the king of draped-silhouettes himself!
Admin
Bridals.PK
https://blog.bridals.pk/wp-content/themes/bridal/images/logo.png