Hum Style Awards 2020 – What's Hot, What's Not!
Feb 01, 2020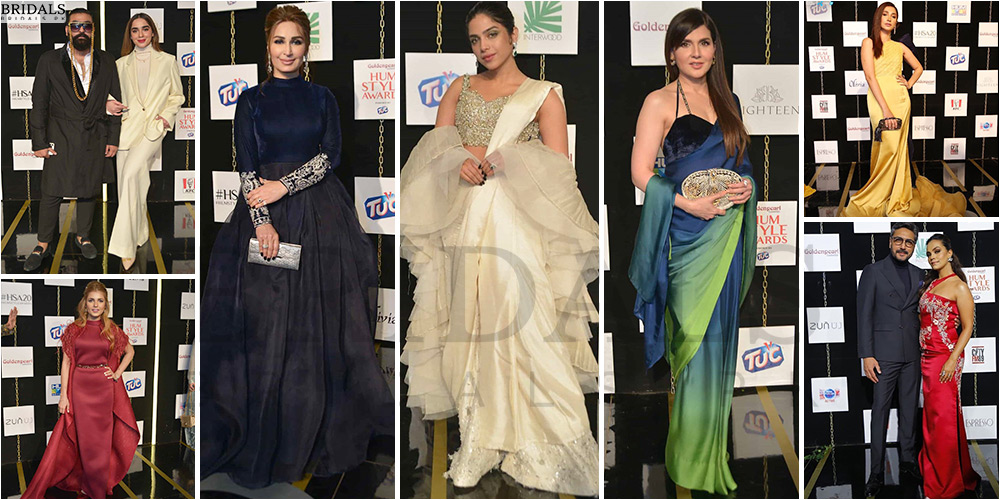 Article by: Myra Raja
The scoop is in and boy, are we delighted to tell you who made the cut and who sadly, didn't. But don't worry, there's always next year. The prestigious Hum Style Awards 2020 were held in Karachi on the eve of January the 25th and we were delighted to see the glamour, glitz, the lovely decor not to mention the bright shiny red carpet abuzz with effortlessly stylish divas and men of course. This is a time where designer outfits are chosen, makeup and hair is on point and it is time to shine. House of Zunn, designed the red carpet, with the official photo op.
Dino Ali, the popular TV broadcaster, hosted accompanied by the talented actress Hira Tareen, as a co-host. Each year the HSA's have acknowledged and honored the glitterati from the fashion and film industry and this time was no exception. This is who we thought made the cut.
1. Reema
As always, she stayed true to her style, not dilly-dallying into something she's not. This look was no exception. She wore a traditional dress with a modern twist. Silver embellishments on the sleeve with a blue velvet bustier and a flared tissue skirt. Her only accessory was a silver clutch, earrings and rings. With hair pulled back, she was a vision no less.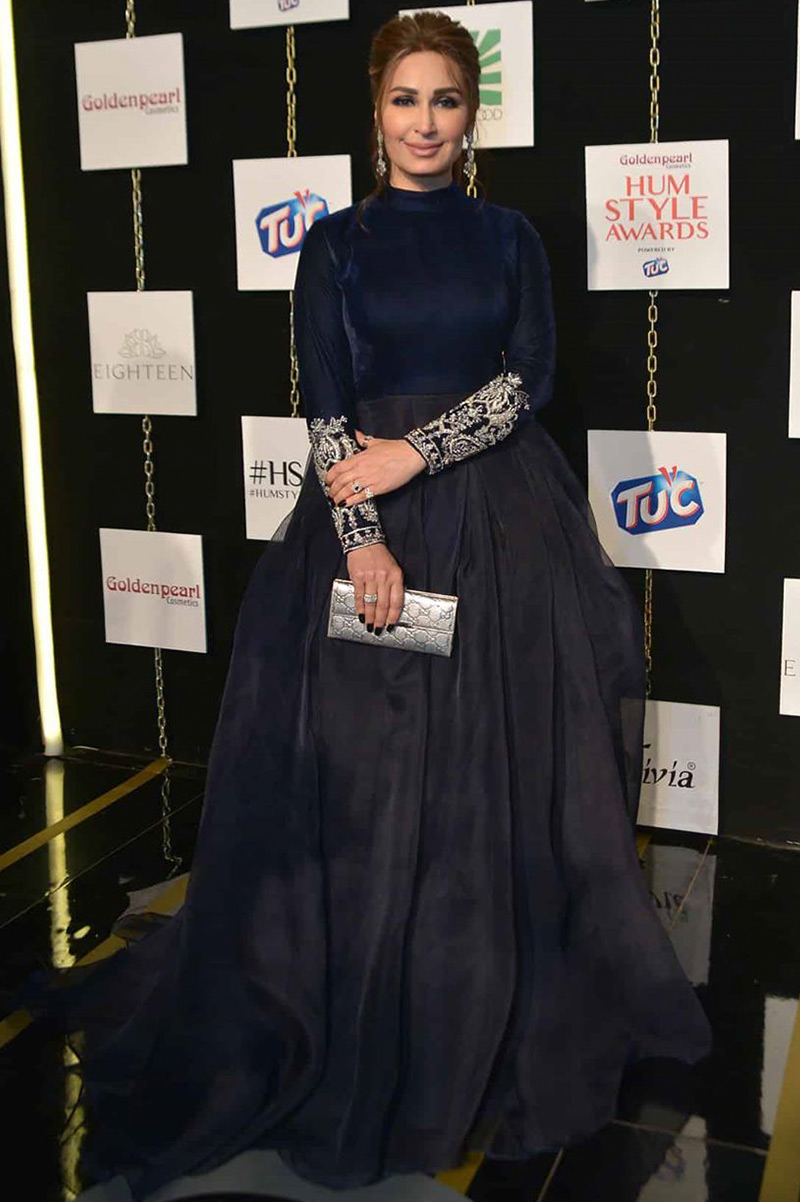 2. Imran Asraf
The famous actor who got popular after, Ranjha Ranjha Kardi, has cleaned up and boy does he look good. We aren't complaining at all to see his black and white checkered tux. The bow tie, shiny boots well accessorized with his tinted sunnies and wrist watch is just right.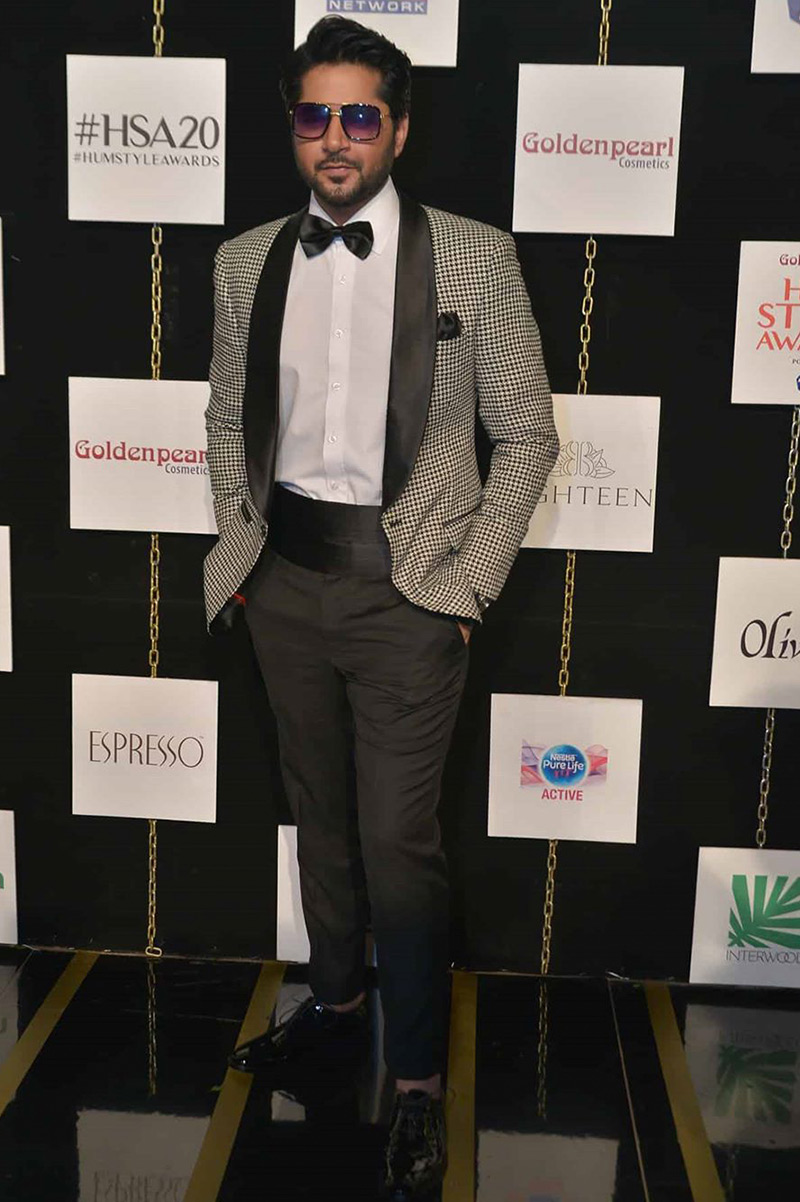 3. Urwa Hocane and Farhan Khan
The famous duo looked great and we are one to root for them. Urawa wore a sparkly blue grey gown that seemed to be a perfect fit for her petite frame. She paired it with simple earrings and voila, simple meets classy.  Now Urwa and Farhan are known for their color coordinated clothes and this say was no exception. Farhan wore a blue grey button-down shirt to match Urwa's gown, which we find incredibly sweet. He wore a simple yet elegant suit and we loved it.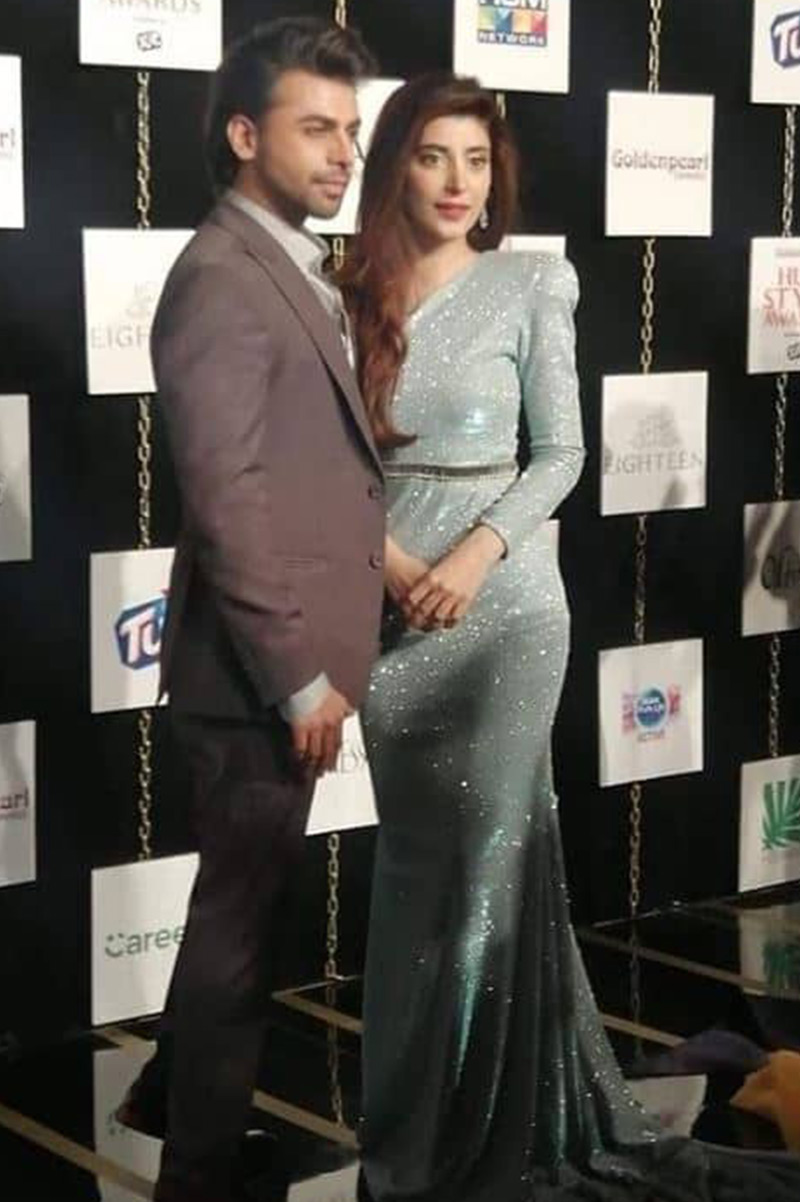 4. Adnan Siddiqui
The man of the hour, or shall we say the "Shehwar" of the hour, is seen as dapper as always. From the color of his suit perfectly complimenting his hair to the turtleneck underneath, we are all praises for him.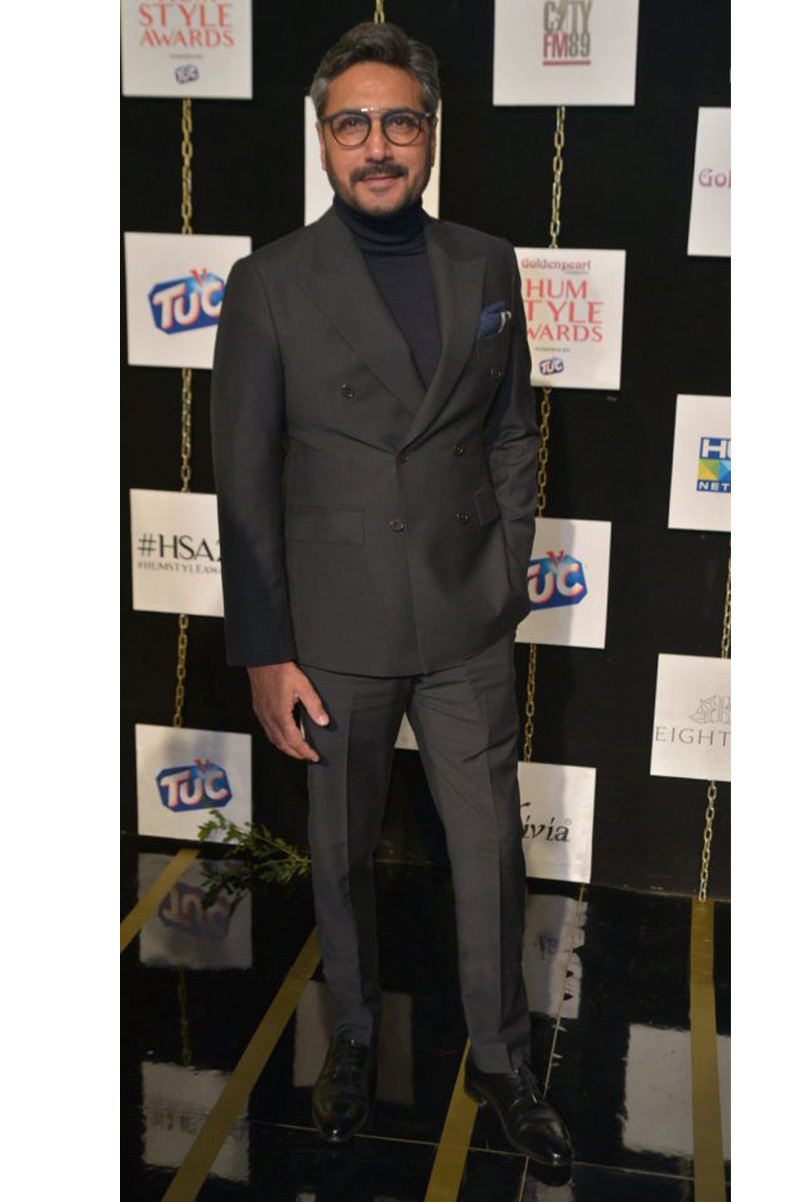 5. Zara Noor Abbas
Zara let her Asim Jofa gown do all the talking. With a plum color, she brought life and radiance to the red carpet and we are all in absolute awe. The beautiful net gown with a simple body and tail looked effortless and minimalistic yet set her apart. Not all outfits need to be over the top to be noticed.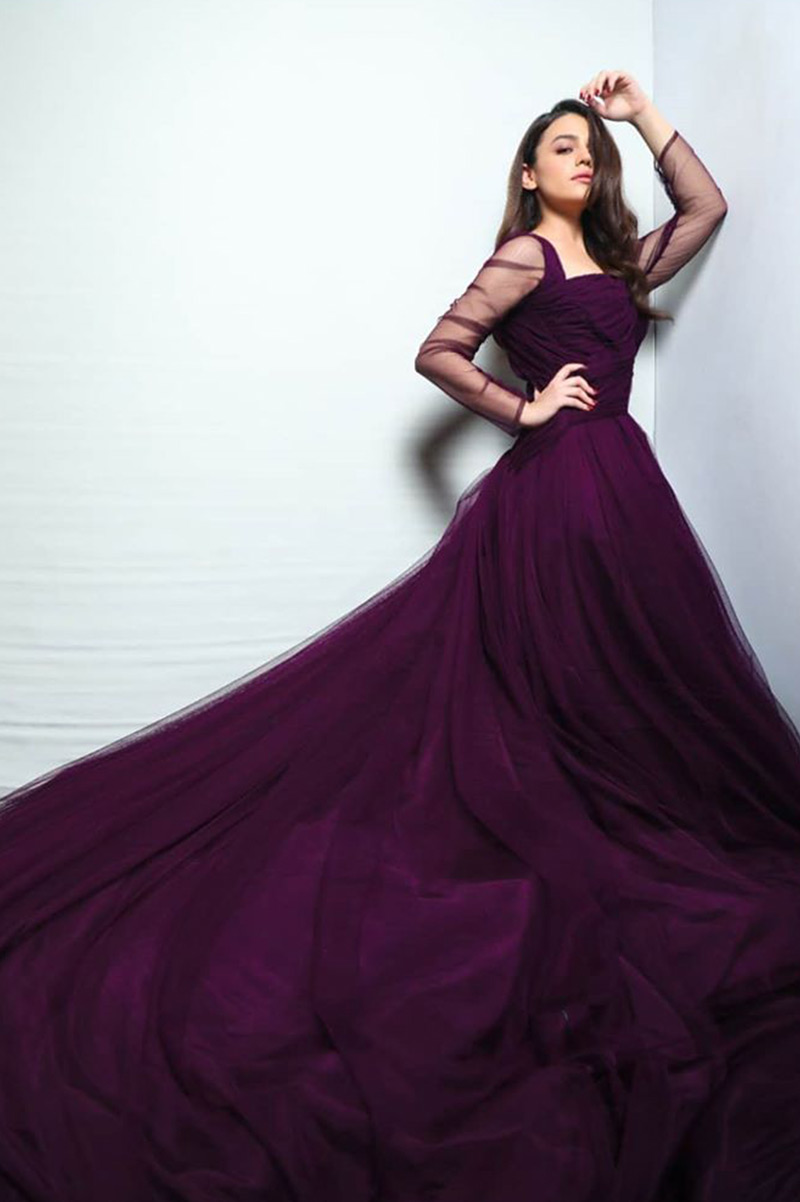 6. Ali Rehman Khan
Ali Rehman is always one to wear east meets west. His waistcoat was inspired by truck art and with hair gelled back. A few rings completed his causal yet stylish look.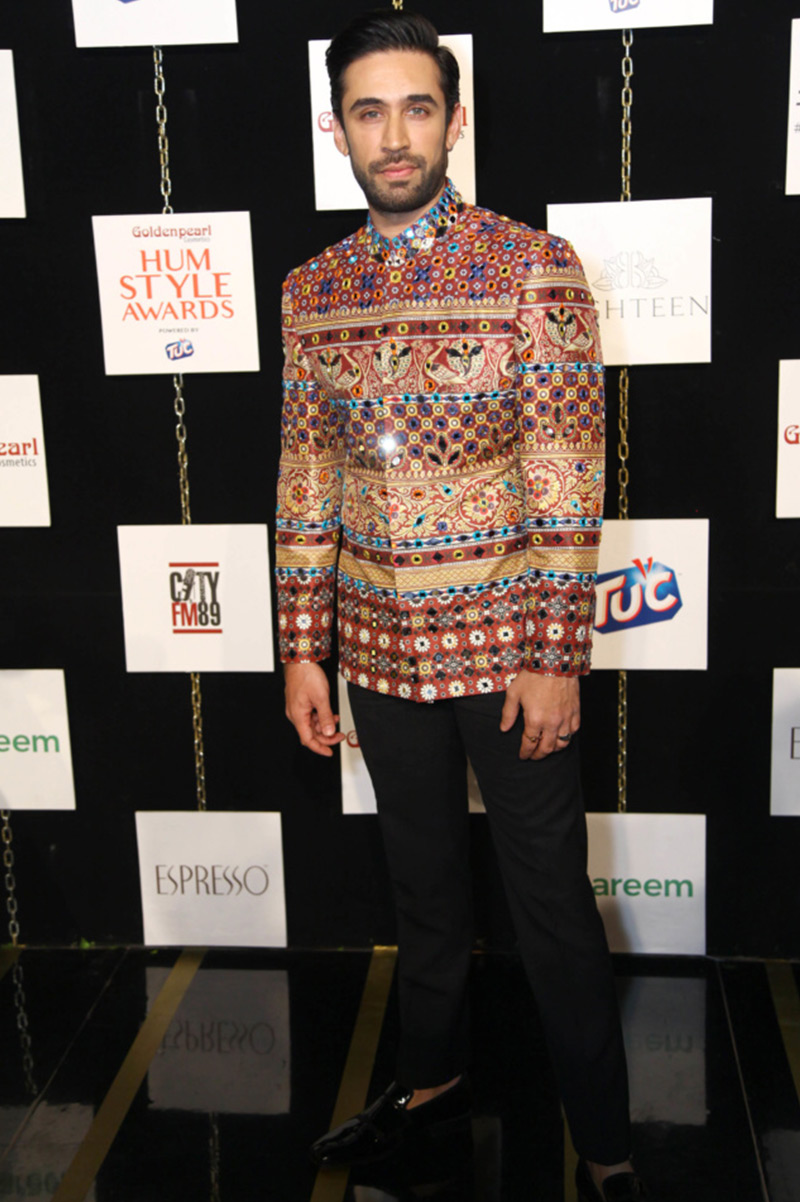 7. Fouzia Aman
Fouzia Aman was a class apart. Her beautiful blue gown was a partly off shoulder and it was a very fitted, sleek look giving us style goals. Elegant and classy described her perfectly.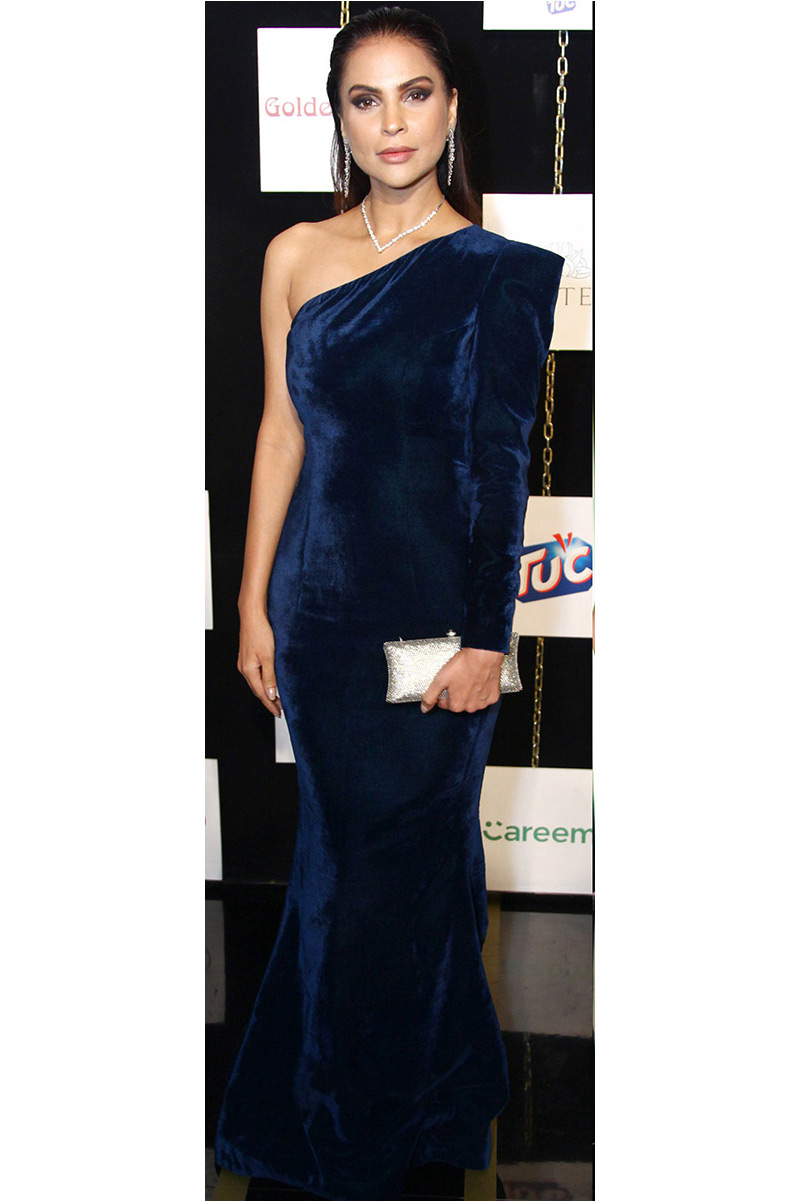 8. Sajal Aly and Ahad Raza Mir
Sajal Aly and Ahad Raza Mir are surely couple goals. Dressed in coordinating blacks, they were the best dressed couple. Sajal wore an off-shoulder gown with a ruffled net veil wrapped around. A black suit and a waistcoat with white shirt, Ahad was dressed impeccably. His lovely locks have our heart.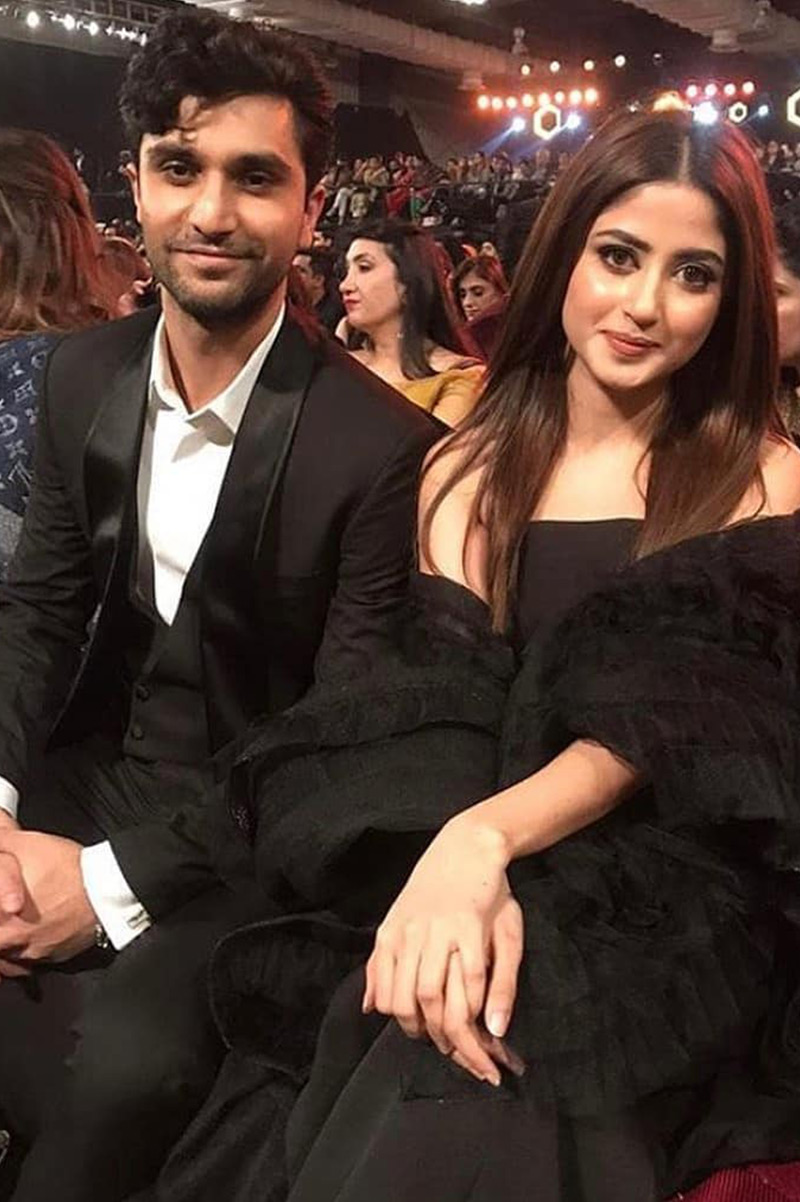 9. Sana Fakhar
Sana Fakhar could have done a lot better by us. Unruly hair, her Versace dress matched with the wrong color stockings. Her bag was a desperate attempt at showing off a designer clutch. Better luck next time Sana!
10. Momina Mustehsan
Momina Mustehsan, a teen sensation should've stuck to her hair color; red. With hair, an overly wrong shade of blond, a gaudy red straight silk gown, with tassels, was just not up our alley.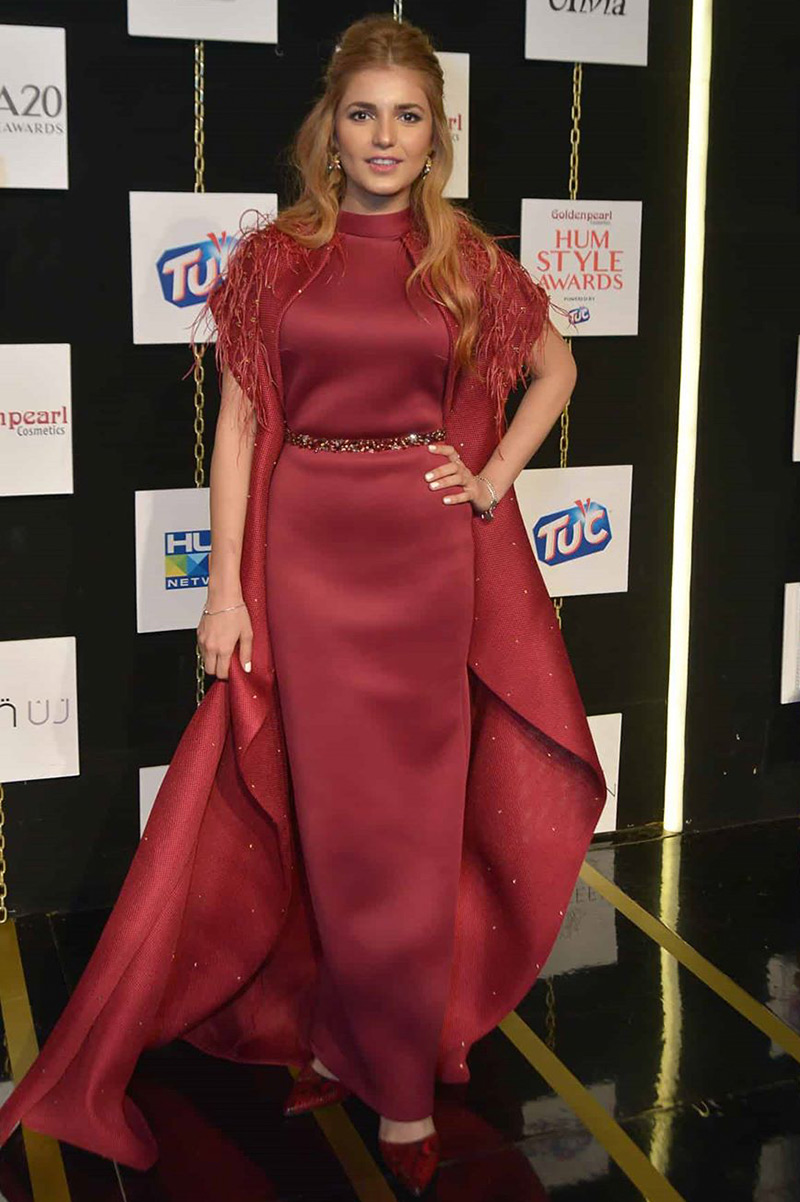 11. Ayesha Omar
We don't know how to react to the boldness of Ayesha Omar. The dress was designed by the super talented Khadija Shah but maybe it wasn't meant for Ayesha! It was her trying too hard to fit into the fashionista category! On a serious note, we expected better!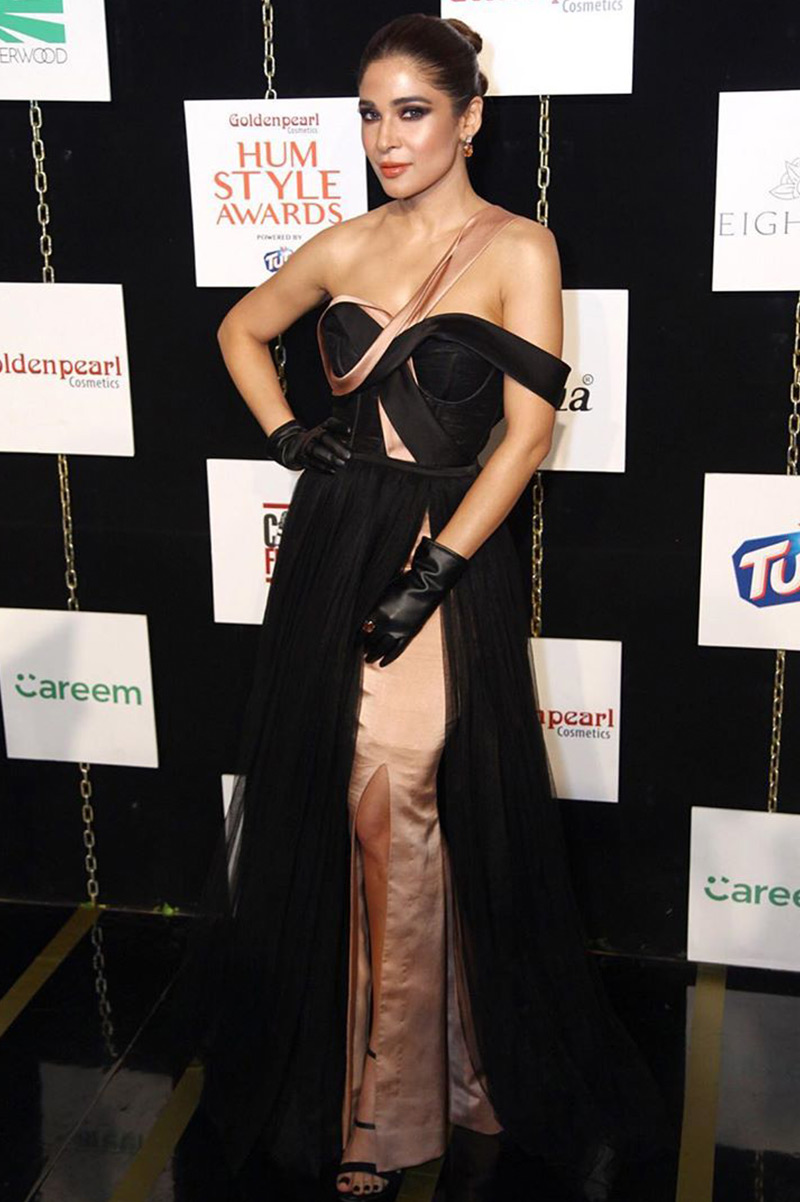 12. Mansha Pasha
Mansha Pasha, wore a traditional embellishment on one sleeve, off shoulder formal dress with slits, buttons, cuts, etc. There seems to be some confusion in the soon bride-to-be's mind as to what to wear when and what NOT to wear at all! Despite the lovely color of her gown designed by Shamsha Hashwani, it was not at all something we would recommend for a red-carpet event.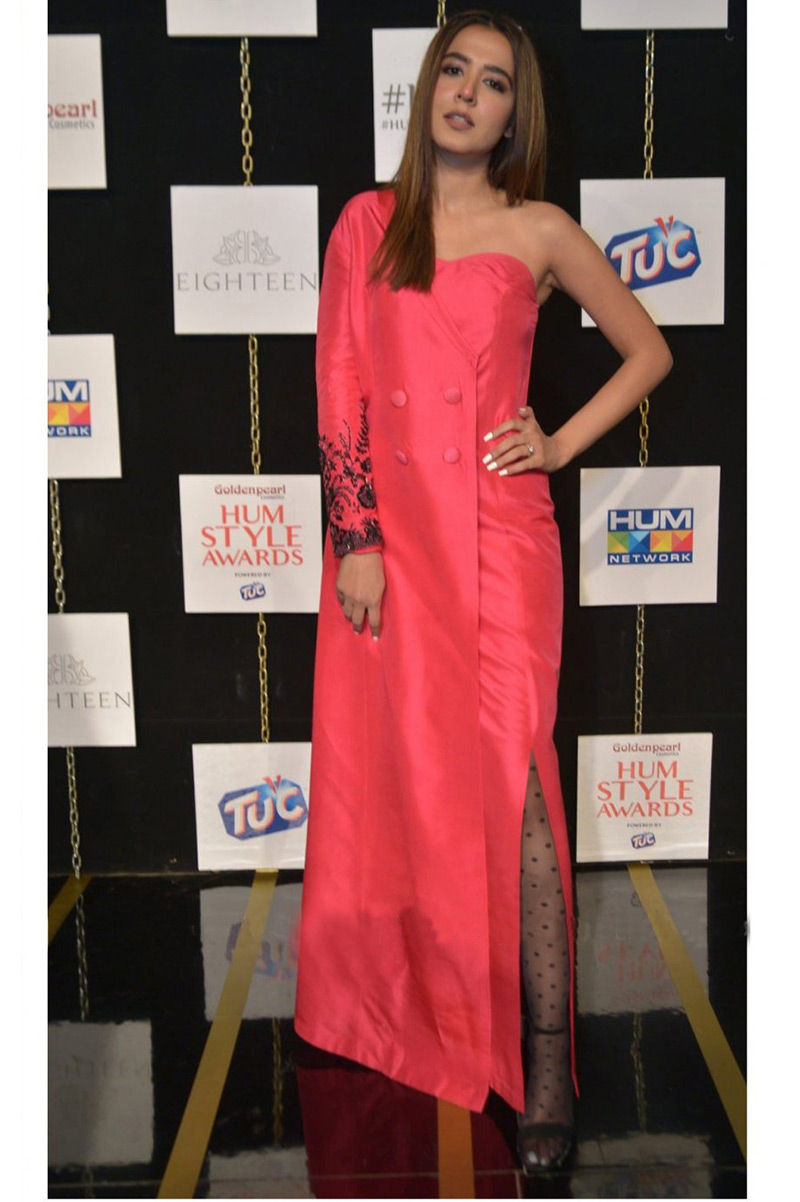 13. Mira Sethi
Mira Sethi dressed to impress us in Hussain Rehar. There was a lot of contemplation as we tried to decide if Mira was being original or just took inspiration and followed the into the footsteps of our favorite celebrity, Kareena Kapoor Khan. Who was sported a similar outfit in the promos of her movie, Veere Di Wedding. Regardless, we don't want to put her in the worst dressed but we would recommend that she come up with something original next time as she defiantly can if she tries. Her killer abs were a plus on all accounts.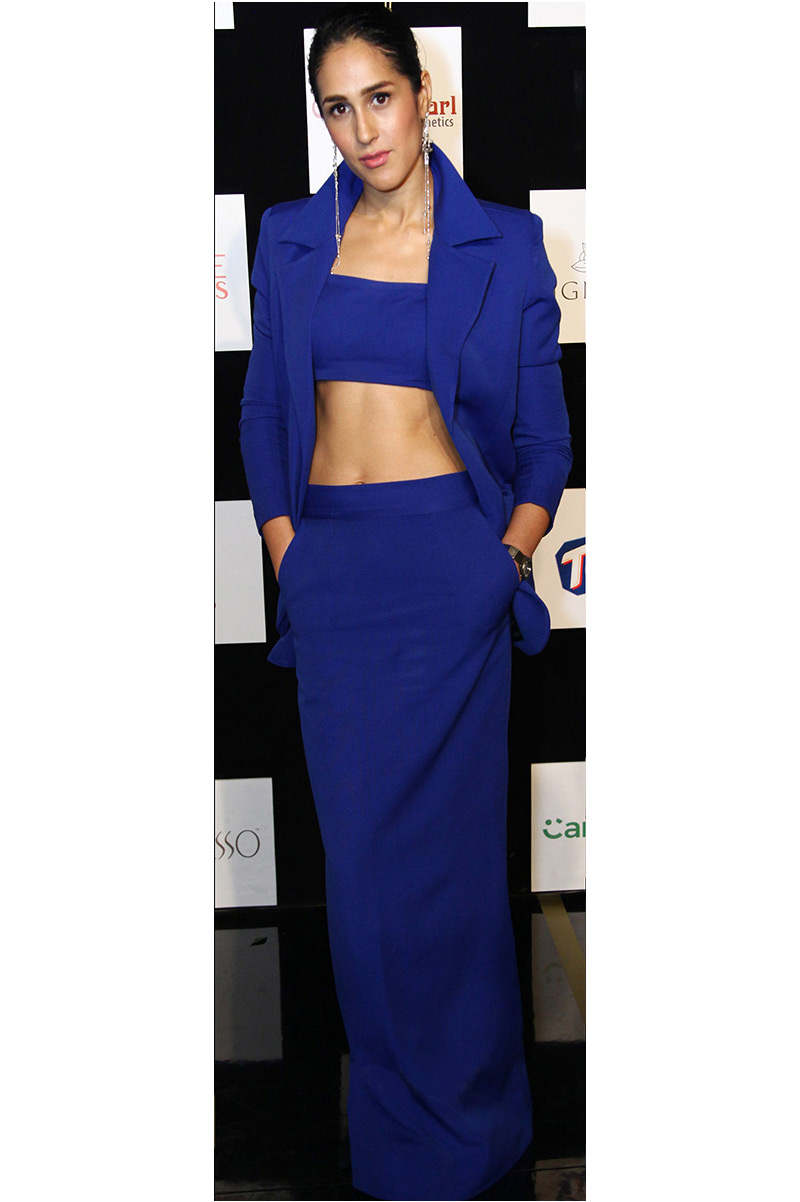 14. Hira Tareen
Hira Was seen in a light-yellow gown by none other than the fashion guru Shehla Chatoor! She looked sleeked and pulled it off just fine, but we surely would have loosened up on that clutch of hers!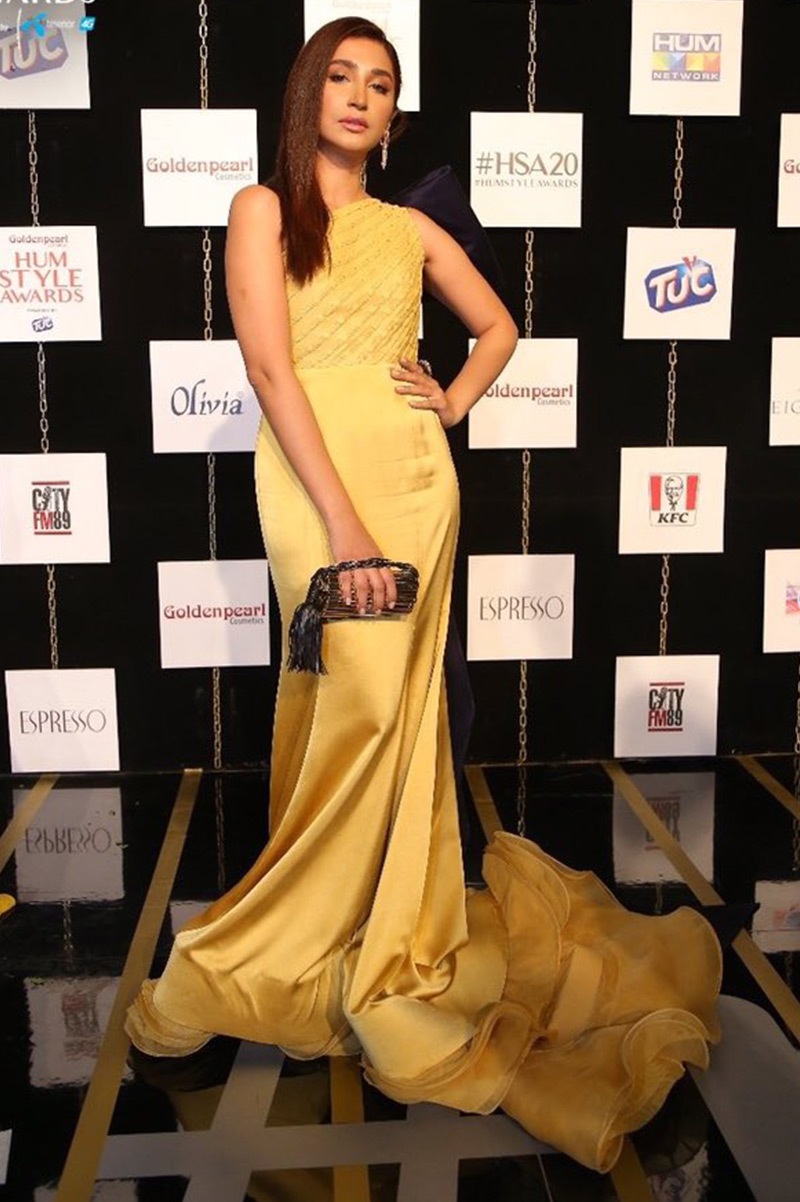 15. Ghana Ali
Ghana Ali is certainly on our radar and we approve of the all-white minimalistic look coupled with the earrings. Ruffled detailing on her blouse shoulder and Her dress with layers, belts, underwired bustier, surely Élan has done much better, or was it that she could not pull off the brand, this is defiantly a question in our minds.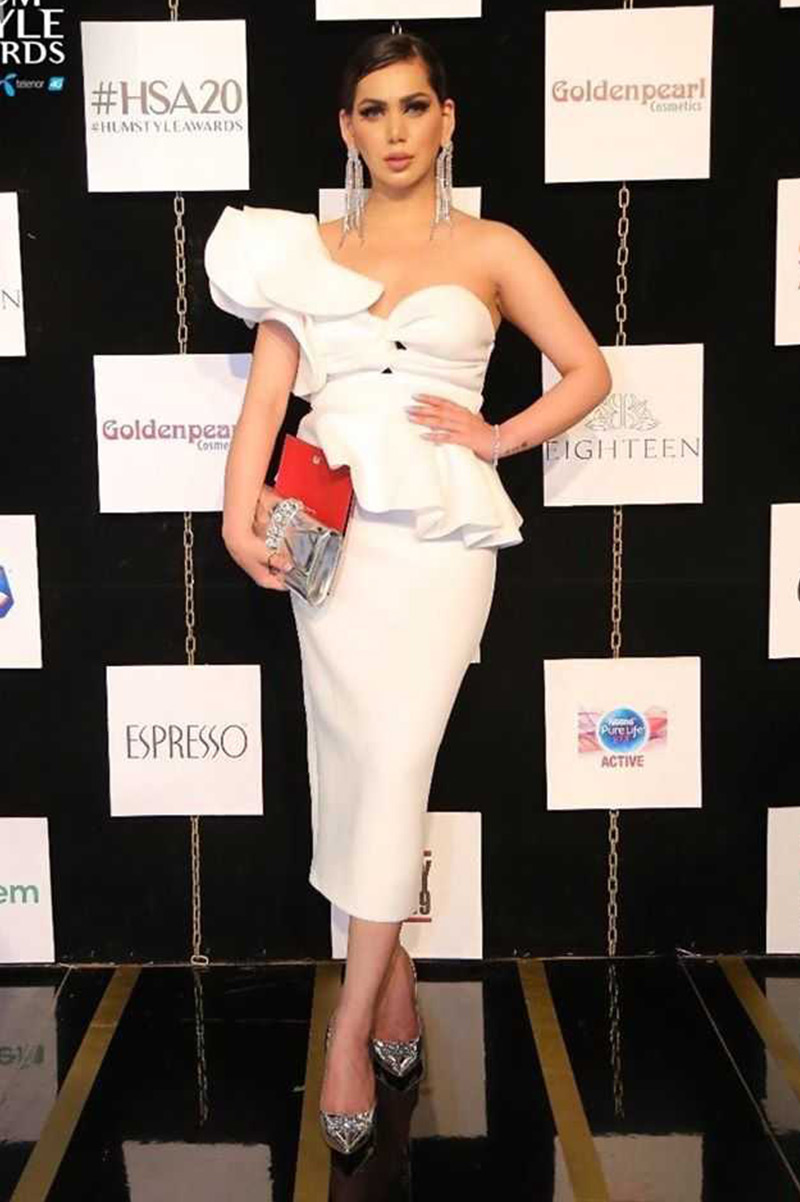 16. Mahnoor Baloch
Mahnoor Baloch, the goddess of time, wore an all-in awe, absolutely stunning sari by Menahil and Mehreen. We are nothing but full of praises for this one.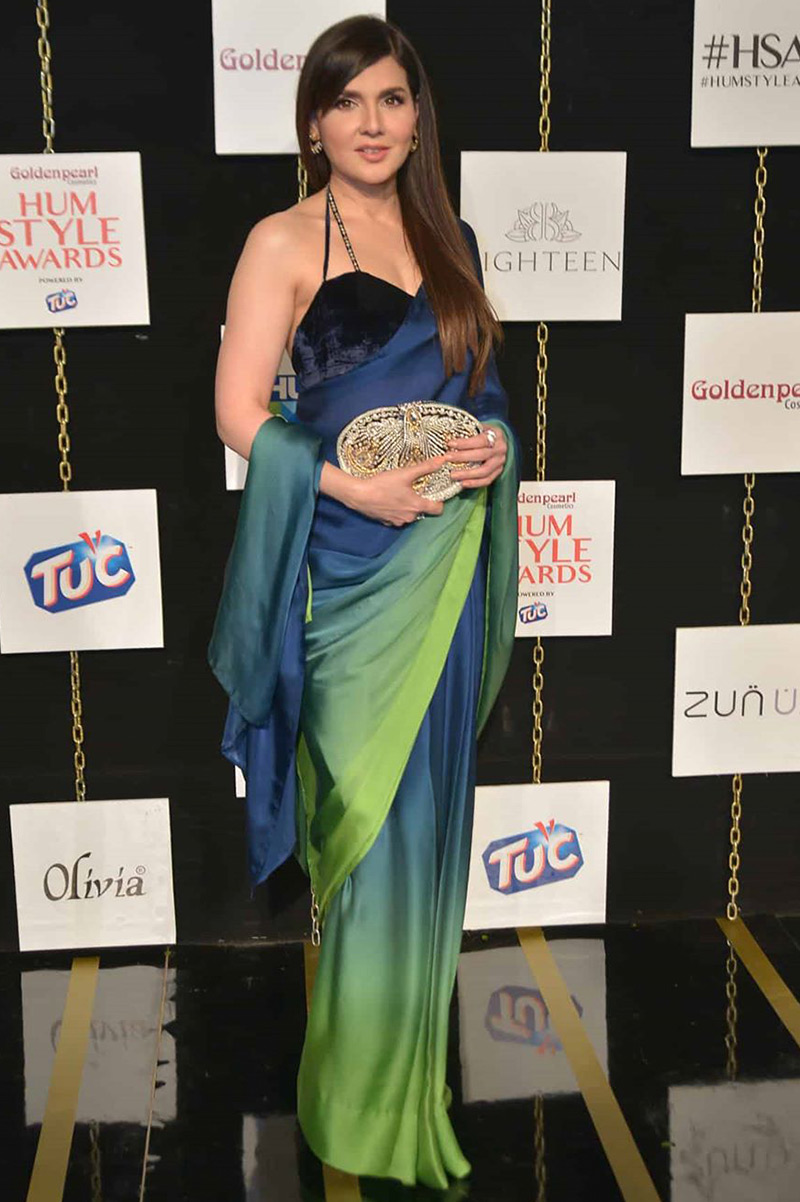 17. Sonya Hussyn
Sonya Hussyn, wore a classic white silk sari, with a sleeveless blouse. The ruffled veil that she decided to adorn is our guess, that she was trying to protect herself from the cold otherwise it just doesn't make sense!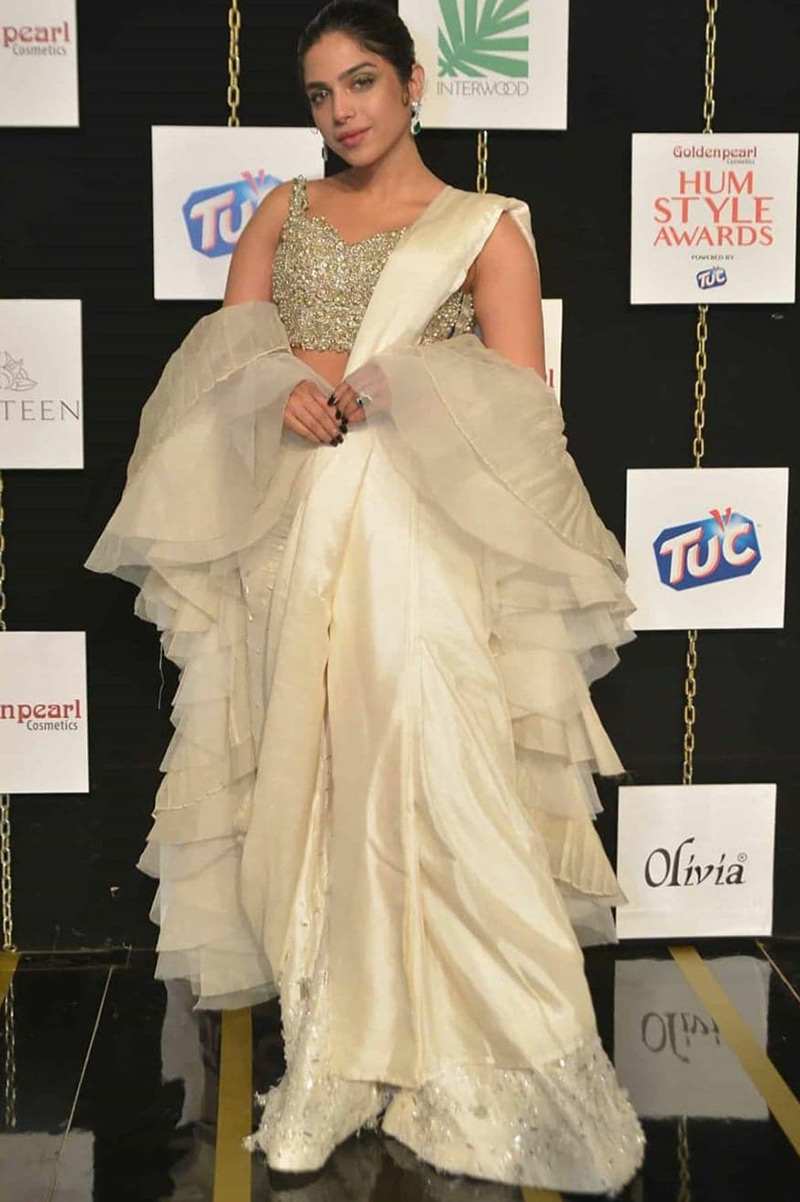 18. Kubra Khan
Kubra Khan tried to make a fusion but it just ended badly. Her go to color is black and while we are all for it, the dress was just not here nor there. The black frock by Maryam Momaira, had a patchwork detail near the end and accompanied with orange heels was a big no!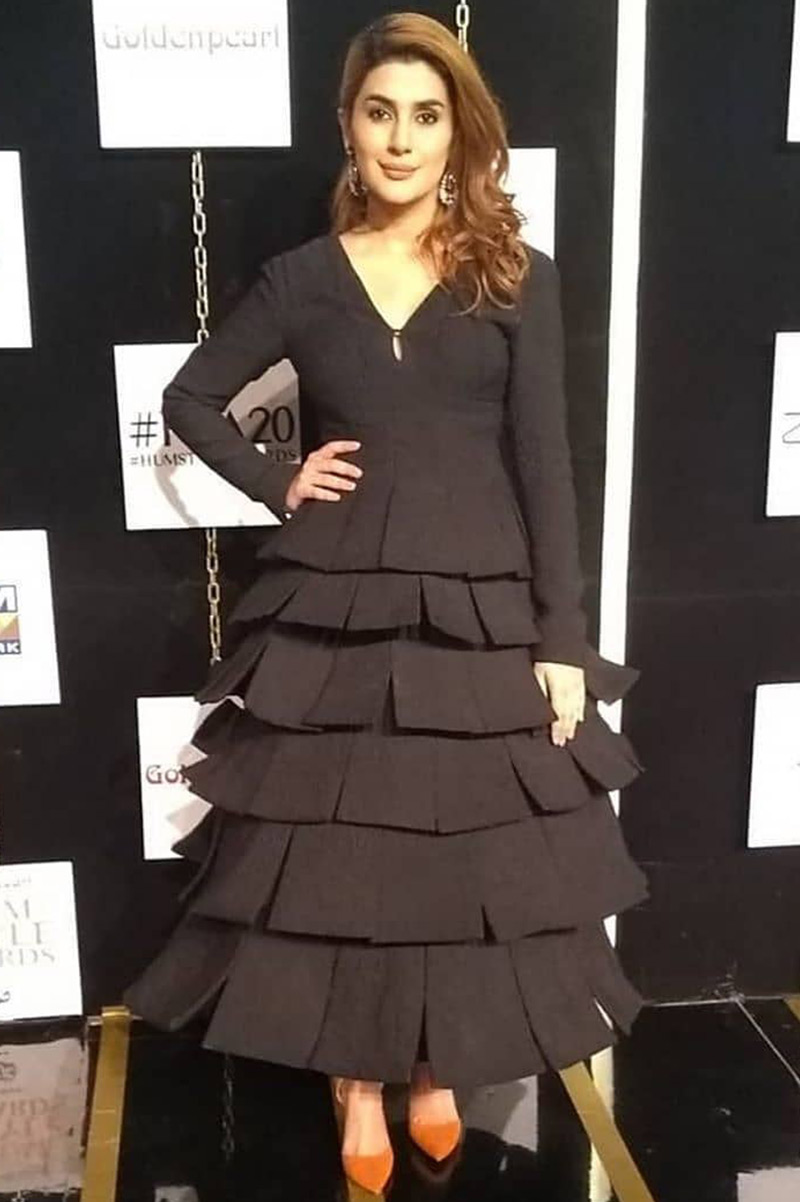 19. Hania Amir and Asim Azhar
Asim Azhar is trying to be the "Ranghbir" Singh of Lollywood (no-offence) but failing terribly. With a tiger faced coat and a light paired shirt with trousers, this look was anything but acceptable. Whereas, his ladylove was seen wearing Hussain Rehar orange gown inspired from a suit. We won't say she was looking great but somewhat managed to pull it off!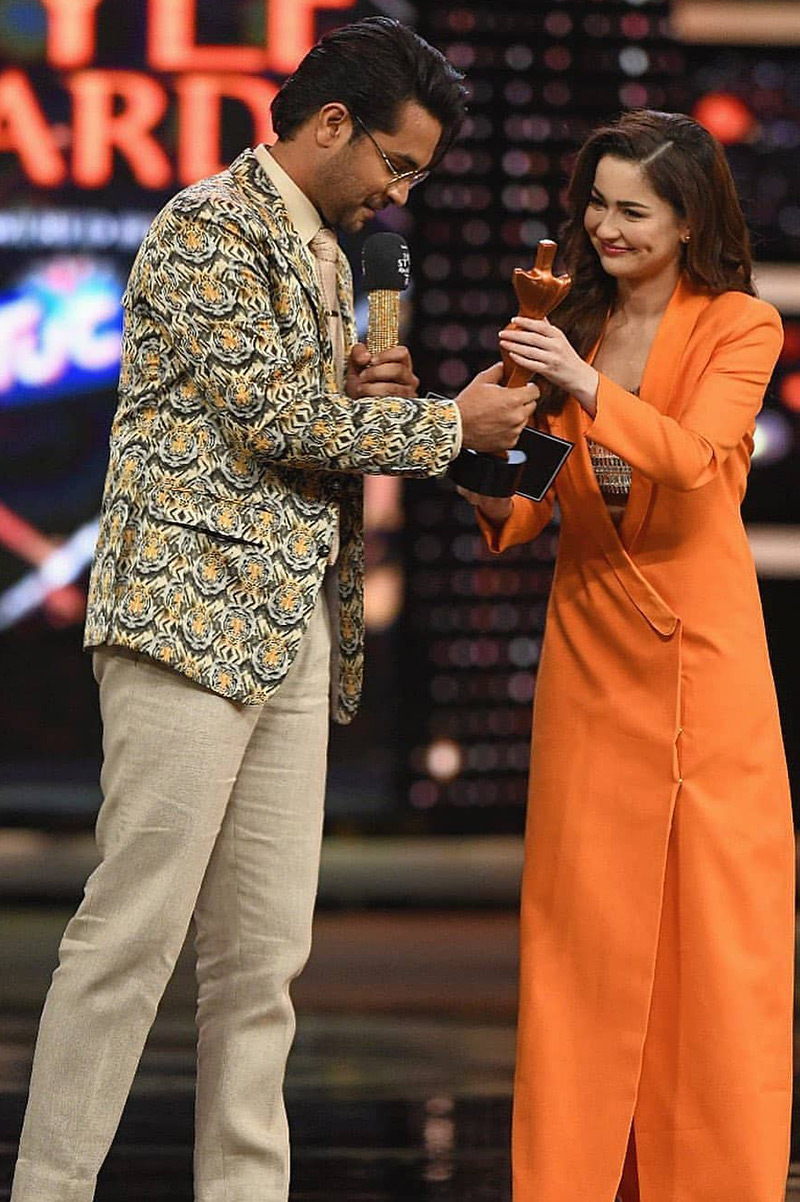 20. Amina Sheikh
Amina Sheikh was wearing Shamsha Hashwani inspired by Chinese version no doubt but it did not look good on her. The color was beautiful and it suited her but that's about it.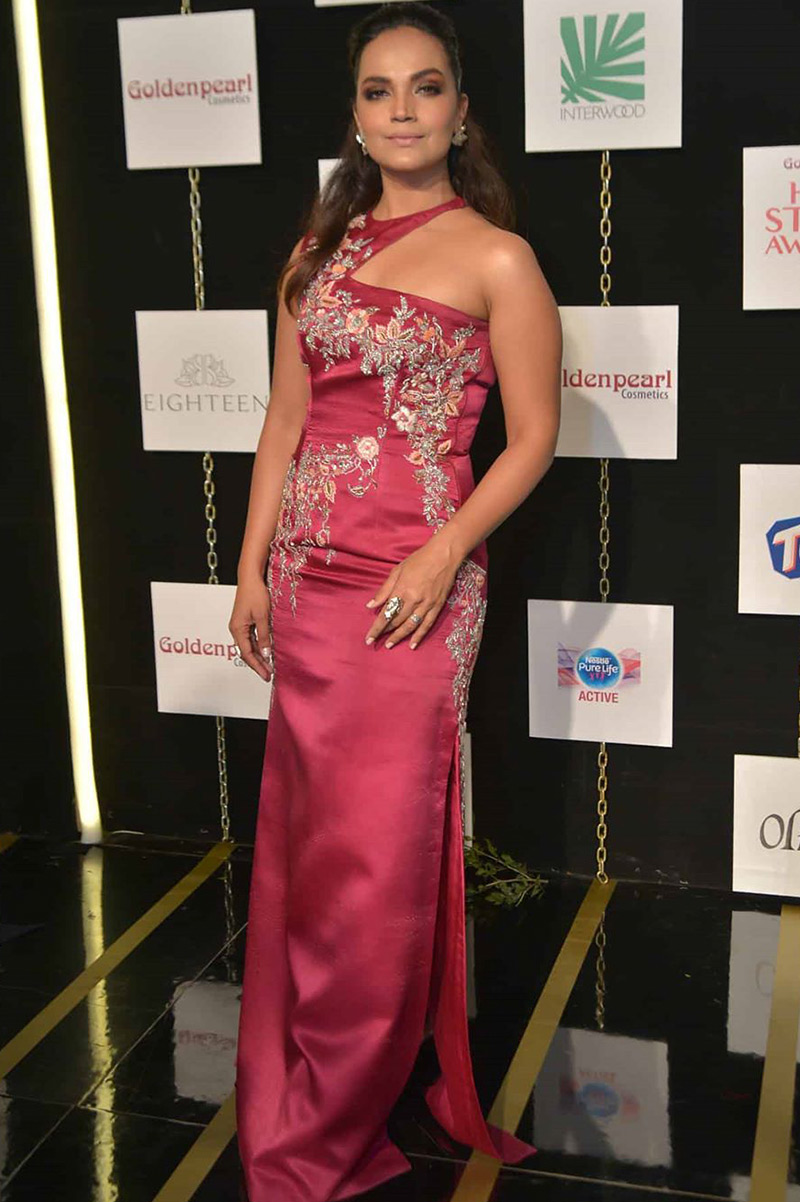 21. Kiran Malik
Kiran Malik who is usually on point, did not understand that this was an event where you had to dress up rather than dress down. Her polka dot printed retro saari, which was her own creation, with sleeves that we didn't understand, were drowning Kiran rather than pulling her up. Her look was too casual for us and we feel this style diva could have done much much better!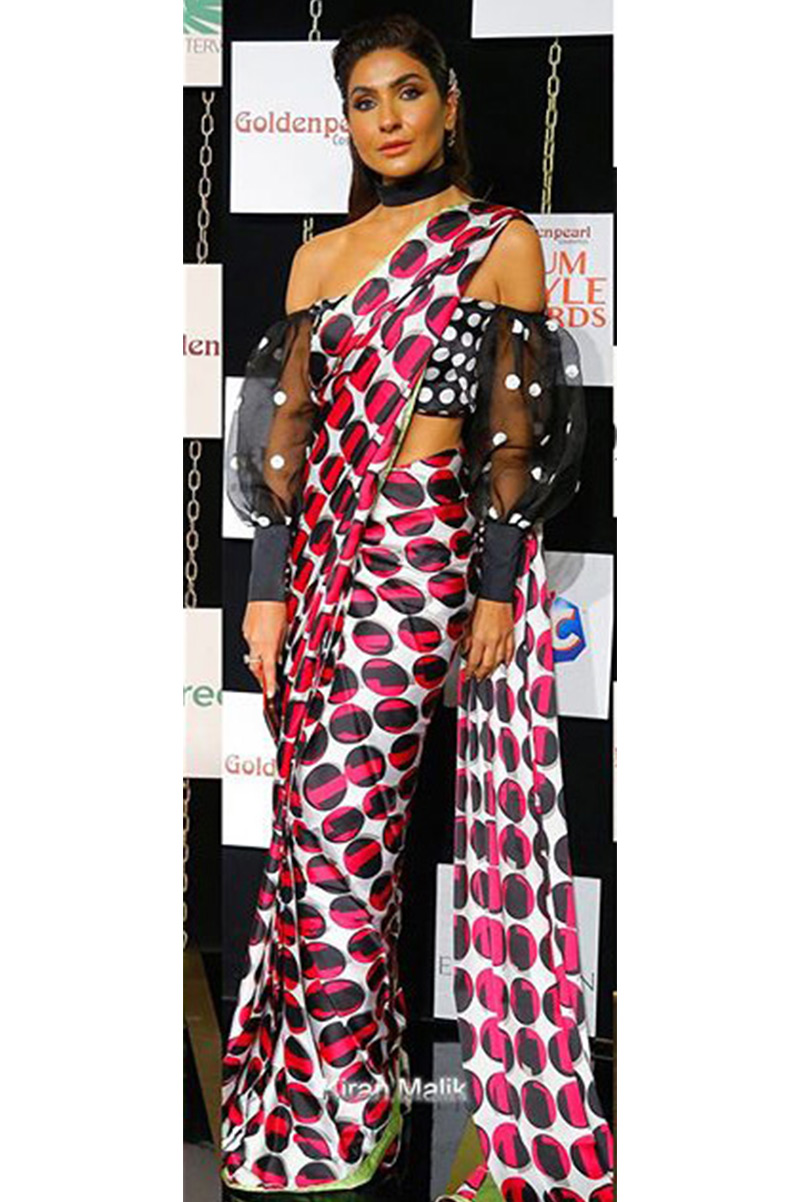 22. Myrah And Ali Xeeshan
Ali Xeeshan, is a personality to reckon with. With a classically styled robe, knotted at the front is all things appealing. Coupled with Myrah, his wife in a contrasting white, the pair was a power dup that had our eyes on them. They truly ruled and rocked the red-carpet!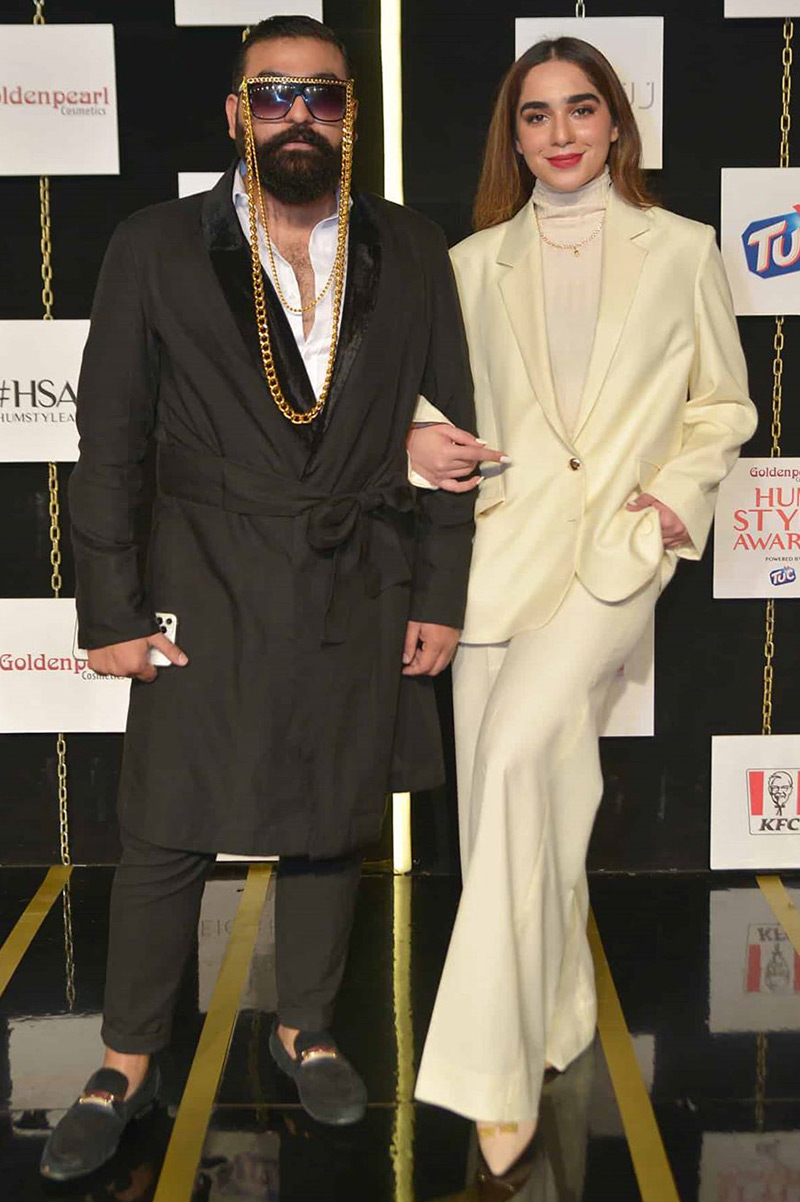 23. Nadia Hussain
Nadia Hussain wore Ayesha Hashwani and we feel there is a lot of room for improvement. Her dress was super outdated and non-flattering. The makeup was on point though! So, we'll give her credit for that at least.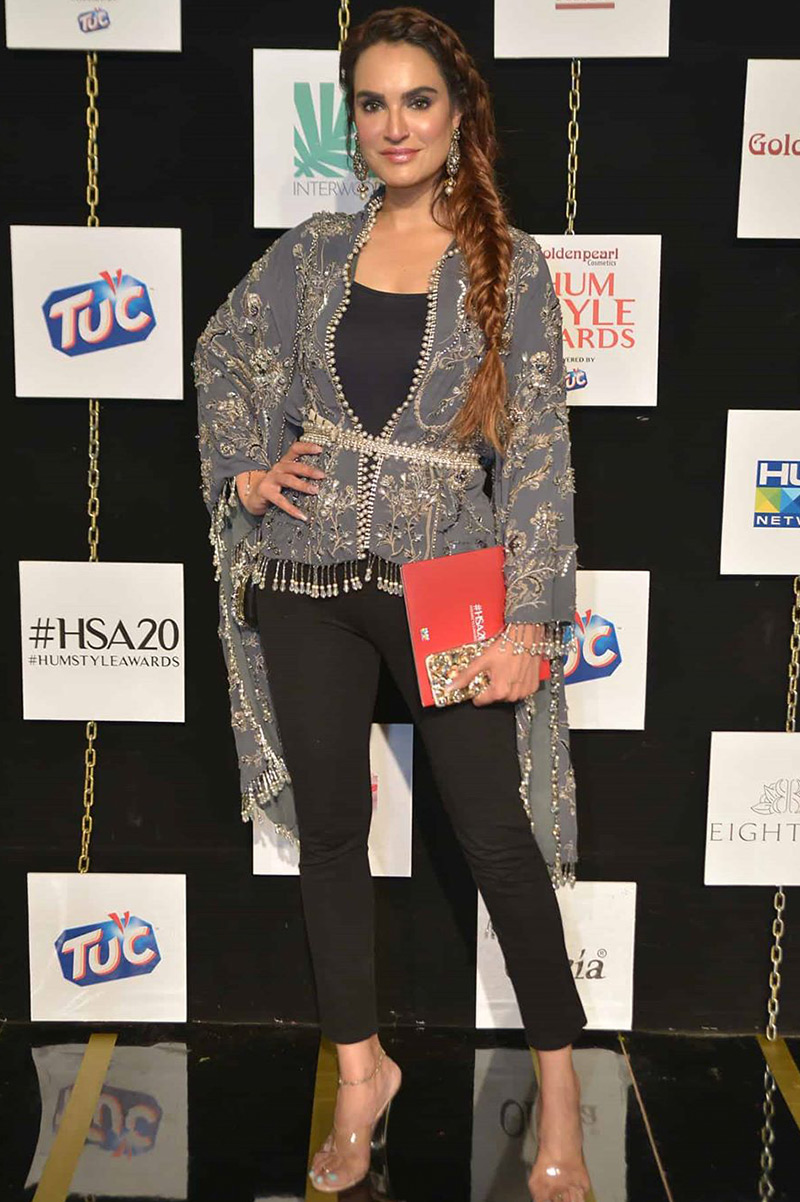 24. Sarah Loren
Sarah Loren wore a gown designed by Shamsha Hashwani and we fail to understand what was she trying to pull off on the rep-carpet! Maybe, it wasn't her year and she totally got it wrong!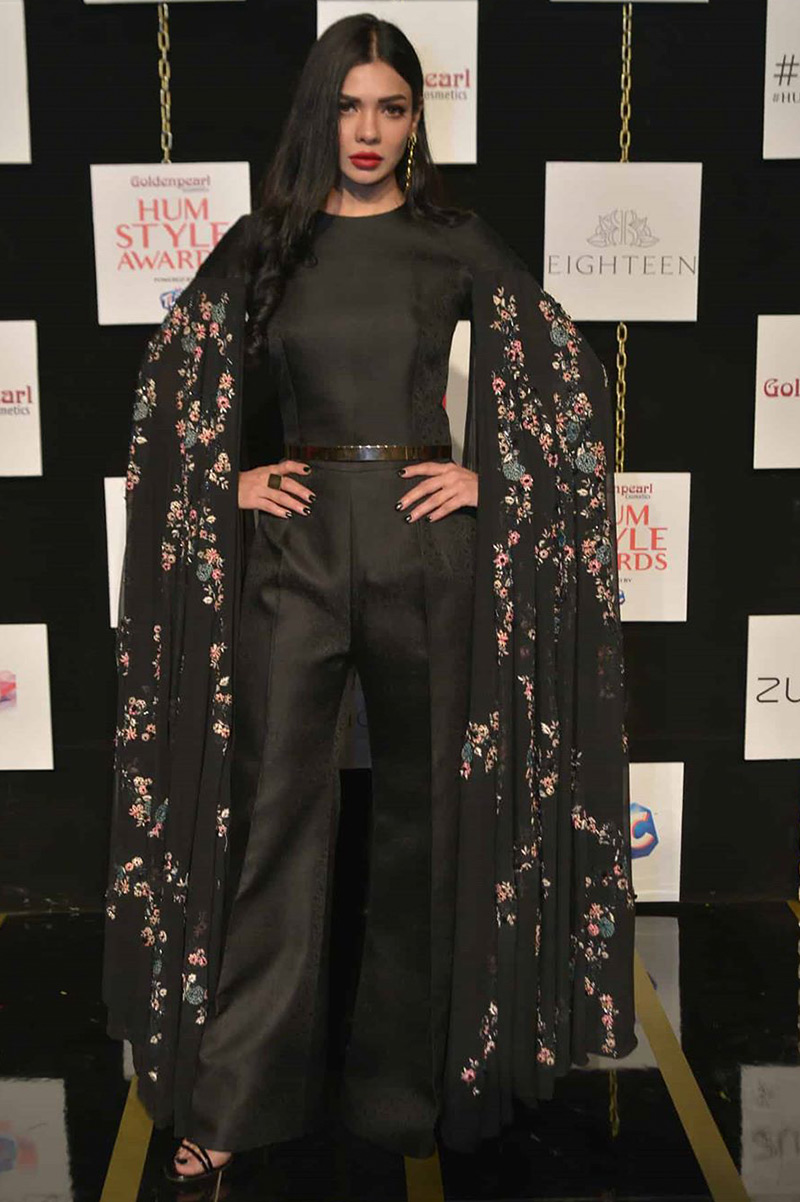 25. Zara Abid
Zara Abid wore a plain white gown with a thigh high cut by Zaheer Abbas. She looked simple and just fine, but we still would have minus the little black belt in the dress!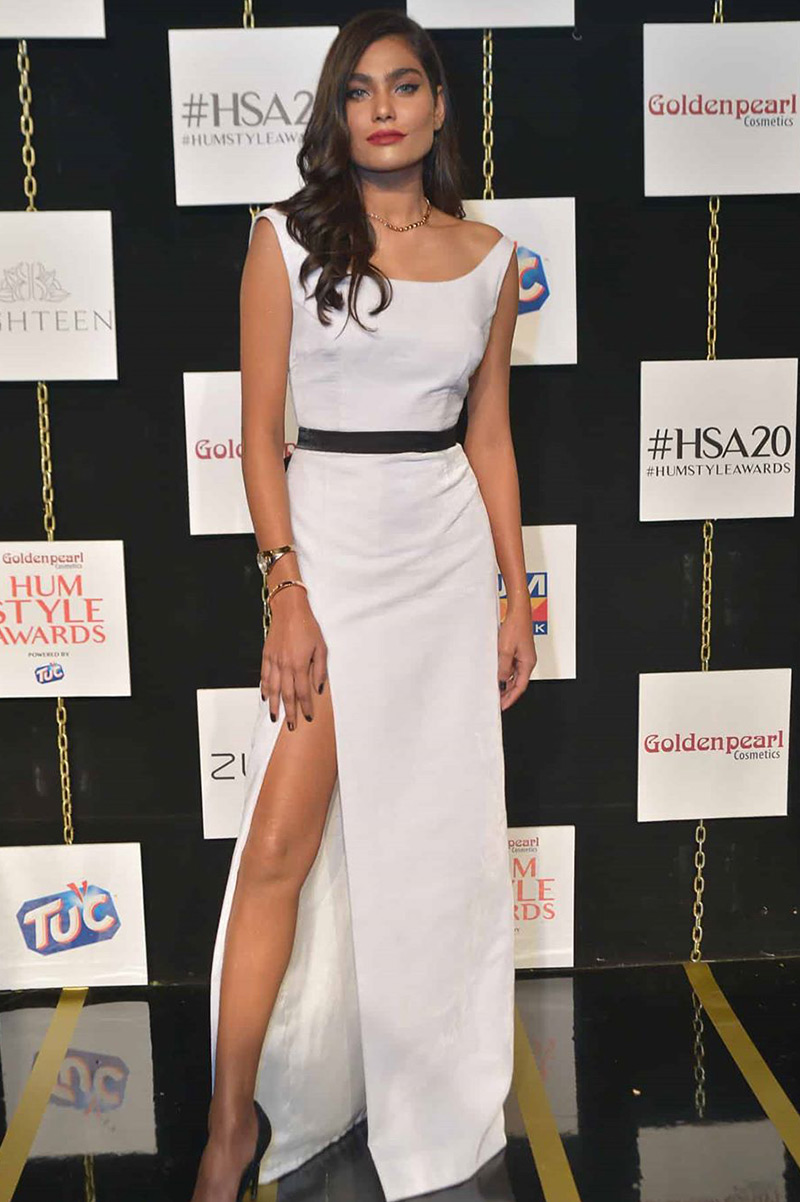 Well, that's it for today folks, that's our fashion breakdown! We will be updating you on the future events so keep looking at this space.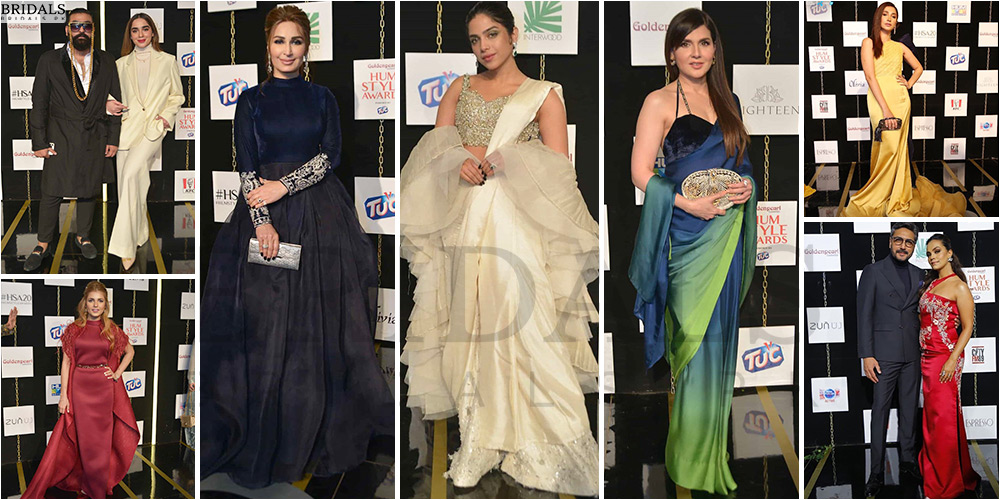 Hum Style Awards 2020 – What's Hot, What's Not!
Description
Highlights of the fashion front of the star-studded night!
Admin
Bridals.PK
https://blog.bridals.pk/wp-content/themes/bridal/images/logo.png