7 Viral Bridezilla Stories that Broke the Internet with Their Ridiculousness
May 20, 2019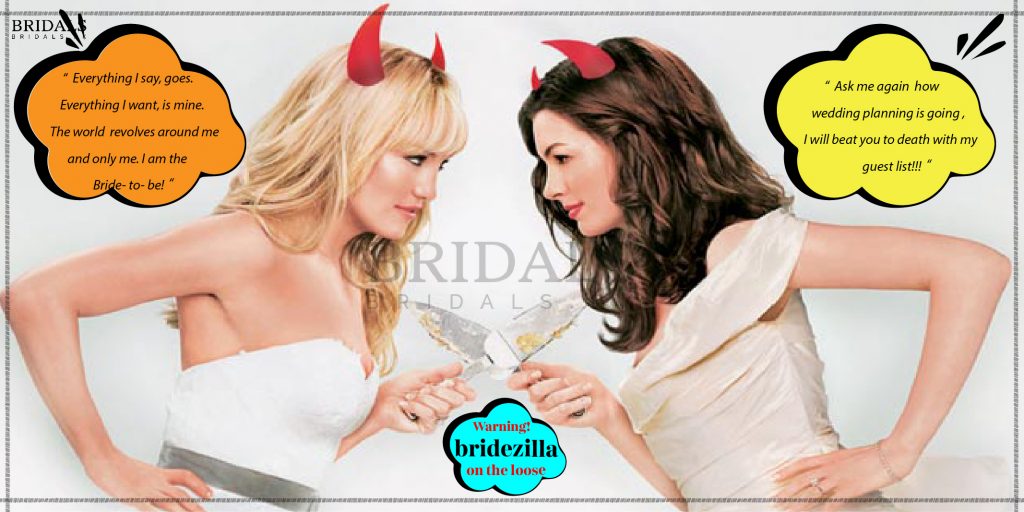 Article by: Hazafa Hasan
Planning the perfect wedding is no joke. Girls start planning for their big day the first time they attend a wedding, but despite the lifelong planning, there is still a lot that can go wrong. From dress emergencies to cake disasters, there are a lot of risky variables in a wedding that seems to be waiting to go wrong. The brides have to make a lot of decisions (because usually, grooms do not care what flowers should be in the centerpieces). Making sure that every detail is perfect can be hard on any bride's nerves, so if a bride-to-be turns into someone you don't recognize, blame it on the wedding planning stress.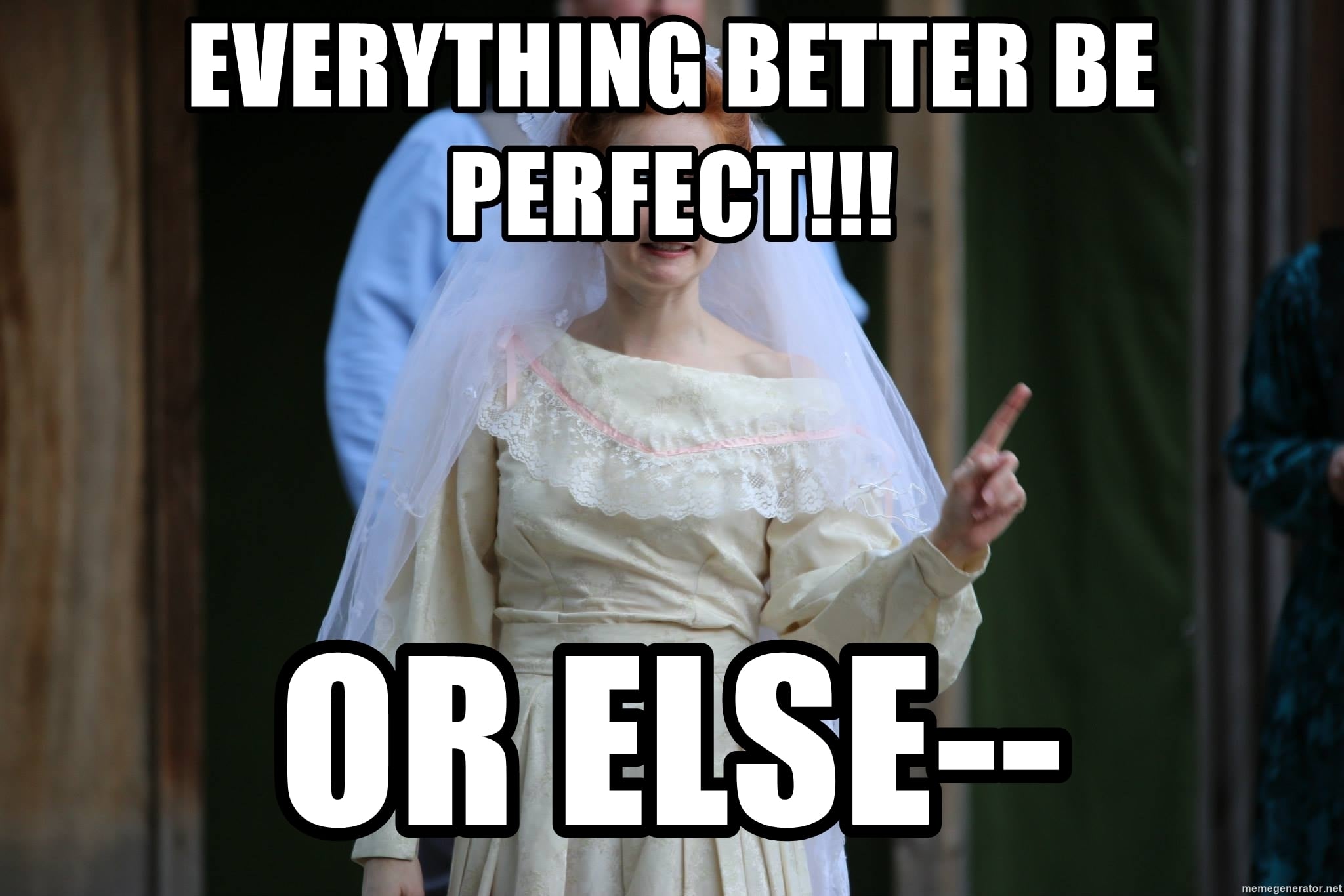 (Photo: MEMEGENERATOR)
Even when an engaged couple has the best crew working to indulge each whim, still the bride has the final say on how everything should be. So it makes sense that amidst all the details, they have a tiny pre-wedding meltdown. However, in this article, we have brought you a few viral wedding stories from real-life brides who pushed their wedding too far and made everyone uncomfortable.
The One With A Very Specific Dress Code
A bridezilla went viral on Facebook when she went overboard with the dress code. She announced it on social media a year and a half earlier to prepare her guests for extremely specific dress code. She wanted women of a certain weight to wear specific colors, a dress worth $1000 and Louboutin's heels. After her post went viral she had a polygraph party to hunt down the snitch who leaked the post. Take a look at that infamous dress code post for yourselves: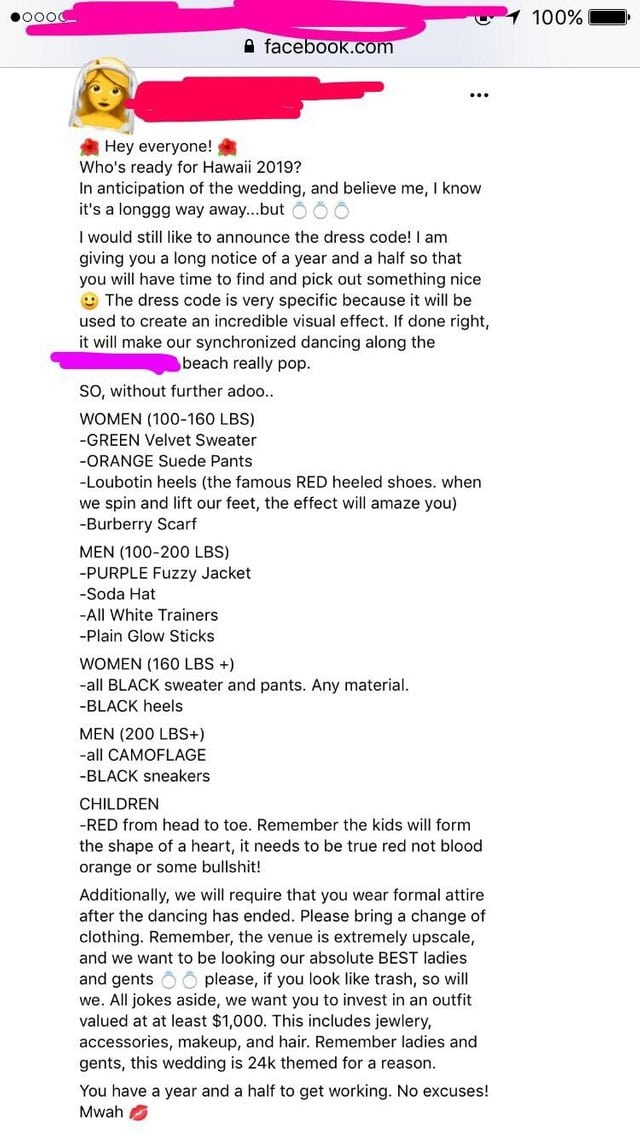 The One Who Wanted to Have A Wedding Year Instead of A Day
According to Reddit, a bride once had an ugly meltdown when she found out that her friend was engaged and plans to get married in the same year. The bridezilla maintained that the whole year was special to her, not just the big day. Her friend's wedding wasn't even in the same season but the bride threw a huge fit that her friend was only getting married to steal her thunder.
The One Who Was (Wasn't) Size 4
A bridal salon owner's daughter once told the story of a bride, who insisted that she was a size 4. The owner took her measurements and told her she'd fit in size 8. The bride went to have a screaming row that all her dresses were size 4. When finally, the dress she ordered came in size 4 and didn't zip – the salon owner reordered a new dress on the house to mellow her down.
(Video: YouTube)
The One Who Was Really Pretty
A custom dress designer once shared the story of a bride who asked to be given her chosen dress for free. The dress was worth $1800. The bride reasoned that she was really pretty and can send her the pictures of her wedding to help promote her business. The designer couldn't get over the sheer gall of that bride!
(Video: Walt Disney Studio)
The One With An Eye for Detail
According to guestofaguest.com, one bride fired her bridesmaid last minute. The replaced bridesmaid was guilty of dying her hair a lighter shade of brown the night before. The bride said her hair doesn't match her bright pink dress, so she was fired too!
(Video: YouTube)
The One Who Thought She Was Making A Mistake
One bride wanted to recreate the movie 'The Wedding Planner' in real life. She called up her planner and declared her love for him, five days before the wedding. She told him she loves him because he GETS her. The planner strictly told him that her parents were paying him handsomely to GET her. He might sound rude, but thanks to him the wedding happened just as planned.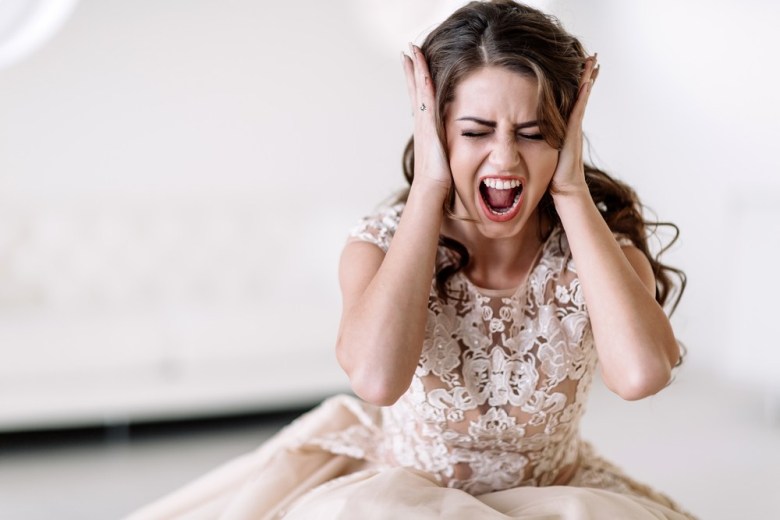 (Photo: SHUTTERSTOCK)
The One Who Wanted a Floating Cake
A couple went to a bakery to get their wedding cake. The bride wanted a cake that was large enough to feed 500 people, be multi-tiered, filled with fresh berries, custard, buttercream, covered in fondant, edible flowers and fresh fruit. The problem was that the bride wanted this cake to float as well. She said she saw it in an anime and threw her coffee and cried when told it wasn't possible.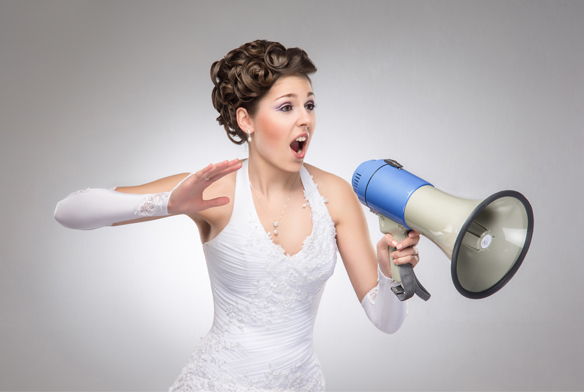 (Photo: HEYLITTLEREBEL)
So folks, by now you must know that brides get away with a lot of irrational demands when their wedding is near, but as a bride-to-be, you need to take your guests' position into account. Acting like that bride who wanted her guests to give her $1500 so she can have a Kardashian style wedding will only get you peoples' ire. Everyone gets it that it's your special day so they put up with your moods and demands letting your tantrums slide – but you need to remember there is such a thing as too much pushing that can lead to broken relationship ties with people who love you. Choose wisely, ladies!!!
7 Viral Bridezilla Stories that Broke the Internet with Their Ridiculousness
Description
In this article, we have brought you a few viral wedding stories from real-life brides who pushed their wedding too far and made everyone uncomfortable.
Admin
Bridals.PK
https://blog.bridals.pk/wp-content/themes/bridal/images/logo.png