20 Wedding Planning Rules You Need to Follow to Avoid Any Disasters
May 29, 2019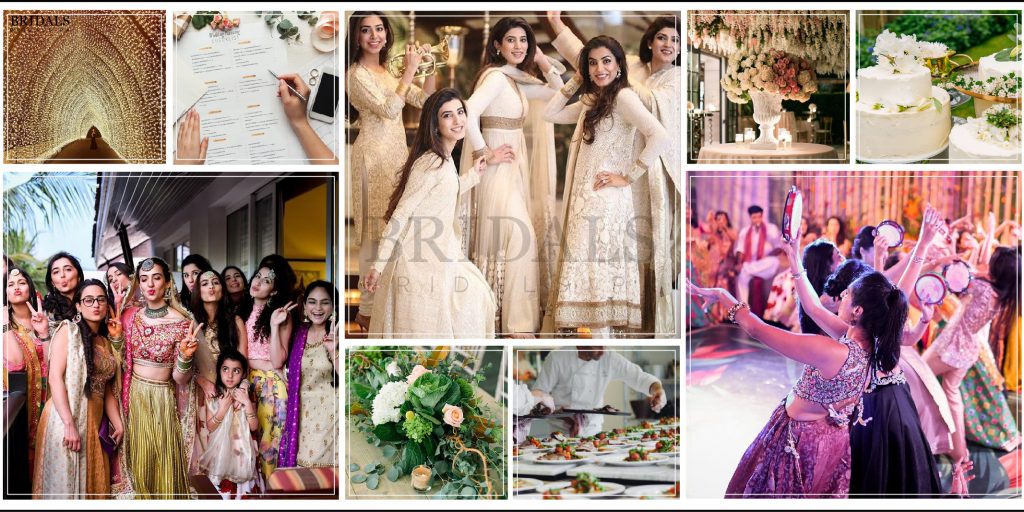 Article by: Team Bridals.pk
The process of planning any event is always hard but when it comes to planning your wedding – the struggle is real. There are so many things and people involved in planning your perfect day which can actually make it difficult for you to keep track of the overall progress. In order to have a smooth planning phase, we have drafted 20 rules for you to follow. These rules will help you to remember some important details that you might have forgotten otherwise.
1. Don't invite someone to your wedding if you don't want to!
Why invite somebody under pressure if you are not willing to invite them at first. You need to have an open conversation with your family about the guest list size.
(Video: Bryce Jacobs, YouTube)
2. Invite your guests to a wedding in style
This is an important one to follow. Your guest needs to be respected, never send them informal, half-hearted wedding invitations through a text message or by using social media. Your guests should feel excited to attend your big day.
(Video: Yeh Jawani Hai Deewani, YouTube)
3. Talk to your wedding caterer before your big day
Your guest list is very important for your caterer to determine the overall food arrangements. Discuss your expectations with your caterer. Ask direct questions if you have any in your mind.
(Video: Movieclips Coming Soon, YouTube)
4. Food arrangements for your wedding vendors
From the wedding planner to your photographer, it is your duty to make a proper arrangement of food for all the vendors present at the wedding venue on your special day. Include them in the list while head counting your guests.
(Video: YRF, YouTube)
5. Do your market survey before hiring any vendor
Market survey will help you to compare the prices so that you can make a sound decision based on your requirements and budget.
(Video: Crazy Rich Asians, YouTube)
6. Have a wedding budget before your planning begins
No doubt, your wedding planning should always start by deciding your wedding budget. Your wedding budget will keep your expenses in check and set a limitation on how much you should spend on your wedding. Small details can sum up to huge money if left unchecked.
(Video: Favorite Videos, YouTube)
7. To-Do Lists For Your Photographer And DJ
Always have your expectation listed down for your photographer and DJ. Have a clear discussion about the moments you want your photographer to capture and about the songs that you want your DJ to play at a particular moment.
(Video: Maroon 5, YouTube)
8. Special attention to your stage décor
The stage at a wedding acts as a backdrop of your happily ever after, so it should look like a class apart. It's important to blend the décor of the stage with that of the venue's so it's not too conflicting or overdone. The lightning also needs to be right for the photographs to come out beautiful and to balance the overall theme of the function!
(Video: Crazy Rich Asians, YouTube)
9. Don't Go For The Wedding Color Scheme That You Don't Like
This is about your special day; why should you follow a trendy color scheme just because it is trending. Go for the color scheme that you genuinely like for your wedding décor or also the one that reflects your personality. Wedding guests always look forward to personalized ceremonies.
(Video: The Wedding Planner, YouTube)
10. Always Have a Contingency Plan
Having an alternative plan is one of the traits of smart people and we want you to be smart when it comes to wedding planning. The contingency plan will help you to face any uncertain wedding related situations without distress, may it be a cake disaster or cold feet before the wedding.
(Video: Dharma Productions, YouTube)
11. Decide Your Wedding Décor Early
As soon as the wedding dates are fixed one starts thinking about how they want their big day to turn out. Say you want your wedding to be rustic or maybe want an outdoor day function – you will need time to make the right arrangements for whatever you decide with. The sooner you decide the theme of your wedding décor, the better it will pan out, after all, who knows maybe there are some last minute changes and even for them to be made you need time!
(Video: Bride Wars, YouTube)
12. Don't Go For Tall Centerpieces
Always bear this in your mind; choose your centerpieces according to your table size and general wedding décor. If you want to have a tall centerpiece, then it should be placed in such a way that it doesn't cause a problem for your guests.
(Video: Friends, YouTube)
13. Always Have A Communication Plan
Such plans are important when something unexpected happens. Assign your most trusted friend or family member to communicate and resolve any rising issue by themselves or with help.
(Video: YRF, YouTube)
14. Coordination Between Your Wedding Vendors
The success of any event lies in how people work and communicate together. To have a smooth wedding ceremony, you need to have a proper meeting with all of your wedding vendors in one place. This will help you open the communication channel between them, which will make the coordination even much easier for them.
(Video: YRF, YouTube)
15. Don't Go For Out-Of-The Season Wedding Menu
The weather must be taken into account when you are finalizing your wedding menu. You cannot set up a hot drink station in summer, or lemonade in winter. Whatever cuisine you pick for your big day, make time to think over the seasonal best dishes and availability of the ingredients required.
(Video: Movieclips, YouTube)
16. Welcome Your Wedding Guests
There should be someone at your wedding venue's entrance to welcome your guests. Not receiving your guests is against the wedding etiquettes.
(Video: Dharma Productions, YouTube)
17. Say no to overstressing
Once you are done with your planning process, you need to enjoy each and every moment. Stop focusing too much on tiny wedding-related details that can spoil your enjoyment.
(Video: Zee Music, YouTube)
18. Wedding giveaways for all wedding guests
If you are giving away wedding favors make sure that each and every guest will get one.
(Video: Wedding Crashers, YouTube)
19. Seating arrangement according to the size of guest lists
Deciding your wedding guest list early will prove very helpful in organizing the wedding ceremony. Make sure your seating arrangement is well-balanced and your guests can be easily accommodated.
(Video: Glee, YouTube)
20. Making a list of important details
It is necessary to have a list of those important things that can't be compromised. Having lists will help you sort things out easily. By following these rules, you will have everything in check and in fact be able to enjoy the planning process.
If you want to have a smooth wedding, then we at Bridals.pk suggest you abide by these rules!
The videos in this article have been taken from Youtube and we do not take responsibility for copyright issues associated with its content or the music in the background.

20 Wedding Planning Rules You Need to Follow to Avoid Any Disasters
Description
In order to have a smooth planning phase, we have drafted 20 rules for you to follow. These rules will help you to remember some important tiny details.
Admin
Bridals.PK
https://blog.bridals.pk/wp-content/themes/bridal/images/logo.png