Visit Morocco: A Gem of a Country with Roughened Edges & Exotic Beauty
May 31, 2019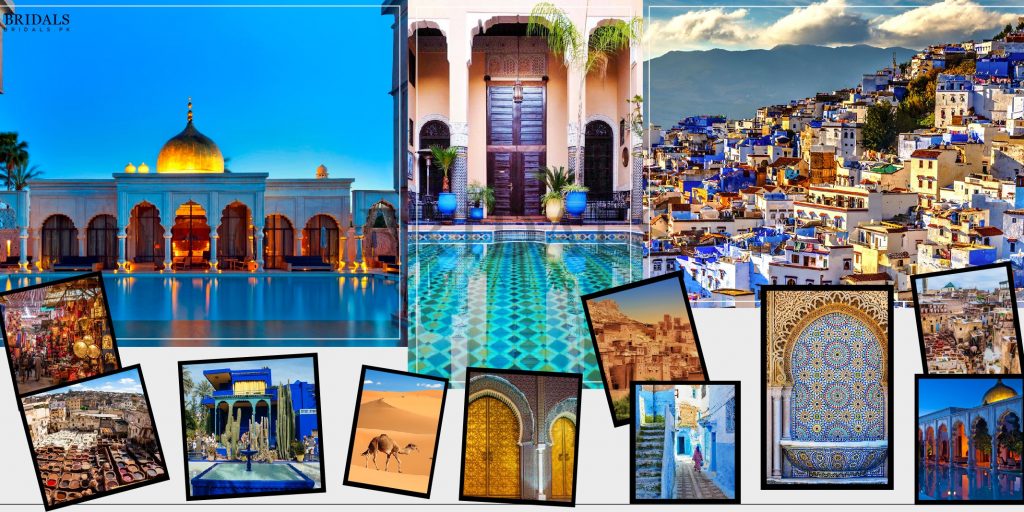 Article by: Hazafa Hasan
Mythical, vibrant with a side of exotic; Morocco is something out of a fantasy universe. The gorgeous snow-capped mountains overlooking the open-air spice markets, the immense dessert with red sand dunes, bustling souks and tall minarets; all contribute to the gloriousness of this indifferent beauty, sitting between Europe and the Middle East. If you have gotten yourself hooked prior to Ramadan – this might be the best chance to explore this jewel with roughened edges with your new partner.
Fun Fact: Did you know that Sex and the City 2 that's supposed to be shot in Abu Dhabi was actually shot in Morocco?
(Note: The following trailer is explicit, viewer discretion advised!)
(Video: Movieclips Classic Trailers, YouTube)
Morocco's appeal for most travelers today is that it's very instagrammable. However, this trip needs you to study up on where to go and how to travel, if you haven't done your research then this trip can end in a disappointment. Your disappointment isn't something that any Morocco lover will condone, which is why we have come up with this comprehensive guide that will cover you on the basics.
(Video: Jacob + Katie Schwarz, YouTube)
Getting to Know Morocco
First things first, you need at least a week to go actually see the place. You will need to visit the imperial Marrakesh, the famous Casablanca and Fez (the cultural capital of Morocco). Then you move out to the desert and later maybe, spend some time on the coast. So if you don't want to feel rushed, plan for more than two, three days stay in Morocco. The people are friendly to tourists and will help you out if you only ask them for it. The trains can take you to major capitals but for the rural region, you will need to take buses. Morocco is a great place to visit during Ramadan.
Some of you might have questions about what to wear in Morocco, to them we say that keep it summer casual and modest. Locals might not be flattering to people who dress in tank tops and shorts. Also, let's hold the PDA a bit when in Morocco. Single women can even engage woman-led expedition through Morocco which we highly advise.
It's not even that expensive of a destination if you don't mind the non-luxurious facilities.
(Video: Beautiful Destinations, YouTube)
Some of the great classic motion pictures have been shot in Morocco. Take a minute to recall them in the trailers below:
1. The Mummy
(Video: YouTube Movies, YouTube)
2. Gladiator
(Video: Movieclips Classic Trailers, YouTube)
3. Prince of Persia: Sands of Time
(Video: Walt Disney Studios, YouTube)
4. Inception
(Video: Movieclips Classic Trailers, YouTube)
5. Lawrence Of Arabia
(Video: TrailersPlaygroundHD, YouTube)
The Local Cuisine
A lot of civilization has shaped and added to the cuisine that's currently popular in Morocco. The Berbers were fond of heavy gravy, tagines and couscous. The Arabs have their dried fruit, nuts and tagines. The Moors brought citrus and olives. The Jewish Moors taught the art of preservation and Kebabs. You will find grilled meats, tagines, fruits and spices to be popular in Morocco, given the warm weather. A smoked eggplant dip Zaalouk is really worth a try. Also the b'stilla or Bastilla, which is a pie with layers of almonds, eggs and pigeon meat – perfect for adventurous eaters.
Follow the locals for food guide, any restaurant with local families is bound to be good.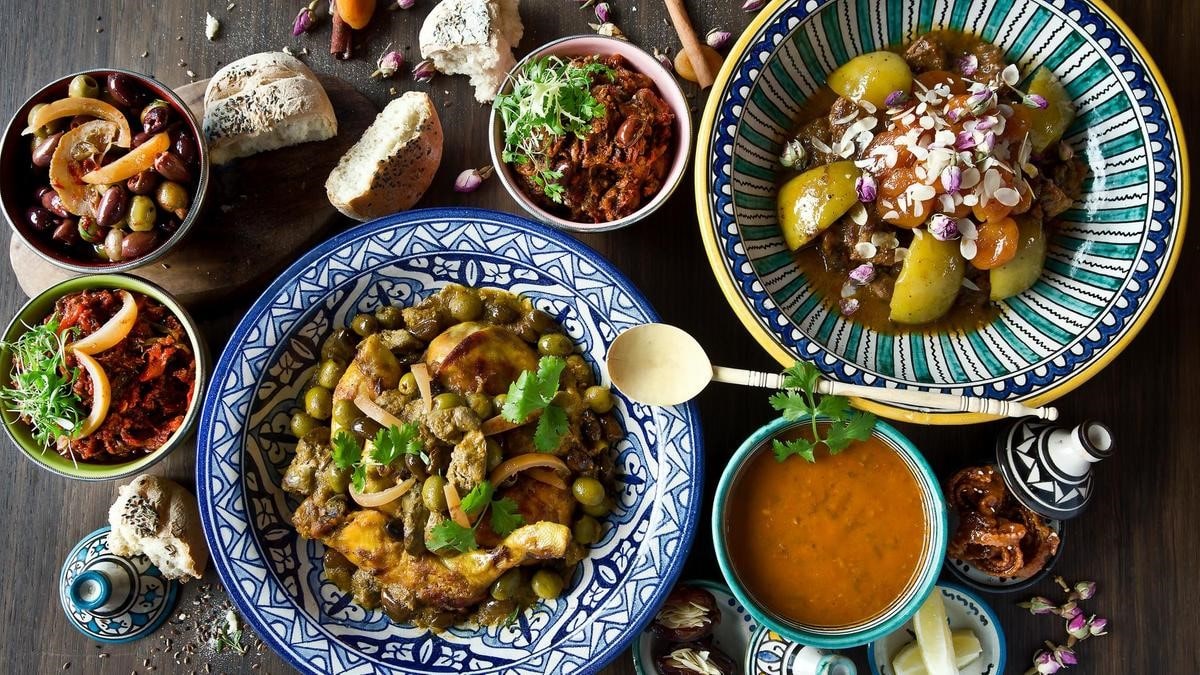 (Photo: infocookingworld.blogspot.com)
WHERE TO GO IN MOROCCO?
Marrakech
The Moroccan landscape of Marrakech is your taste of desert – Arab culture; packed with fortune tellers, snake charmers, merchants wandering about with straw bags milling about. The night is alive with aromatic and tantalizing food bazaars. Don't forget to haggle for a great bargain when you are in the souks to shop traditional textiles, pottery and jewelry. The popular tourist spots in the city are Jemaa el-Fna, Jardin Majorelle, Bahia Palace, El Badi Palace and Koutoubia Mosque.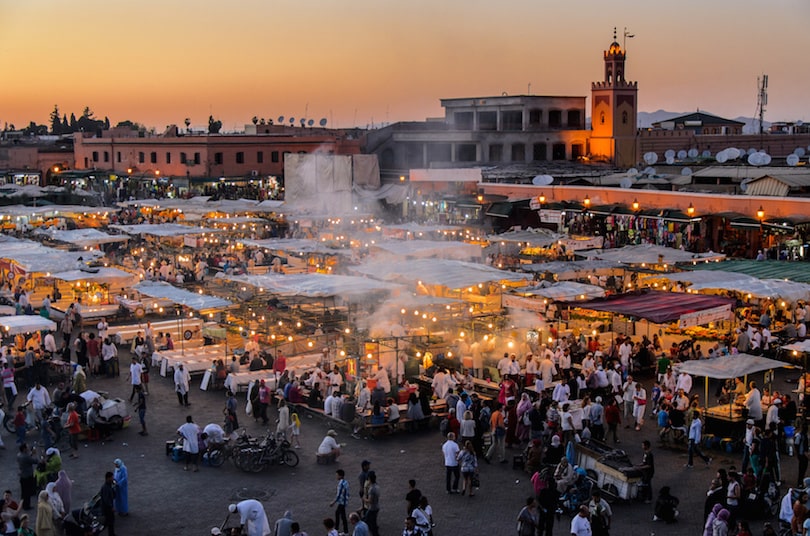 (Photo: Touropia)
Casablanca
All the classic movie lovers will have to make a stop at Casablanca and see Rick's. However, do not stay overnight as there isn't much to do in the port city, especially if you are on a clock. Go check out the Hassan II Mosque, Casablanca Cathedral, La Corniche and Mohammed V Square. It also might be a grand idea to eat breakfast at Café de France, lunch at Bondi Coffee Kitchen and enjoy dinner at La Sqala.
(Video: Movieclips Classic Trailers, YouTube)
Fez
This city offers an authentic Moroccan experience, even though it's a tad dirtier. Also, it offers great food. The narrow streets form a labyrinth across the city to lure you with its colors, line of washed laundry and natives going about their life. Fez is for history buffs, which is why leisure-seeking tourists might be not so impressed with it. The architecture of Bou Inania Madrasa, Al-Attarine Madrasa, Bab Bou Jeloud and Dar Batha is something to pique your inner love for historic places with a vibe of a tale untold.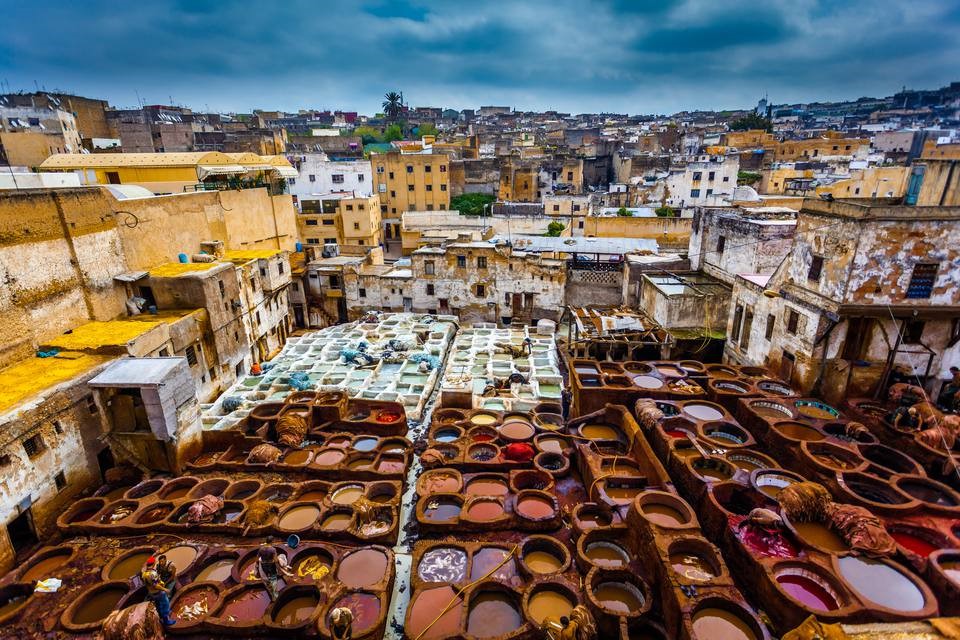 (Photo: Bloomberg)
You can take a day trip to baths in Volubilis and Roman ruins. Chefchaouen; the Blue City is being coveted by Instgrammers all over the World and it soon may be too touristy for people to really enjoy it for its serenity.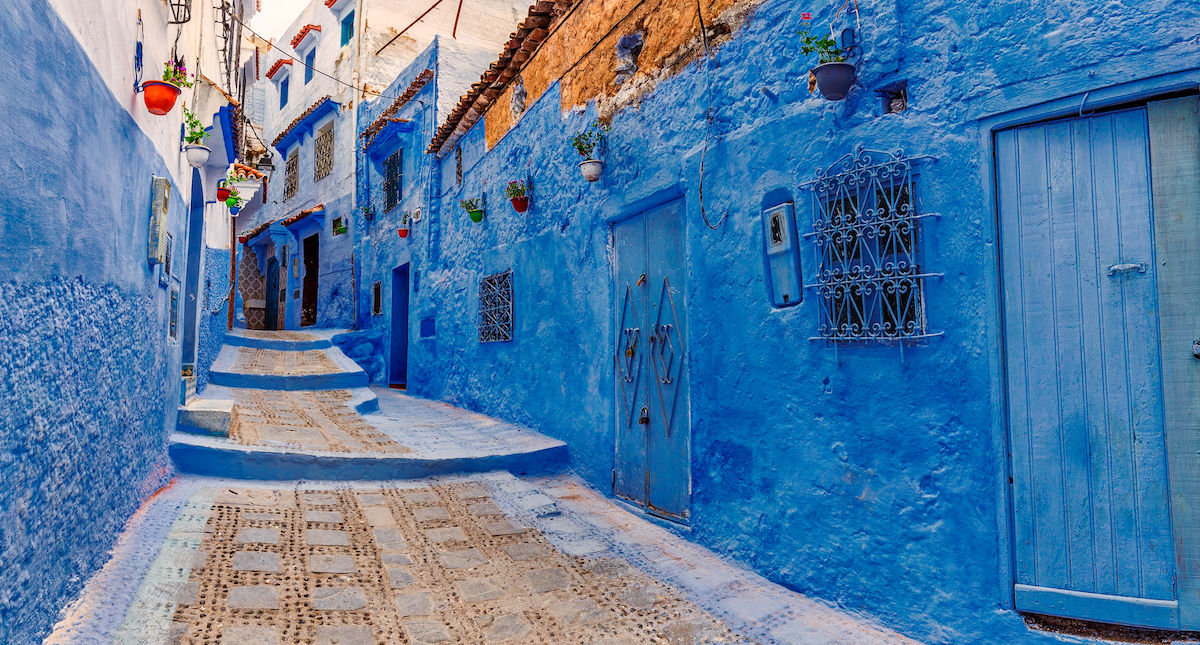 (Photo: AliBaba Tour)

Moroccan Coast
Dotted with boho beach towns and outlets of amazing seafood, you can surf at the coastal town of Taghazout. Relatively low-key and beautiful, this is a good place to visit on a weekday. The red arch on Legzira Beach has been photographed countless times. The coastal city Essaouira is an art haven and hosts annual Gnaoua World Music Festival.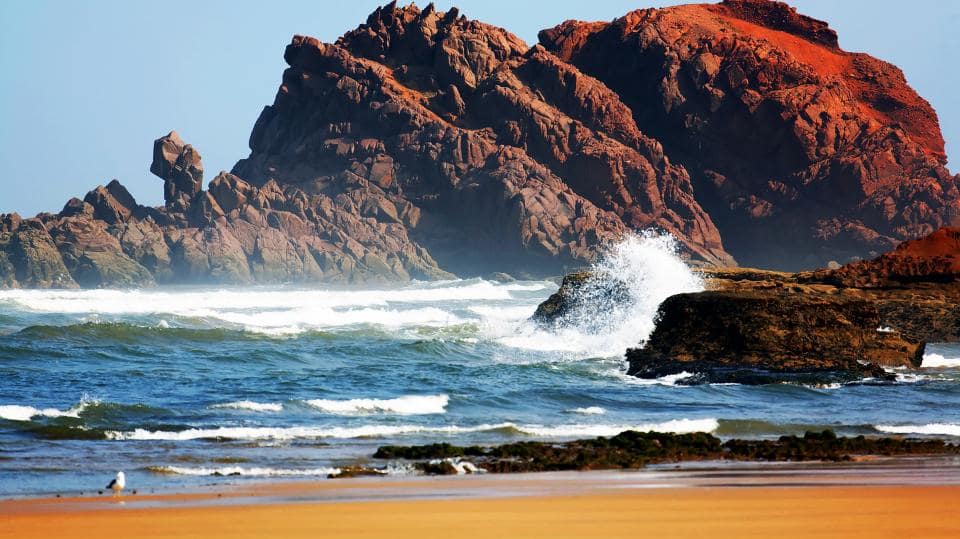 (Photo: Shutterstock)

Sahara Desert
The giant Sahara Desert can take up to 10 hours to get to and you need three days to properly see it. You need to be ready for the heat and the cost. You will need to stock up on the water as well. Also, cover up in the desert to avoid the rays. The temperature also drops to freezing degrees at night. Sahara is 'THE' attraction in Morocco so it's worth all the effort, even if just to ride camels and sleep under the stars.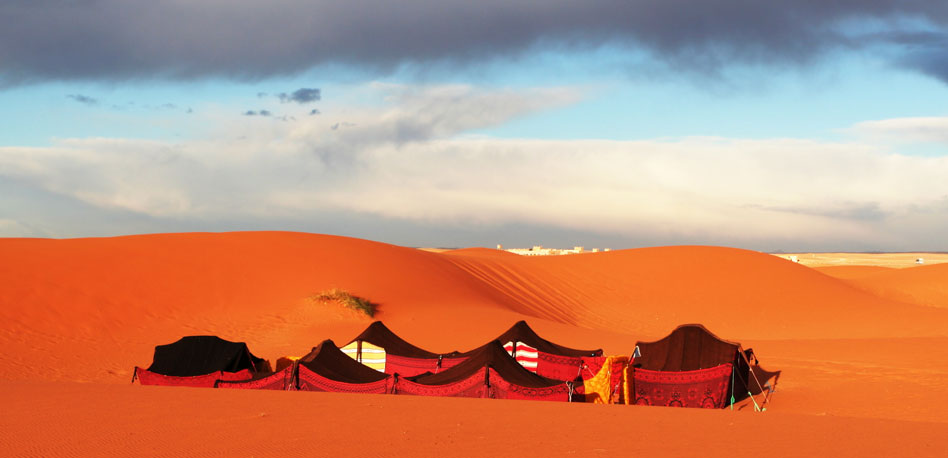 (Photo: Brahimtours)
Atlas Mountains
A 40-minute drive can take you from Marrakech to Ourika Valley. The small beautiful region of Ourika is packed with hiking trails and splendid waterfalls. You can also take a hot air balloon ride over the panoramic High Atlas range. You can also visit neighboring regions for sweeping views of abandoned cities, small walled-cities and authentic tagines.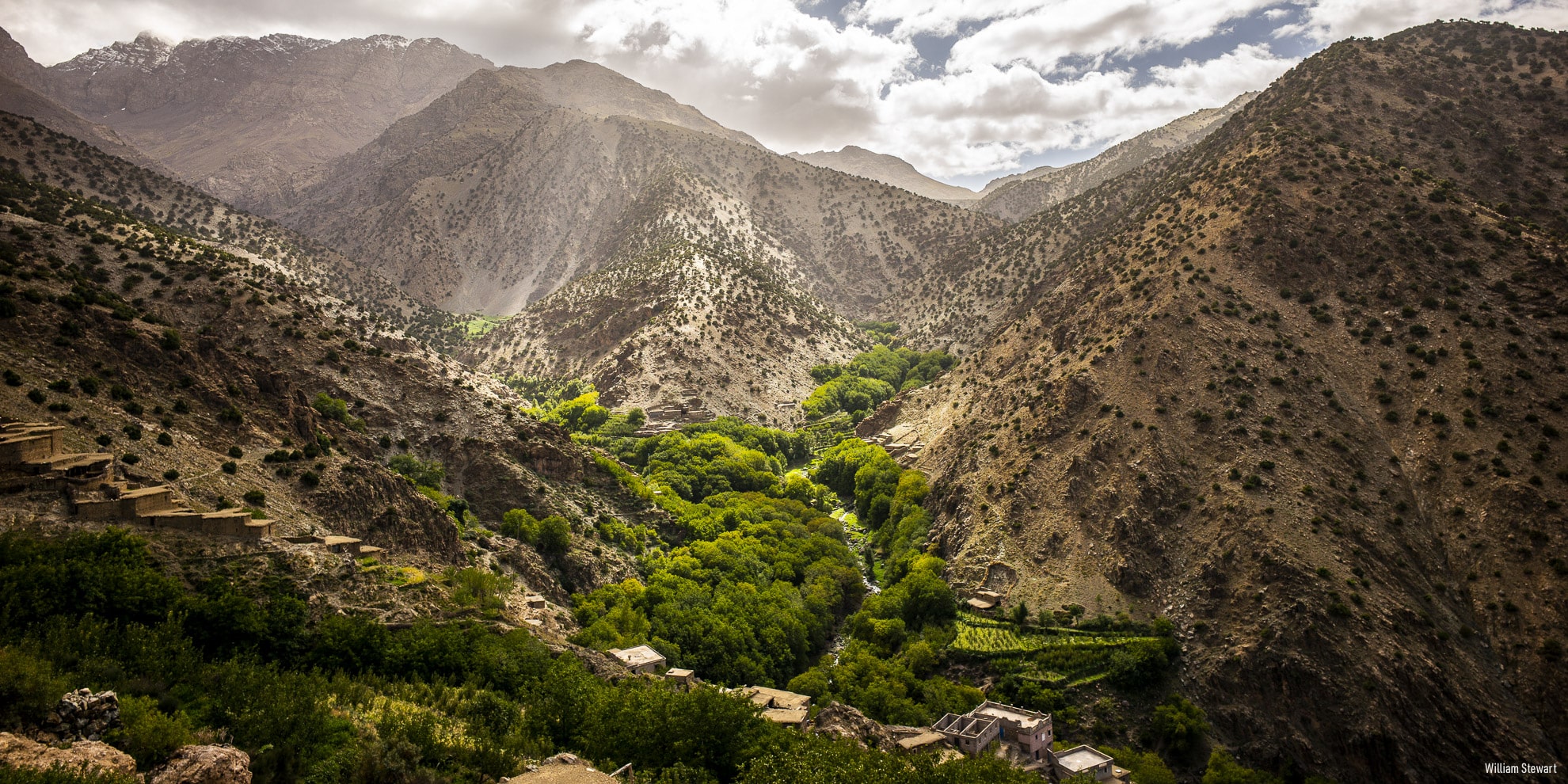 (Photo: unknown)

Have we convinced you yet? We certainly are intrigued about this cultural, historic place that has so much raw beauty to it.
Visit Morocco: A Gem of a Country with Roughened Edges & Exotic Beauty
Description
Mythical, vibrant with a side of exotic; Morocco is something out of a fantasy universe. Here's what you should know if you plan to visit Morocco this year.
Admin
Bridals.PK
https://blog.bridals.pk/wp-content/themes/bridal/images/logo.png