A Romantic "Quarantine" Breakfast in Bed!
Apr 04, 2020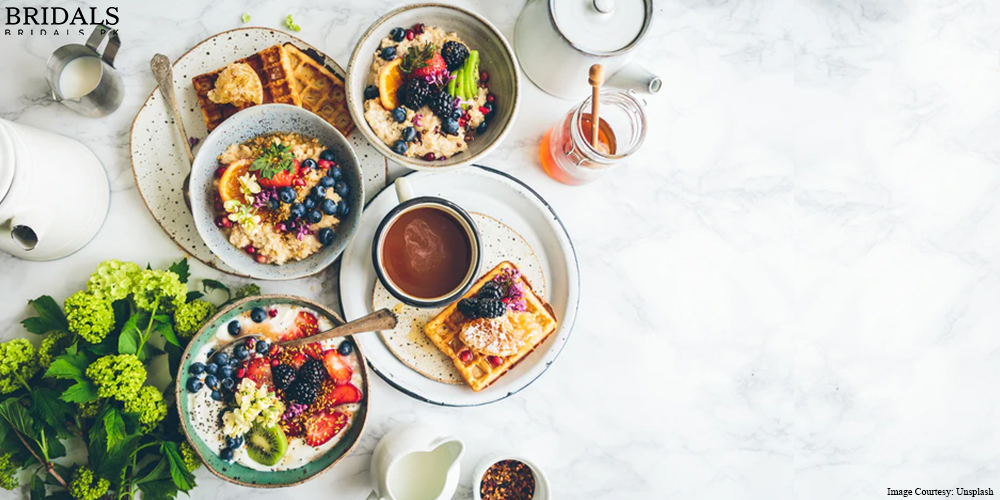 Article by: Myra Raja
So, a lot of you might have noticed, wives being extra nice to the husbands and making all sorts of breakfasts for them and crashing our Instagram with their stories. With COVID-19 out and about and people are in lockdown and house arrest what more is left to do. Not much. So the bored housewives have been mastering the art of dishes and making everybody including themselves stray away from their respective diet plans. Well, we also have a few to get you started.
1. Shakshuka
The most famous Shakshuka that people are now making with beef and chicken is on the top of our list. It's a classic north African and Middle Eastern dish and it's a mixture of tomatoes, onions, eggs and spices. Some people add chicken or beef to give it a more knock out variation. It's quite basic so bear with us. All you need to do is dice an onion, sauté it with a bit of red bell peppers. Add the garlic and spices and cook for another 5 minutes. Spices include, two teaspoons of paprika, one teaspoon cumin and ¼ tsp chili powder. Add a 28 ounce can of tomatoes and break them down. Season with salt and pepper and simmer it for a bit. Create a bit of a well in your paste for the eggs and break the eggs and slide them into that well. Depends on your pan how many eggs you want to put in, but a minimum of three should be fine too. Leave it here for 6 to 8 minutes. Garnish with chopped cilantro and parsley and voila! You have an insta worthy dish on your hands.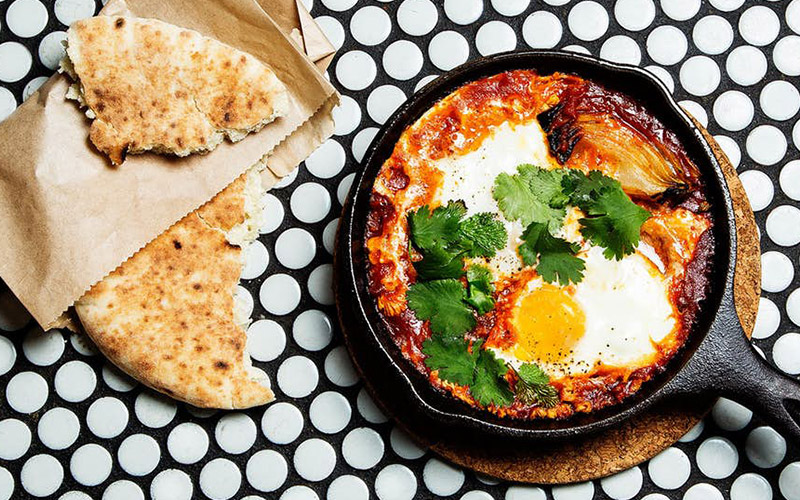 Photo via: Tasting-Table
2. Spanish Omelet
Second egg-tastic dish to master is the Spanish omelet. It's basically a combination of hash brown base with eggs on top and is our personal fav. You need to stew potatoes, cut thickly and boil for thirty minutes. Strain them and keep aside. Chop about two onions and keep aside.  Beat six eggs and add them to the potato mixture with three tablespoons of parsley with salt and pepper according to taste. Heat some oil in a pan and tip everything in on a moderate heat to shape the omelet into a cushion. Invert it into a plate when it's almost set, invert a few times to get both sides done and press the edges to keep the cushion shape intact. Slide into a plate and cool for ten minutes before serving.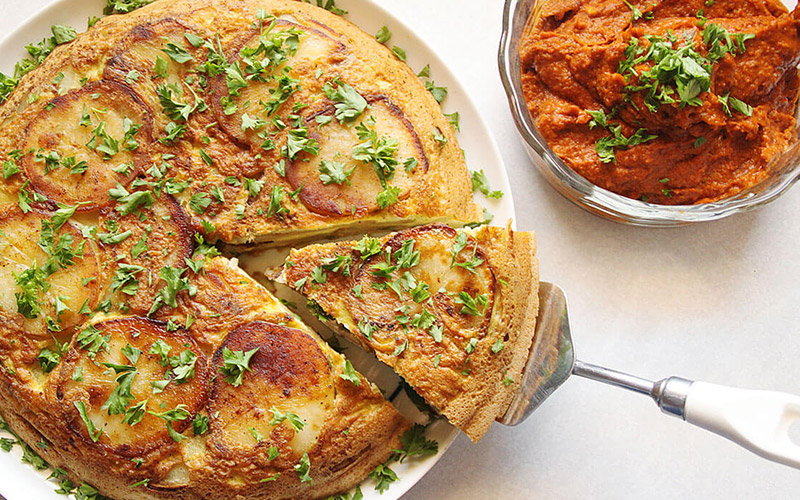 Photo via: SunnySideCircus
3. Frittata
Okay, so for the finale to our egg-tastic series, we want to introduce you or reintroduce you to the famous frittata. A frittata is creamy, custardy and full of veggies. It is not dry, sponge like or bland. Plus, it's the perfect thing to have in the morning! It can be baked or cooked atop a stove, that's up to you. This is a baking version. Preheat the oven to 350 degrees. Crack the 12 eggs into a mixing bowl and add the dairy of your choice. The recipe calls for 3 tablespoons of dairy of your choice from full fat cream to sour cream or yogurt or whole milk. Whisk only till blended and mix in half a cup of the cheese and leave half a cup for the top. Now for the 3 to 5 cups of veggies or cooked veggie leftover or any greens of your choice and cook them in a little bit of olive oil. Cook till they are wilted and soft, then add salt to taste. After cooling the veggies, add in to the egg mixture and put it in a 9 x 13-inch pan. Put the reserved cheese on top of the frittata and bake for 20 to 25 minutes. Keep an eye out for the center to be jiggly and the eggs are puffy and look cooked. Garnish with herbs, slice with a knife and serve.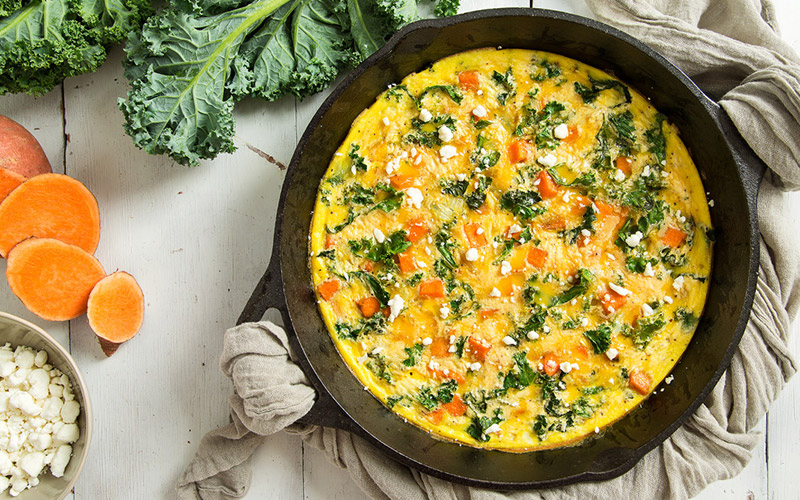 Photo via: Vegetarian-Times
There you have it some egg-tastic recipes to set your morning right. Use this time wisely and get back to life being basic and simple.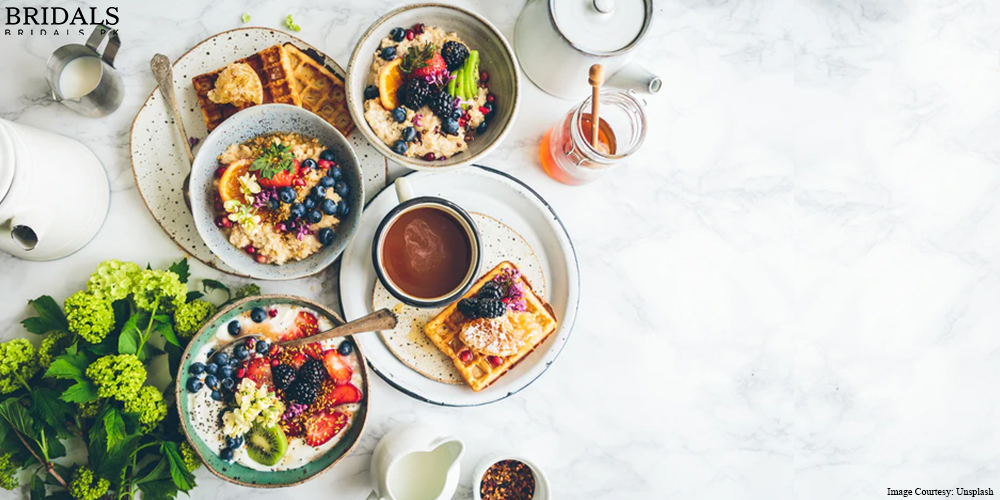 A Romantic "Quarantine" Breakfast in Bed!
Description
Since Breakfast at Tiffany's is not an option at the moment!
Admin
Bridals.PK
https://blog.bridals.pk/wp-content/themes/bridal/images/logo.png