Timeless Shafaq Habib Jewels To Make A Regal Bride Out Of You!
Mar 01, 2019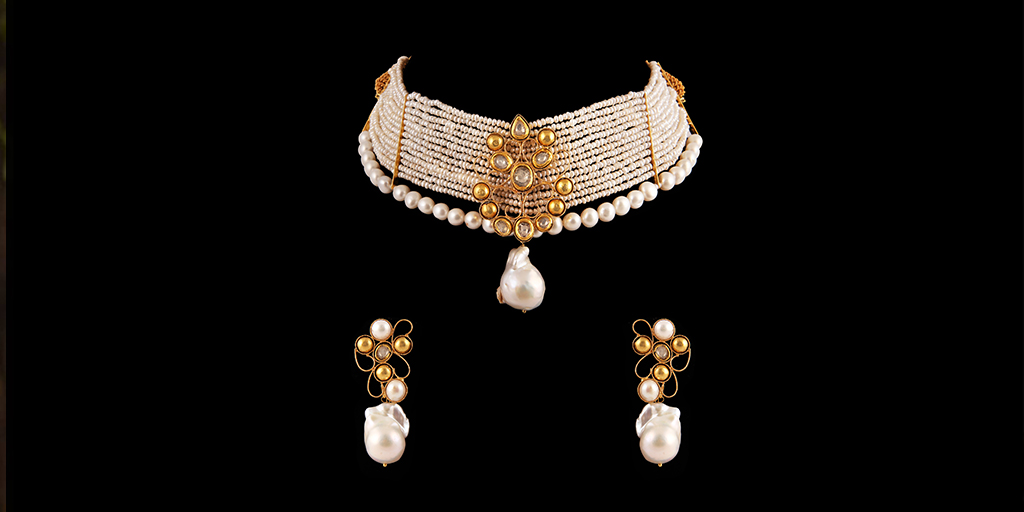 Shafaq Habib is a pro at designing gold bridal jewelry. Her ageless designs make a captivating sight, and women just can't get enough of her commendable quality jewelry. She never disappoints the brides seeking traditional gold jewelry for their big day. Whether its traditional satlara necklaces you seek or Sahara earrings and a contemporary choker to match with them Shafaq Habib has got you covered. As of recent all the previous trends of past; such as satlara necklaces, sahara earrings, antique choker necklaces have returned for good. And Shafaq Habib has reinvented these timeless pieces and brought them back from history to the modern day brides so they might wear at their weddings. Here are some bridal sets from her glorious archives:
Something Rouge
This set is part of SH's heirlooms by Shafaq Habib. If you're a bride who's going for the traditional rouge wedding ensemble and you need something red to pair it with, then here's a stunning red bridal haar, choker and earrings to go with it. This incredible set is put together using polki diamonds and rubies set in 22kt gold and is adorned with a string of rubies. Inspired by the traditional jewelry of the Mughal and the Victorian eras, this set is designed to make you look like royalty.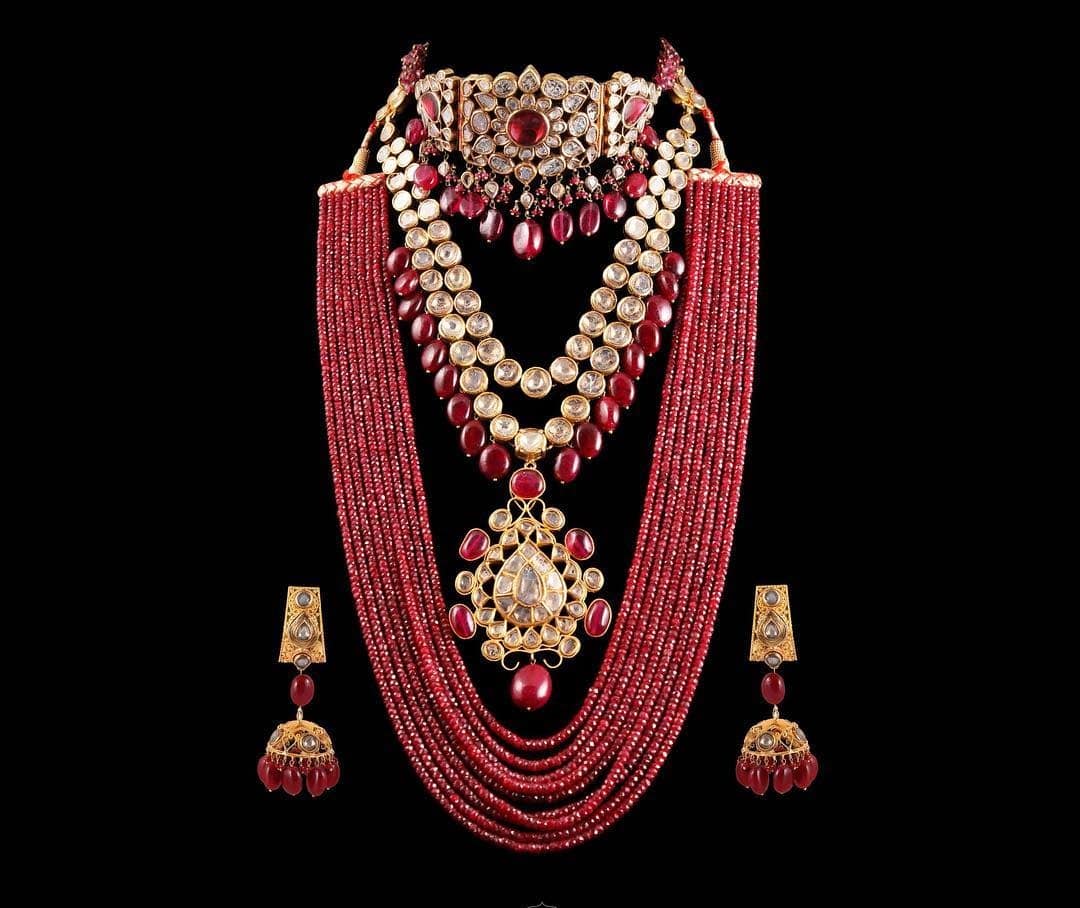 The Iconic Satlara Necklace
Satlaras have been trending since 2018 in Pakistan and this trending isn't dying down any time soon. This regal satlara necklace is absolutely gorgeous and is the reincarnation or true traditional jewelry. This particular satlara necklace comes with a pair of Sahara earrings and is paired with a traditional guluband. Set in 22kt gold this multicolored set is perfect for the bride who loves satlaras.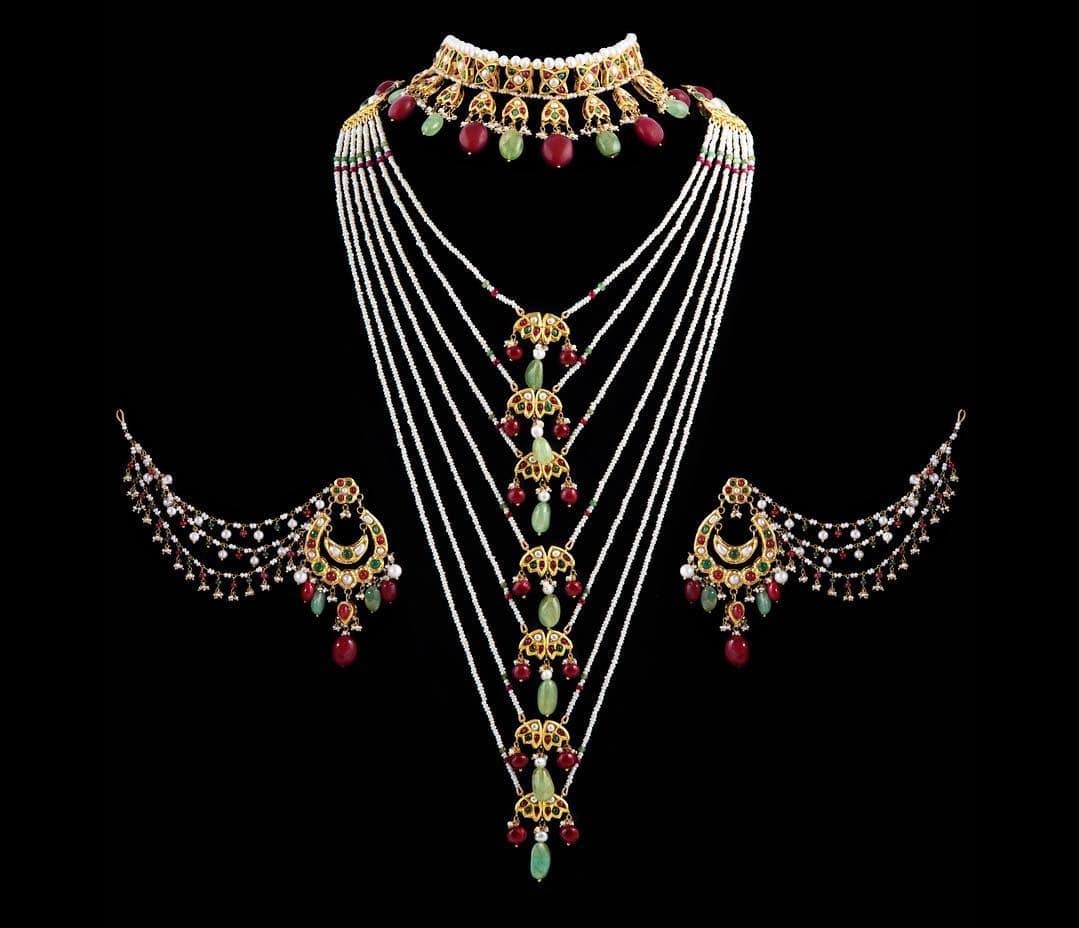 White Pearl Choker
Pearls are appropriate for all formal occasions, especially weddings. They don't have to be big to make quite an impression. May it be a classy choker, or a multilayered mala; pearls will always look innocent and pure. Here's a sophisticated pearl white pearl choker designed for brides who are the epitome of simplicity and wish to accessorize their bridal ensemble with a contemporary choker.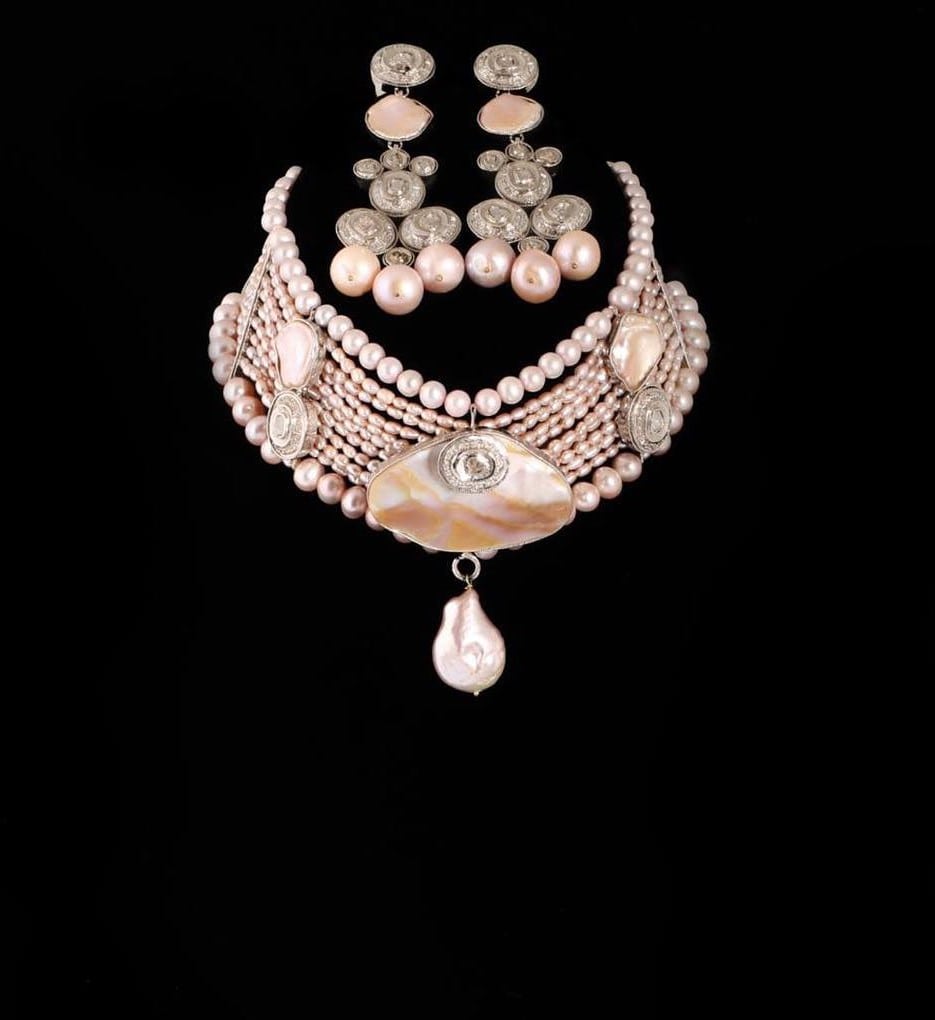 Polki Diamond And Emerald Set
This polki diamond and emerald set is designed for royalty. Although not a full satlara, this necklace is a slight variation of the satlar and has three strings instead of one. This beautiful teen lara necklace is paired with emerald and diamond earrings and makes the perfect bridal set. This is something that you definitely want to get married in!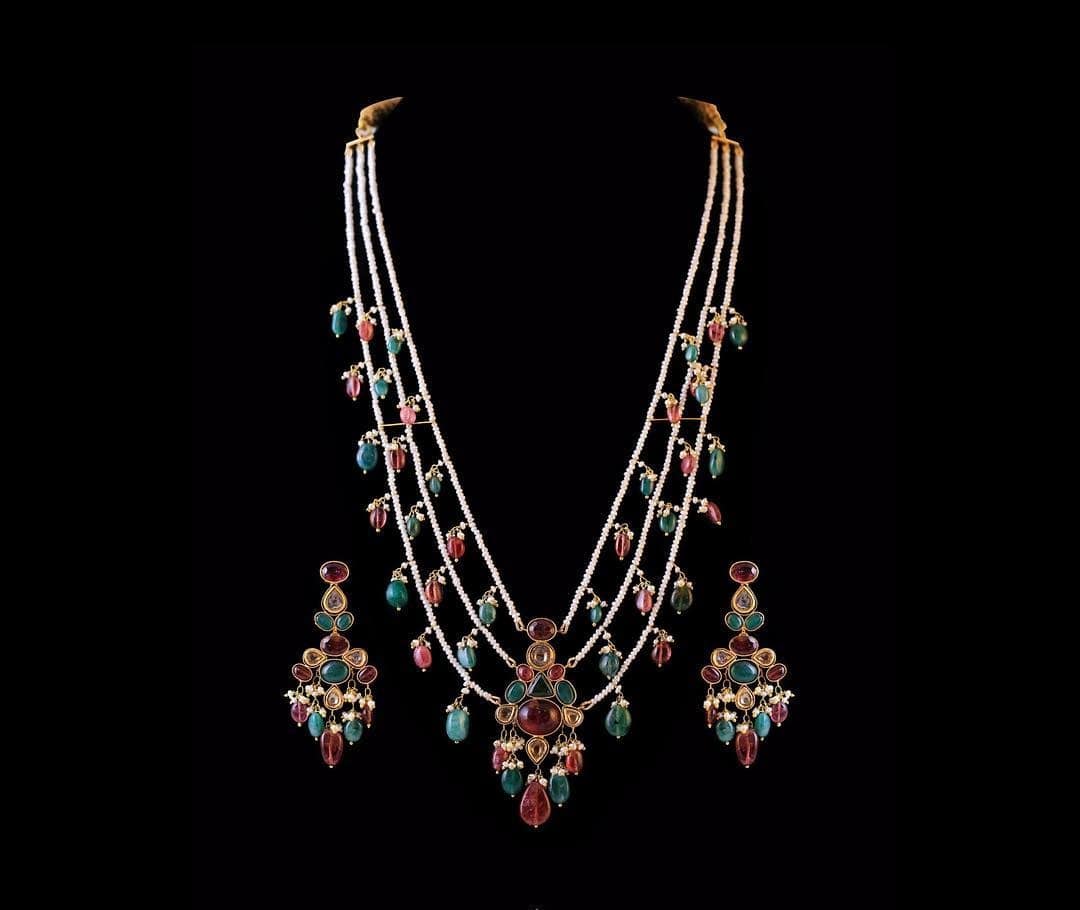 The Perfect Kundan and Pink Topaz Fusion
This kundan and the pink topaz set is made using 22kt gold and was created just in time for the wedding season. You can wear this subtle set with a pink or beige bridal lehenga and steal the show. The finest quality of kundan and pink topaz has been used to make this remarkable set. Nor is it heavily adorned like a satlara and neither does it cling to your neck like a choker.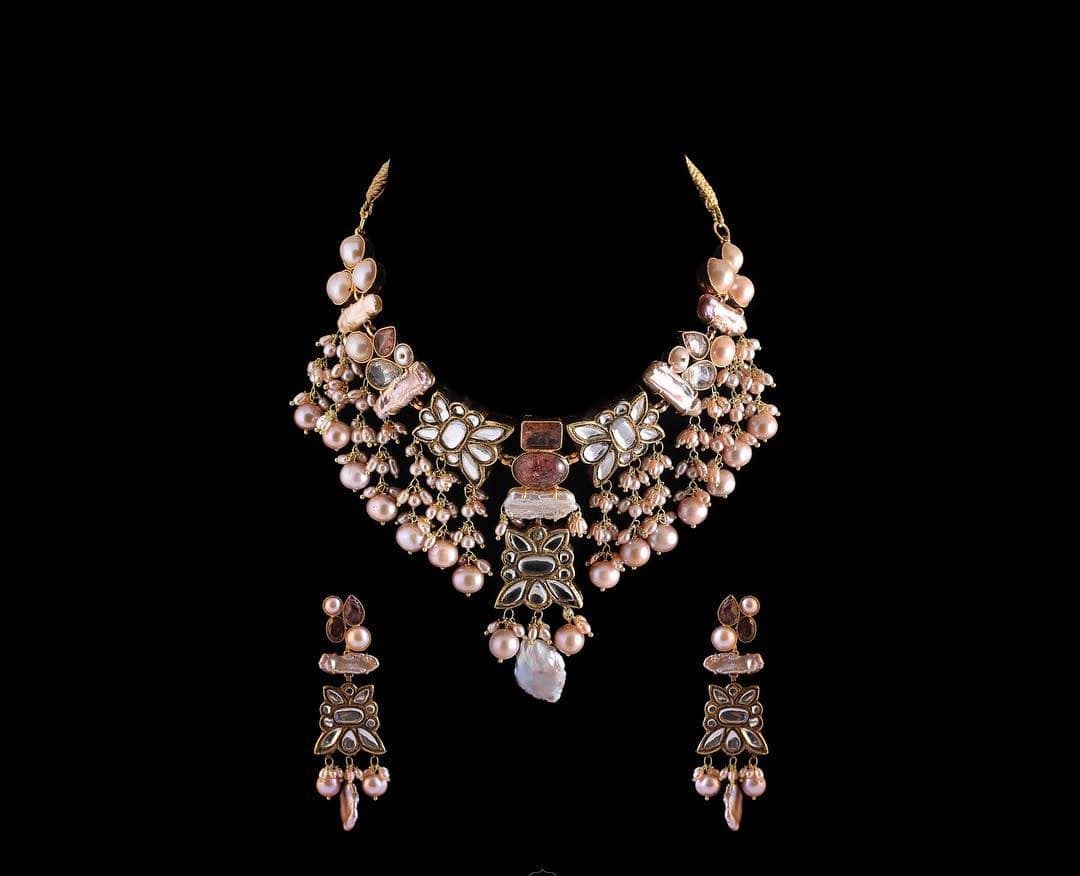 Tourmaline Set
Tourmalines are trending as far as bridal jewelry is concerned. All the major jewelry designers of Pakistan are using tourmalines as an integral component in their latest collections. Tourmalines are a mineral compound that comes in all shapes and vibrant colors which makes them very useful in the art or jewelry making. No matter what color lehenga you choose to wear, you can find a tourmaline set to go with it. This Shafaq Habib set, in particular, is brilliant and we can't help falling in love with it!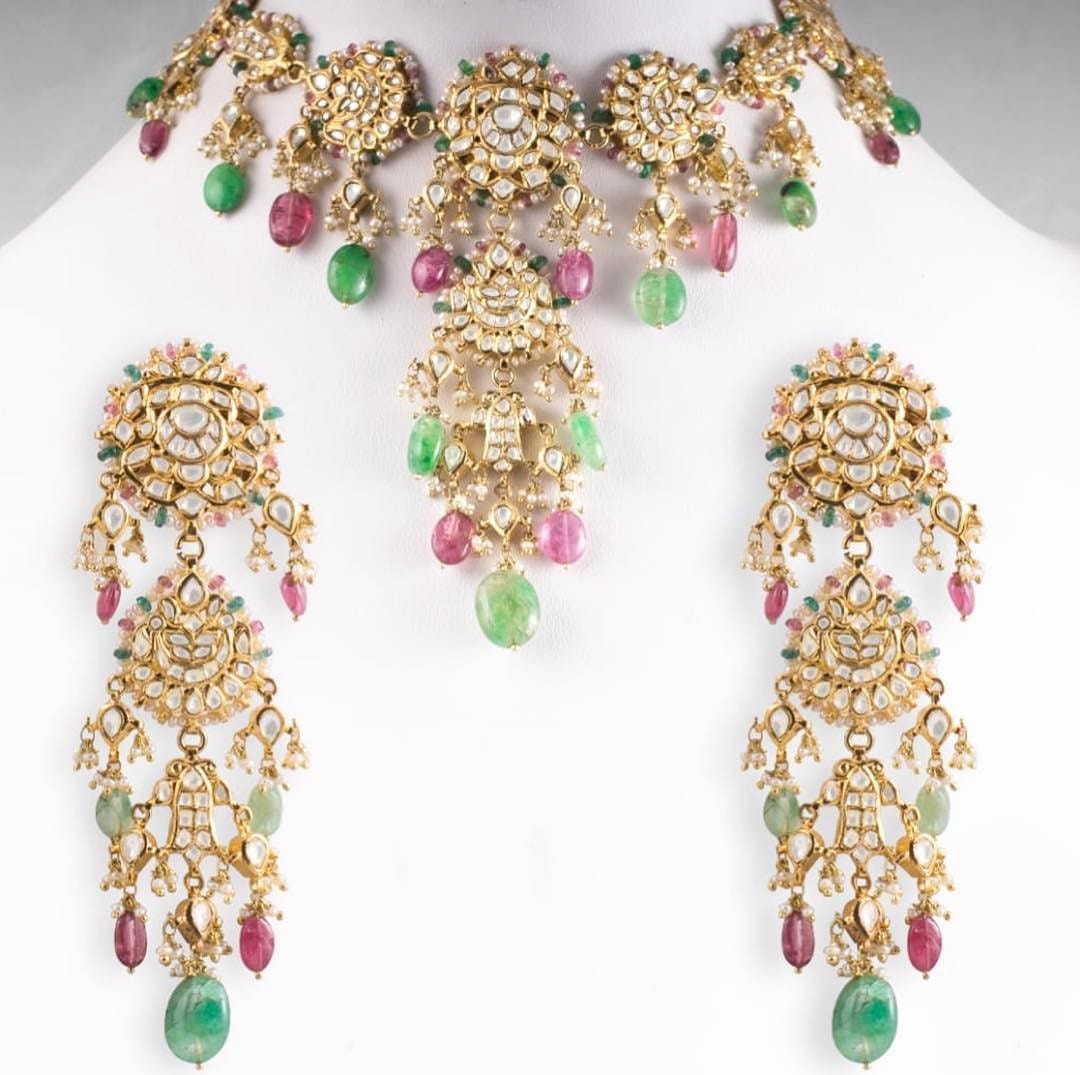 From polka diamond sets to tourmalines Shafaq Habib has us covered in every respect. The pieces showcased above are absolutely flawless and we all want to be adorned in her classy designs!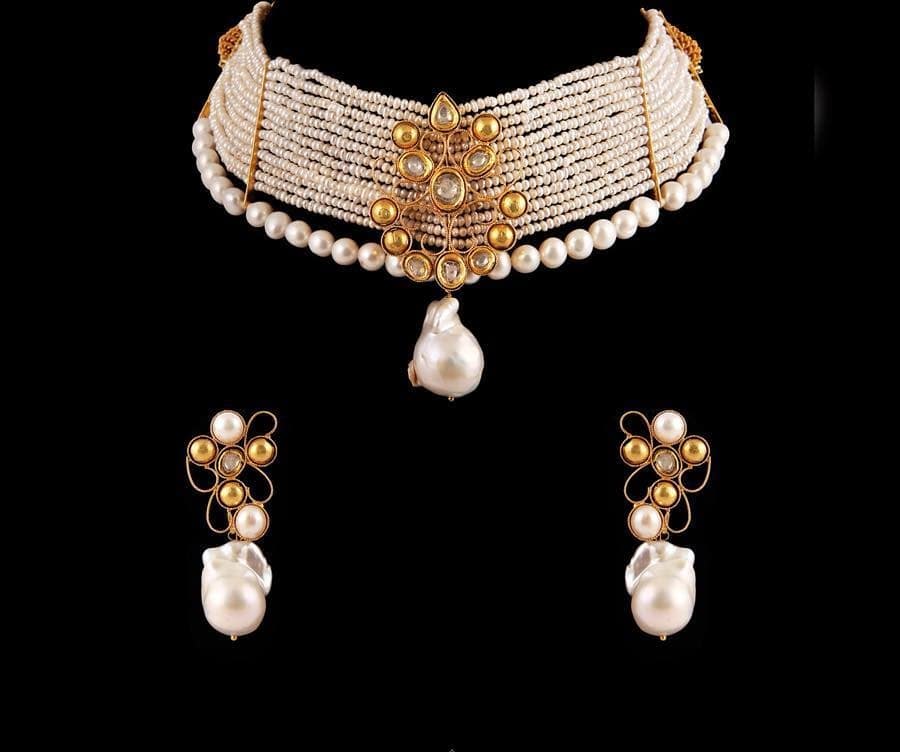 Timeless Shafaq Habib Jewels To Make A Regal Bride Out Of You!
Description
From tourmalines to polka diamonds; Shafaq Habib Jewels have got your back! These gorgeous sets will make one regal bride out of you!
Admin
Bridals.PK
https://blog.bridals.pk/wp-content/themes/bridal/images/logo.png