Emerald Earrings to Daze Everyone at the Next Wedding You Are Invited To
Feb 19, 2019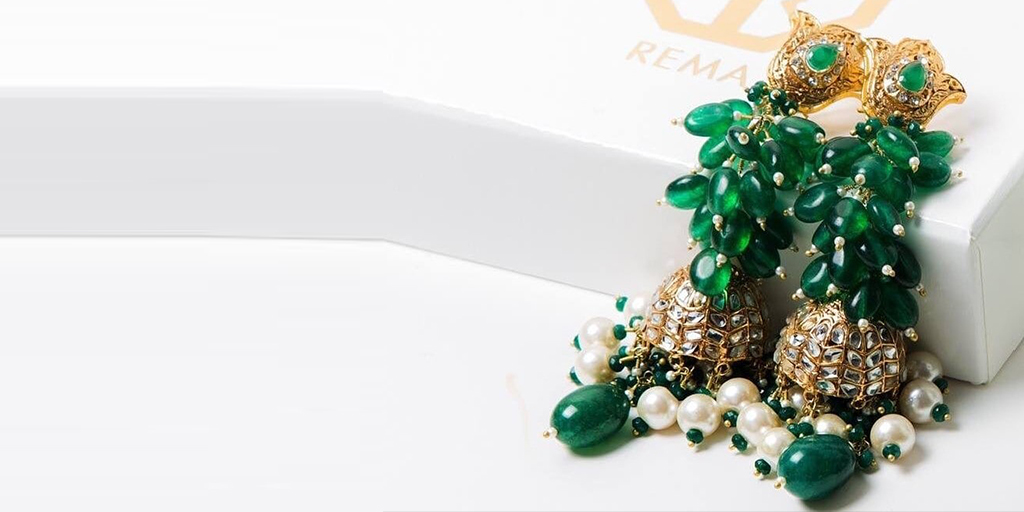 Green is the color of life and nature. It has a tranquilizing effect on our mind. It soothes the body and heals the mind, which is why experts recommend being closer to nature when we are down in the dumps. If you're the kind of bride who is sidestepping the traditional red bridal lehenga and has opted for the glorious green, then you've made the right choice. In case you're looking for the right green earrings to wear with your green dress, then here's a list of all the green earrings from modern day designers that you should consider wearing on your wedding:
Remaluxe Jewelry
Remaluxe jewelry loves the color green just like us, and all their latest collections include green jewels. Her state-of-the-art jewels are a sight for sore eyes and are quite something to behold. Most of her jewelry is handcrafted to give it that fine finishing touch. Here is a pair of green earrings from her latest collection. You're bound to love these whether you're a bride trying to find the perfect green earrings or the mother or sister of the bride looking for a gorgeous pair of green earrings these Remaluxe earrings are perfect for you.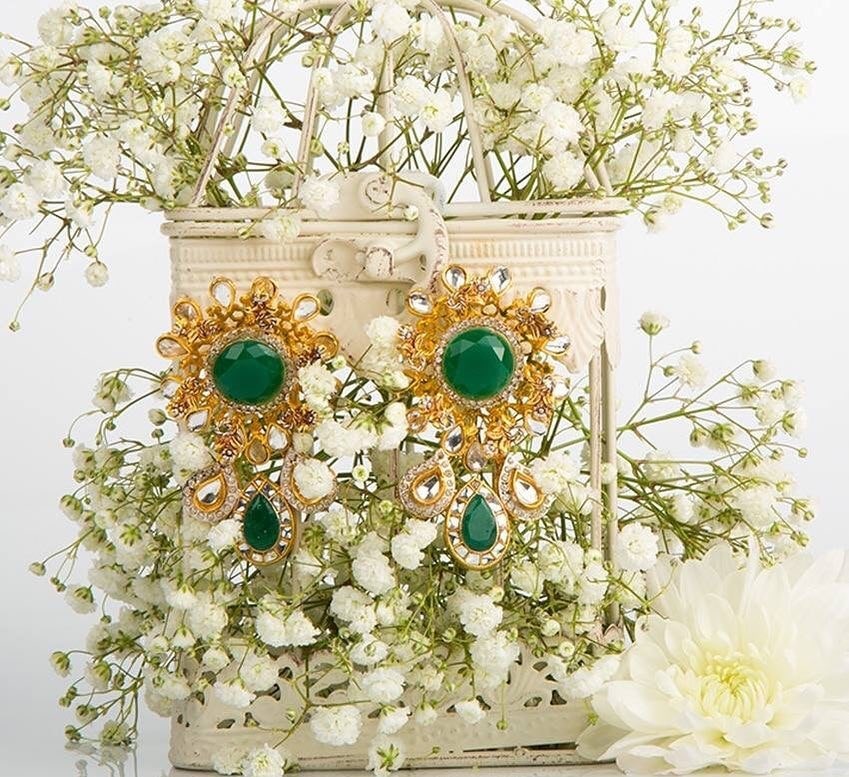 Ali Javeri Jewels
Ali Javeri Jewels are a reputable name in the world of bridal jewelry designers and they have been in the business for years. Models and stars, alike are adorned in Ali Javeri jewels and rock runways in his statement jewels. Ali Javeri seldom incorporates Emerald like gemstones in his jewelry, but when he does, the end result is a masterpiece like the flashy green earrings included in his latest jewelry. Our personal favorites from his collection are displayed below: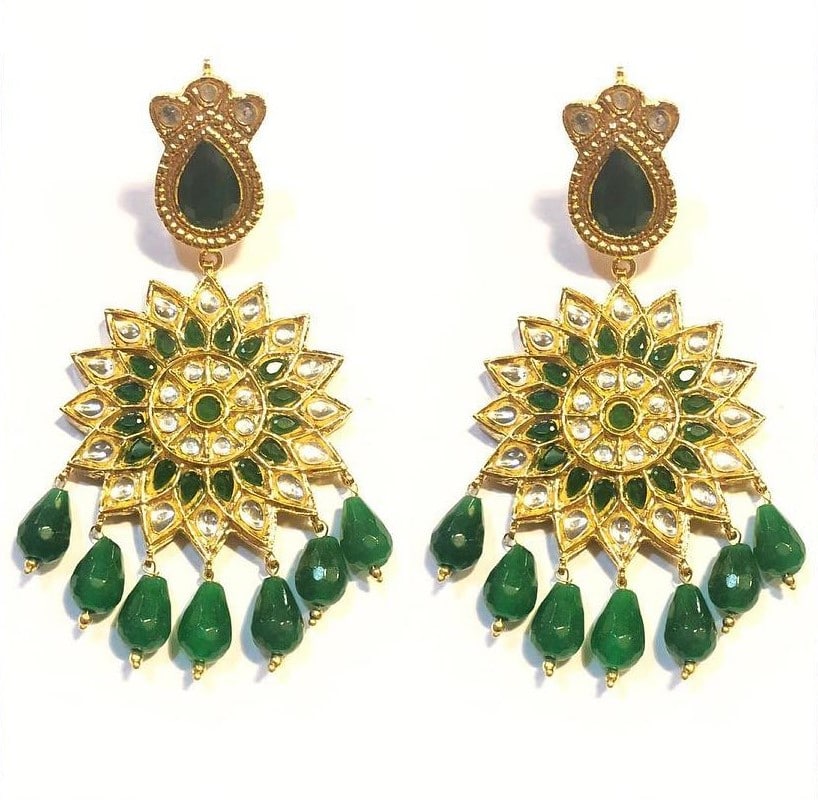 Neemar Jewels
This Lahore based jeweler is one of the leading jewelry designers in the country. The founder, Shazia Deen strives to produce the best designs of quality jewels for each and every one of her clients. They design signature diamond, polka fusion and semi-precious gemstone sets for brides. These silver earrings adorned with rose cut diamonds and sparkling green tourmaline and white pearls is part of Neemar Jewels' latest diamond collection. Let's take a look at these gorgeous green earrings designed by Neemar Jewels to give you that perfect Bond-Girl look: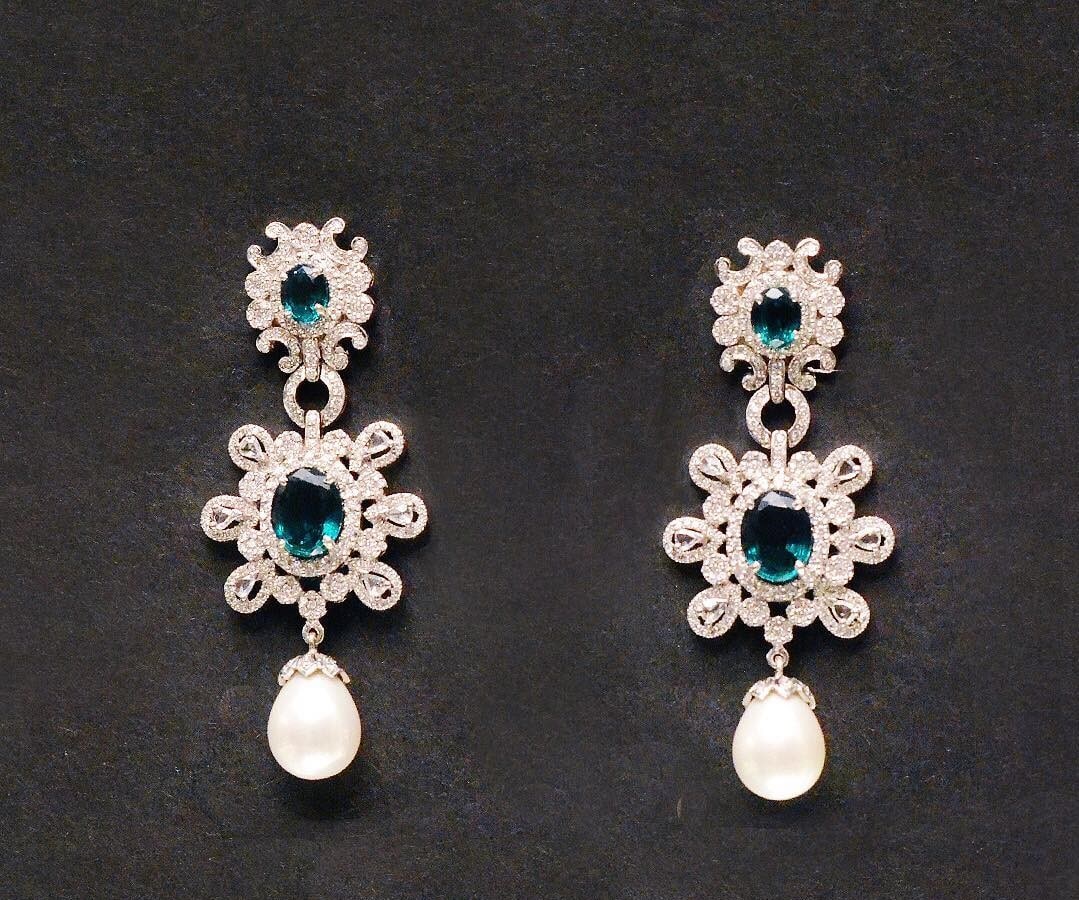 Esfir Jewels
Esfir jewels, was started by two girls who were extremely passionate about jewelry. They kick started their business in 2016, and ever since then the duo has been producing incredible handcrafted jewel pieces under the name of their brand Esfir Jewels. They produce unique, state-of-the-art modern jewels for girls to wear all kinds of formal and semi-formal occasions. Their collections are filled with flashy green earrings that you can wear on your wedding. Their jewelry is both chic and modern and will transform you into a diva. One of their slightly traditional earring designs is shown below: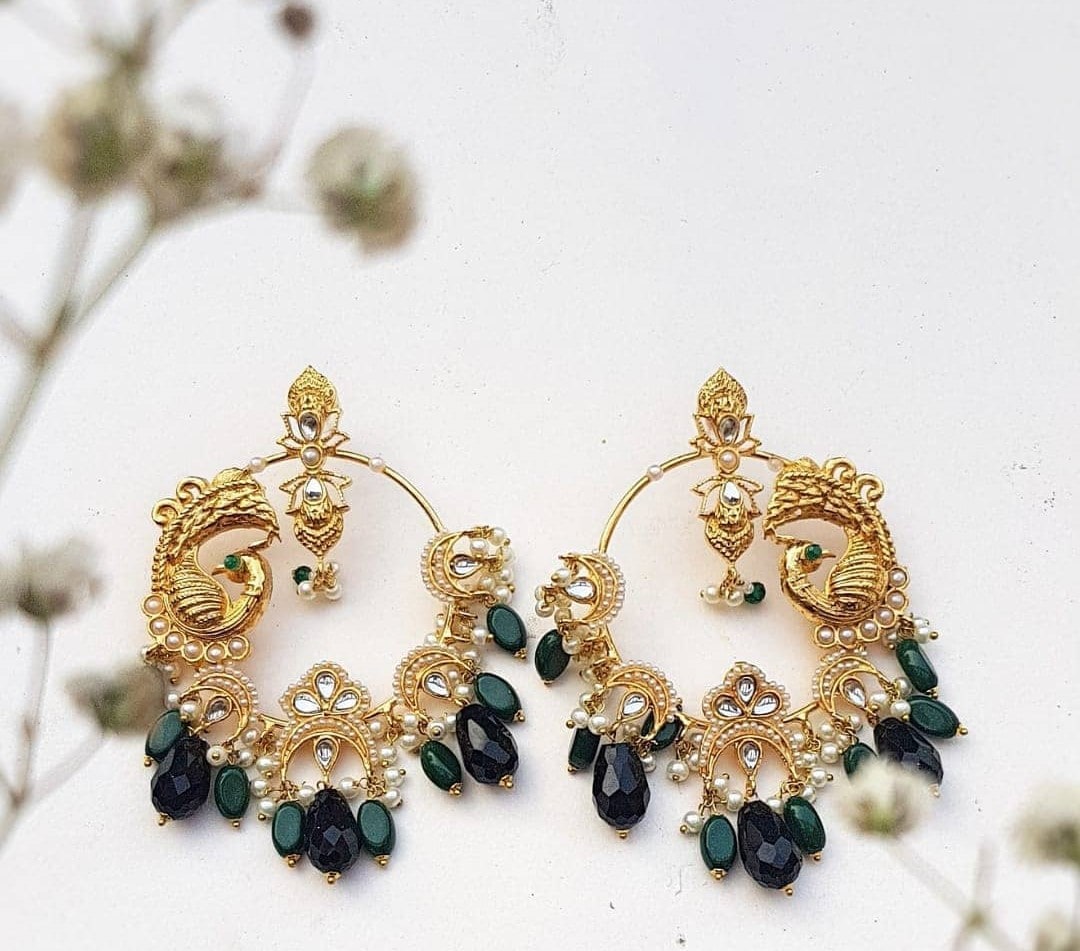 Jaipur & Co.
Jaipur & Co. specializes in Rajasthan originated Kundan jewelry. They believe in reinventing India's heritage kundan jewelry and introducing the modern world to the old ways of producing these fine artisan jewels. From their chokers, necklaces, bracelets and earring; everything is absolutely breathtaking. You will seldom find the color green infused in their designs. But the pieces that are green, are exquisite. Here is a sample of how regal their jewelry is. These earrings work perfectly well with the kundan necklace they have been paired with.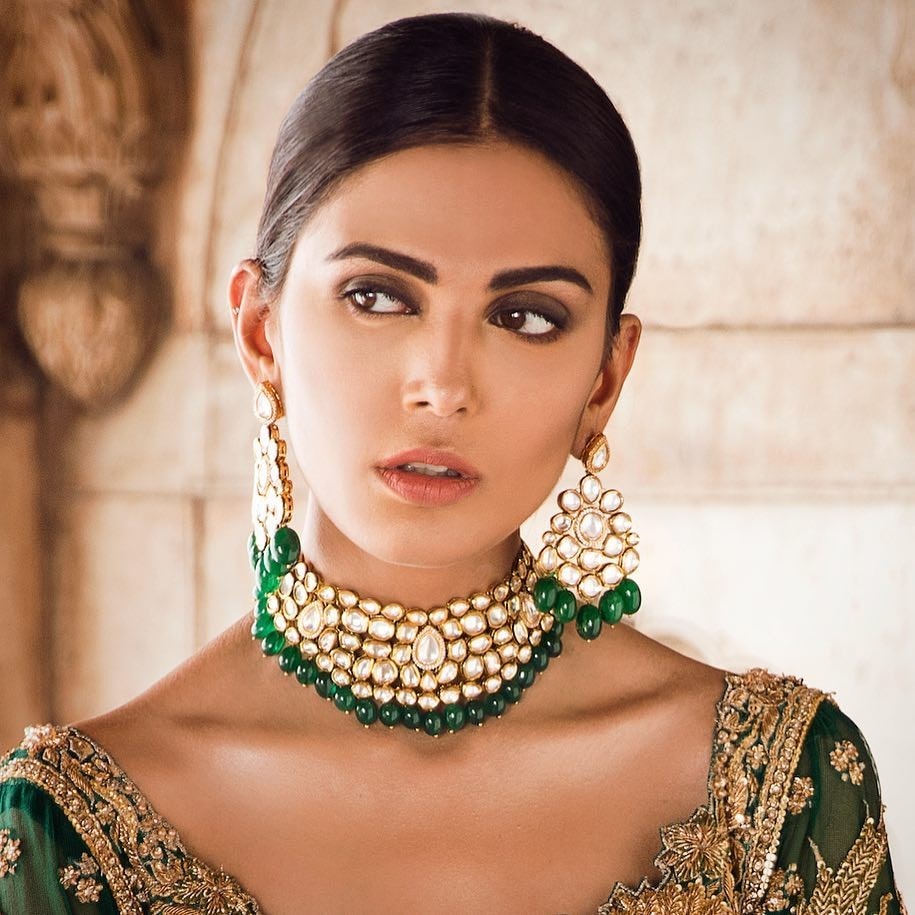 These earrings are nothing short of amazing. You should get your hands on the ones you like best to look like Aphrodite on your wedding!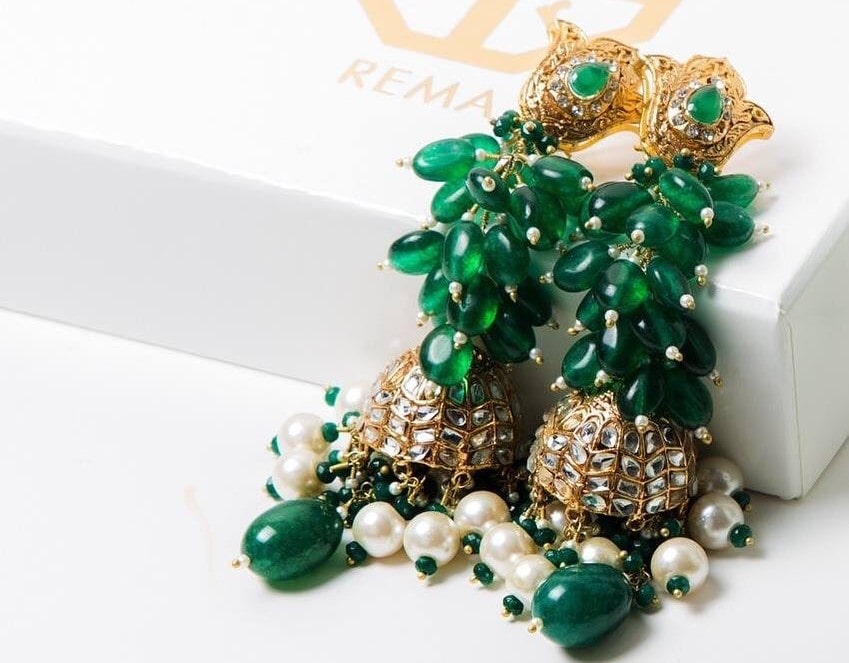 Emerald Earrings to Daze Everyone at the Next Wedding You Are Invited To
Description
you're looking for the right green earrings to wear with your green dress, then here's a list of all the green earrings from modern day designers.
Admin
Bridals.PK
https://blog.bridals.pk/wp-content/themes/bridal/images/logo.png