6 Engagement Ring Trends that Are Likely To Rule the Year 2019
May 02, 2019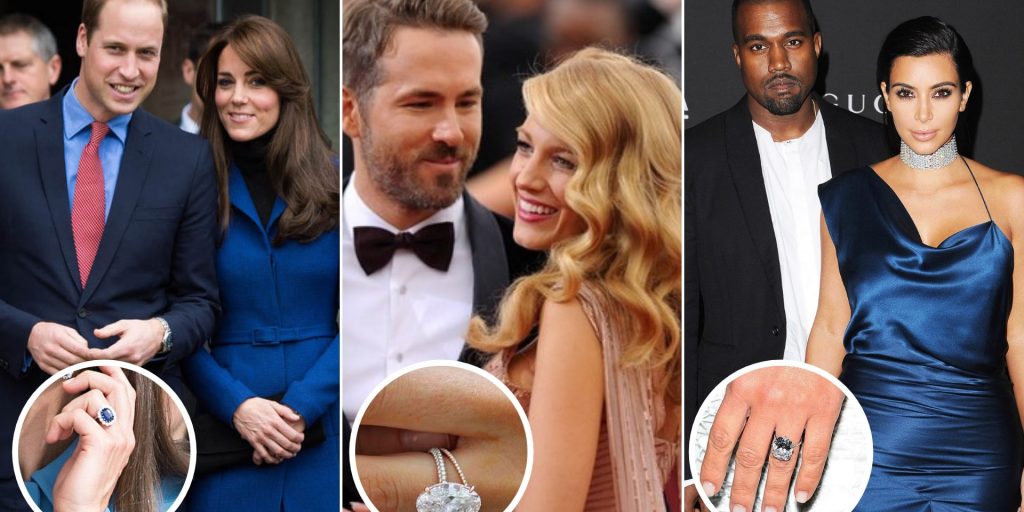 Article by: Hazafa Hasan
An engagement ring isn't just a circular band. It's so much more than that, which is why it is always difficult to choose the right one. An engagement ring is a promise, a symbol, a claim, a token of love, an investment for future and even an asset at times. Men have been popping the question, sealing it with a ring on the finger of their beloved for centuries. Once you know you have found the ONE, it only makes sense to make her officially yours or someone else might make a move when you aren't looking and guys you naturally don't want that to happen, now do you?
Coming back to the topic…
An heirloom engagement ring is always great because it shows that you are a strong family man, who remembers his roots. However, if you choose a new ring it takes thought and your new bride is likely to appreciate the effort which goes behind the selection. According to experts these six trends are likely to rule the engagement ring scene this year – 2019. So impress your lady with a stunning rock that makes her love you even more.
Scroll down for latest engagement ring trends. We have also taken famous celebrity rings to match these trends so you will know how they look and what they mean.
1. Gold Band
Yes, the gold band has made a comeback after Prince Harry proposed to Megan Markle with a ring in a gold setting. Personally, we always had a partiality for this trend. It has something of classical, timeless grace. These rings can become a part of the family coffers and can be passed onto other beloved people as heirlooms. In our part of the world, gold is feminine and inspires a sentiment of belonging to someone for a lifetime.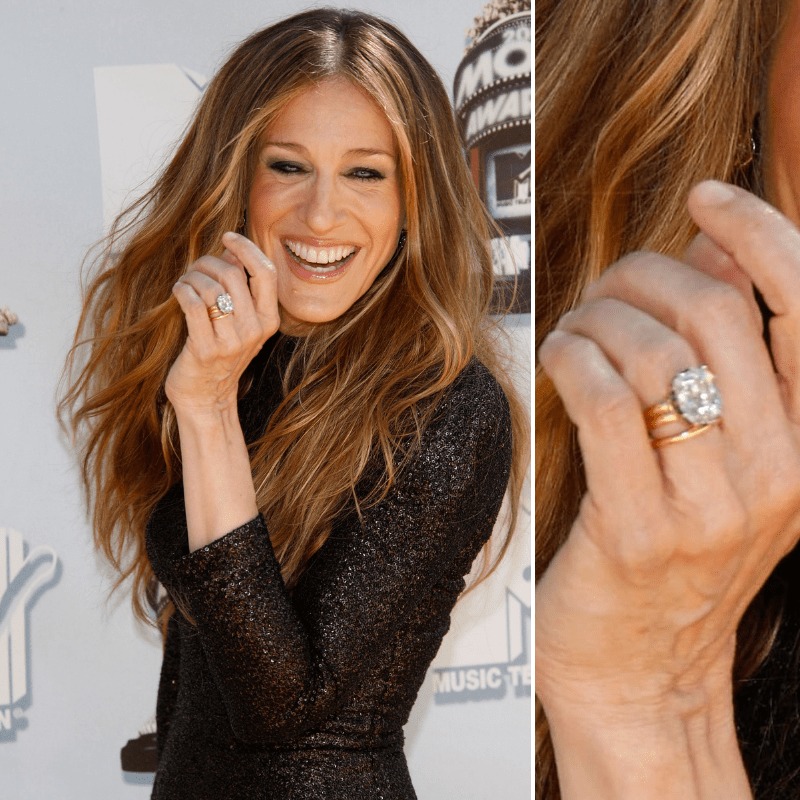 A 5-carat, emerald-cut diamond on a yellow gold band adorns Sarah Jessica Parker's finger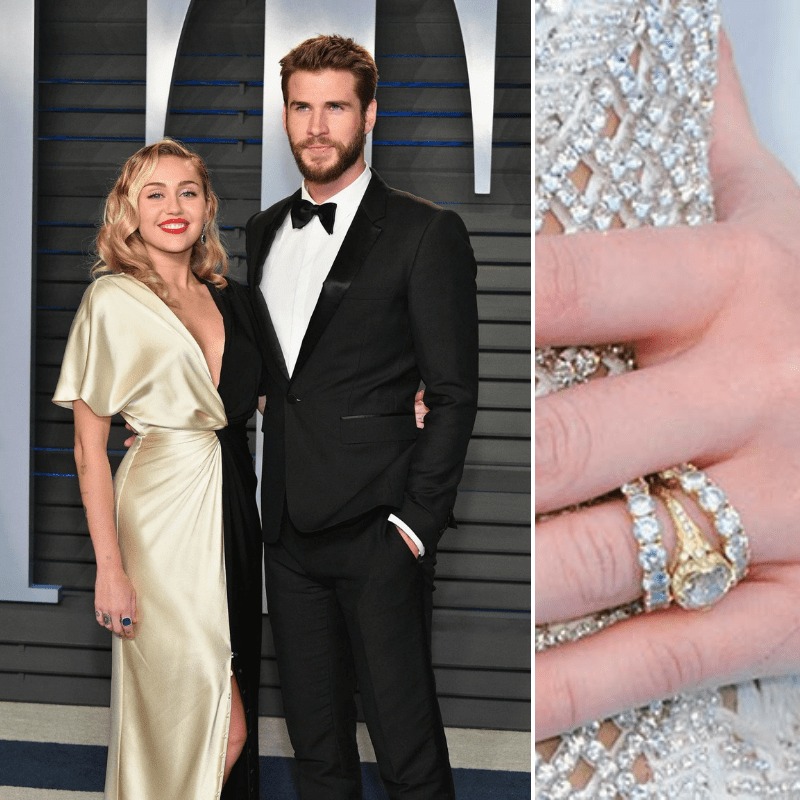 Miley Cyrus's engagement ring is a solitaire setting with an 18k gold pavé band.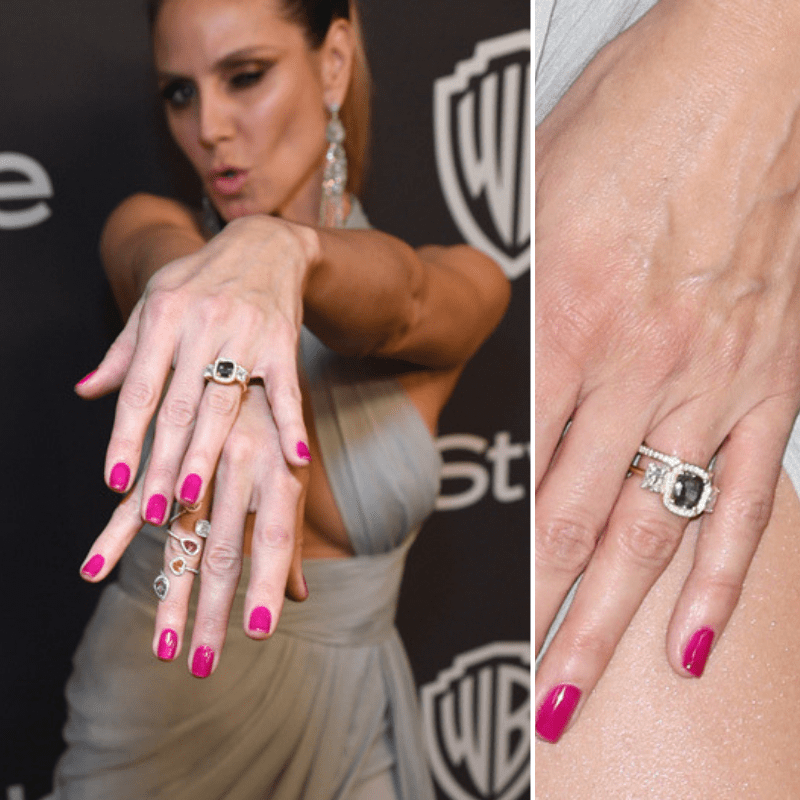 Heidi Klum was proposed to by Tom Kaulitz with a gorgeous, gold stunner three stone ring, that featured a green center gemstone surrounded by a halo.
2. Diamond Halo
Diamond halos around the center stone is another trend that's making a comeback. It is very vintage and displays character with the right touch of antique. Probably why people loved these halo rings of Pippa Middleton, Cardi B, Ariana Grande, Katy Perry and many more. Here are some of the most iconic halo rings for inspiration: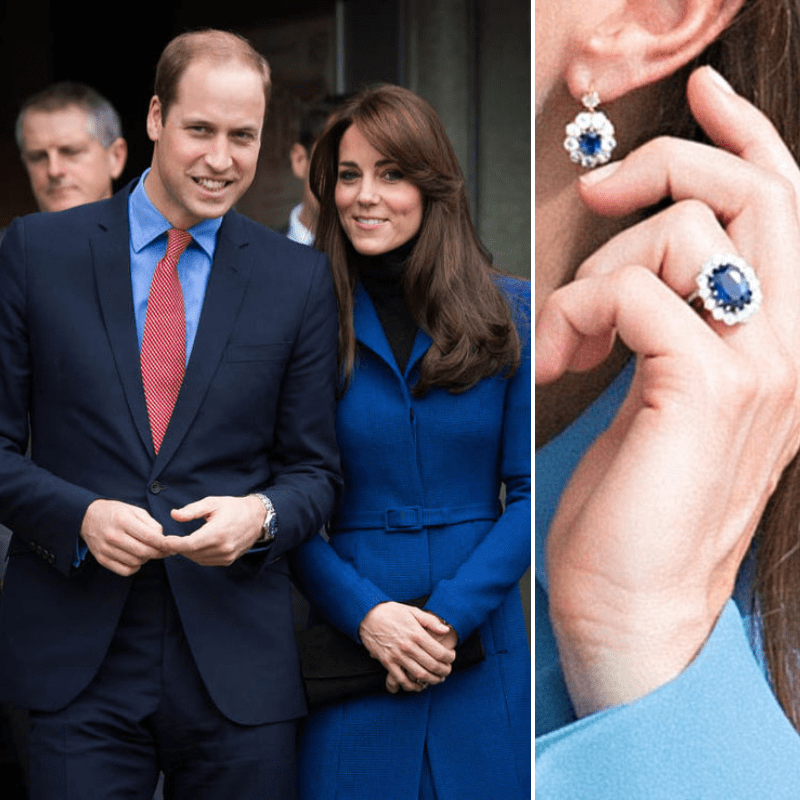 One of the most iconic rings of our time, Duchess Kate Middleton was given Lady Diana's sapphire diamond ring when she got engaged to HRH Prince William.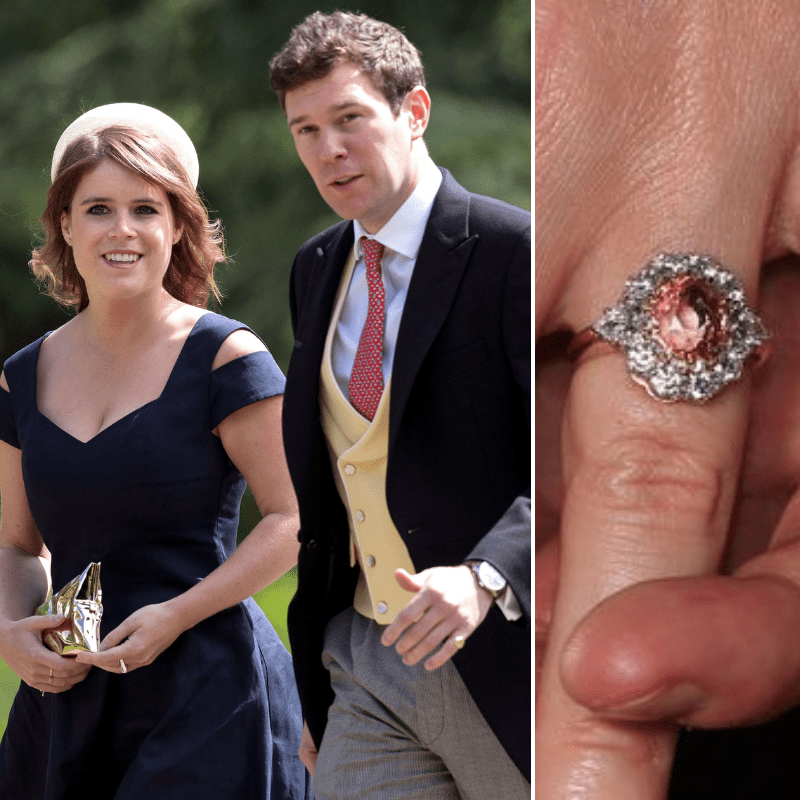 Another royal ring; last year Princess Eugenie married fiancé Jack Brooksbank. The engagement ring of hers' bear a close resemblance to her mother's ring. It has pink padparadscha sapphire, surrounded by diamonds.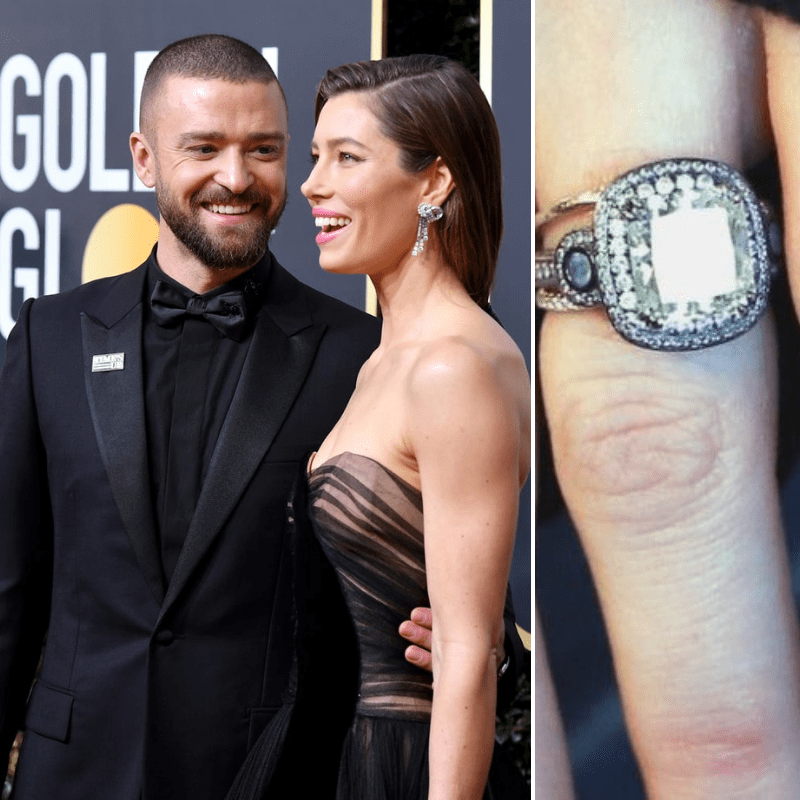 Justin Timberlake gave a 6-carat diamond flanked by aquamarine stones set in blackened platinum, to Jessica Biel.
3. Fancy Cut Diamonds
Any diamond, basically that's cut into some shape that has a dazzling quality is called fancy cut. It's a big hit right now. We have all kinds of fancy cut diamonds making highlights in pear cut, emerald cut, princess cut, cushion cut, and let's not forget Gaga's heart-shaped one (we are still not over Taylor Kinney and Mother Monster's breakup).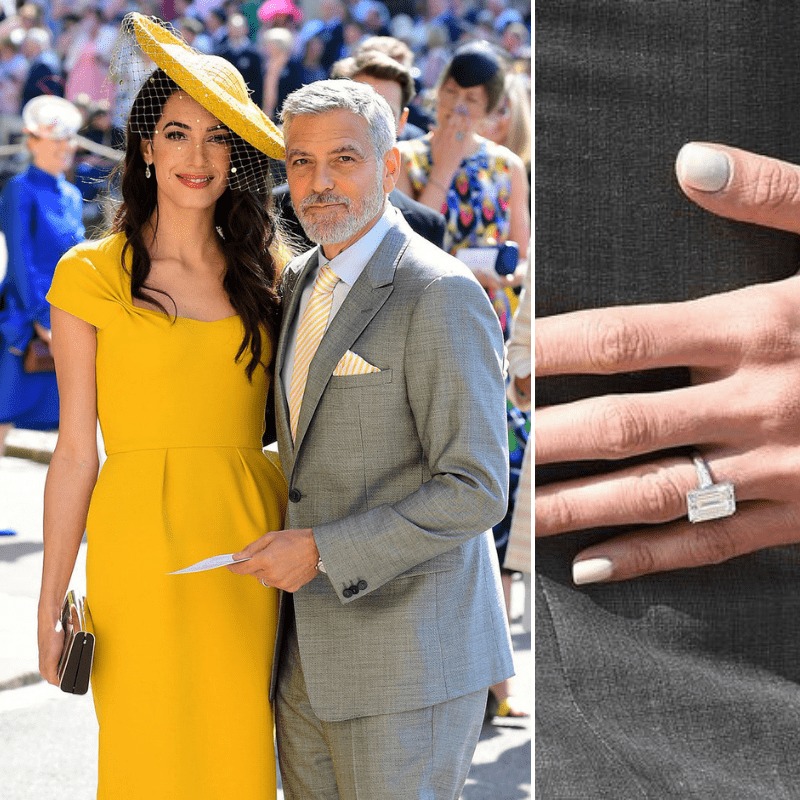 The Hollywood royalty; George Clooney proposed to Amal Clooney with a gorgeous emerald cut ring that's all class, like its owner.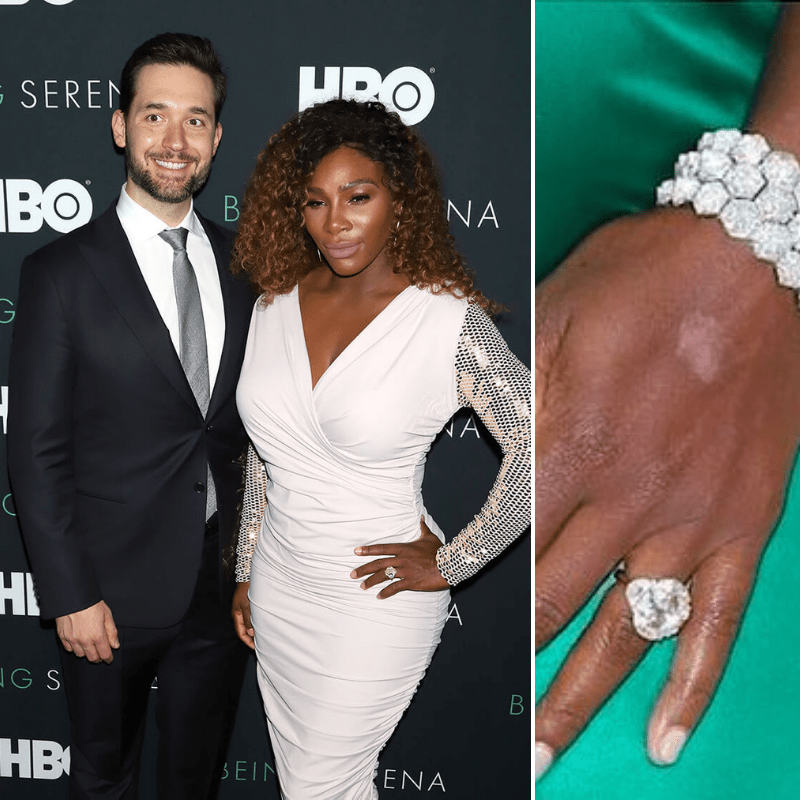 Another remarkable ring for a remarkable person. Serena Williams has an emerald cut engagement ring, with an eternity band. The band is set with a teardrop concave, creating a halo effect around the central diamond.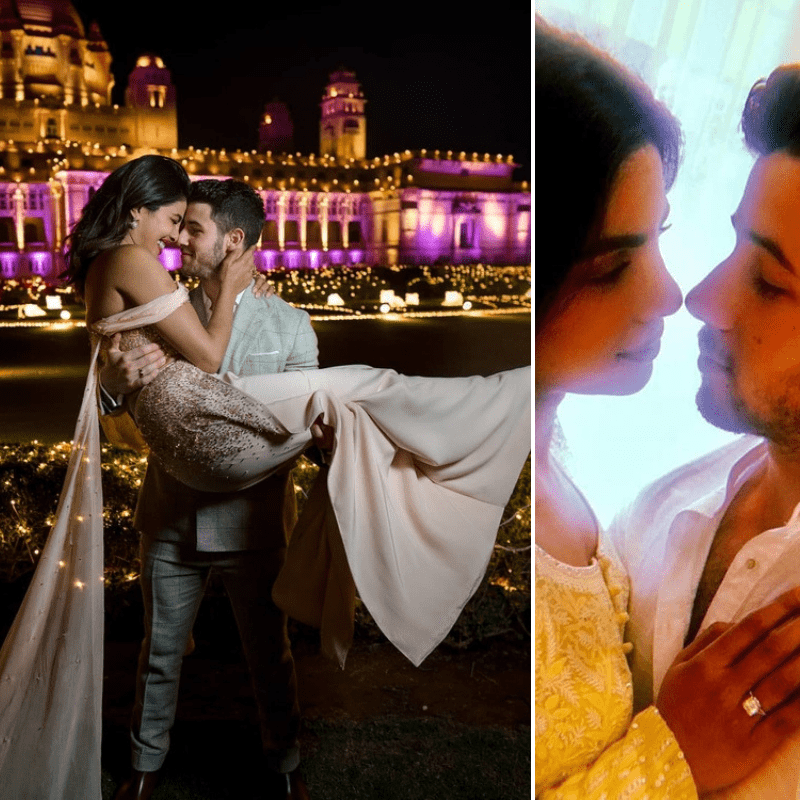 Nick Jones reportedly shut down a flagship store of Tiffany's & Co. in London to pick this gorgeous cushion-cut diamond ring that's surrounded by baguette diamonds for Priyanka Chopra.
4. Colored Stones
Diamonds are every girl's best friend sure, but other colored stones are also making headlines and the owners of those lovely rings are flashing them like a flash light! Colored stones are officially back, and we spotted many amazing precious stones in modern rings. Here are some of the best ones: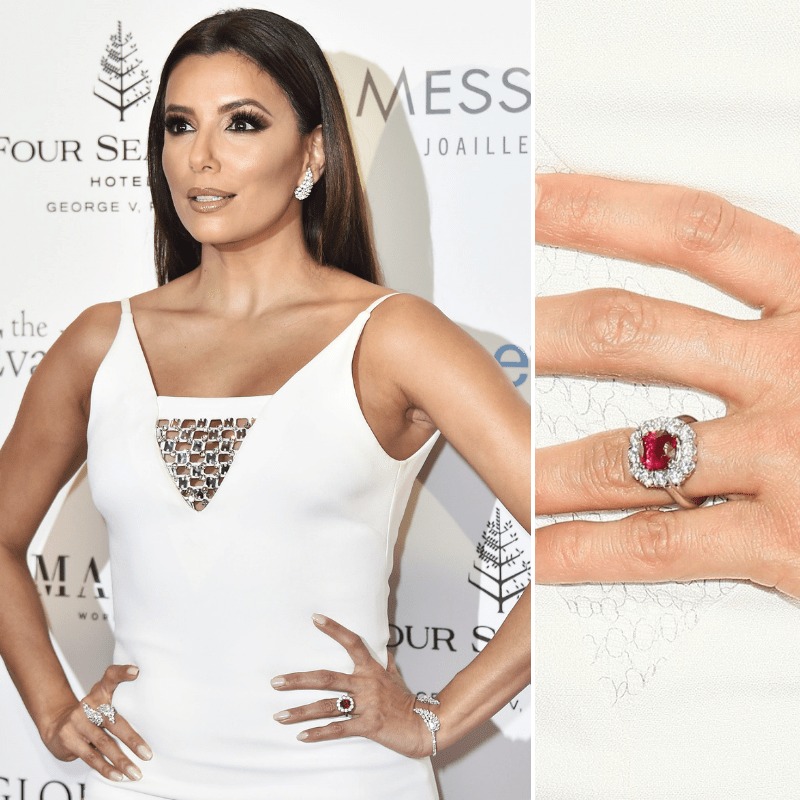 Everyone's favorite Desperate Housewife, Eva Longoria has a ruby studded engagement ring that's surrounded with diamonds.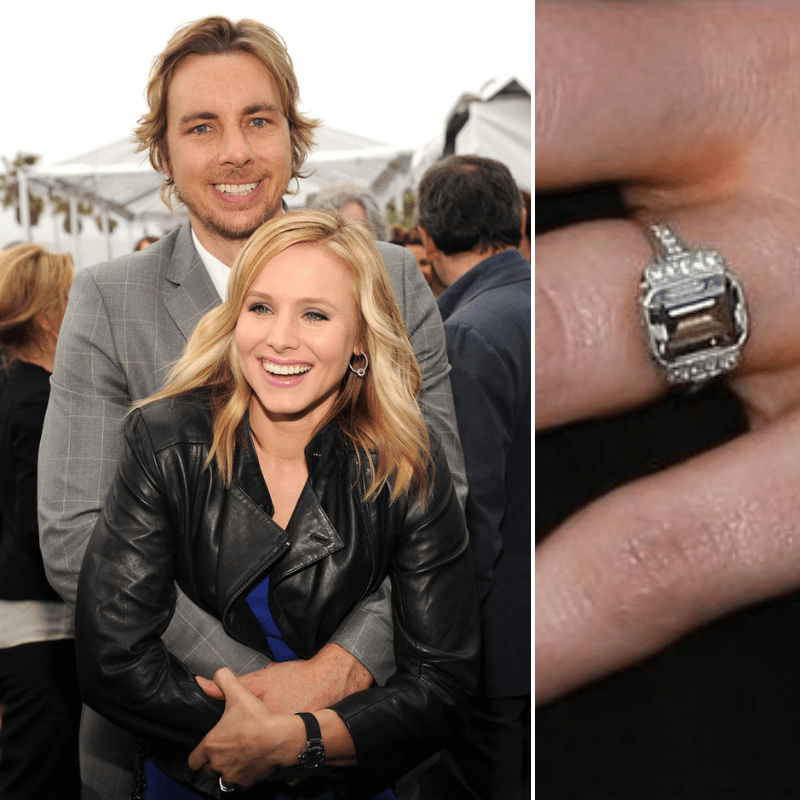 Our beloved couple, Kristen Bell and Dax Shepard are known for their happy, loving relationship. The frozen star wears a brown toned diamond in a platinum setting. The sides are adorned with decorative pavé. Unique, just like them.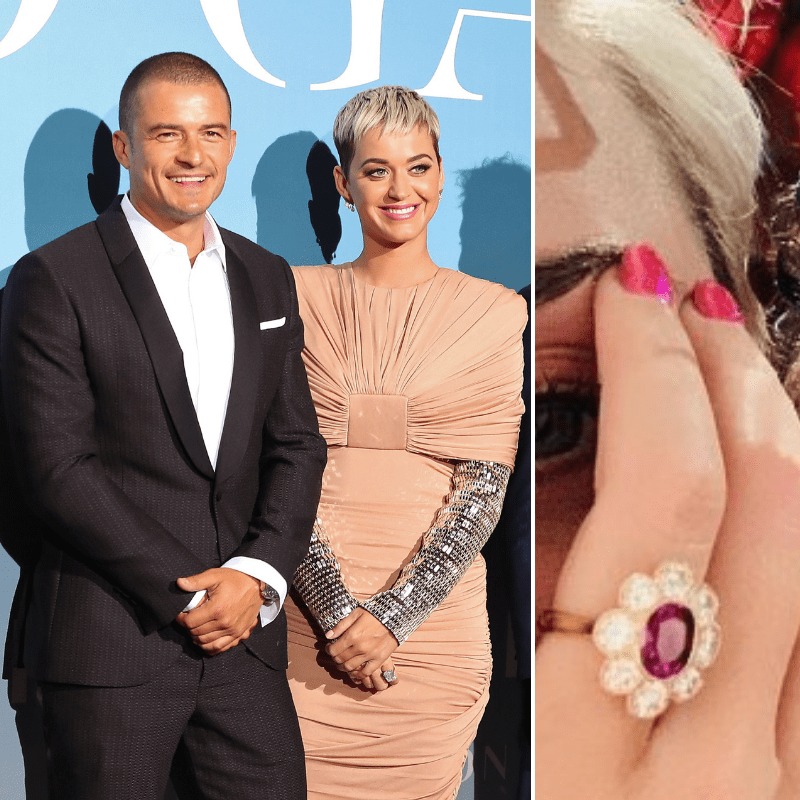 The on again off again couple, Orlando Bloom and Katy Perry have finally made it official. This cutesy pink diamond ring is very Katy. Although we can't help but notice that the cut was similar to Bloom's ex-wife Miranda Kerr's ring.
6. Multi-stoned Ring
Why have one big stone, when you can have two? Or more? Take a look at these beautiful multitoned rings that gained attention for their multiple rocks. No doubt, we will be seeing more of stacking stones in engagement rings in 2019. Actress Nicole Kidman also has one brilliant tri-stoned ring, but take a look at these beauties: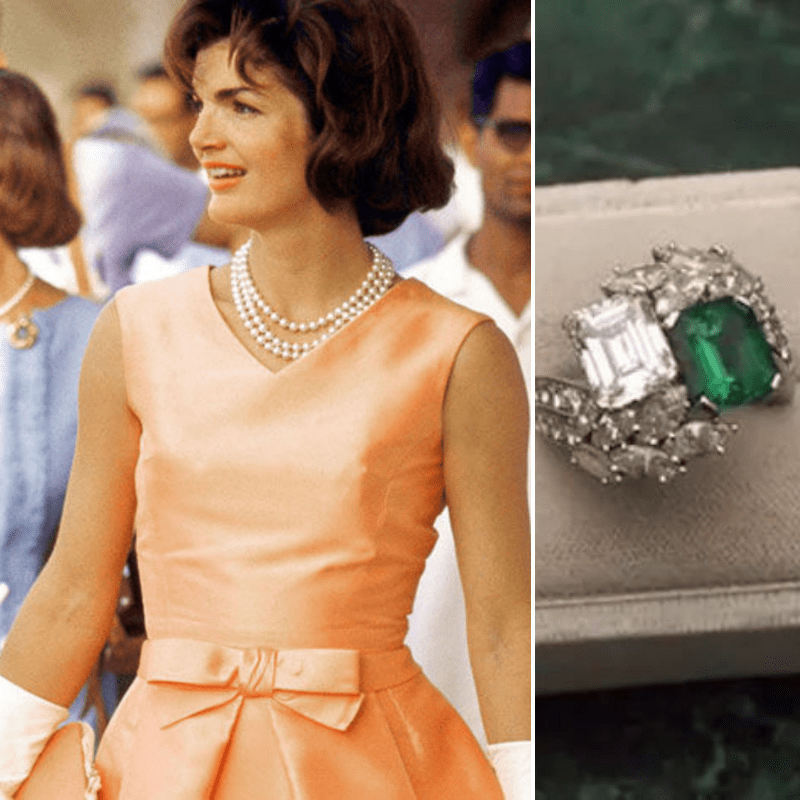 America's favorite first lady Jackie O' wore a diamond and emerald ring that every woman coveted.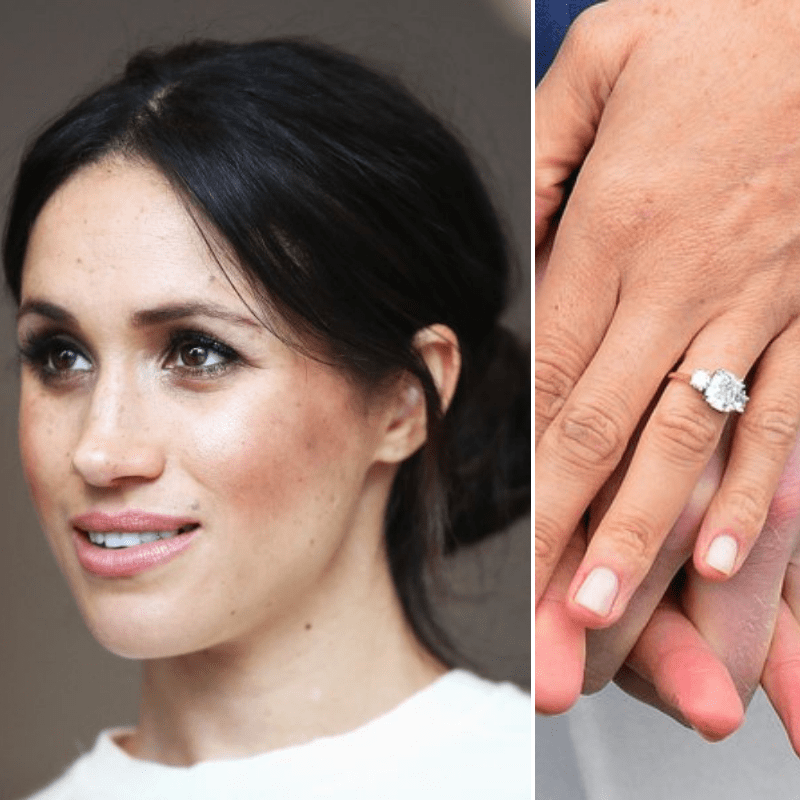 Meghan Markle's royal engagement didn't just bring by gold setting. Prince Harry designed this special ring with three stones that made this ring instantly famous for its graceful and understated style.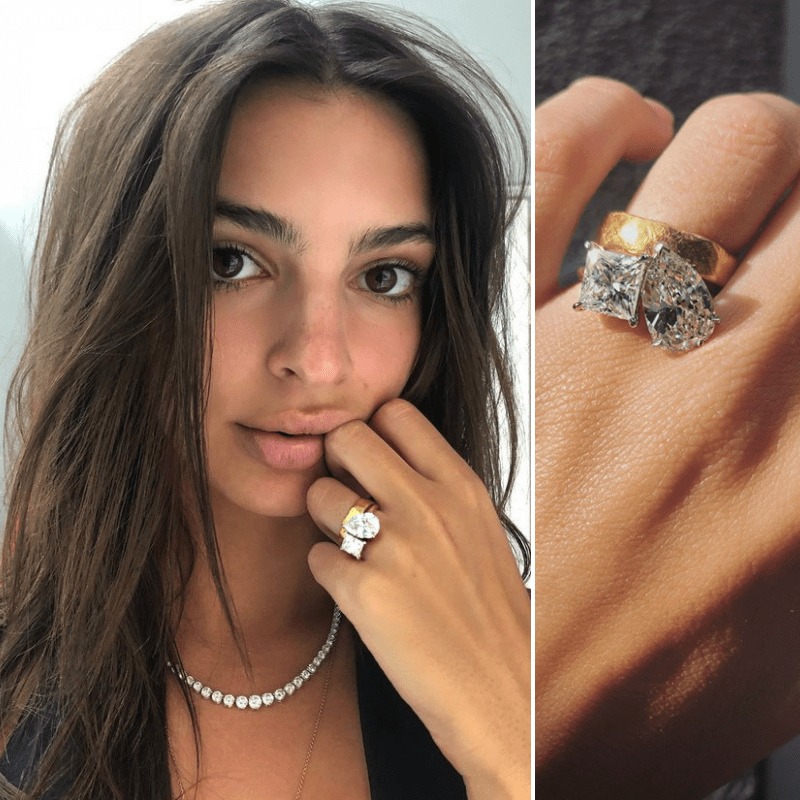 Emily Ratajkowski designed her own unique engagement ring with two pear and square cut diamonds with a gold band – which we surely approve of!
6. Micro-pavé Diamonds
Tiny rows of diamonds surrounding one big rock have to be the most followed wedding trend this year. Almost all celebrities who got engaged opted for this style. Let us show you how: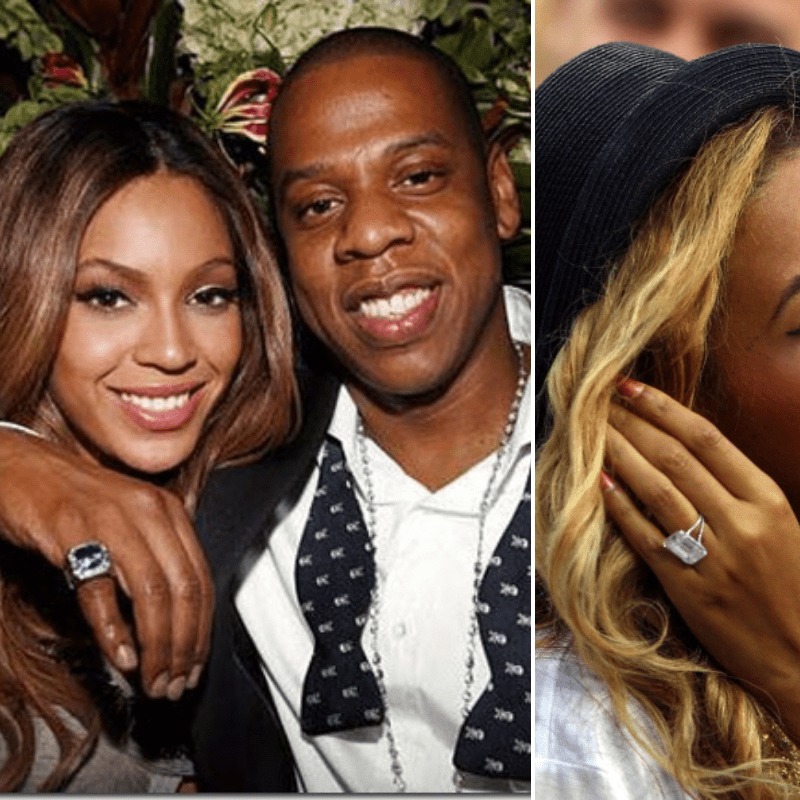 Jay Z gave an 18-carat emerald diamond ring to Beyonce with split shank adorned with pavé diamonds.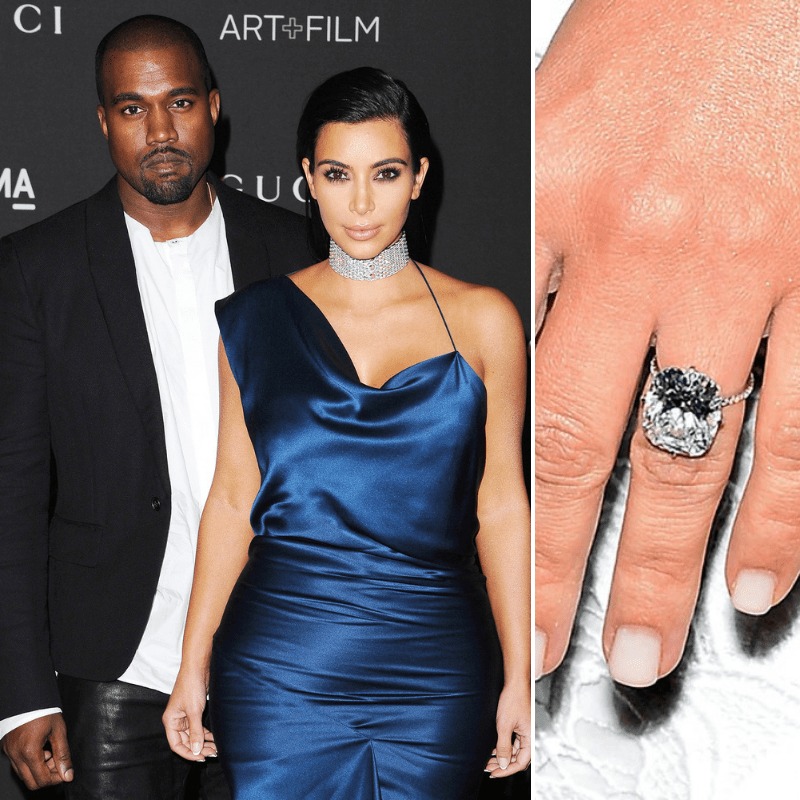 Kim Kardashian West has one of the most stunning rings of our times. It's a 15 carat flawless diamond with sparkles and flashes to a dazzling degree. Somehow her rock remains individual amongst the row of the micro-pavé band across the band.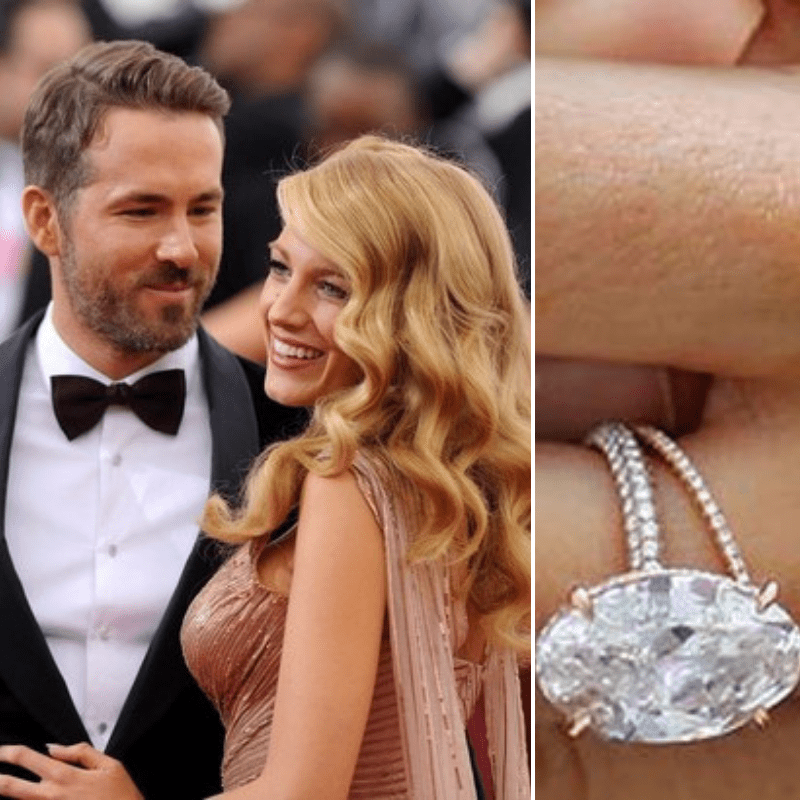 The evergreen fashion guru – Blake Lively wears wearing a huge oval diamond ring with a pavé band, given to her by husband Ryan Reynolds.
Other timeless trends that you can explore are; the marquis cut, east and west setting, or art deco rings. You can also come up with some meaningful design of your own and order a custom ring to make this token into sentimental memorabilia.