Annus Abrar Formals; Acquainting You to the Best of Formal Fashion
May 03, 2019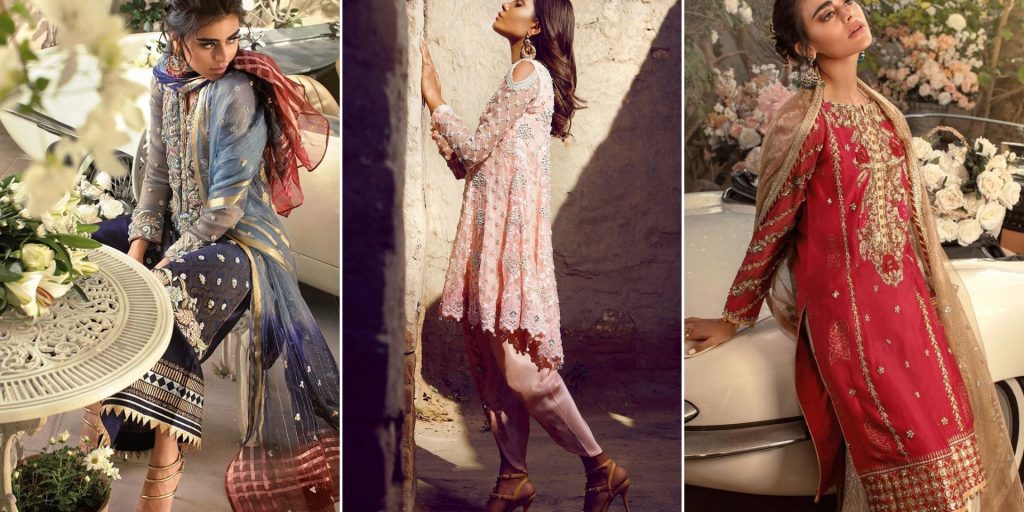 Article by: Hazafa Hasan
A colorful palette is something that every other couture designer is taking a dig at, even the ones who weren't into brilliant hues before. However, only a few designers have been really being able to pull it right. Annus Abrar falls in the latter category. He has been known to make highlights for its flamboyant play on the traditional fashion. The designer himself hails from Karachi and has made a name countrywide. His designs highlight the festive side of Pakistan, with sharp colors and edgy designs.  You might be familiar with its regal bridal dresses collection for their dramatic intensity and nostalgic feel. In this article, we have brought you some of the best festive formals and semi-formals that you can wear to weddings this year.
Indigo Dream
The first article on our list is the aubergine article as seen below. Usually, aubergine is not a very usual color in the world of couture but we are glad for this glitzy outfit. It's made with floral embroidery with crystals and pearl work on lamé fabric. The gota work and dazzling crystals adorn the neckline, which enhance the pattern and make it irresistible for not to have it on this list!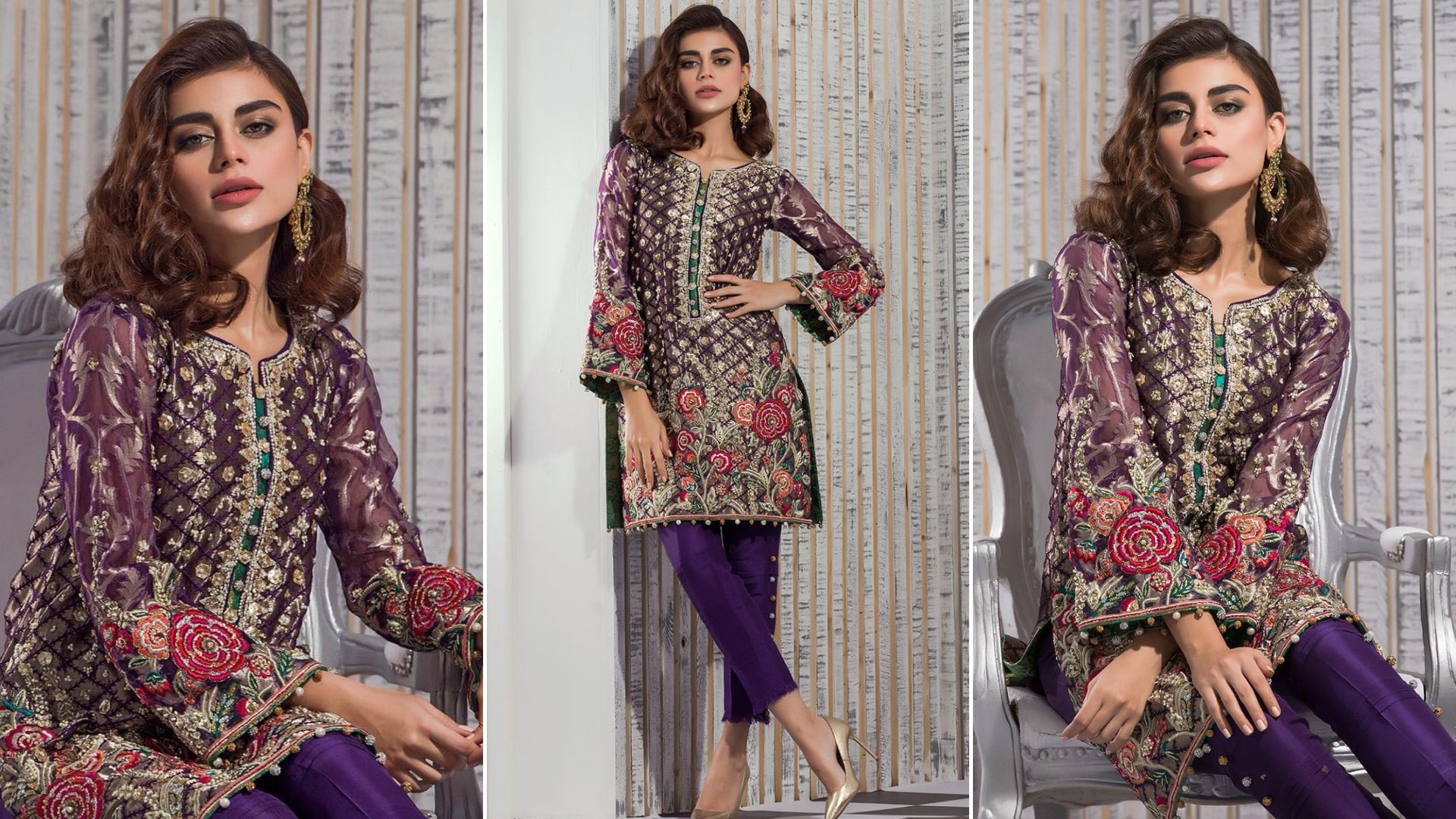 Orchid Tint
This rosy outfit is made in Laméfabric in tones of blush pink. Therefore, one can wear it for an evening function, however, we think it will be even perfect in the day time. Like a planted orchid in sunlight, all gorgeous and angelic. The trouser is made in jamawar fabric and you can choose between a net or chiffon dupatta to complement the outfit. The pearl and crystals opulent floral embroidery to neatly balance the metallic sheen of the fabric.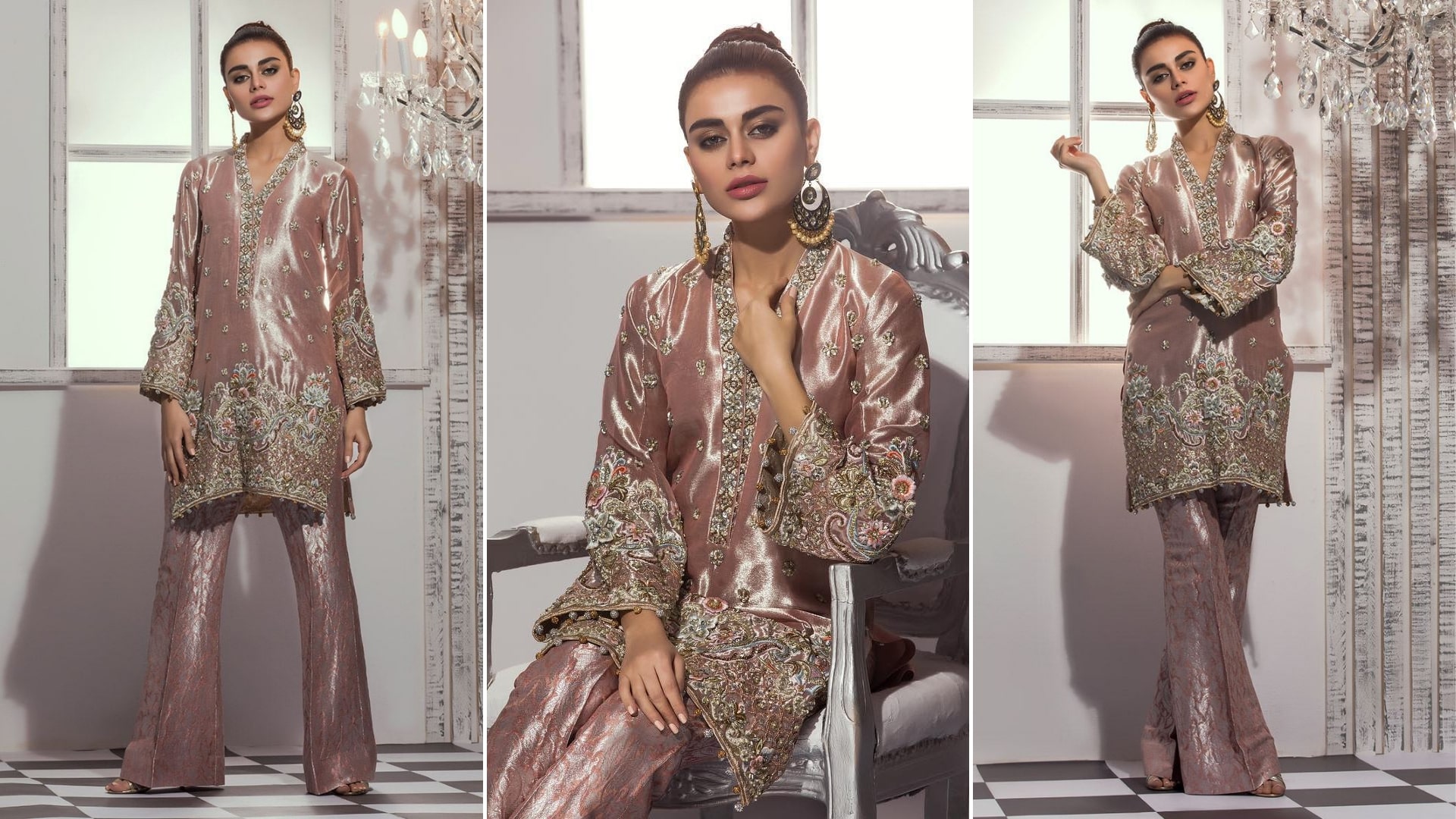 Glitzy Glamour
It is made in the deep shade of pink that features embroidered details like silk thread rosettes, a design very reminiscent of the old world charm. The hemline of the shirt harbors block printed details highlighted with gota and dabka. The outfit is paired with jacquard izaar pants with hand embroidered tilla and kora dabka borders.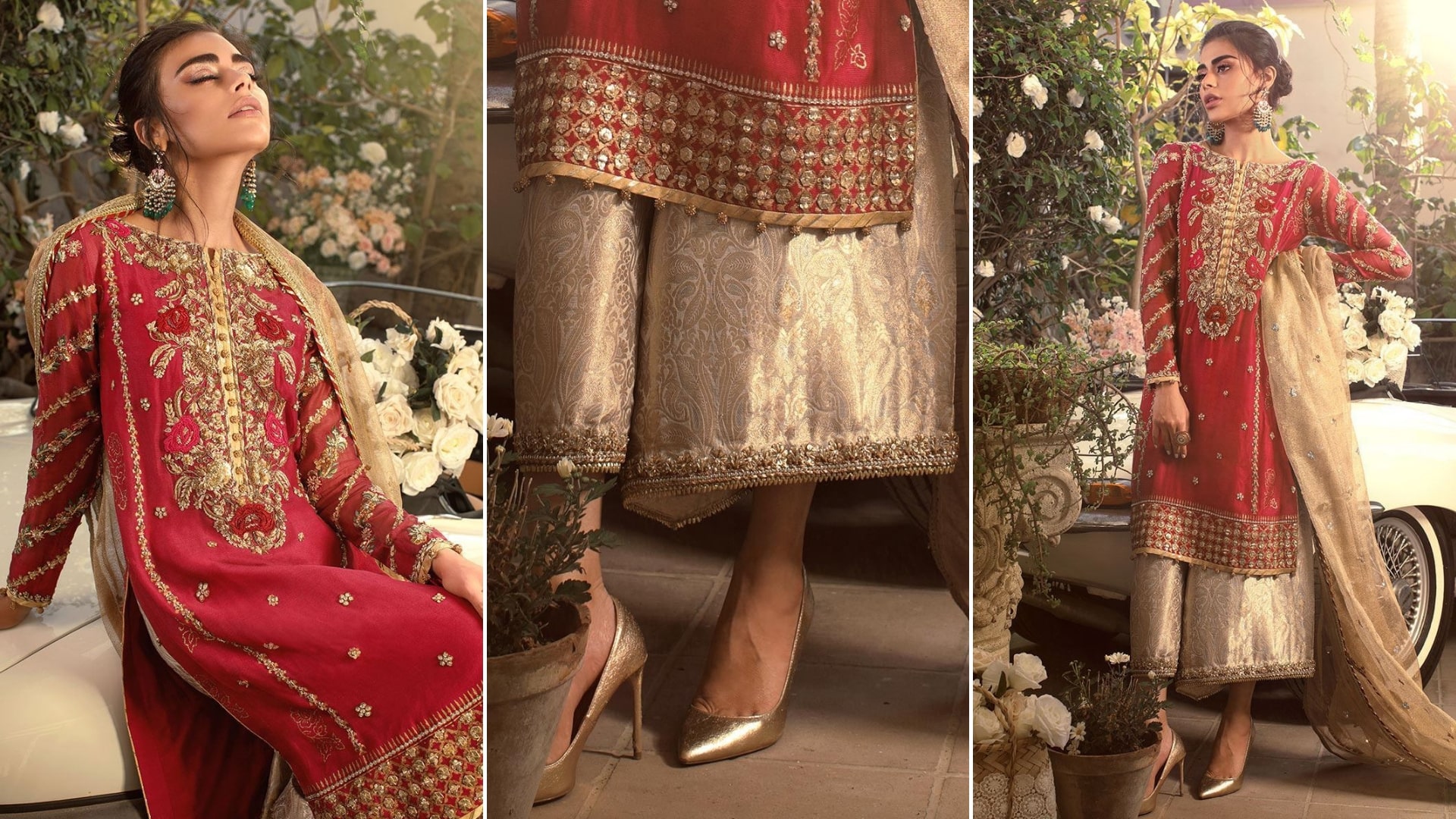 Violet Grace
We will just say this now that lilac is one of the most happening colors this season. It's sweet with a hint of mystery. This lilac straight silhouette turns darker towards the hemline to create an ombré effect. It has a vintage look. Moreover, we especially love these 3-D floral details that really play out well on the lilac base. This outfit will require very few accessories to create a stunningly chic look.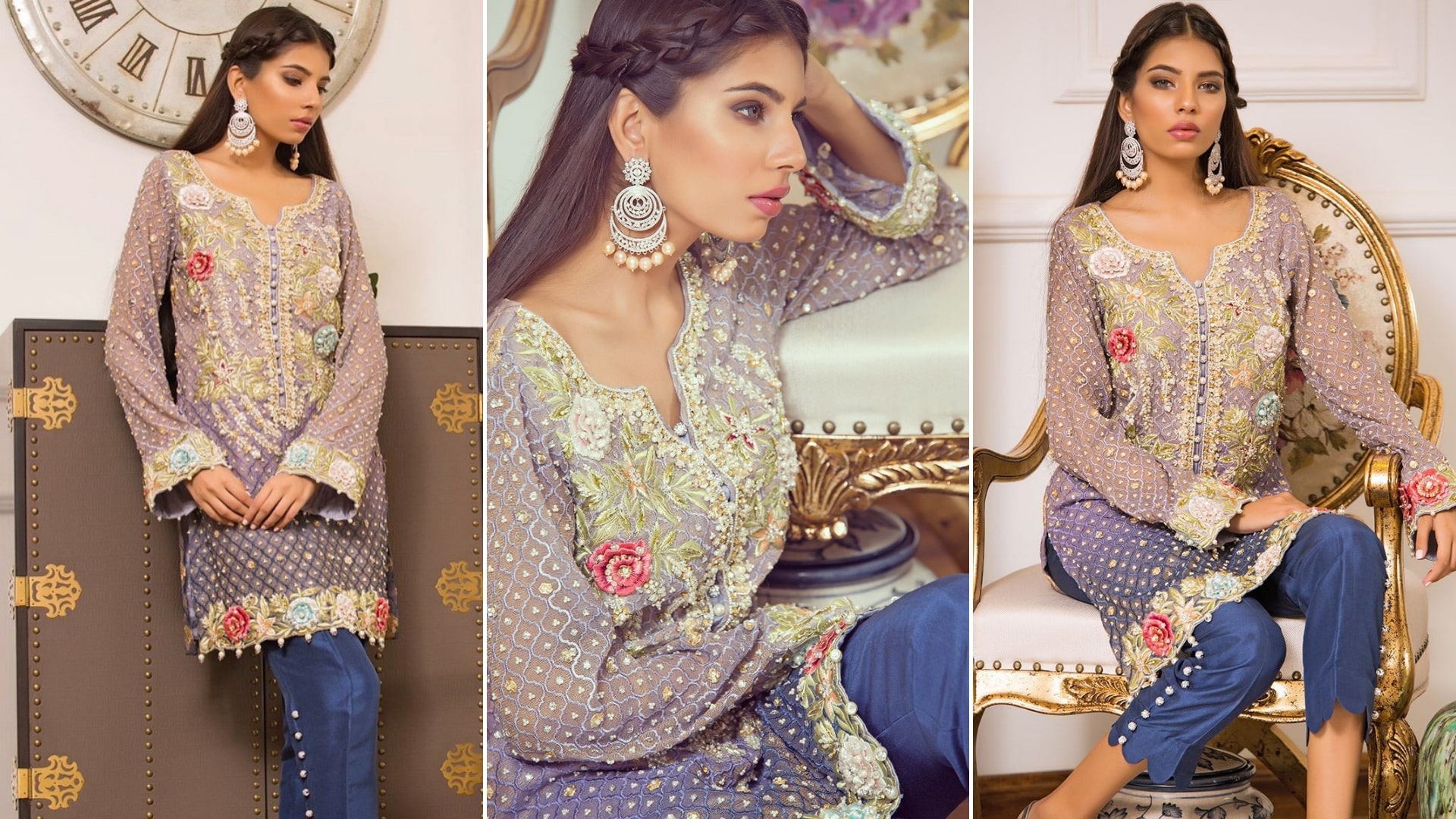 Swan Song
A white dress straight out from a magical dream. All silver and moonlight grace. It is made of a stunning long silhouette kaliddar with different floral embroidered patterns on an organza fabric base. The neckline features silk thread rosettes, adorned with pearls, sequins and crystals. The shirt is paired with straight raw silk pants.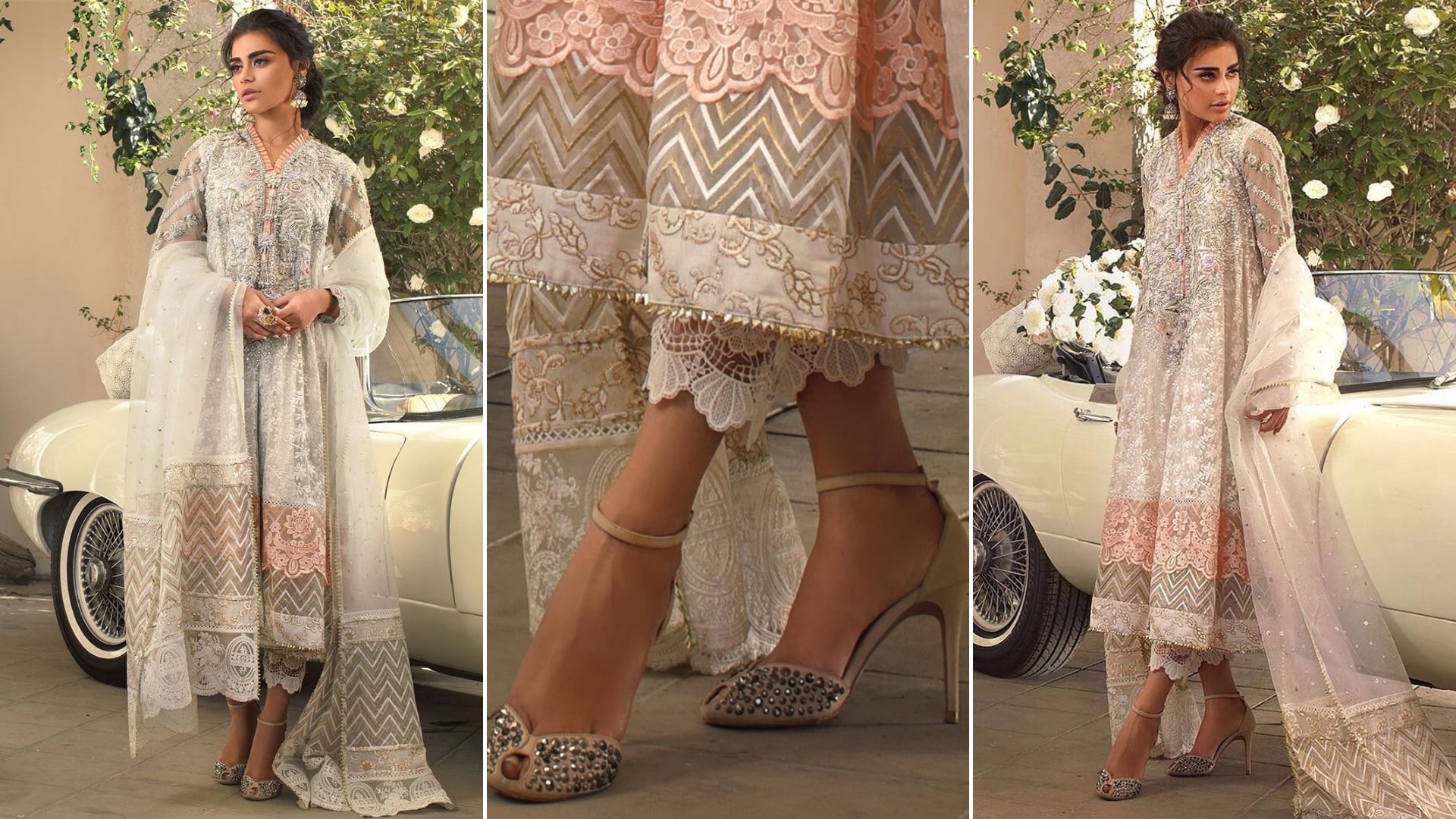 Stellar Glow
Seafoam and mint green tones have an instant soothing effect on the viewer. This seafoam outfit by the maestro is ethereal without being overtly glamorous. The floral embroidery and handwork embroidery is really beautiful. The pink embroidery details give a colorful tint to the base and front to avoid making it look too somber.

Pink Beryl
Let us say that you will find this particular outfit equally gorgeous for day and night festive events. The pastel blush pink is a hue from the setting sun. The design is shimmery and novel grace with its silver thread handwork.  It is softly romantic, with its flattering peplum look and boot cut raw silk pants. It subtle embroidery and base color make it perfect for the wedding of any close relatives or even acquaintances.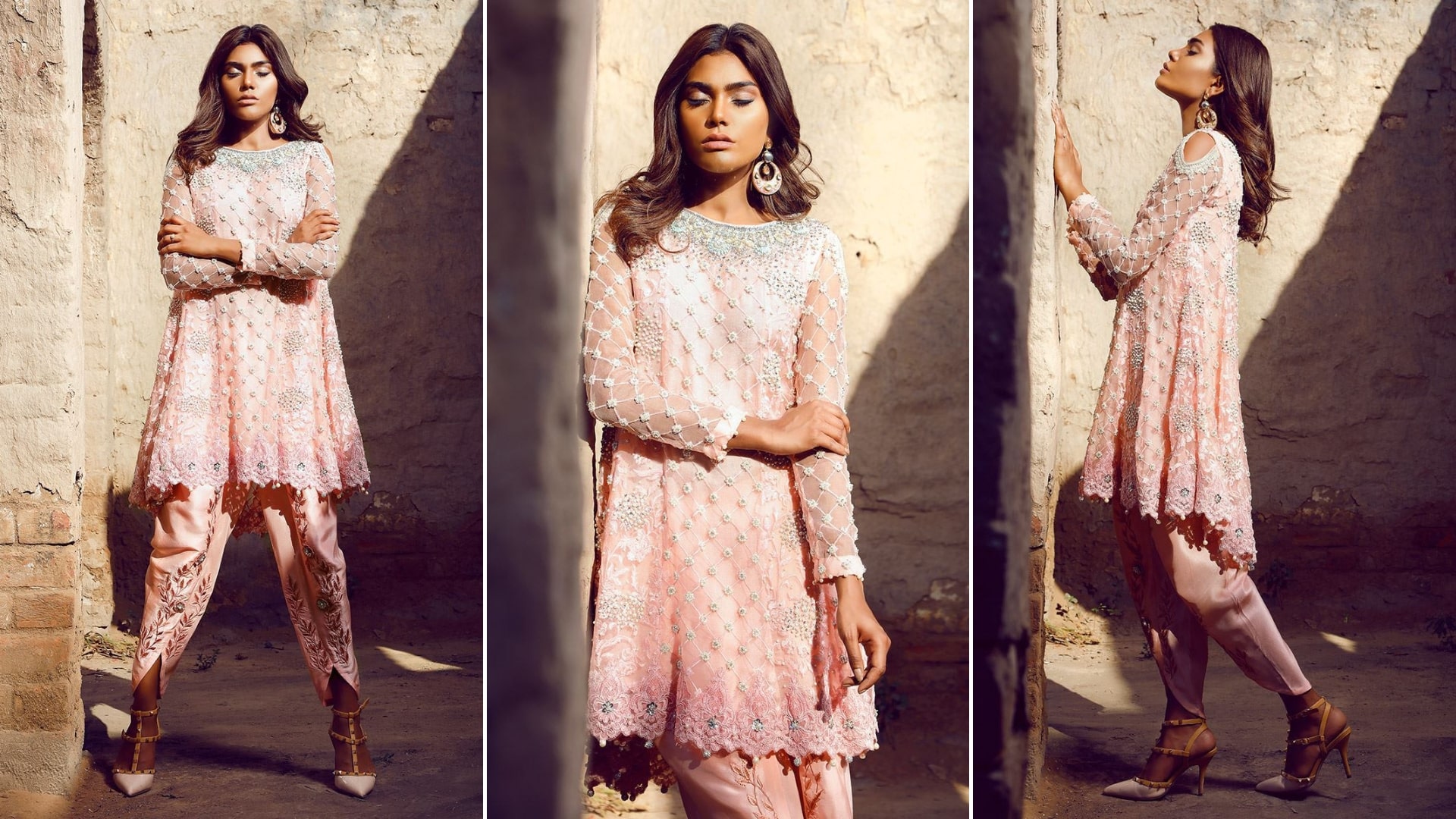 Ombré Nights
A dress made from midnight dreams; it has long and straight silhouette self-embroidered silk net with multicolored silk thread embroidery on necklines with kora, dabka, naqshi and pearl handwork. The white izaar pants with black printed details with silver and gold gota details look like a star-studded sky.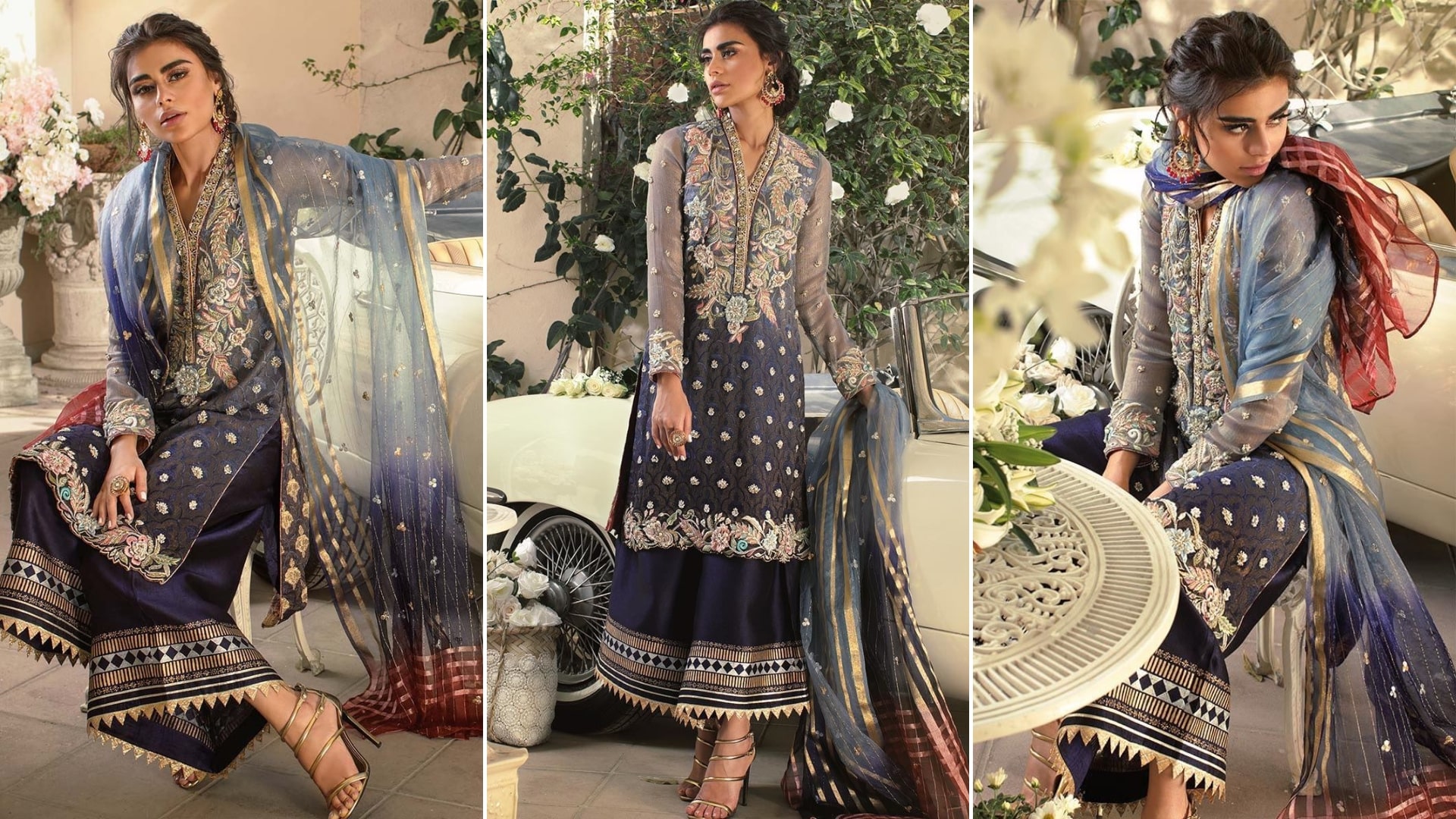 Finally, what do you think? Do you want to give them a try at an upcoming wedding event this season? We know that we at Bridals.pk surely do!
Annus Abrar Formals; Acquainting You to the Best of Formal Fashion
Description
In this article, we have brought you some of the best festive formals and semi formals by Annus Abrar that you can wear to the weddings this year.
Admin
Bridals.PK
https://blog.bridals.pk/wp-content/themes/bridal/images/logo.png