Editor's Pick – Kashmiri Chai: Easy Recipe For All Because The Weather Calls For It!
Nov 21, 2019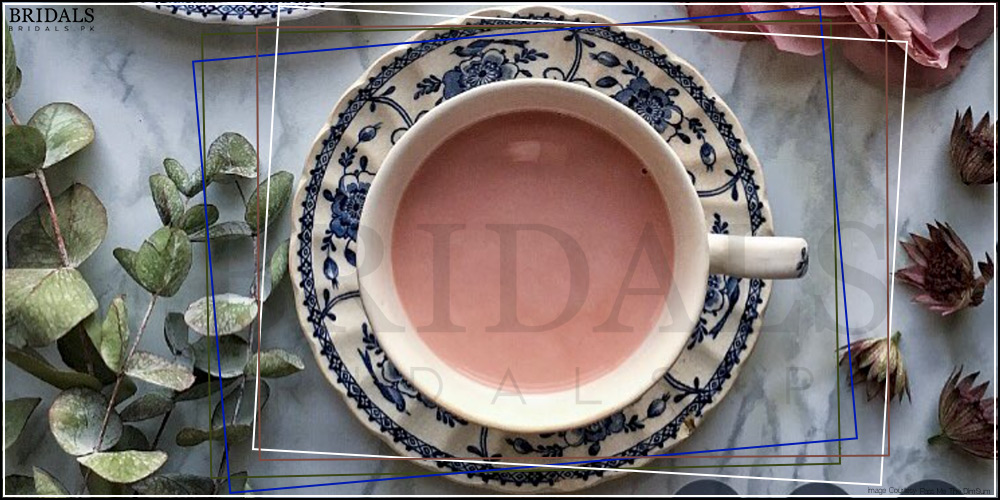 Article By: Ayesha Matloob
We all love to curl up in a cozy blanket in the stinging weather and sip a hot drink. It's not ideal to always load up on caffeine. And as much as we love hot chocolate, we hate the acne breakouts brought on by them. The only option we are left with in these circumstances is the classic Kashmiri Chai. This is the ultimate winter hot drink Pakistani's love to drink. You will find it on the menu of almost all winter weddings here. This ambrosial nectar originates from Kashmir and you will rarely find a person in the country who doesn't enjoy a warm cup of this soothing tea!
Pink tea has countless health benefits. It keeps your skin spotless and hydrated, it improves digestion, helps relieve stress, helps reduce fat, strengthens the immune system and is a healthy drink that energizes the body. Here's how you can make yourself the perfect cup of pink tea!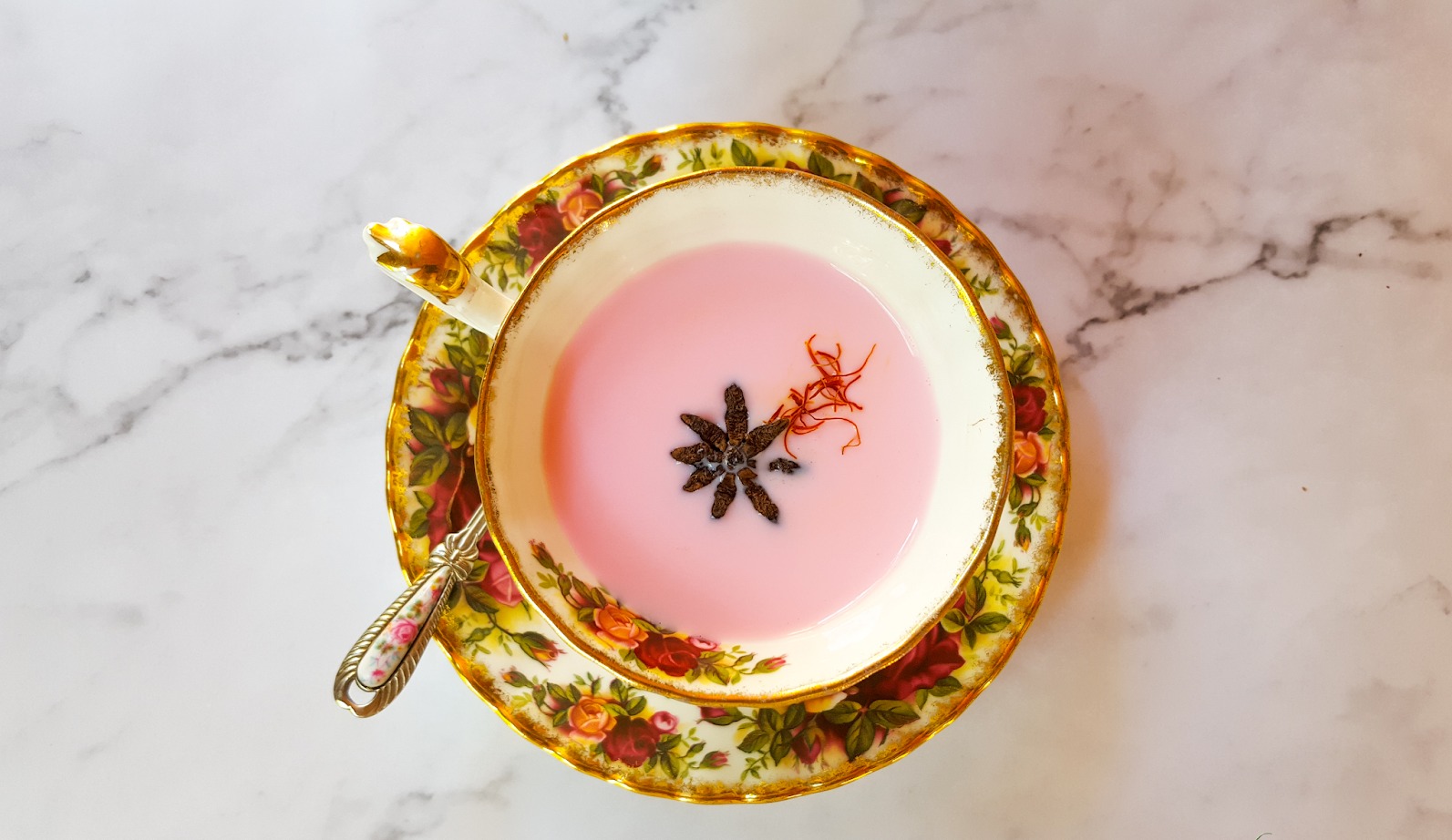 Photo: via Spicy Fusion Kitchen
Ingredients:
Here are all the ingredients that you'll require to make four cups of pink tea:
1. 2 cups of warm and 1 cup of cold water.
2. 3 tablespoons of authentic Kashmiri tea leaves
3. 9 green cardamom (crushed)
4. A 3-inch-long cinnamon stick
5. A little more than 1/4th of a teaspoon of salt
6. ½ a teaspoon of baking soda
7. 3-4 tablespoons of sugar. If you don't like your pink tea sweet, then you do not have to add sugar.
8. 2-3 cups of tea
9. ½ a cup of cream
10. 1 tablespoon of ground almonds and pistachios (optional).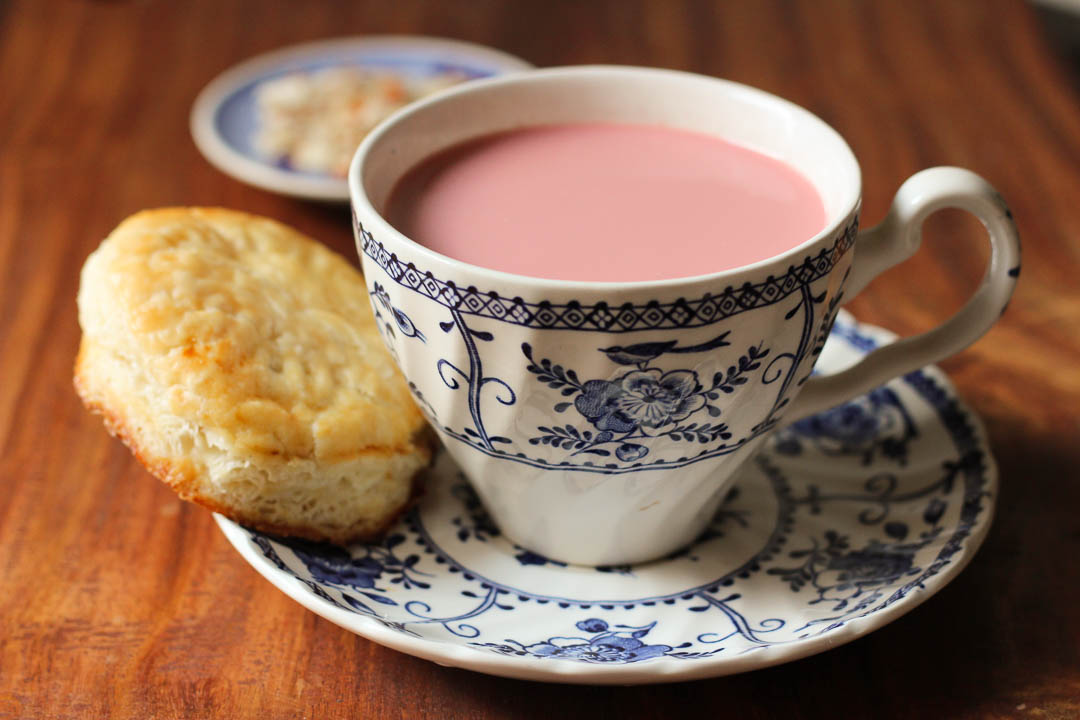 Photo: via Mirchi tales
Optional Ingredients For Additional Flavor
These are some additional ingredients that Kashmiri's add to pink tea for extra flavor
1.4 cloves
2. 1 star anise
3. 4 jasmine flowers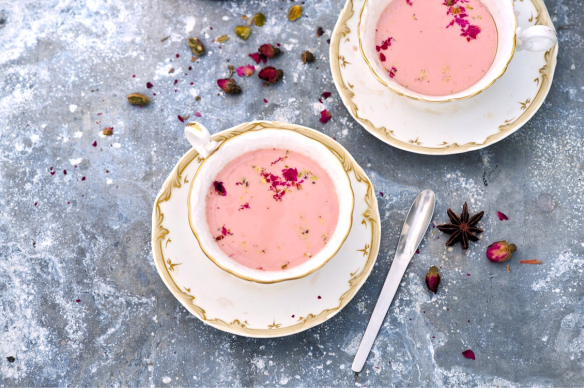 Photo: via The Modern Husband
Recipe
Here's the recipe you can follow to make pink tea:
1.Add salt, cardamom, cinnamon, Kashmiri tea leaves and water (in the quantities mentioned above) in a regular sauce pan.
2. Bring to a boil. Boil it for a minute then add the baking soda to the pan.
3. Keep boiling it for 20-30 minutes until you achieve a deep red color.
4. Once you have achieved the right color, add a cup of cold water to your
5. Strain the kehwa and it is ready for use. You can also store it in the fridge for about 3-4 days.
6. For preparing the tea, add some of the kehwa along with milk and crushed dry fruits in a pan. Bring a tea to a boil and serve it with sugar and salt to taste.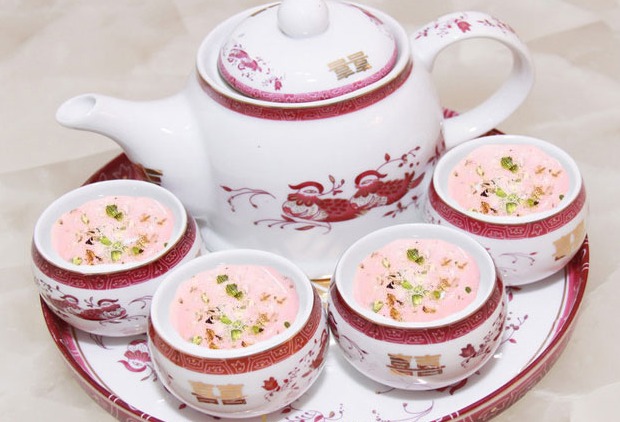 Photo: via Google Images
Note: The dark red color is achieved after all the chlorophyll has drained away from the pink tea leaves. Therefore, you should keep boiling the kehwa until this stage is achieved.
So ladies, pamper yourself with the most amazing cup of pink tea this winter! Stay healthy as well as warm with this nutritious Kashmiri drink!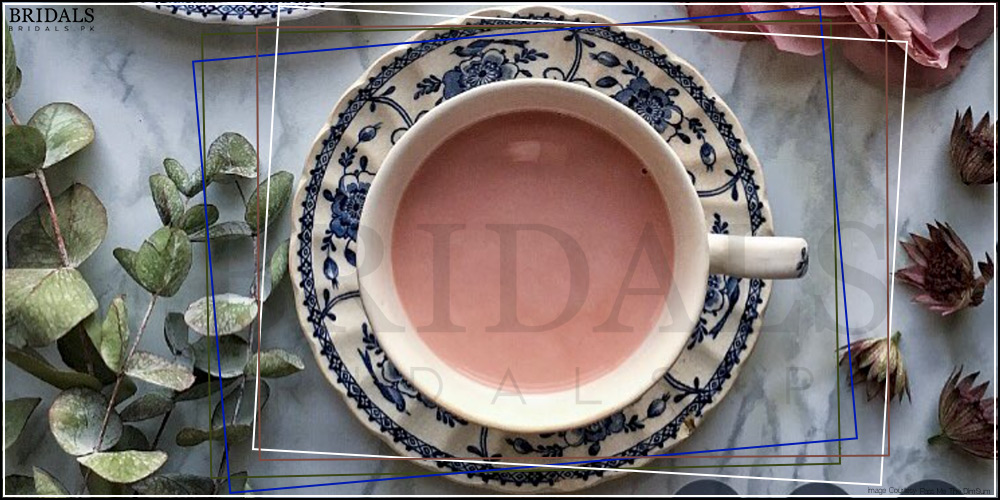 Editor's Pick – Kashmiri Chai: Easy Recipe For All Because The Weather Calls For It!
Description
Make the perfect cup of Pink tea at home this winter!
Admin
Bridals.PK
https://blog.bridals.pk/wp-content/themes/bridal/images/logo.png