News For The Newlyweds: Movies Showing In Cinemas This Eid-al-Fitr
May 25, 2019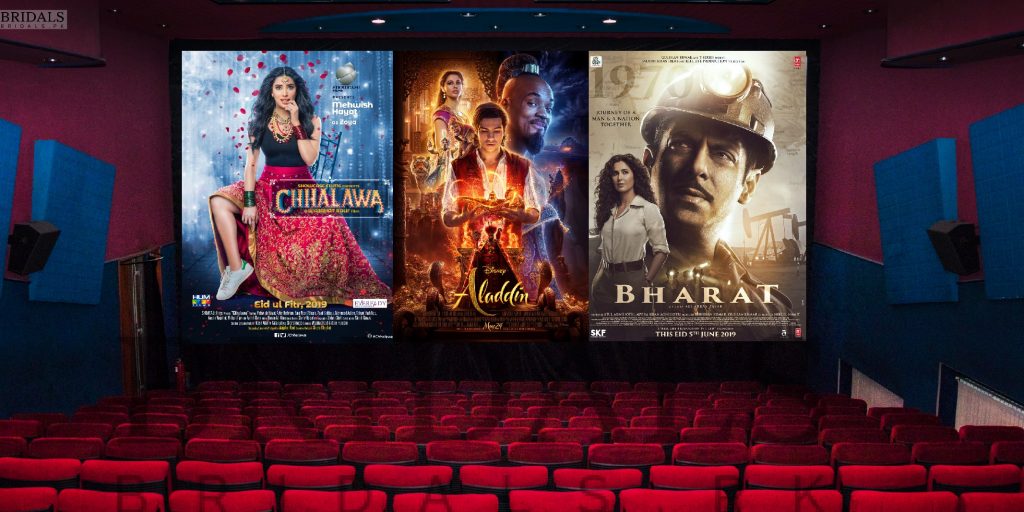 Article by: Hazafa Hasan
Eid-al-Fitr is one of the most beloved celebrations in Pakistan. It is three days of feasting, mingling and get together gatherings. If you have recently tied the knot, you should make time to slip away with your new hubby or wifey. What could be more fun than getting a bucket of caramel popcorn (newlyweds can share one and cuddle at the same time – of course being in their limits!), a little nachos and hitting the cinemas?
Let's not forget our cousins and friends when making plans to hang out on Eid. Make a party of it. Go to movies with other married or engaged couples or friends. To help you out, we at Bridals.pk have bought you a list of all the movies that will be showing this Eid-al-Fitr and for the rest of the month. Now, you can have plenty of time to sort priorities and plan a great evening. Sit back and enjoy these motion pictures trailers of various genres to satisfy your inner movie buff.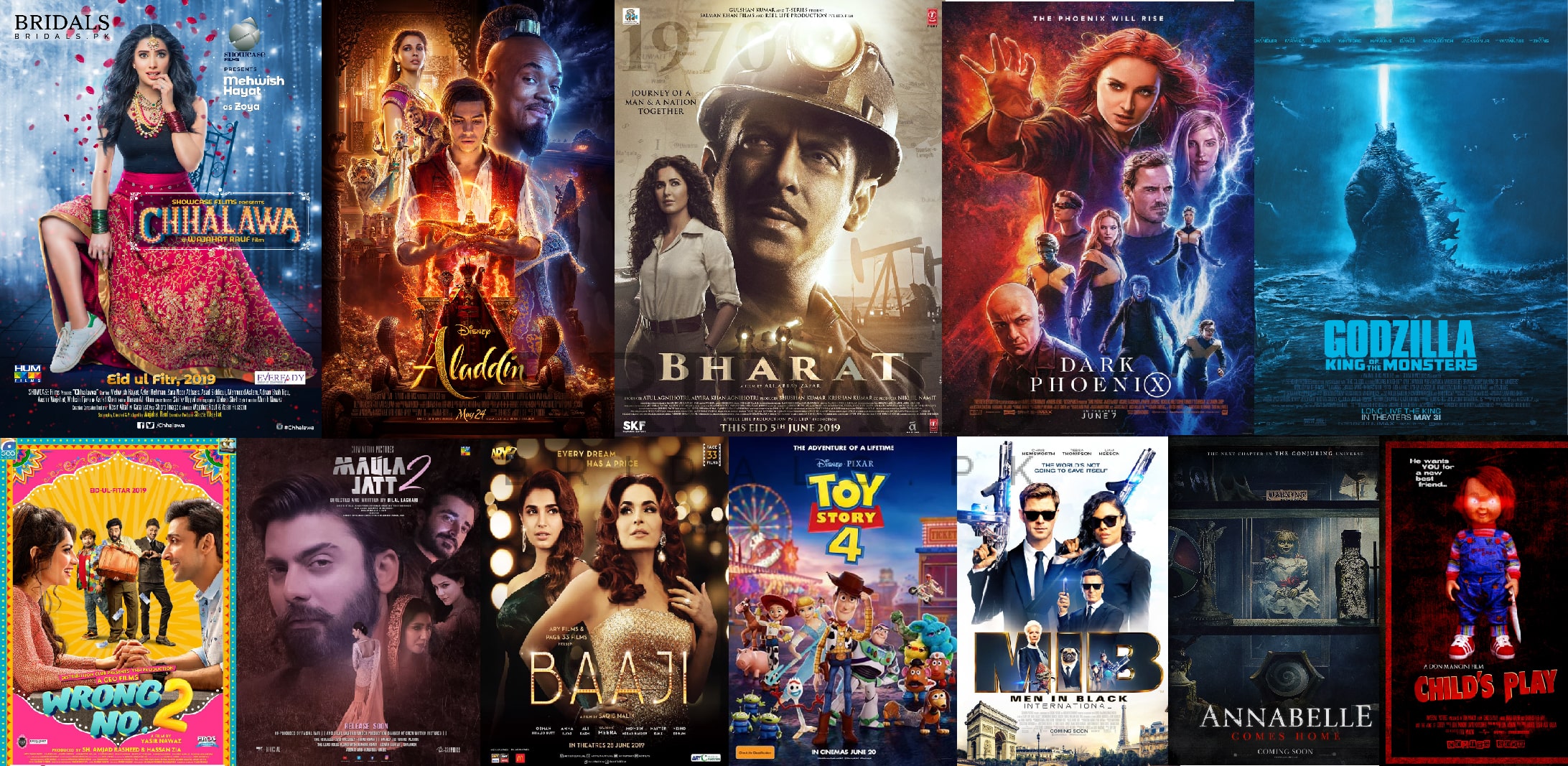 The Legend of Maula Jatt (June 4th)
Action, Drama
A contemporary retelling of the 1979 action blockbuster. An epic thrilling story of a local hero's legendary rivalry with a brutal gang leader.
(Video: The Legend of Maula Jatt Official Channel, YouTube)
Chhalawa (June 4th)
Comedy, Romance
Zoya (Mehwish Hayat) wishes to run away and marry beau Sameer (Azfar Rehman), who wants to do things the right way and win over Zoya's father. Meanwhile, Zoya's sister Haya (Zara Noor Abbas) falls for Sameer's friend Luqman (Asad Siddiqui). Kinda like Jab We Met meets DDLJ, which can turn out to be great right!
(Video: Showcase tv, YouTube)


Baaji (June 28th)
Drama, Romance
A tale of woe, jealousy, hatred and rare companionship between a superstar (Meera) whose time is running out and an upcoming new face (Amna Illyas). Both actresses try for a life-altering role in the movie of a director (Osman Khalid Butt), who's looking for a classic face.
(Video: ARY Films, YouTube)
Wrong No. 2 (June 5th)
Comedy, Romance
The journey of Zoya (Neelum Muneer) and Omar (Sami Khan) falling in love; amongst a variety of local characters, emotions and beating unbelievable odds.
(Video: Eros Now, YouTube)


Bharat (June 5th)
Action, Drama
An adaption of the Korean movie 'An Ode to My Father', Bharat is the story of a man who struggles to keep his promise to his father, to keep his family together as India is born after subcontinent partition and 60 successive years. He's the personification of everything that Bharat stands for, as a nation.
(This much-awaited film is likely not to be released in Pakistan in the aftermath of recent complications. However, that doesn't necessarily mean that people all over the world aren't going to hit the cinemas for it.)
(Video: T-Series, YouTube)


Aladdin (June 5th)
Adventure, Comedy, Family
The live-action retelling of the classic story of a street urchin, who comes by a wish-granting magic lamp and an evil vizier who will stop at nothing to get it. Aladdin is one movie which we at Bridals.pk are all in for, as we know this take on one of Disney's classics is not just going to be a trip down the memory lane but is going to blow our minds off!
(Video: Walt Disney Studios, YouTube)
 
The Secret Life of Pets 2 (June 7th)
Animation, Adventure, Family The sequel of the story of Max (Patton Oswalt) and his pet friends, who all continue to live a secret life whenever their owners leave for school or work.
(Video: Illumination, YouTube)
 

Toy Story 4 (June 21st)
Animation, Adventure, Family
The toy gang is back with a bang in the ownership of a new kid. Adventure ensues when a new toy Forky (Tony Hale) joins the gang. Little Bo Peep (Annie Potts) gets to make a dramatic comeback and toys explore how big the world can be for a toy.
(Video: Pixar, YouTube)


X-Men Dark Phoenix (June 14th)
Action, Adventure, Sci-Fi
The most powerful, Omega mutant Jean Grey (Sophie Turner) begins to develop incredible powers that corrupt her and turn her into the Dark Phoenix. It's up to X-Men to decide whether they should choose one team member over all other people living in the world.
(Video: 20th Century Fox, YouTube)
Men in Black: International (June 21st)
Action, Comedy, Sci-Fi
The Men in Black have saved the earth from the evil for a while now. In this new chapter, they have to deal with an inside threat; a mole in MIB organization.
(Video: Sony Pictures Entertainment, YouTube)
Godzilla: King of the Monsters (June 5th)
Action, Adventure, Fantasy
A battery of god sized monsters threatens to destroy the crypto-zoological agency Monarch. There is a war between the mighty Godzilla – who fights Mothra, Rodan and his arch nemesis, the three-headed King Ghidorah.
(Video: Warner Bros. Pictures, YouTube)
Annabelle Comes Home (June 28th)
Horror, Mystery, Thriller 
Demonologists Ed (Patrick Wilson) and Lorraine Warren (Vera Farmiga) bring the haunted doll Anabelle home and put her safely in the artifacts room, full of dark objects and have a priest bless her glass case. However, Anabelle wakens all the evil spirits in that room and together they haunt Warren's ten-year-old daughter Judy (Mckenna Grace) and her friends.
(Video: Warner Bros. Pictures, YouTube)
Child's Play (June 21st)
Horror
A mother gives her son an artificially intelligent toy doll, totally unaware of its sinister habits.
(Video: Orion Pictures, YouTube)
Finally, we have all the genres here for you to indulge in. There is just something about watching a movie playing before you that makes you reach inside your emotions. You bond with people you watch movies with. We especially recommend this for newlyweds. Watching your spouse's favorite movie might help you get to know him or her, in a new way. Grab a bag of popcorns and each other's hand as Zoya discovers love, Maula defeats the odds, Aladdin discovers a whole new world or Annabelle and Chucky go on a torture spree. Whichever you choose, we at Bridals.pk wish you happy Eid holidays in advance. Happy watching guys!
(Note: Different cinemas countrywide might alter the release dates a little, according to their schedule)
News For The Newlyweds: Movies Showing In Cinemas This Eid-al-Fitr
Description
We at Bridals.pk have bought you a list of all the movies that will be showing in cinemas, this Eid-al-Fitr and for the rest of the month.
Admin
Bridals.PK
https://blog.bridals.pk/wp-content/themes/bridal/images/logo.png