Best Pakistani Dramas to Binge-Watch During These Eid Holidays
May 27, 2019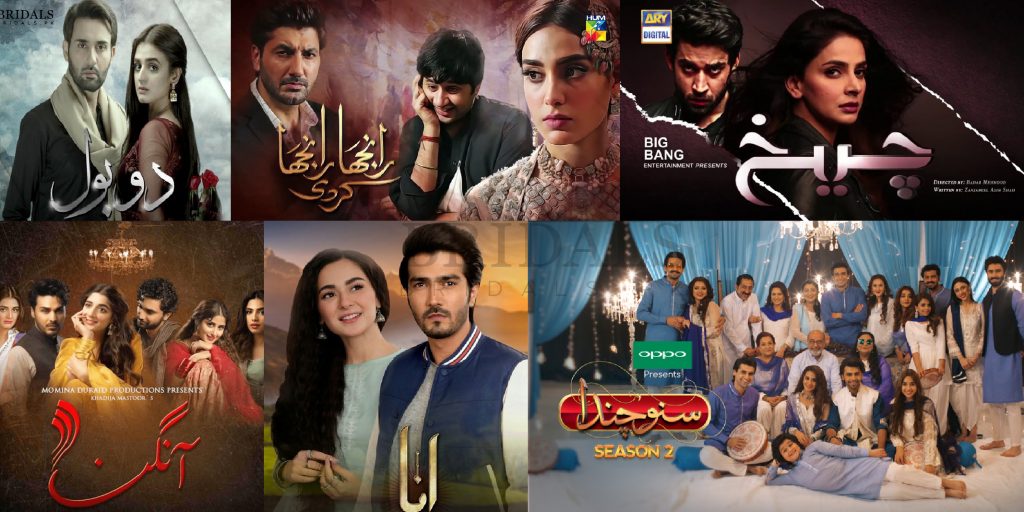 Article by: Hazafa Hasan
Holidays are coming up and that means a lot of us will be having a lot of time on our hands. As much as we'd like otherwise, not all of us will be having a full social calendar these holidays. Especially, if you are residing out of the country, or are away from home, you can always binge-watch your traditional dramas to cure homesickness. We know so many of our beloved women who are married and settled abroad and miss the local culture on special occasions. We have a simple alternative that will make you feel at home away from home.
Binge watch some of these glorious Pakistani dramas. This last year has seen a lot of improvements in Pakistani Drama industry and we have brought you a list of jewels that attracted millions of viewers back to the television. These picks are so good that you can enjoy them with your spouse, or just see them on your own to get a reality check about post-wedding life. Enjoy:
1. Ranjha Ranjha Kardi
Ranjha Ranjha Kardi has to be one of the most popular shows on the television right now as its first episode brought over 8 million people to tv screens. If you want to know what the hype is about you have got to catch up. It's the story of a poor factory worker girl Noori (played by Iqra Aziz) and her hopes and dreams to improve her station in life. Her relationship with a greedy man Sahir (Syed Jibran), an accusation from a harassing employee (Haseeb Muhammad Bin Qasim) and a lusting fiancé (Noor-ul-Hassan) that her father forced on her lands her in a perilous position to marry the autistic heir of a rich widow (Asma Abbas), Bhola (Imran Ashraf).
The series raised a lot of social issues like marital rape, society's taboo way of treating a woman who's looking to improve her lot in life and female harassment at workplace. And it addresses them in a justified way. The actors, especially Imran Ashraf is getting a lot of praise for bringing the character to life.
https://www.youtube.com/watch?v=qrTX10MPjK8
(Video: Best Dramas Scenes, YouTube)
2. Aangan
Based on Khadija Mastoor's classic novel of the same name, Aangan is a period drama that revolves around a household in pre-partition Pak-India. It's a tragically beautiful, chronological tale of a family that struggles as a new nation is being born. The protagonist Aaliyah (Marwa Hocane) is afraid of how falling in love failed women around her, so she rejects the advances of her cousin Jameel (Ahad Raza Mir) even though she loves him. Another of her cousin Chammi (Sajal Aly) is a colorful, complex character who is also in love with Jameel but is wary of his growing interest in Aaliyah and puts a laughing face over all her heartache. We are still waiting to see how the lives of all these people pan out in the newly independent Pakistan, as Jameel joins the army.
https://www.youtube.com/watch?v=3MBRGezv1eE&t=85s
(Video: HUM TV, YouTube)
3. Cheekh
Cheekh is a crime-drama series that's another of the current hit series on ARY channel. It has a star-studded cast that brought to life a usually neglected genre; crime-drama.
Mannat (Saba Qamar), Haya (Azekah Daniel) and Nayab (Ushna Shah) are close friends. Nayab is murdered after a rape attempt, the night of Haya's engagement. Before she dies she implies that Mannat's brother in law; Wajih (Bilal Abbas Khan) is her criminal. This leads to a whole debacle of court, police and Mannat's struggle with her in-laws whose perfect elitist façade begins to crack.
Saba Qamar is a force to be reckoned with as Mannat. Also, people are really appreciating Shayan (Emmad Irfani)'s role in his wife's battle for justice for a friend. It somewhat came as a surprise as he chose to support his wife, as she discovers treachery and betrayal of many members of her family in the cover-up of Nayab's murder. The verdict on this case is eagerly awaited by fans, as both parties have made it clear that they won't stop at anything to make things go their way.
(Kudos to writers who finally thought it was time to put the male protagonist to some use, other than being a gullible pushover played by the villains. Or worse, someone who is only in for the cozy bits and dramatic facial expressions.
https://www.youtube.com/watch?v=lq39v7JVd9w
(Video: ARY Digital, YouTube)
4. Sunno Chanda
Iqra Aziz is certainly having a good year as she proves her acting skills in two entirely different roles. In 'Sunno Chanda' she plays an adorable and lively girl Jiya (Iqra Aziz) who is in Nikah of her annoying cousin Arsal (Farhan Saeed). The rom-com series follows the couple who start off as nemeses but fall in love along the way.
This season has some quirky funny moments that won over people and it also redefined the roles of people living in joint family dynamics, which is a breath of fresh air. The season 1 was so popular that it returned for a season 2, but so far people are complaining that season 2 undid everything good it accomplished in season 1.
https://www.youtube.com/watch?v=6DG_Hx-BnSY
(Video: SBL, YouTube)
5. Do Bol
A record hit, Do Bol revolves around high-spirited Gaiti Ara (Hira Mani) who tries to win over her neglecting, mistrusting father Iqbal Hussain (Mehmood Aslam). After doubting and discarding Gaiti's mother, Iqbal Hussain cannot bring himself to trust women. Failing to convince her father not to marry her off to her evil cousin Zafar (Haris Waheed), Gaiti tries to run off to her birth mother. She is caught at the railway station with the family's faithful employee Badar (Affan Waheed).
Badar harbors a strong love for a loud-mouthed but honest Gaiti. He stands by her when she is disgraced by her family and marries her when forced. Gaiti has a hard time adjusting to the new reality of life where she becomes the wife of a lower middle man who worked for his father. The series follows Gaiti, Badar and Gaiti's love interest Sameer (Haroon Shahid) as they come to grips with the fact that Gaiti's family disowned her and married her off to avoid scandal.
Again this serial got a lot of public appreciation (despite the rather tragic synopsis) for its male lead who was portrayed as someone dependable and supportive through highs and lows of life.
https://www.youtube.com/watch?v=kXZzOSCqs_I
(Video: ARY Digital, YouTube)
6. Anaa
Daneen (Hania Amir) and Areesh (Shehzad Sheikh) are cousins who secretly like each other and belong to very prim families. Their respective families though related, are not close owing to a love connection gone wrong in the past that resulted in the suicide of Areesh's uncle. When the family finds out about Daneen and Areesh, they reverently oppose the match but finally the couple is engaged.
A twist occurs when Izzah (Naimal Khawar) and Daneen become friends. Areesh's family finds that Izzah is the daughter of Daneen's aunt. The same aunt who rejected Areesh's deceased uncle and caused him to take his own life. Provoked by family politics and a chain of events that leads them both to be driven by their ego rather than their hearts, blinded by their families' hatred they marry other people. We are still waiting to see if these two have any hope of finding their way back to each other.
https://www.youtube.com/watch?v=fn1WWTWDaIg
(Video: HUM TV, YouTube)
Do let us know which Pakistani drama won you over and why on our social media – https://www.instagram.com/bridals.pk/ .
Best Pakistani Dramas to Binge-Watch During These Eid Holidays
Description
This last year has seen a lot of improvements in Pakistani Drama industry and we have brought you a list of jewels to binge-watch this Eid.
Admin
Bridals.PK
https://blog.bridals.pk/wp-content/themes/bridal/images/logo.png