NETFLIX Movie Guide to Keep You Entertained These Eid Holidays!
May 28, 2019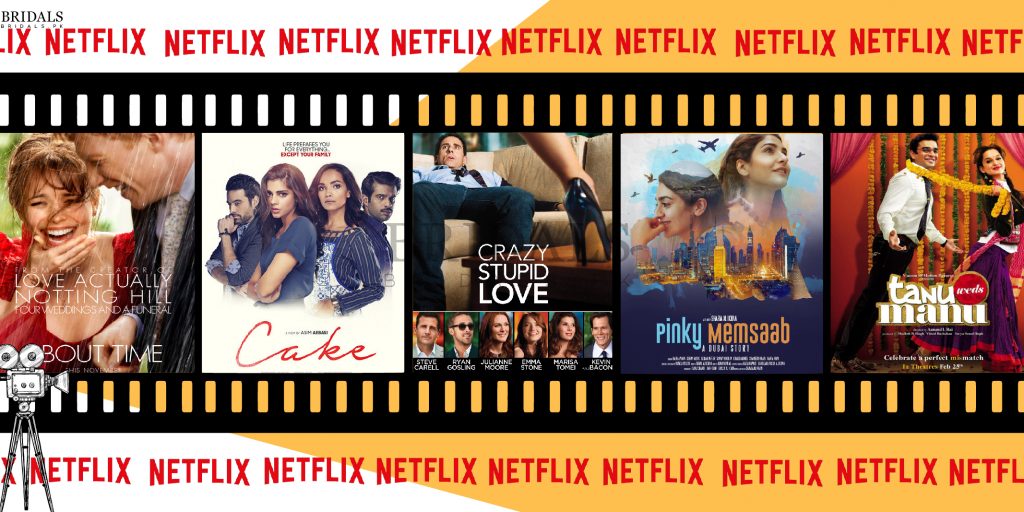 Article by: Hazafa Hasan
If you are planning to Netflix and chill during Eid Holidays this year. We have come up with a rather good movie guide for you. As Eid can be quite romantic (given that you are over the moon with gifts that come from the love of your life), these romantic, adventure and family flicks will set the right mood for you. So scroll down for some great movie options depending on who you are watching these movies with:
Singles' Squad
Think Like a Man
Comedy, Romance
A perfect flick for both guys and girls – Think Like a Man is the story of four friends who decide to turn the tables on their girlfriends. As all four of them were using Steve Harvey's relationship advice 'against' them. (This movie isn't available on Netflix as of now. However, it's such a great movie that we thought you must check it out.)
(Video: Sony Pictures Entertainment, YouTube)
Pinky Memsaab
Drama, Family 
Four people; a gullible maid, a beautiful socialite, a happy go lucky chauffer and an ambitious investment banker entwines in Dubai.
(Video: Pinky Memsaab, YouTube)

Someone Great
Comedy, Romance
A New Yorker music journalist gets her dream job, only it's in San Francisco. Declining to be in a long distance relationship, her boyfriend dumps her and she recruits her two best friends for one last night of adventure in New York City before she moves.
(Video: Netflix, YouTube)
Inglorious Bastards
Adventure, Drama, War 
An alternative history, guy flick – Inglorious Bastards is full of action and intrigue. In German-occupied France, Lt. Aldo Raine (Brad Pitt) an Allied Officer, assembles a team of Jewish soldiers to commit violence against Nazis. A German actress and undercover agent help them take down the Third Reich.
(Video: Movieclips Classic Trailers, YouTube)
Affianced Couples
Tanu Weds Manu
Comedy, Drama, Romance
An abroad-settled eligible bachelor returns to India to find a bride. He meets this crazy, wonderful, free-spirited woman who has no plans of marrying him!
(Video: tanuwedsmanu, YouTube)
He's Just Not That into You
Comedy, Drama, Romance
A group of young people navigates through love and challenges of reading or misreading behavior in Baltimore, Maryland. Beth (Jennifer Aniston) wants her long term boyfriend Neil (Ben Affleck) – who doesn't believe in marriage, to commit. Gigi (Ginnifer Goodwin) is the girl who wants to take control of her love life instead of waiting by the phone. Mary (Drew Barrymore) cannot find a good man to save her life. Meanwhile, Janine (Jennifer Connelly) cannot trust her husband, who is having an affair with a yoga instructor (Scarlett Johansson).
(Video: TrailerProvider, YouTube)
Ho Mann Jahan
Drama, Musical
A coming of age movie, in which three college friends (Mahira Khan, Sheheryar Munawar and Adeel Hussain) residing in Karachi are passionate about music and hope to find fame. The characters struggle to exercise free will, while also being bound to conformity.
(Video: ARY Films, YouTube)
The Last of the Mohicans
Adventure, Drama, Action
Amidst the French and Indian War, three Mohican trappers protect the daughters of a British colonel. A passionate romance blossoms between a Mohican trapper and the daughter of the colonel that's all-consuming and utterly forbidden.
(Video: TrailersPlaygroundHD, YouTube)
Newlyweds
Maid in Manhattan
Comedy, Drama, Romance
A hotel maid (Jennifer Lopez) meets a Senatorial candidate (Ralph Fiennes) who accidentally ends up thinking that she is a wealthy socialite. A new romance is kindled as they become the talk of the town, which makes it hard for JLo to hide under the covers for long!
(Video: YouTubeMovies, YouTube)
The Lucky One
Drama, Romance
U.S. Marine Sgt. Logan Thibault (Zac Effron) has returned from his third tour of duty in Iraq. He's suffering from the trauma of war and believes that a photograph of a woman named Beth (Taylor Schilling) he found on the battlefield kept him alive, while all his friends died. He finds her to express his gratitude (maybe, 'cause how you can thank someone for a good luck charm that wasn't meant for you) but is caught up in the life of this strong, kennel-running, single mother Beth. Together, Logan and Beth find love and peace but it's all complicated.
(Video: Warner Bros. Home Entertainment, YouTube)
About Time
Comedy, Drama, Fantasy
Tim Lake (Domhnall Gleeson) learns that the men of his family can travel in time. Time resolves to use his power to improve his life one day at a time. He meets Mary (Rachel McAdams) and with his power and a bit of cunning streak wins her over. However, he's to learn that he can't save everyone he loves despite his incredible power.
(Video: Movieclips Trailers, YouTube)
The Great Gatsby
Drama, Romance
Nick Carraway (Tobey Maguire) arrives in New York in 1922, hoping to live the American dream. His next-door neighbor Jay Gatsby (Leonardo DiCaprio) is a millionaire, who owns a mansion and throws excessively lavish parties. Nick's enchanting cousin Daisy (Carey Mulligan) lives across the bay with her philandering husband, Tom (Joel Edgeton). Swept by the enigma that is Gatsby and the world of wealthy, Nick soon learns that Daisy and Gatsby were in love before she was married.
(Video: Movieclips Trailers, YouTube)
Going Strong
Crazy, Stupid, Love
Comedy, Romance
Cal Weaver (Steve Carell)'s perfect life crumbles when his amazing wife (Julianne Moore) asks for a divorce and tells him that she has been having an affair. Suddenly single, Cal has to re-enter the world of dating and makes a fool of himself. A club-hopping playboy, Jacob Palmer (Ryan Gosling) decides to take pity and teach him how to be a hit amongst the ladies.
(Video: Movieclips, YouTube)
2 States
Comedy, Romance
Krish Malhotra (Arjun Kapoor) is from a typical Punjabi family. He meets Ananya Swaminathan (Alia Bhatt) and falls in love. Now Ananya's family is Tamil and they have to wait to get married as they both struggle with their respective families, who refuse to overlook their completely different cultural backgrounds.
(Video: Cineworld Cinemas, YouTube)
The Notebook
Drama, Romance
Based on Nicholas Spark's novel, it's the tale of mill worker Noah Calhoun (Ryan Gosling) meets rich girl Allie (Rachel McAdams) fall in love in the summer of 1940's South California. Allie's parents don't approve of the relationship and Noah goes off to World War II. Years later Allie is about to marry Lon Hammond (James Marsden) when Noah's return rekindles the old flame.
(Video: eOnefilms, YouTube)
Bridget Jones's Diary
Comedy, Romance
Bridget Jones (Renée Zellweger) is penning down the most provocative, erotic and hysterical book; her diary, as she struggles to find true love.
(Video: 1keepandcalmandcarryon, YouTube)
Family & Kids
Cake
Drama, Mystery, Romance 
Estranged siblings have to reconnect begrudgingly as they sort out how to care for their aging parents.
(Video: B4U Motion Pictures, YouTube)
Paddington
Adventure, Comedy, Family
A young bear (Ben Whishaw) makes his way to England when an earthquake destroys his rainforest home. One family gives him shelter, but someone has evil eyes for the rare and endearing bear.
(Video: Movieclips Coming Soon, YouTube)
Charlie and the Chocolate Factory
Adventure, Comedy, Family
A comic and fantastical spin on the Roald Dahl's tale; Charlie Bucket (Freddie Highmore) and his Grandpa Joe (David Kelly) win a once in a lifetime chance to visit the magical and exclusive factory of eccentric candy maker Willy Wonka (Johnny Depp).
(Video: Movieclips Classic Trailers, YouTube)
Allahyar and the Legend of Markhoor
Adventure, Animation, Family
In northern Pakistan, the story follows Allahyar, a young and mischievous boy comes in contact with poachers.
(Video: ARY Films, YouTube)
NETFLIX Movie Guide to Keep You Entertained These Eid Holidays
Description
If you are planning to Netflix and chill during Eid Holidays this year. We have come up with a rather good movie guide for you.
Admin
Bridals.PK
https://blog.bridals.pk/wp-content/themes/bridal/images/logo.png