Jackie O'; Style Notes For The Modern Bride
Jul 08, 2019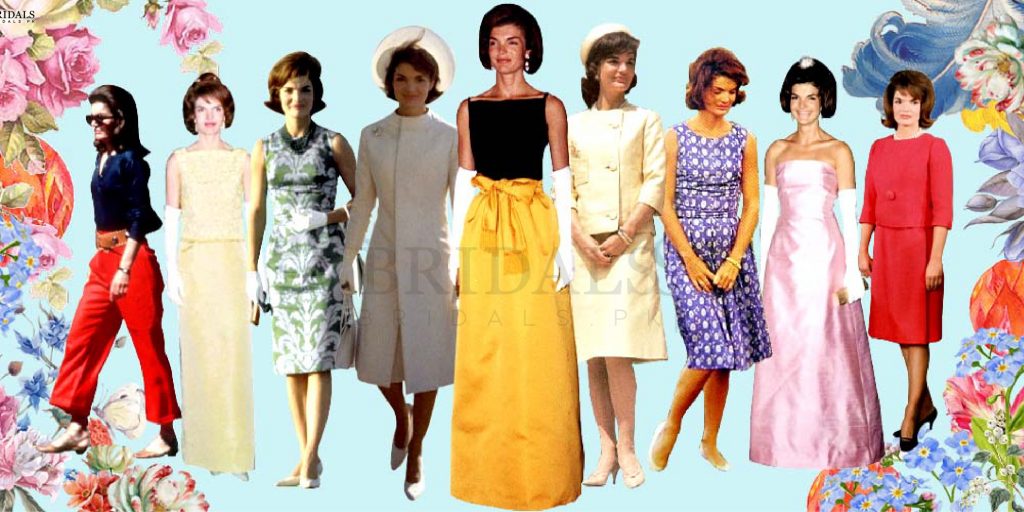 Article By: Hadia Hassan
"Underneath the chilly gray November sky
We can make believe that Kennedy is
Still alive and
We're shooting for the moon and
Smiling Jackie's drivin' by"  -Tomorrow Wendy, Concrete Blonde.
If you didn't grow up seeing pictures of Jackie O' in magazines and trying to copy her style, then are you even a 90's girl? Hell, most of us even secretly chanted "You gotta be my First Lady, Jackie" every single time we used one her fashion staples to complement our look. From the iconic moment that she married JFK in that historical ball gown to the moment she died, her style never flailed for so much as an instant. Whether she was attending sophisticated soirees or simply picking her children up from school, she seemed effortlessly stylish.
Unlike most fashionistas who're known to follow trends, Jackie O' was revered as a trendsetter. Even today some of our favorite celebs such as Kate Middleton stick to her fashion statements which just shows how classy Jackie O' really was. Most of her outfits were custom made by the celebrity dress designer Oleg Cassini who had previously designed for iconic women such as Grace Kelly and even Shirley Temple. And when Givenchy is your best friend, your style quotient can never go wrong! Let's take a trip down memory lane and walk through some of Jackie Kennedy's most historic moments!
Here's A Trend Page For Brides Who Want To Channel The Spirit Of Jackie O'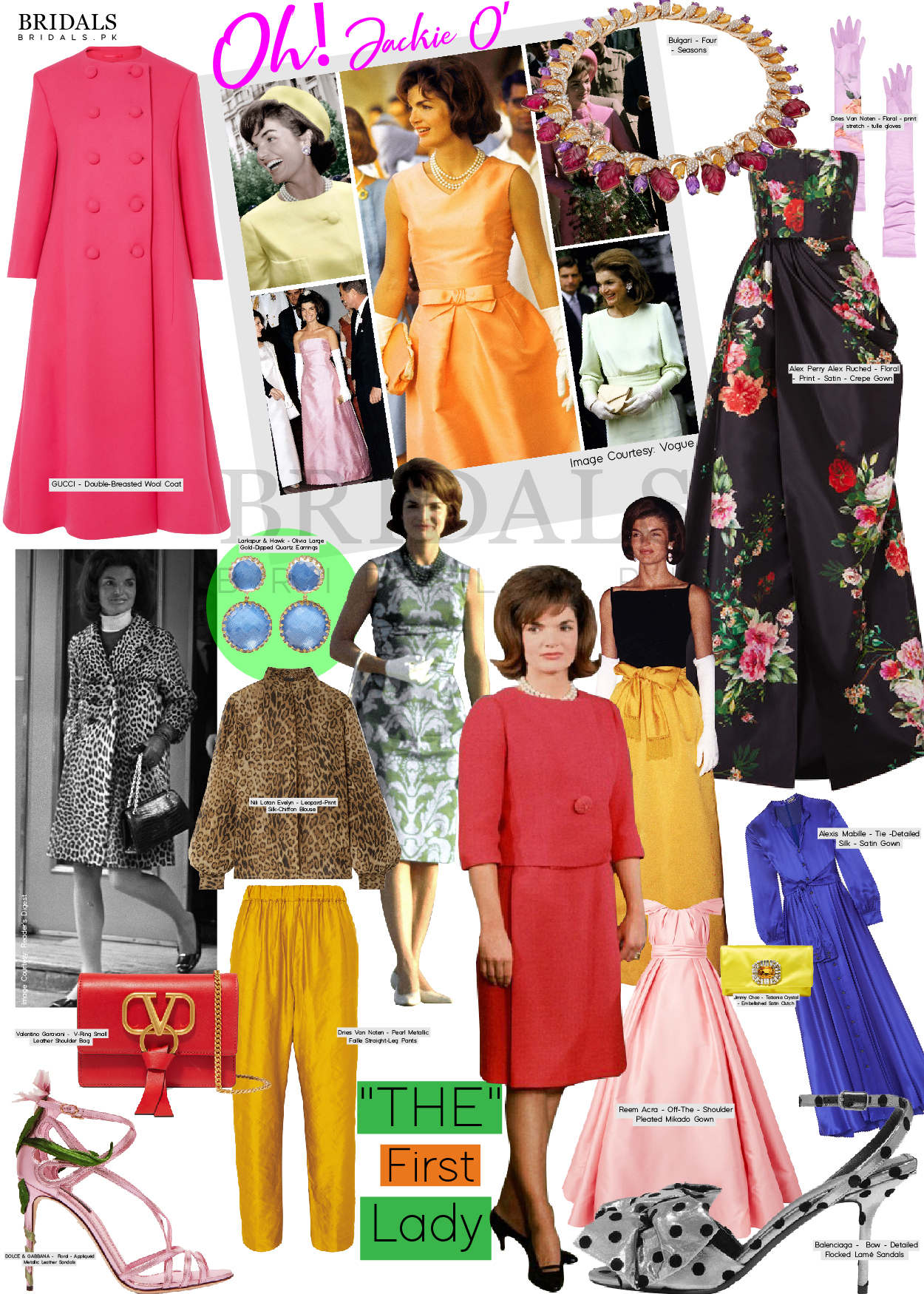 1. Jackie's Wedding 1953
The gorgeous boat neck ball gown that Jackie wore on her wedding went on to become a major bridal apparel inspiration for many women. Designed by an African-American designer Ann Lowe. Jackie kept traditions alive and paired her ivory silk taffeta dress with her grandmother's lace veil. Holding her hair in place was an elegant lace-and-orange-blossom tiara. Behold her iconic wedding dress: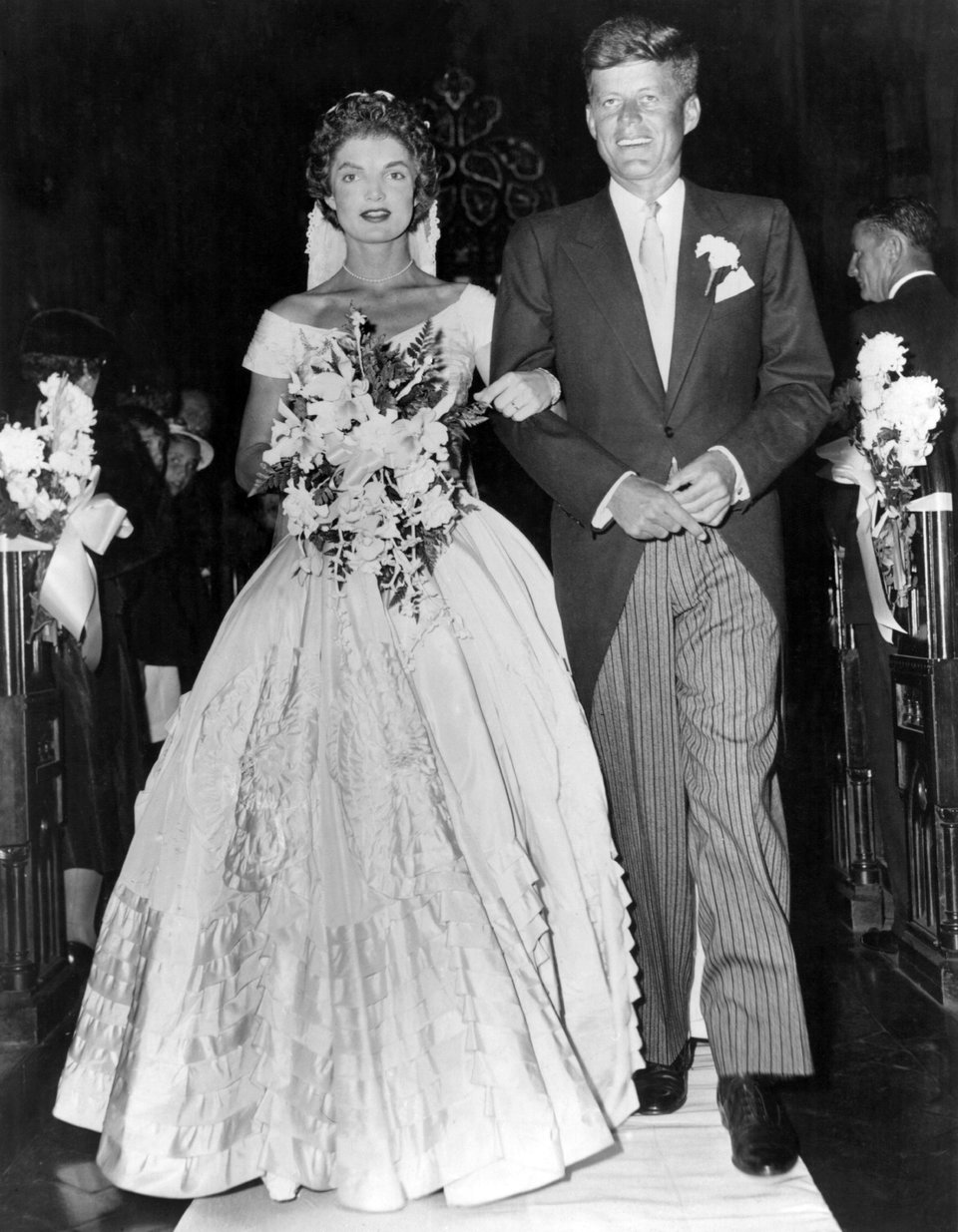 Photo: Getty Images
2. JFK's Inauguration Ceremony
Jackie O' wore a custom made Cassini beige coat A-Line silhouette dress that was inspired by Parisian Couture.  She accessorized her look with sophisticated elbow length plain white gloves and a signature Halston pillbox hat. Both these accessories went on to become huge fashion trends of the 60's.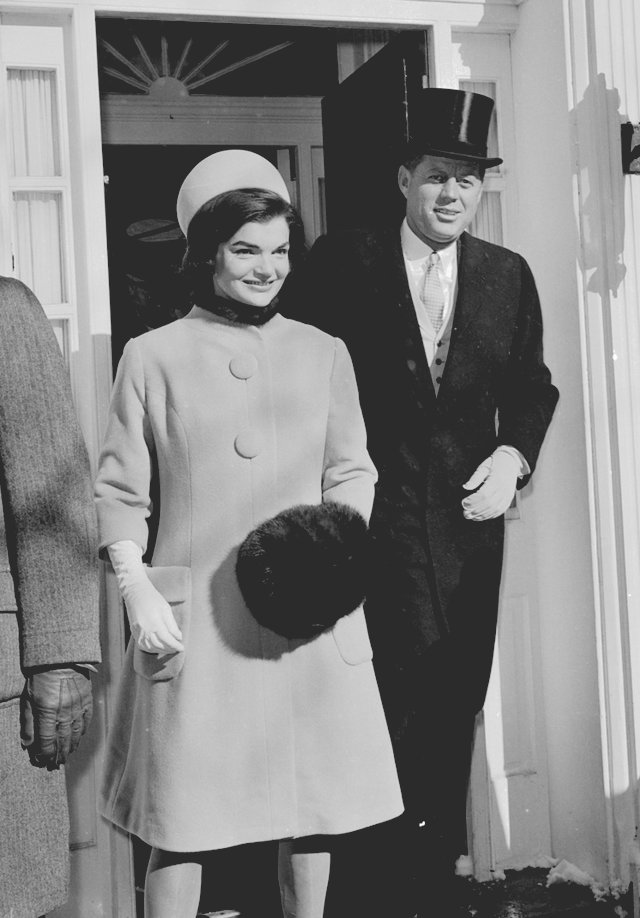 Photo: Getty Images
3. Pearls All The Way!
Throughout her life Jackie remained loyal to some fashion staples and pearls were one of them! She was often spotted wearing either a single or multiple strings of pearls. In fact, she was the one who delivered the statement that changed the course of history in the world of fashion that:
"Pearls are always appropriate."-Jackie O'
Here is the first lady wearing pearls with a beautiful apricot dress on her visit to India in 1962.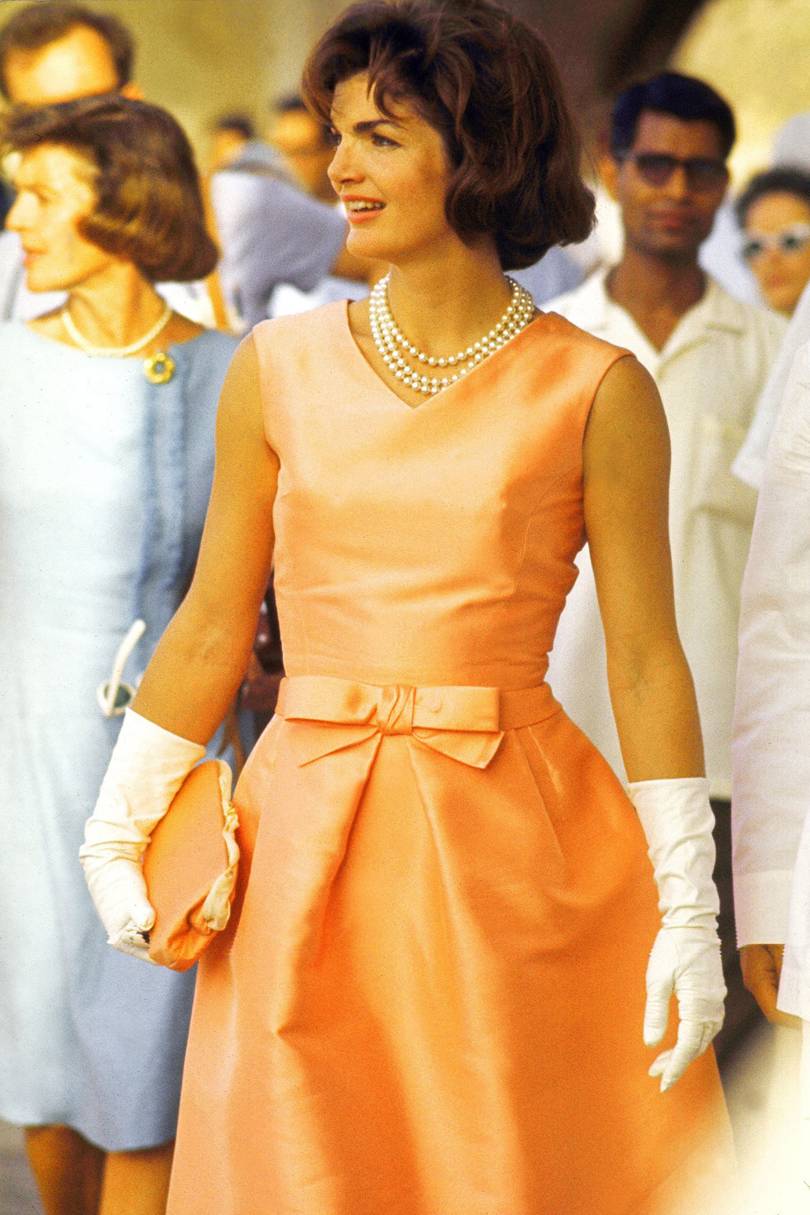 PHOTO: Getty Images
4. 50 Shades!
 "I wanna be Jackie Onassis
I wanna wear a pair of dark sunglasses" -Tire Me, Rage Against The Machine.
 Over sized shades were one of Jacqueline Kennedy's favorite accessories. Her simplest street style looks were made even more flawless with the help of over sized shades. Turtleneck sweaters were also her fashion staple a she knew how to make simple turtleneck sweaters chic and super stylish.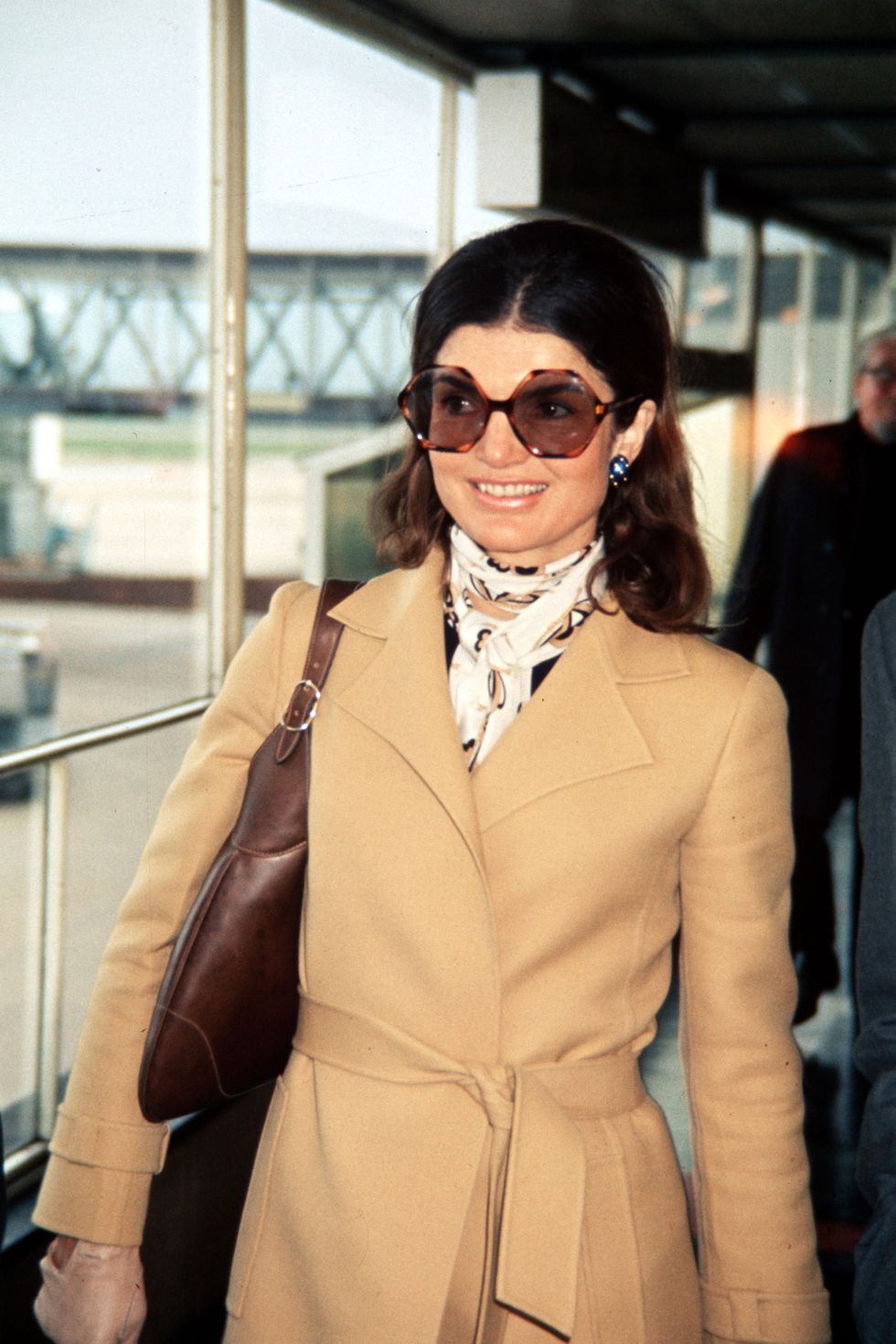 PHOTO: Getty Images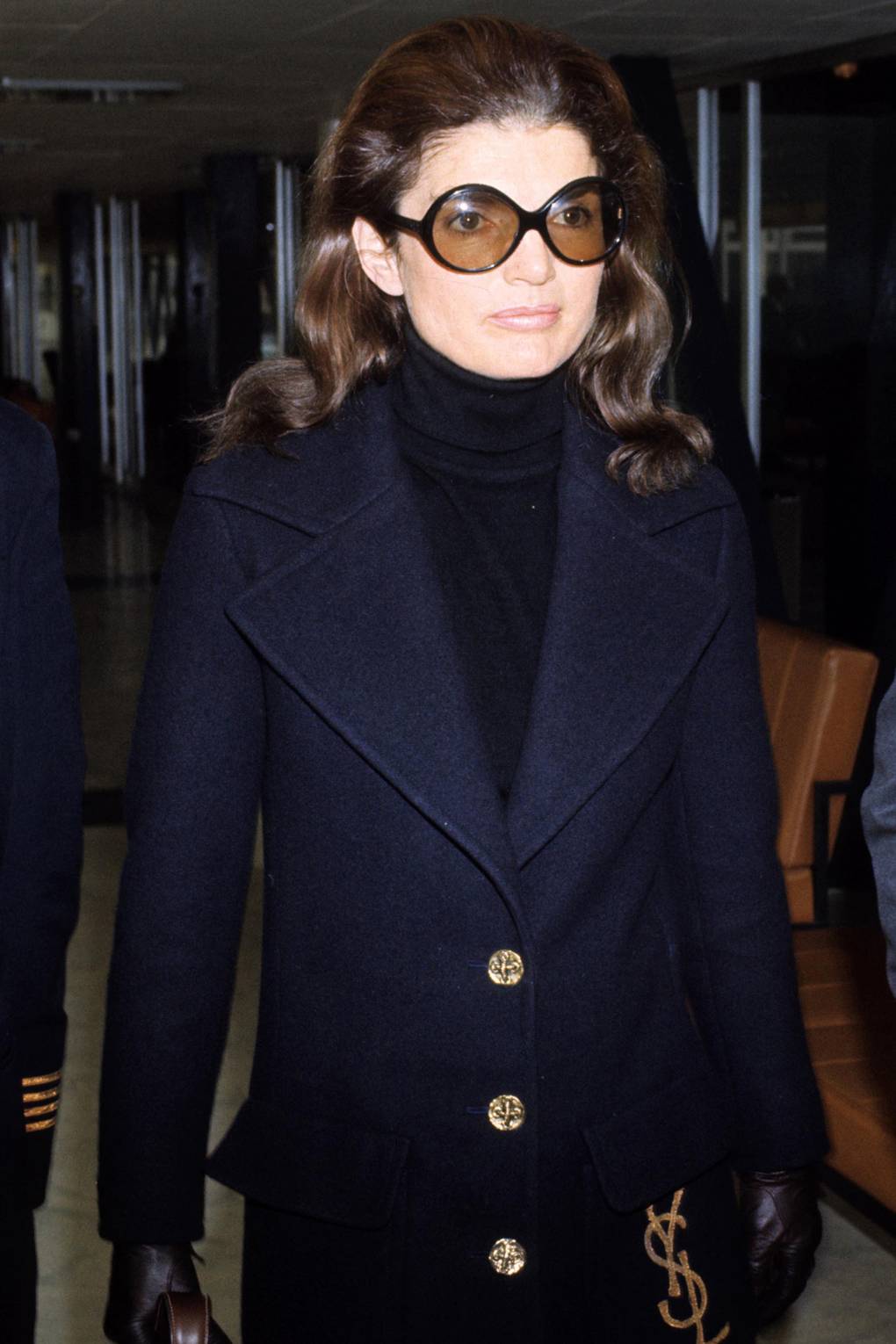 PHOTO: Getty Images
5. Headscarves
 If anyone could pull off silk scarves except for Audrey Hepburn, then it was Jackie Kennedy Onassis. Jackie O' wore headscarves with such poise that she made this simple accessory look classy. Before you tie the knot, stock up on your silk scarf collection (you get extra points if it's Hermes). It's time to get your own Denny and George scarf and be known as "the girl with the green scarf."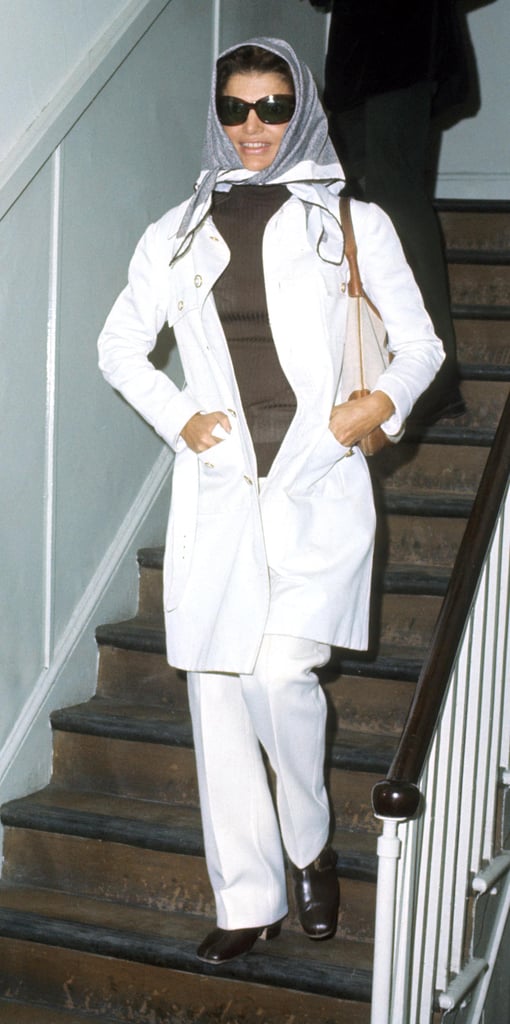 PHOTO: Getty Images
6. Strapless Gowns
 The First Lady was often seen wearing strapless gowns to balls and charity events which was an extremely bold move in the 60's. She was daring and experimental when it came to fashion and women around the world followed her lead. According to the European editor of Vogue, Jackie Kennedy Onassis inspired an entire generation of American women and what they wore and also how they behaved. Cassini often dressed her in light colored gowns on various balls and charities.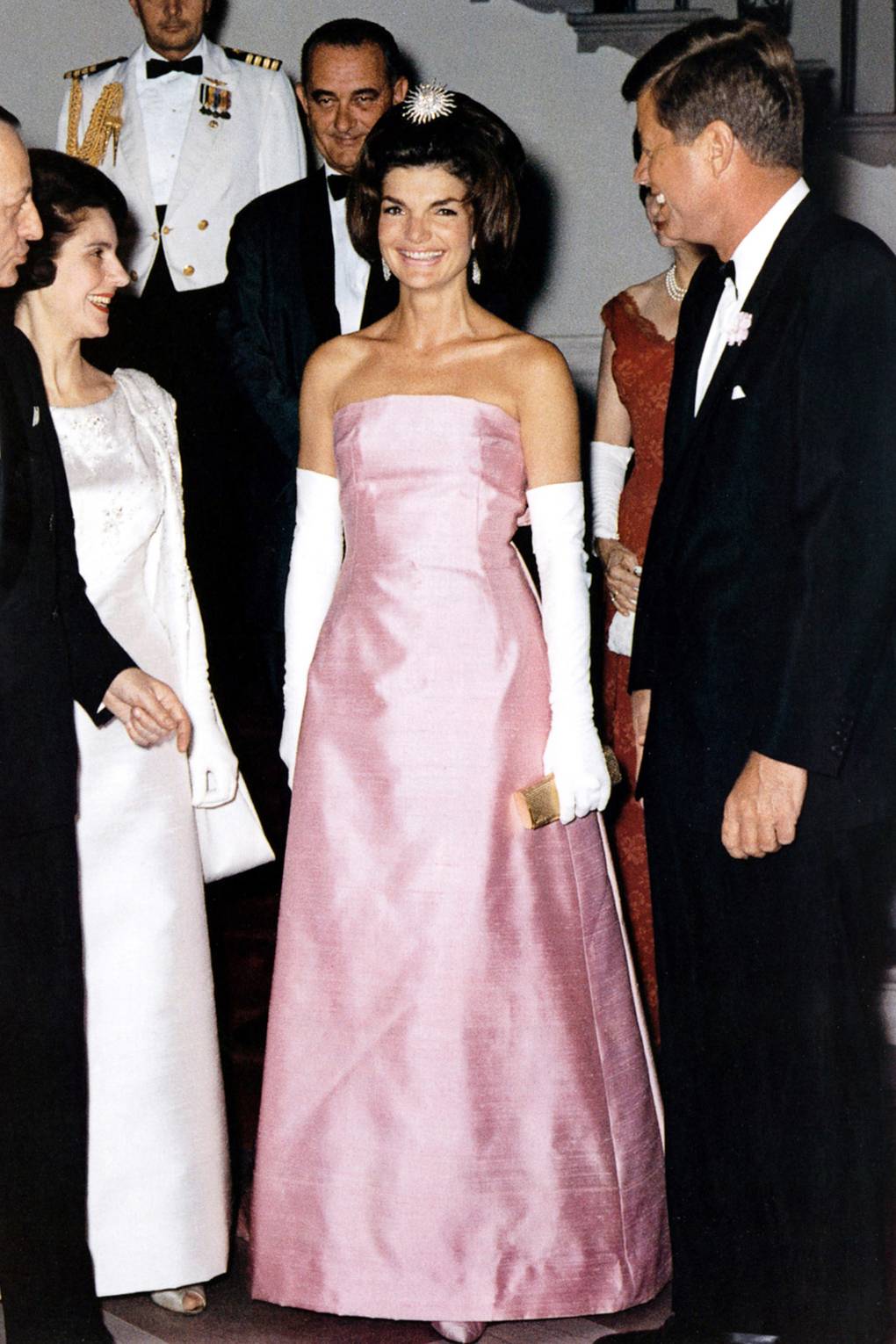 PHOTO: Getty Images
Below is an image of Jackie O' accepting a gift from the Cambodian Prince, Prince Sihanouk during her trip to Cambodia in 1967. Doesn't she look stunning in her one-shoulder teal gown by Valentino?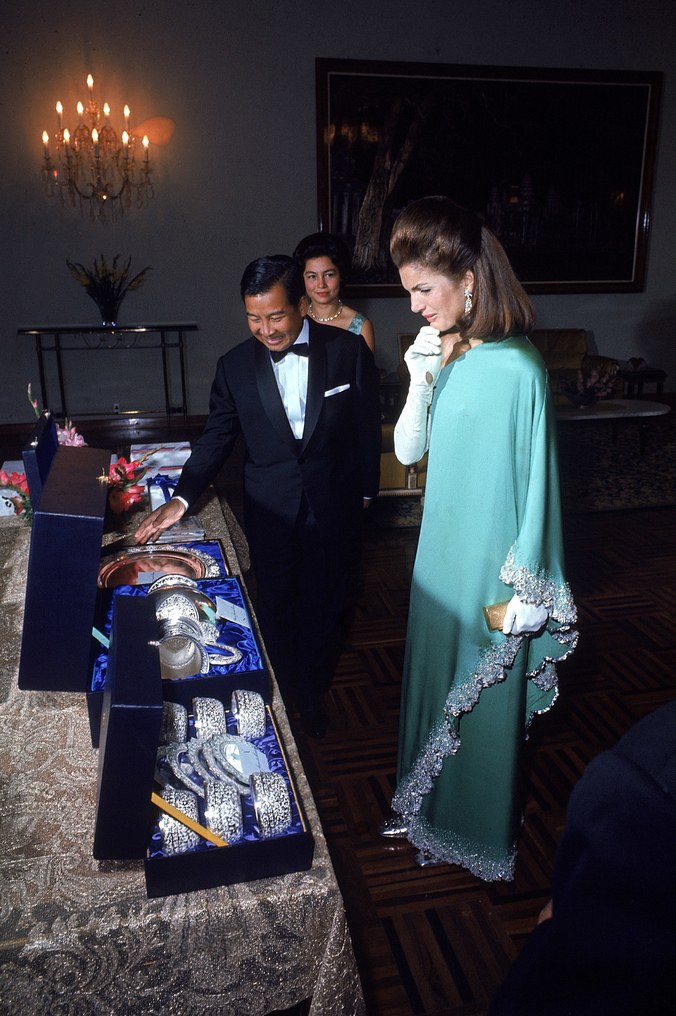 PHOTO: Getty Images
7. Evening Gowns Cinched At The Waist
Jackie was extremely petite and loved to show off her tiny waist with the help of accessories such as belts and streamlined suits. Here is Jackie in a green silk evening dress with a gold belt designed by Givenchy along with jewels by Tiffany & Co.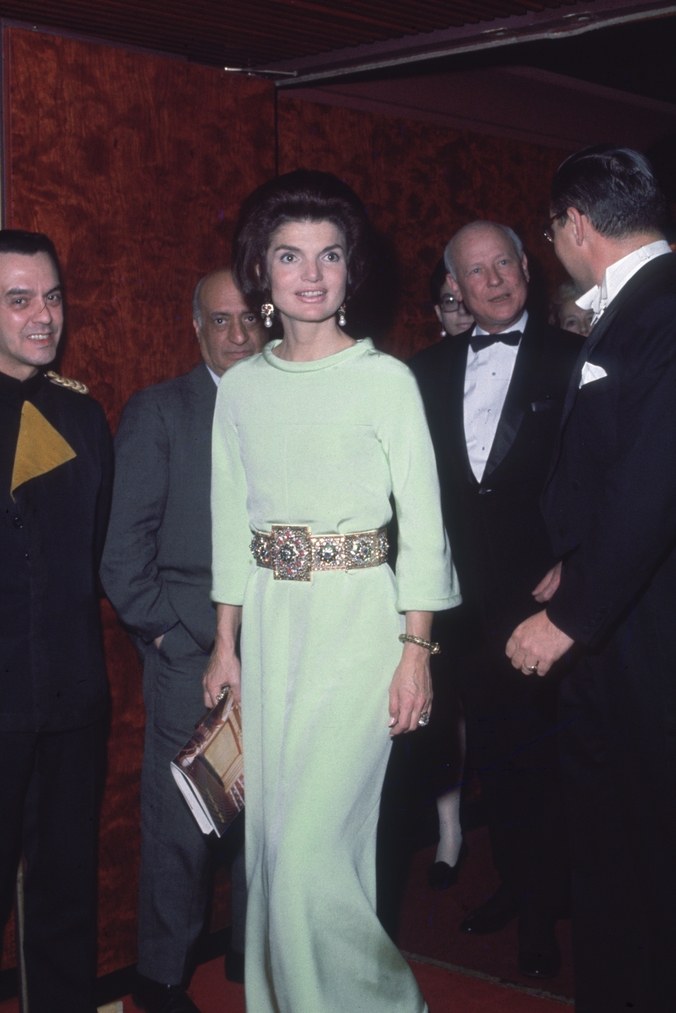 PHOTO: Getty Images
8. State Visits
 As the First Lady, Jackie went to various other countries on state visits including India, Pakistan and Canada. Here are some of her looks from her state visits:
Here's is the First Lady wearing pearls and light blue dress with the Maharani of Rajasthan!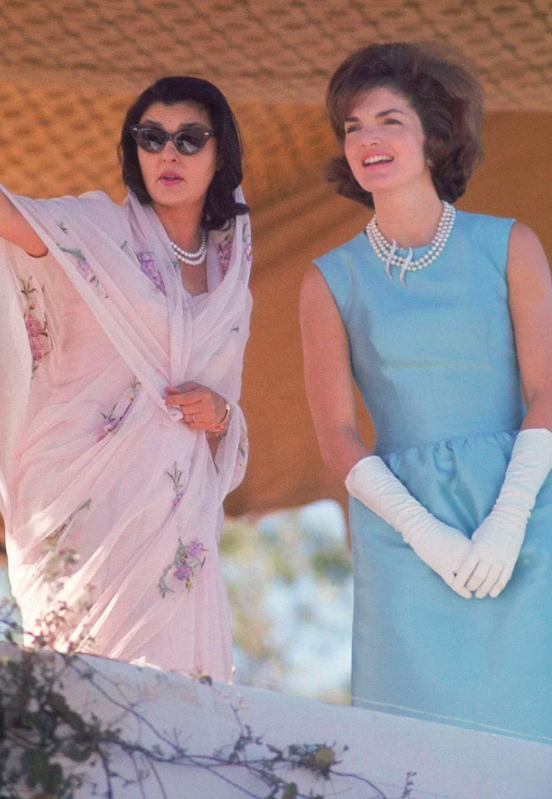 PHOTO: Getty Images
This is the iconic red wool suit and beret that she wore on her state visit to Canada by Cassini!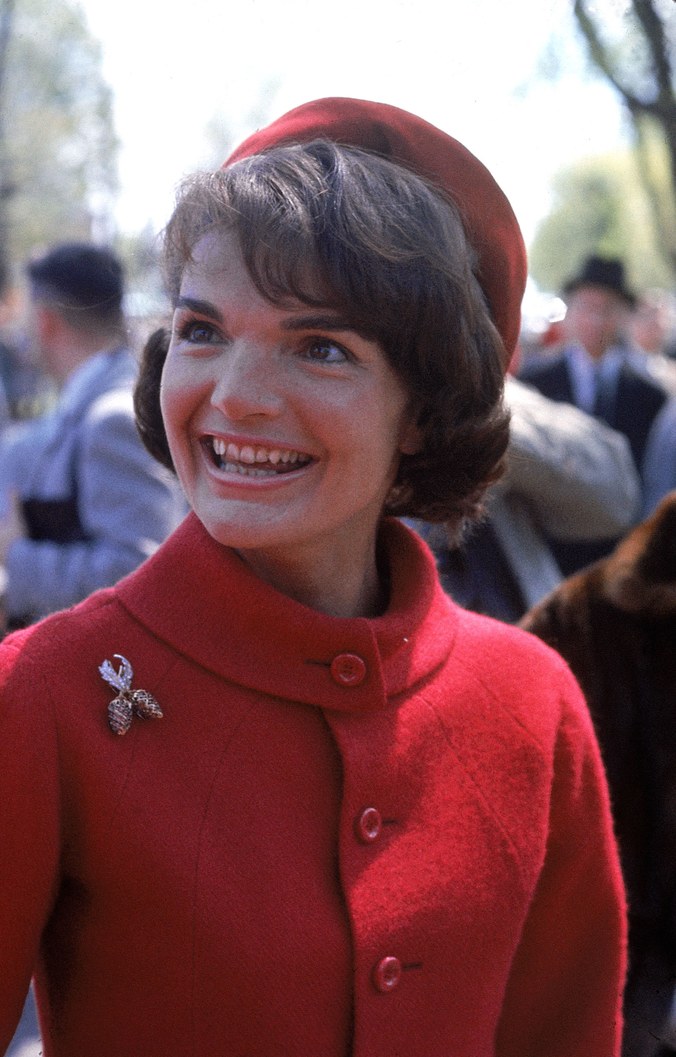 PHOTO: Getty Images
Jackie O' met the queen in the suit dress below: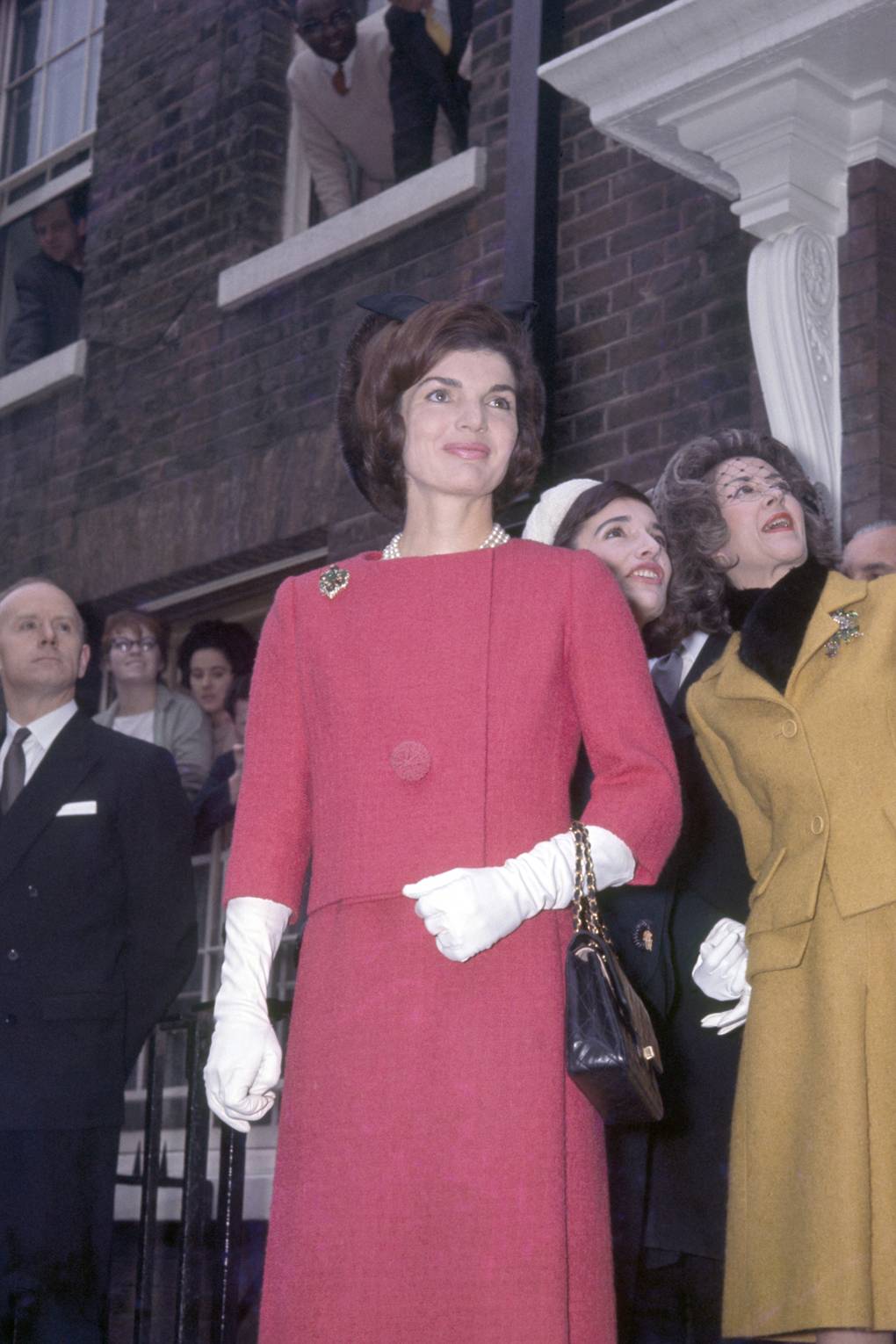 PHOTO: Getty Images
9. Televised Tour Of The White House
The red two-piece Chez Chinon dress that she wore when she gave a televised tour of the White House on Valentine's day in 1962 dropped jaws. Just look at the classy yet chic dress for yourself: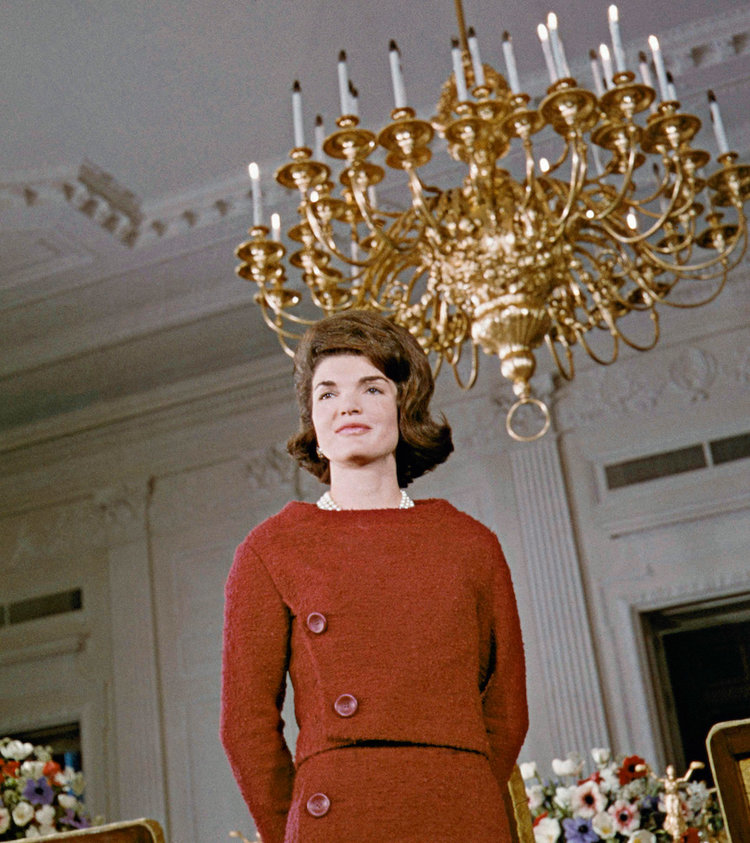 PHOTO: Getty Images
10. The Famous Pink Chanel Suit
 The famous pink Chanel suit she wore on the day that her husband JFK was assassinated is one of the world's most famous attires to date. This legendary dress was what she was photographed in, in the final moments of JFK. The whole world had their eyes set on the couple when they disembarked their plane to be at the place where their lives would be changed forever.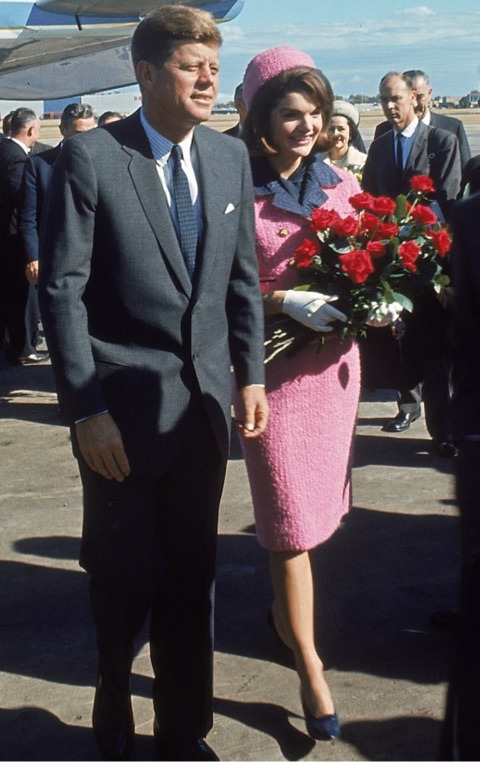 PHOTO: Getty Images
11. The JFK Memorial
On her husband's memorial Jackie opted for a simple yet elegant ivory dress suit by Cassini and dressed her children in matching white apparels for their father's memorial service.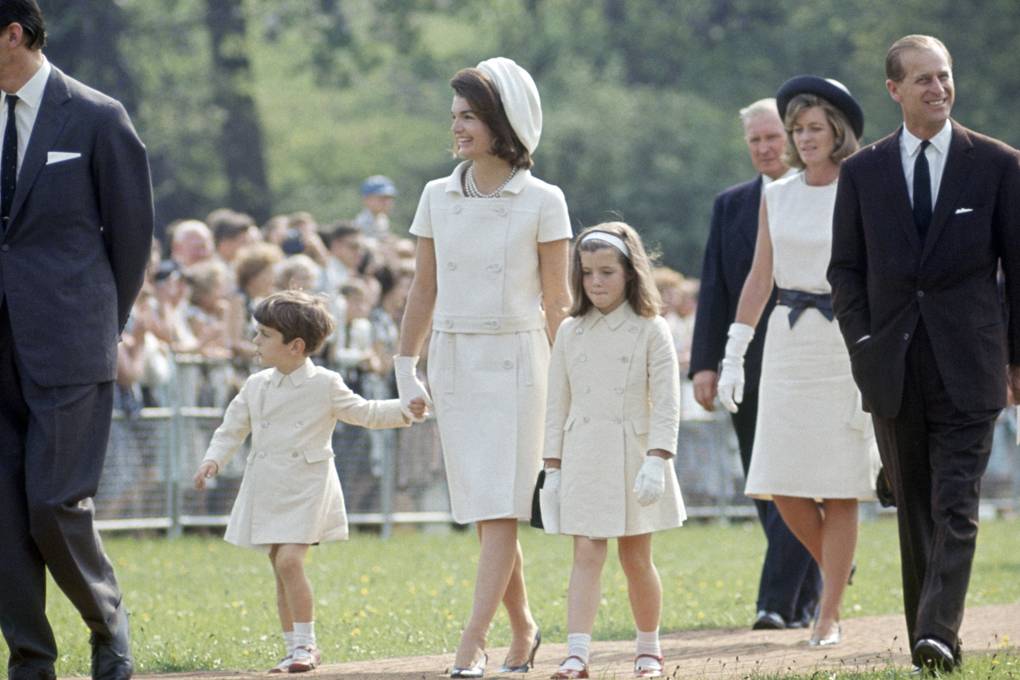 PHOTO: Getty Images
12. Streamlined Suits
As years elapsed, Jackie Kennedy Onassis' style evolved and her attires became more sophisticated and official. On multiple occasions she donned on streamlined suits and shin grazing culottes to official meet and greets. Her suits were mostly designed by her style secretary Cassini, Givenchy, Chanel and YSL. Each suit was made even more classier with the help of her staple accessories.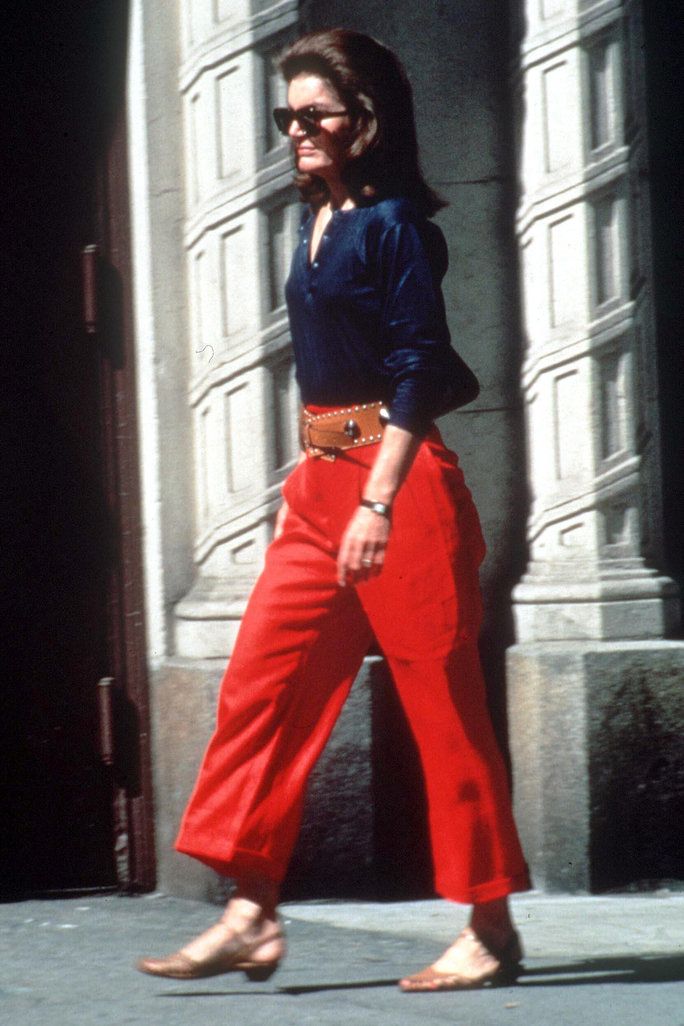 PHOTO: Getty Images
13. the Equestrian Look!
Jackie O' had an early association with horses. She often adopted the equestrian look for going riding or for going to Derbies. She made a fine sight in her Jodhpurs and riding suit. You can simply channel this look if you are planning to go horse riding on your honeymoon!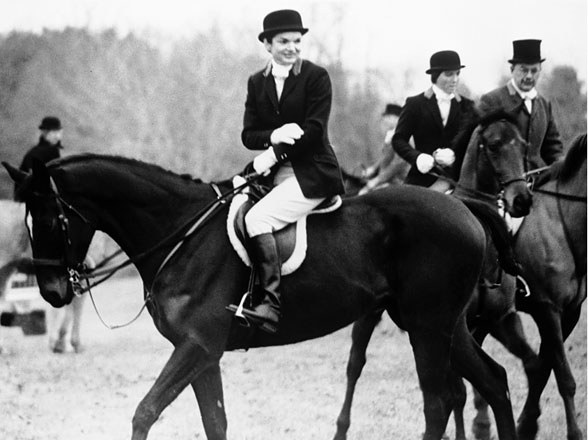 PHOTO: Getty Images
Fashion Houses And Celebrities Who Took Inspirations From Jackie O'
 Even today, celebrities such as Melania Trump and Kate Middleton channel Jackie O' on events such as state visits, dinners and balls. Some of the style trends set by Jackie Kennedy Onassis are eternal and will never be forgotten.
Even Moschino took inspiration from Jackie O' last fall and displayed their collection based on the first lady in MFW 2018!
PHOTO: Vogue
Don't forget to catch the movie on Jackie O' starring the beautiful Natalie Portman
Note: This video has been taken from Youtube and we do not take responsibility for copyright issues associated with its content or the music in the background.
Here are some style inspirations for the modern bride from Jackie O'. Whether it's the perfect evening attire you're looking for or honeymoon accessory and outfit inspirations, these looks are just simply perfect. So ladies, now is the time to go Jackie O'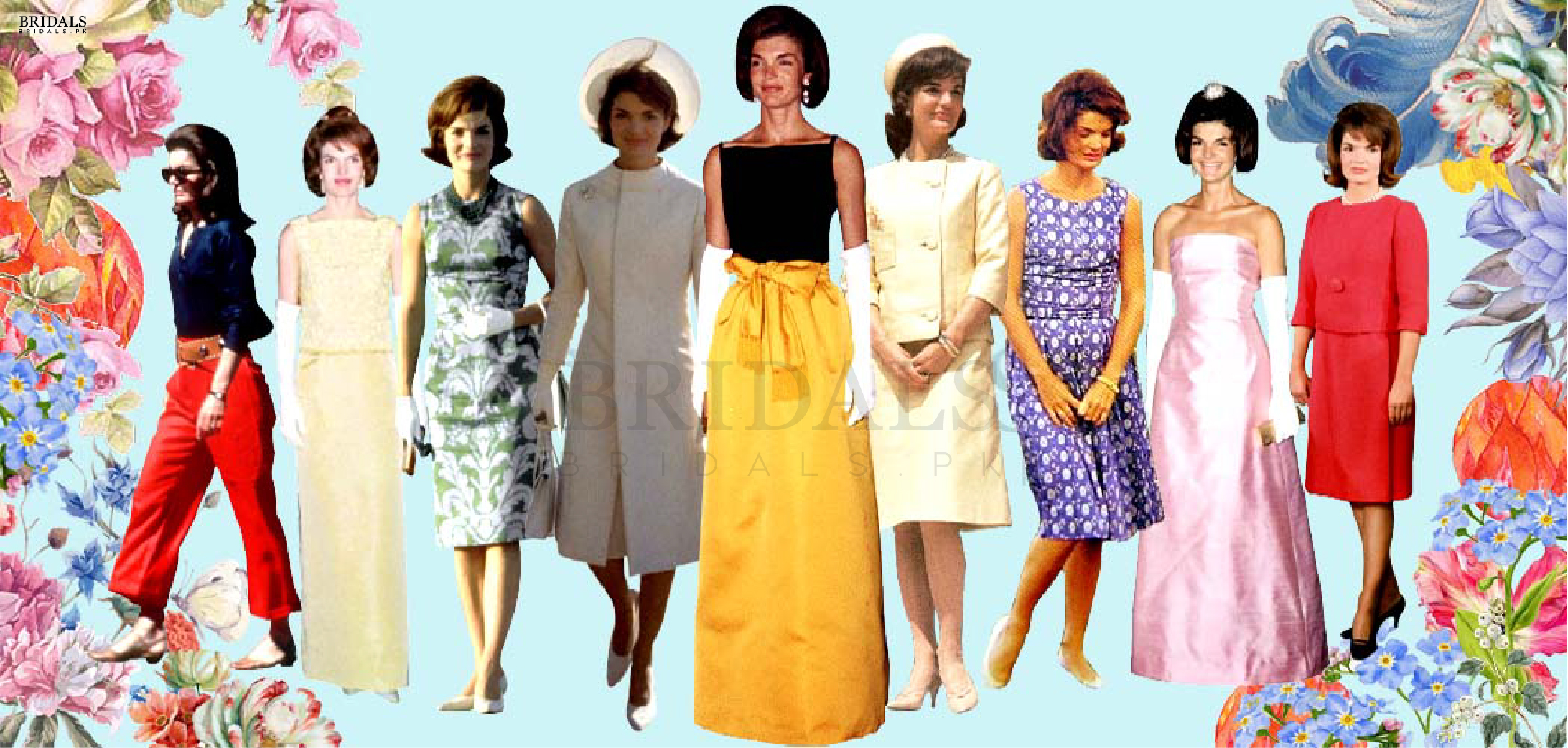 Jackie O'; Style Notes For The Modern Bride
Description
You gotta be my First Lady, Jackie!
Admin
Bridals.PK
https://blog.bridals.pk/wp-content/themes/bridal/images/logo.png