The Do's and Don'ts of Choosing Your Bridal Jewelry
May 27, 2019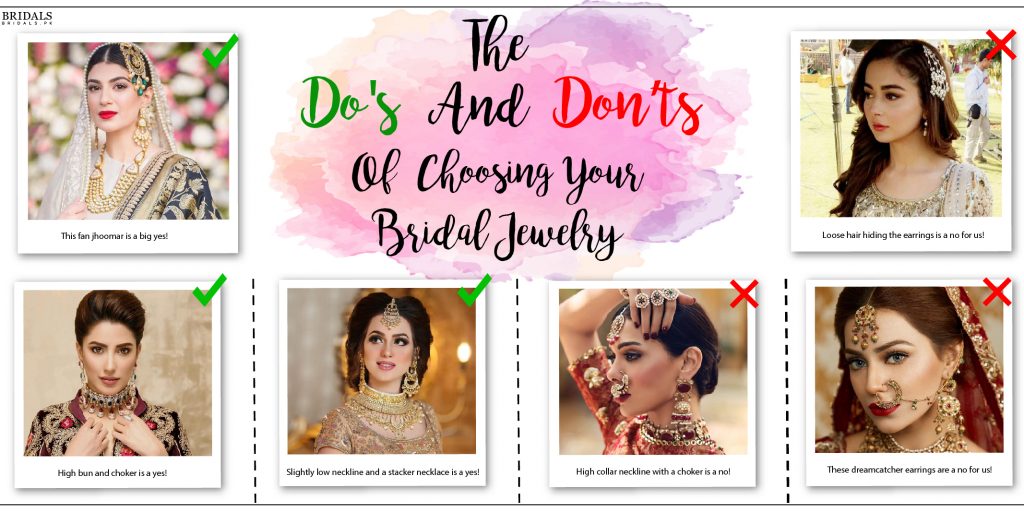 Article by: Bridals.pk team
Jewelry shopping for your wedding is never an easy task. We expect the world to stop and stand still the moment you find the accessories that are meant for you! Most brides believe that they will have a strong gut feeling when they find the right one but believe it or not, in the end, the choice is in fact yours! Your final decision can either make or break your bridal look which is why it is of the utmost importance that you take your time and buy the right jewelry. For that to happen, make sure that you know about the Do's and Don'ts of choosing bridal jewelry for the most important day of your life.
The DO'S
1. Focus On Your Features
It is not necessary to follow a trend just because it is being followed by everyone else. When looking for the perfect bridal jewelry, keep in mind the features and structure of your face. The jewelry should enhance your features and go well with them. For example, drop earrings work best with round faces and choker necklaces compliment heart-shaped faces. Study your face and consider everything carefully before spending your money!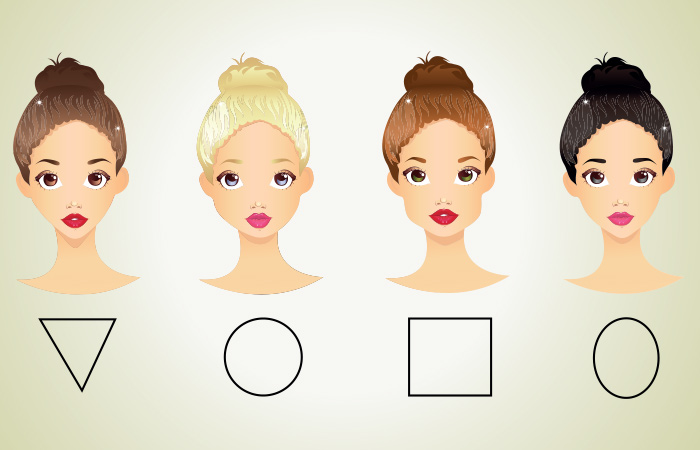 Photo: Style Craze
2. Just Be You!
One thing that we repeatedly hear from experts is to go for the look that best suits you. Keeping that in mind, look for the pieces that make you comfortable and not what people want you to wear. Every piece should represent your personality, and compliment your face structure. You should be the best, most accurate version of yourself on your big day.
Note: This video has been taken from Youtube and we do not take responsibility for copyright issues associated with its content or the music in the background.
3. Do Incorporate Color In Your Jewelry!
Whatever the color scheme of your dress, compliment it with hues in your jewelry. For example, if it's a white dress, add green, bright red and dark pinkish shades with gold or pearls to make your jewelry stand out.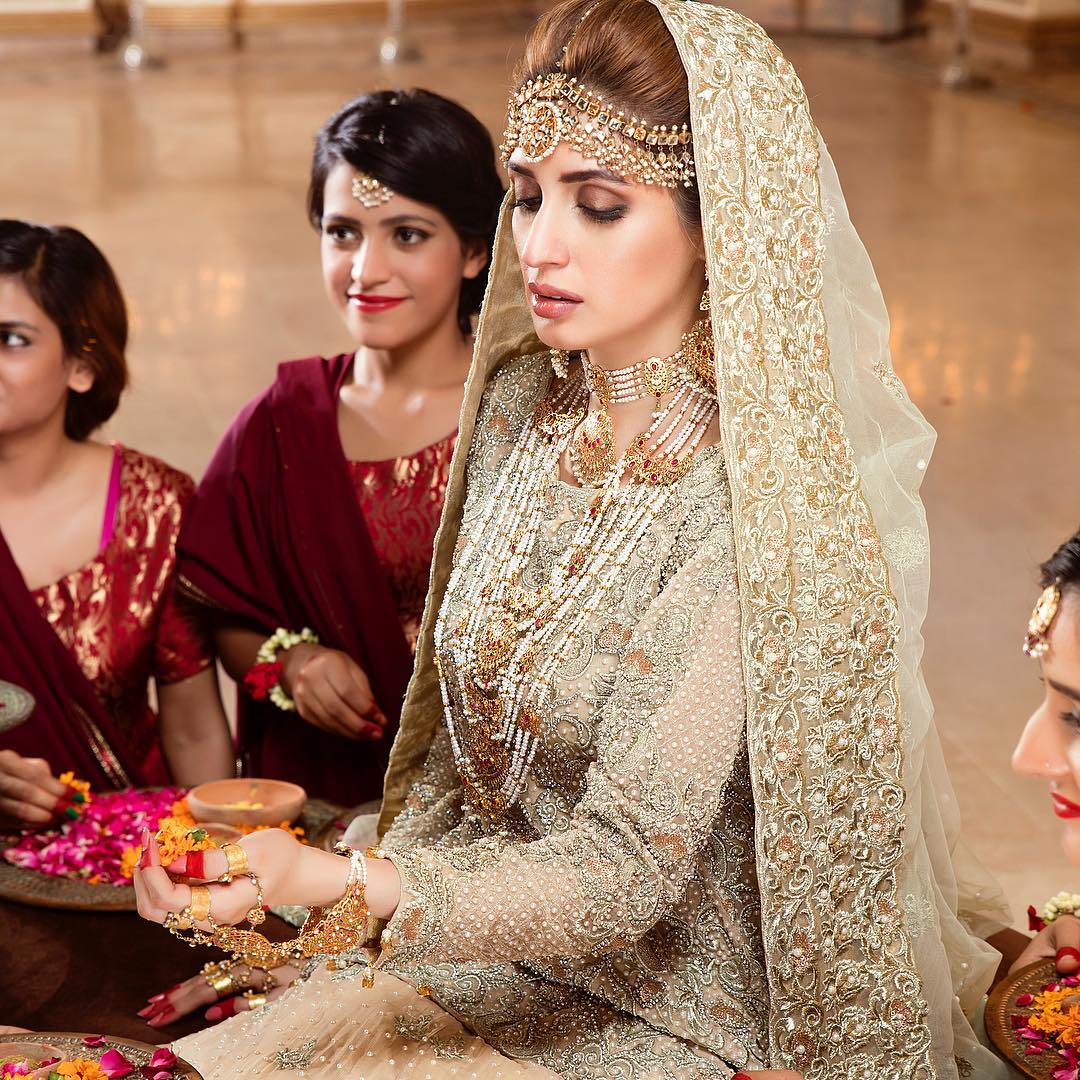 Photo: Samreen Vance (Instagram)
4. Pay Attention To The Theme!
Finalizing a theme for the big day makes it easier for the bride to buy everything. If you decide on a vintage themed engagement, go for a copper-colored dress, balanced with pearl and diamond jewelry to complete the look. If you're going for statement pieces, ensure that don't overdo them and style your dress and hairstyle accordingly as well.
The DONT'S
1. Don't Buy Your Jewelry At The Last Moment
You don't want the perfect necklace or the earrings to get out of stock before you even have the chance to try them on. In the worst case scenario, you might even be too late to have your jewels custom made if you leave this important task to the last minute. You shouldn't be settling for less. Least of all on your wedding day!
2. Don't Forget To Take Your Dress Along
Your bridal dress is full of embellishments which means that you should go for jewelry that complements your dress instead of clash with it. The style, detailing and color of the jewelry will affect your dress in every way, and you have to make it work so both can stand out on their own by complementing each other instead of outshining the other. A better way to do that would be to take your bridal dress with you when shopping for jewelry.
3. Be Careful What You Do With Your Hair
Your hairstyle definitely influences your jewelry choices. If you have your hair down, think about whether the beautiful statement earrings will get the attention they deserve. If not, then you should think ahead and go for a statement necklace instead. Contrarily, if you opt to put your air up in a bun then you should go ahead and wear flashy earrings that are bound to steal the show. Therefore, dear brides, we suggest that you think hard before finalizing your jewelry.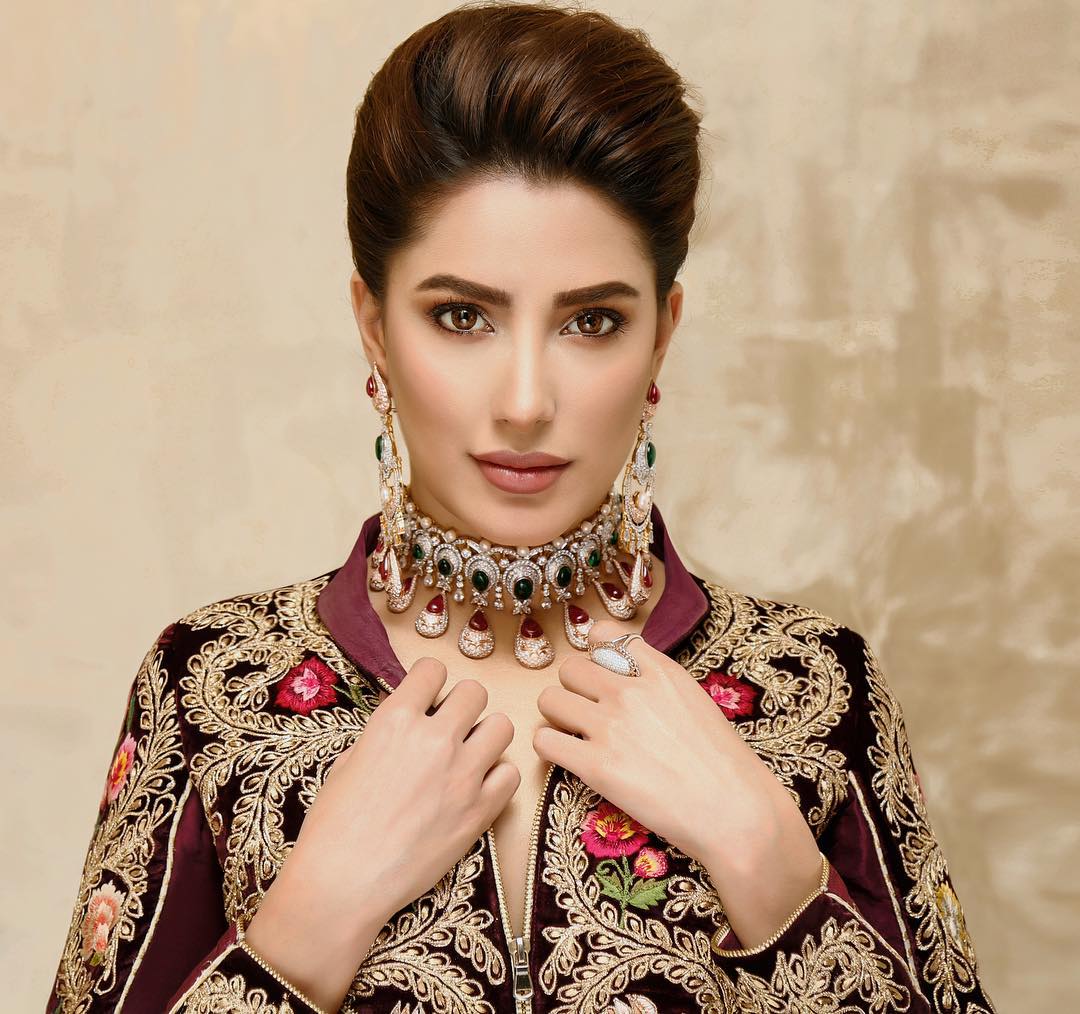 Photo: Instagram
4. Don't Blow Your Budget
A bride dreams of her wedding for as long as she can remember. She even plans it ages in advance to achieve the fairytale perfection that she's always dreamt of. However, the wedding budget for many brides is pretty limited. The wise thing to do is to work out the priorities and then shop for jewelry. If a piece of jewelry blows up your budget, you will not be completely satisfied with how your wedding turns out. Going shopaholic is a definite no!
Note: This video has been taken from Youtube and we do not take responsibility for copyright issues associated with its content or the music in the background.
These are all the do's and don'ts of finding the perfect bridal jewelry! Take our advice and you won't regret this!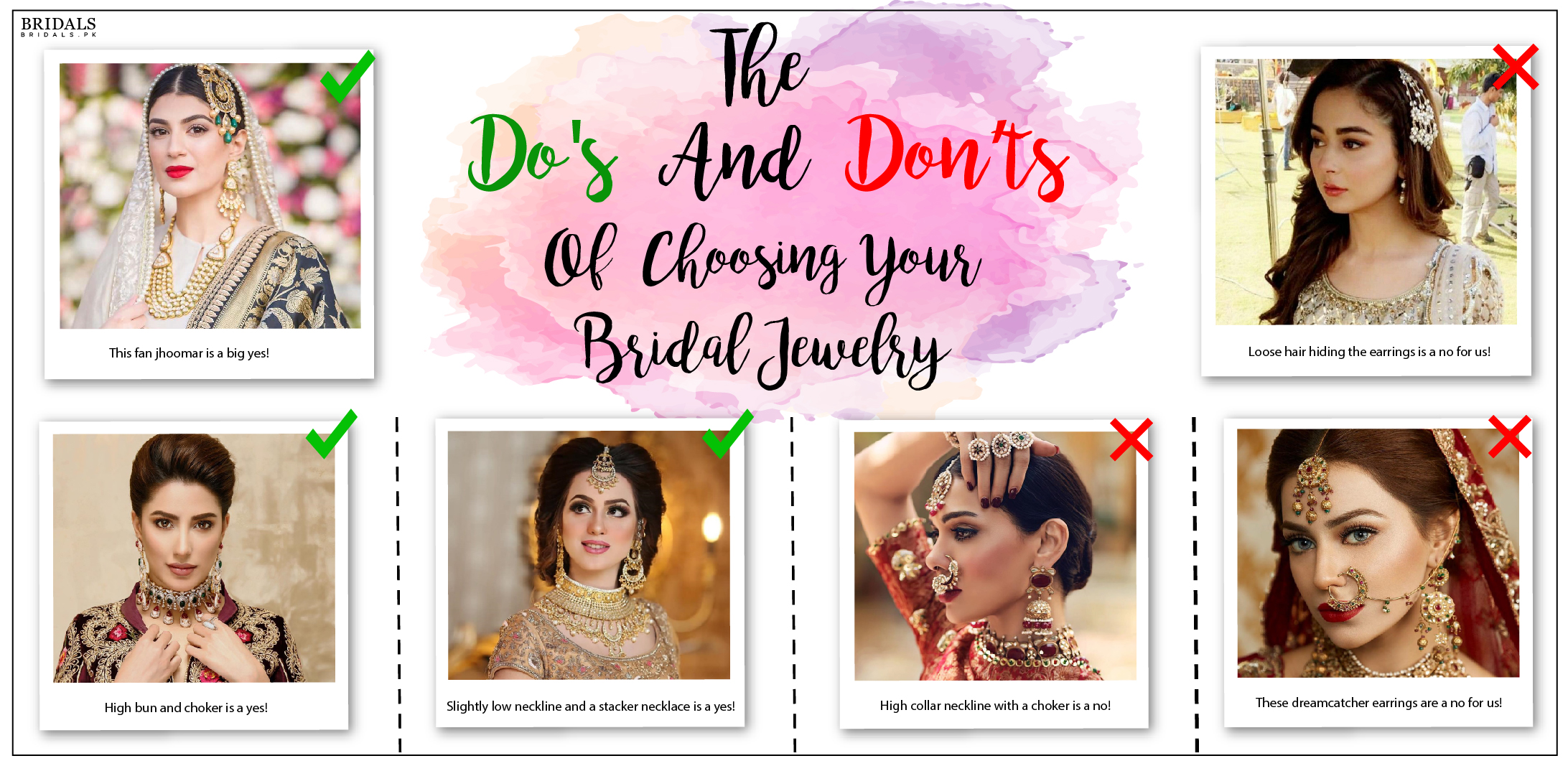 The Do's and Don'ts of Choosing Your Bridal Jewelry
Description
The complete guide to finding the perfect bridal jewelry!
Admin
Bridals.PK
https://blog.bridals.pk/wp-content/themes/bridal/images/logo.png