Zainab Chottani's Latest Bridal Gowns Are Basically Love Poems in Pink
Feb 16, 2019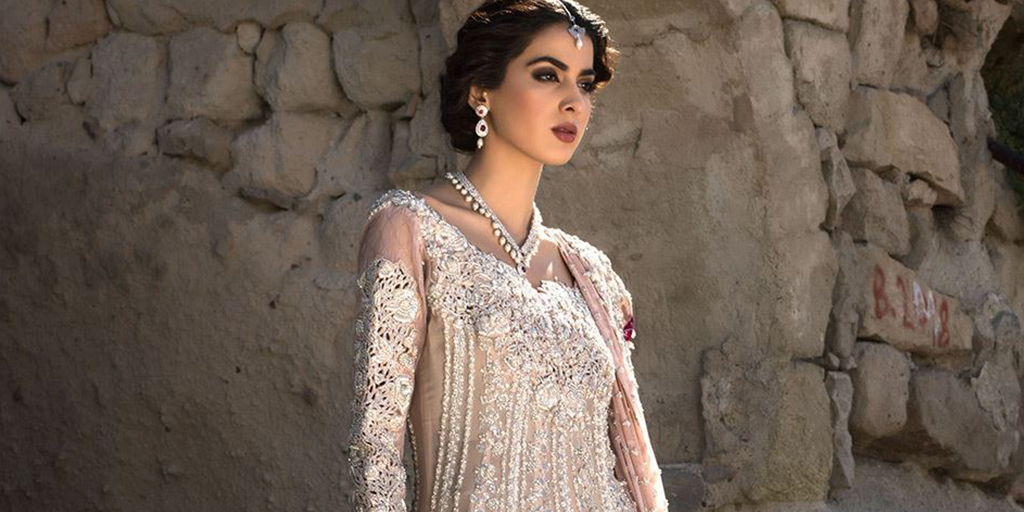 The bridal fashion master, Zainab Chottani, who is notoriously exclusive when it comes to her designs has just launched five bridal dresses. She is usually, all but sold out within hours of launch, and if that isn't proof enough of her popularity you should check out her glowing reviews online. However, despite her limited articles, she is pretty regular in updating her collections so we can always have something new to ooh and ah over. The last two bridal collections, each had five dresses, and they were both made from prettiest bridal fantasies. The later of the two was an all pink and peach fiasco that has us all feeling gooooooooood!!!
Sit back and enjoy some high level bridal fashion designs that you will be bound to consider for your big day.
IVORY ANARKALI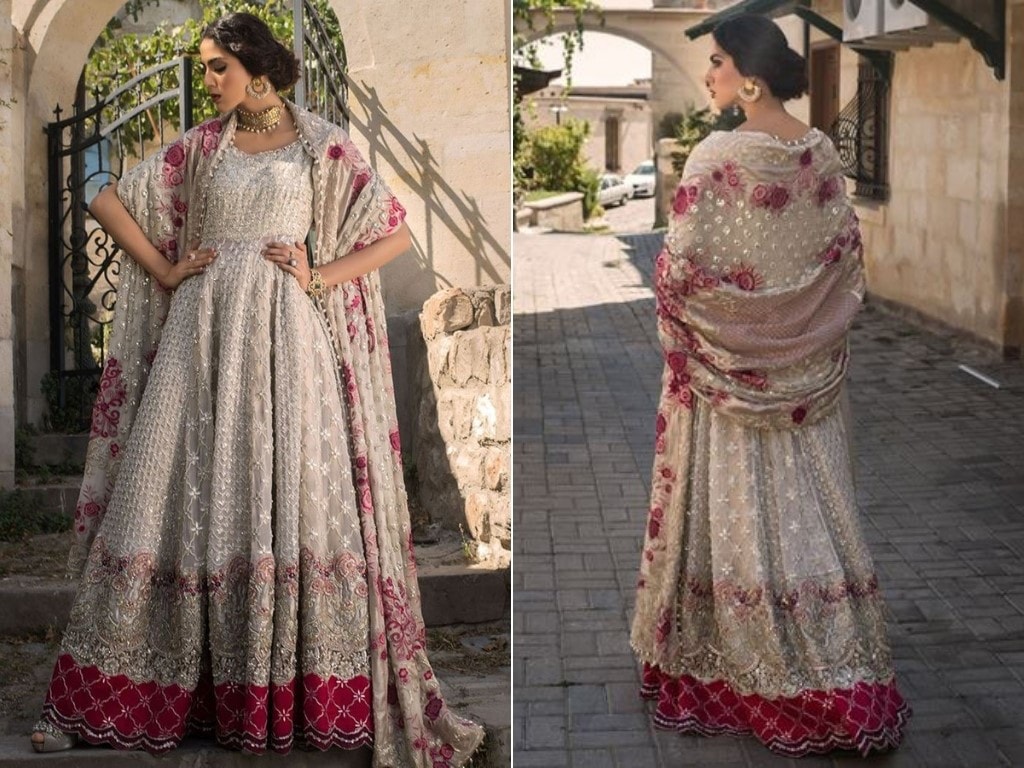 The ivory anarkali dress had already made its runway debut, and is really perfect. It has exquisite pearl embellishments on the bodice, with sequins and silver/ gold kora dabka work, that's magnificent. The floor length gown is bordered with hot pink applique, and floral embellishments that lend brilliant accent to the silvery pink of the gown. It is paired with an ivory jamawar sharara, and a nude dupatta. This sophisticated dupatta has scalloped borders on all four sides, and also the leather applique. This outfit, we will suggest to unconventional brides.
BLUSH PINK SAREE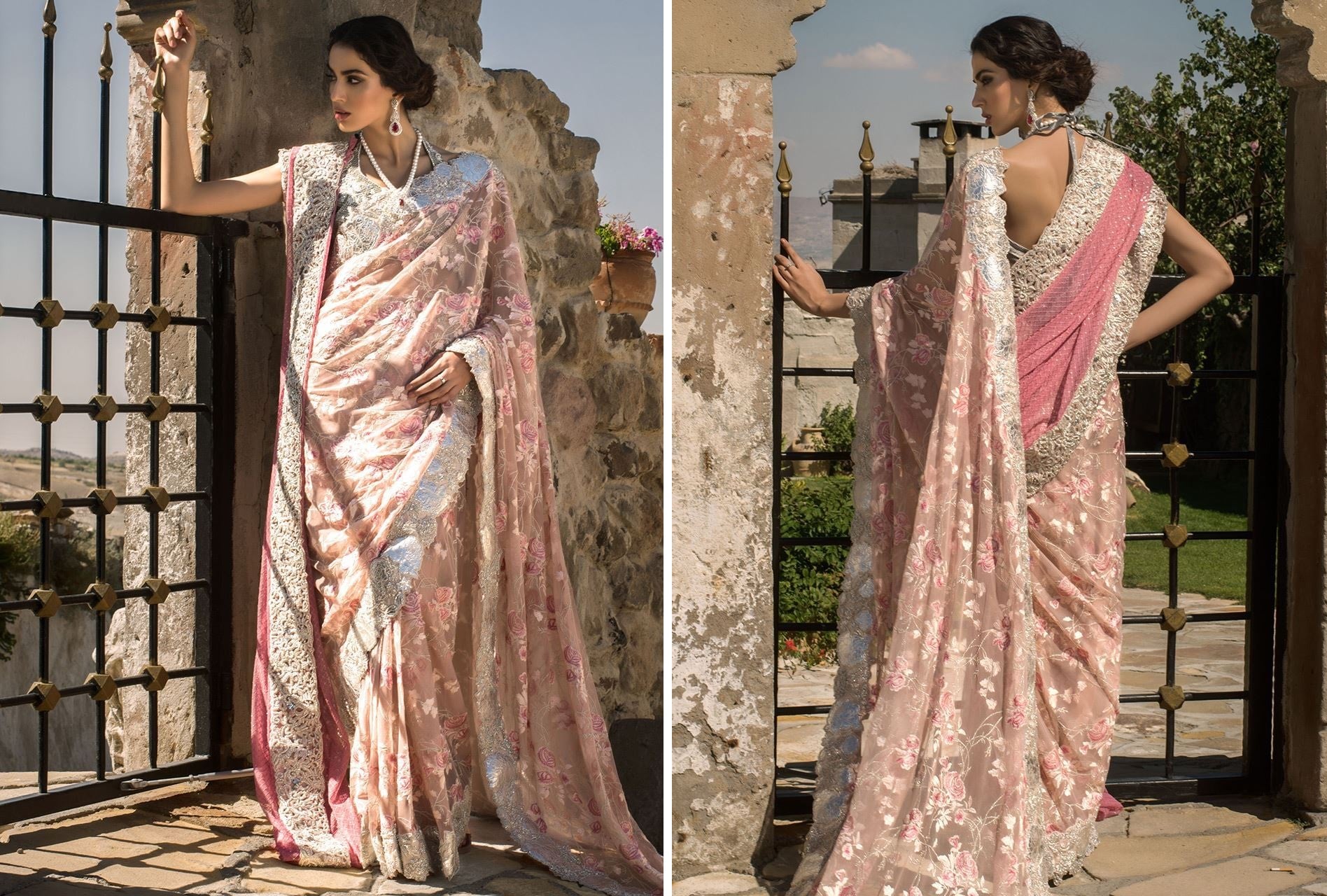 Okay, confession time! We at Bridals.pk are kind of hoping that Pakistani brides-to-be will consider wearing saree on their spring summer wedding. They could give this traditional outfit a try on their receptions, and this Zainab Chottani's saree is just giving us all the more reason to raise our hopes. It's so beautiful, and accessorizing this outfit will be easy as a breeze. It's elegant, sophisticated and feminine looking in all the right percentages. Again the floral saree harbors appliqued leather, and silver kora dabka, sequins and pearls. The cutwork borders on the rose pink pallu, and an embellished halter blouse is what you should want to make a bridal impression that's hard to undermine.
GRADIENT GOWN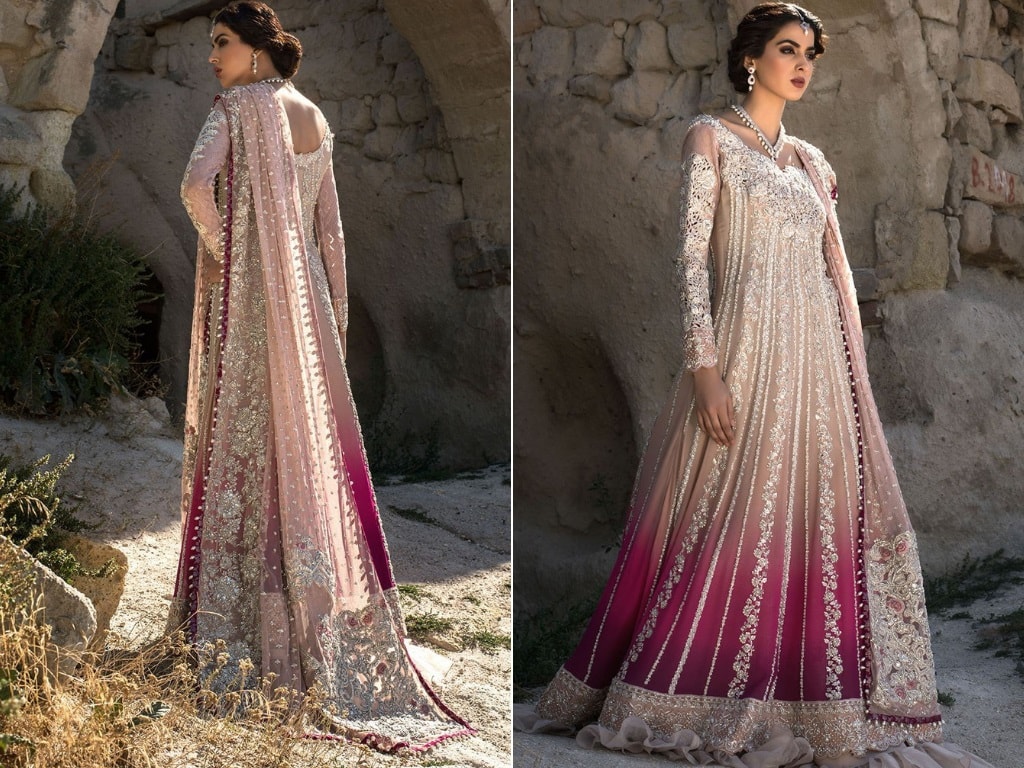 This glamorous looking gradient gown, which features silver kora dabka embellishments is another great pick for spring summer wedding in 2019. It's easy on the eyes, yet fascinatingly beautiful with its neckline cutwork embellishments, cutwork sleeves. This gown comes with a beautifully coordinated light pink dupatta with sequin spray, and floral ornamented borders. The back of the gown shows vertical floral wines that look epic. The gown is paired with a shimmery brocade sharara.
LIGHT PINK AND SILVER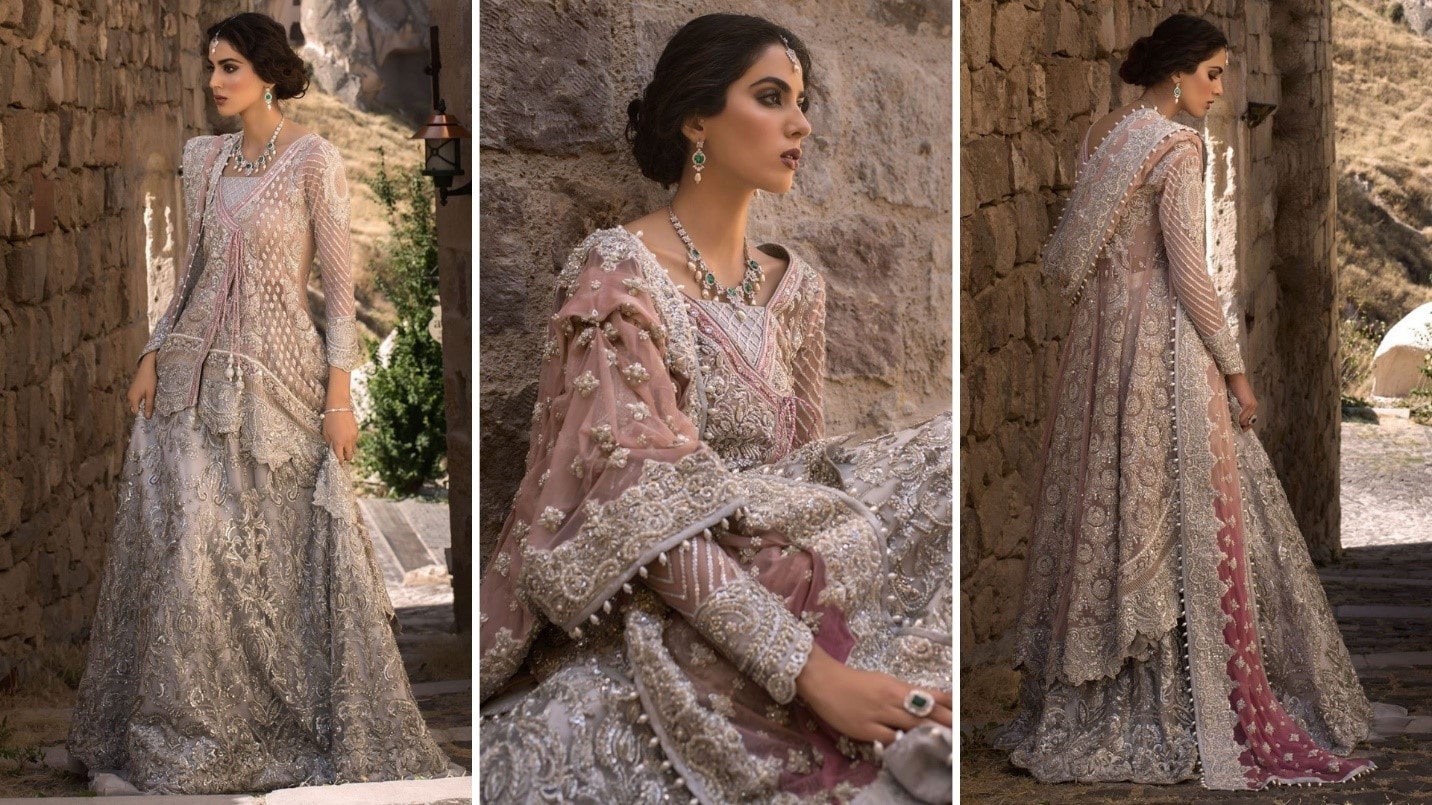 This light pink gown is the perfect fairytale dress for a modern princess bride. It's low angrakha style, embellished with silver kora dabka, pearl and sequins. The sleeves of the gown have some beautifully decorated vintage frames embellishments that are enhanced with the scalloped borders of the dress. Silver sharara that goes with this outfit is also heavily embroidered. The dupatta with this outfit, is also embellished with floral motifs all over. The side borders, too, are perfectly embellished in silver.
NUDE JACKET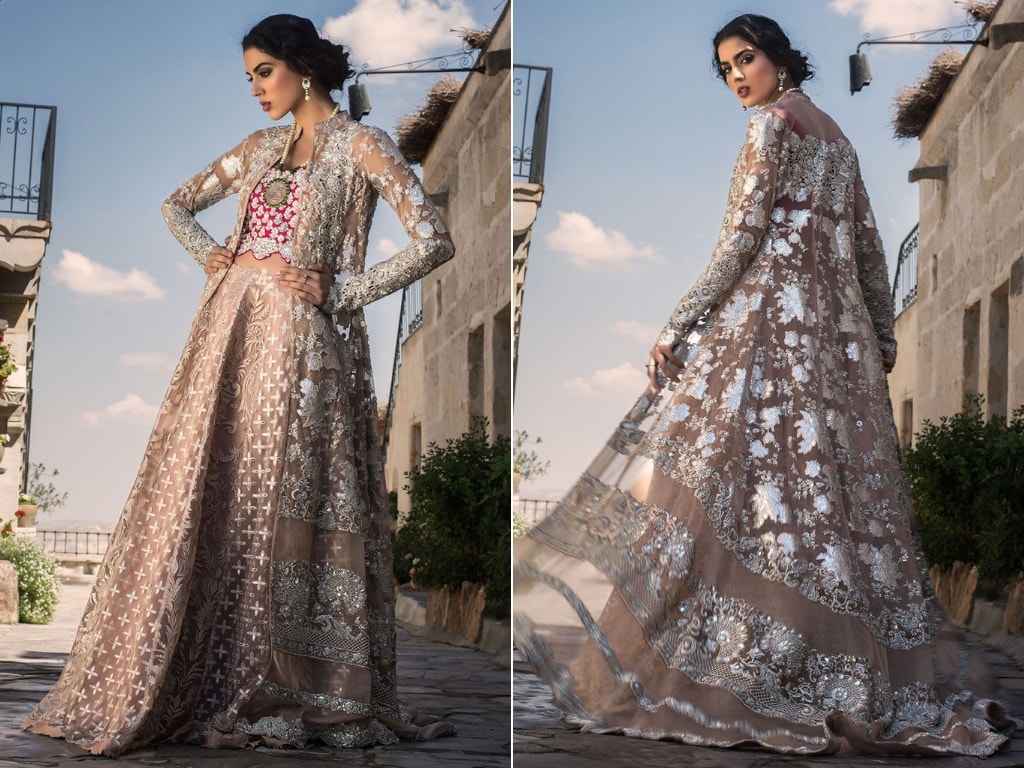 This is one glamorously chic jacket in nude hue. It is thoroughly adorned with leather applique, and its floral borders and cutwork motifs add the further grandeur in their silver kora dabka beauty. The back of the jacket is beautified with the floral cutwork neckline. The jacket comes with a fully embellished hot pink bustier and paneled sharara.
Finally, it seems that Zainab Chottani's bridal gowns in this collection are all ornamented with silver kora dabka, leather applique, floral motifs, and cutwork motifs. And we cannot argue that this unique combination is worth all the attention it's bound to get. For brides, who cannot get over Anushka Sharma, Neha Dhupia, Mira Kapoor's pink bridal dress should give this a try. Are we the only ones who think Pakistani brides have started to look all same in the red queenly looks?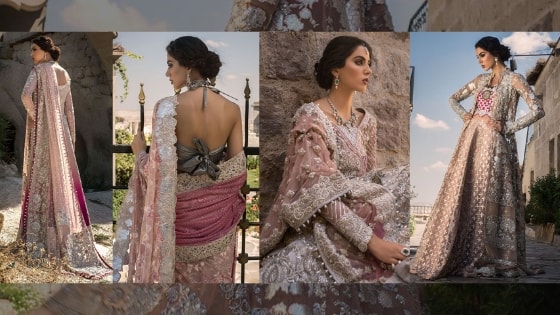 Zainab Chottani's Latest Bridal Collection Gowns Are Basically Love Poems in Pink
Description
Zainab Chottani's latest bridal gowns in this collection are all ornamented with silver kora dabka, leather applique, floral motifs, and cutwork motifs.
Admin
Bridals.PK
https://blog.bridals.pk/wp-content/themes/bridal/images/logo.png