Irtiqa – Tena Durrani's Formal Collection for the Traditional YOU!
Dec 25, 2017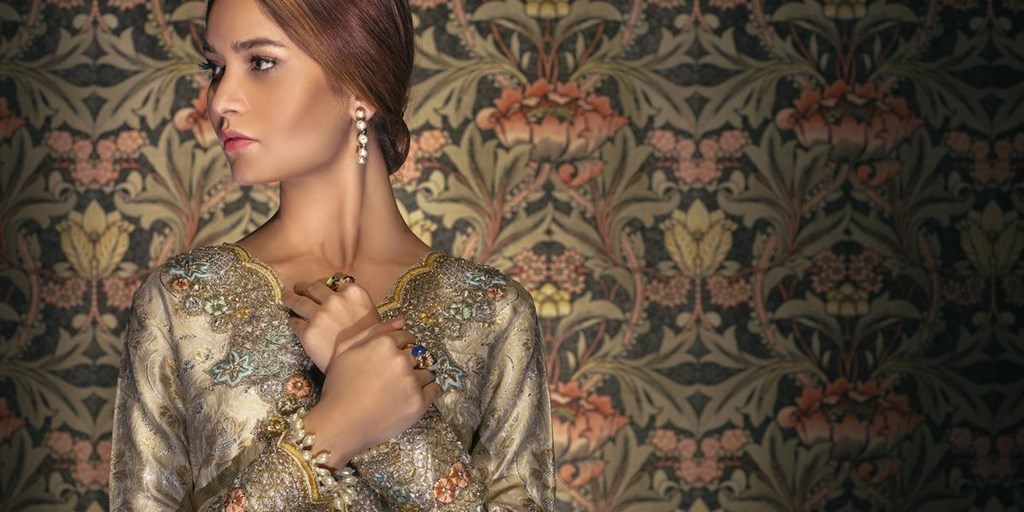 Irtiqa is the name of artistic mastery combined with in-depth design knowledge, authoritative embroidery skill resonating with a unique blend of elegance. Not only does Irtiqa showcase radiating talent complementing exquisite handiwork but it also is a perfect amalgamation of dandy artwork coupled with expressive nobility. Tena Durrani has pulled off the unthinkable. Blending traditional embroidery with a perfect palette of colors, Tena Durrani has simply soared to new heights with her yet another sophisticated collection 'Irtiqa'. Irtiqa is not only the name of the collection but the expression of Tena's mastery when it comes to expressing the wonderful designs she has always come up with. But this time the element of evolution is abundant like never before and her designs when on one hand prove to be a reflection from the past they also showcase Tena's class in imparting to them her futuristic furore.
Oh, and wait?! Why is the title evolution revolution? Simply because she has truly revolutionized the entire concept of revolution. Tena delves into the classical designs of the past and registers her on futuristic take on them with conviction like nobody else. The blend of the classic which will definitely never go away gets a dip of the futuristic styles from Tena's brilliant mind and the result is simply put: epic!
Hold on because you'll be gasping when you finish reading the article for what follows is pure elegance, magnificence and grace. Well, then let us dive into the collection Tena has conjured to spellbound her already classy customers and give her fan following a surge.
French Rose:
Romantic like the French and delicate like the rose. Flowy like Wordsworth's poetry and detailed like Arthur Conan Doyle's prose. This tea pink meysuri organza with silver zarri kameez is going to hypnotize everyone with ease. Shop this novelty here.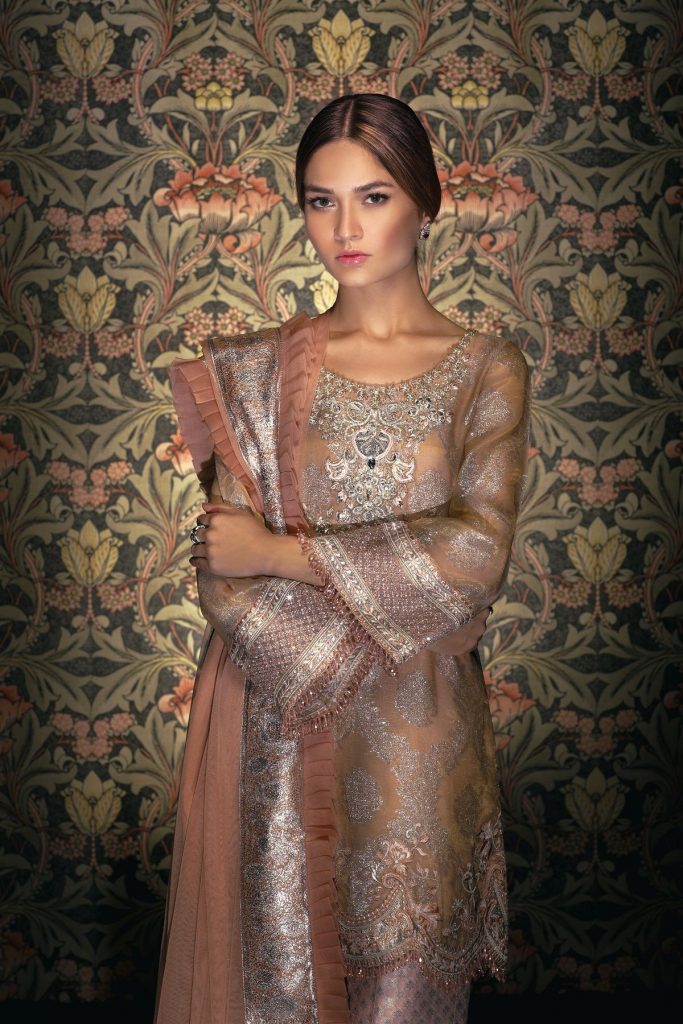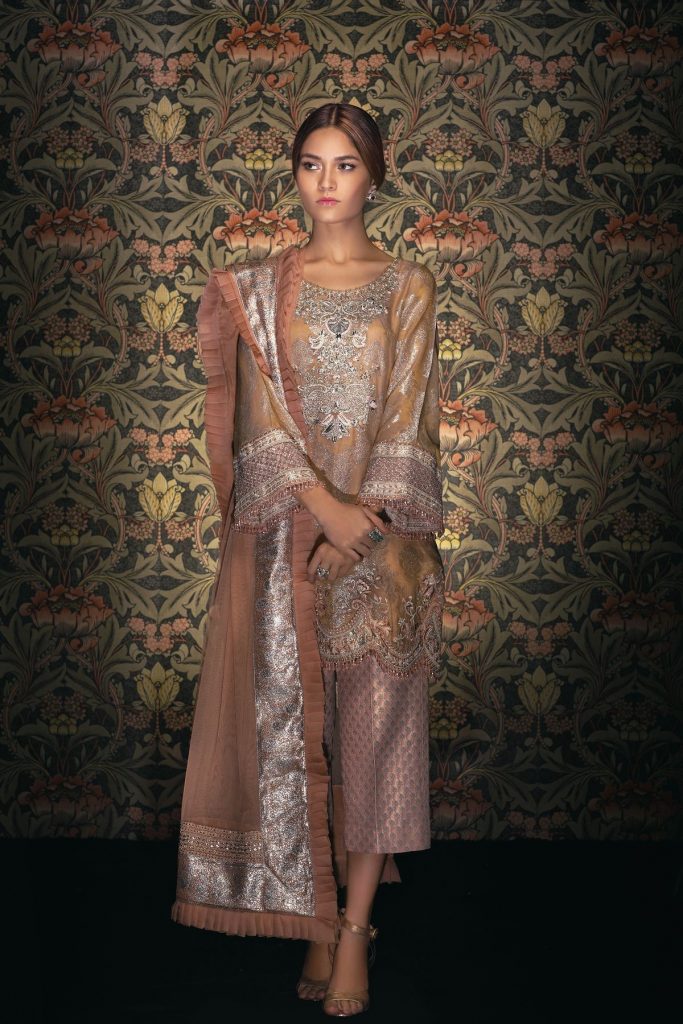 Frost:
And then there are those of us who're into icy, cold, frosty colors. 'Frost' is just what you're looking for. 'Frost' is high detailed, with a magnificent design caressing the entire dress and featuring an imposing overall look. The neckline of this gorgeous article is scalloped and the sleeves boast exceptional hand work of resham, dabka and tilla.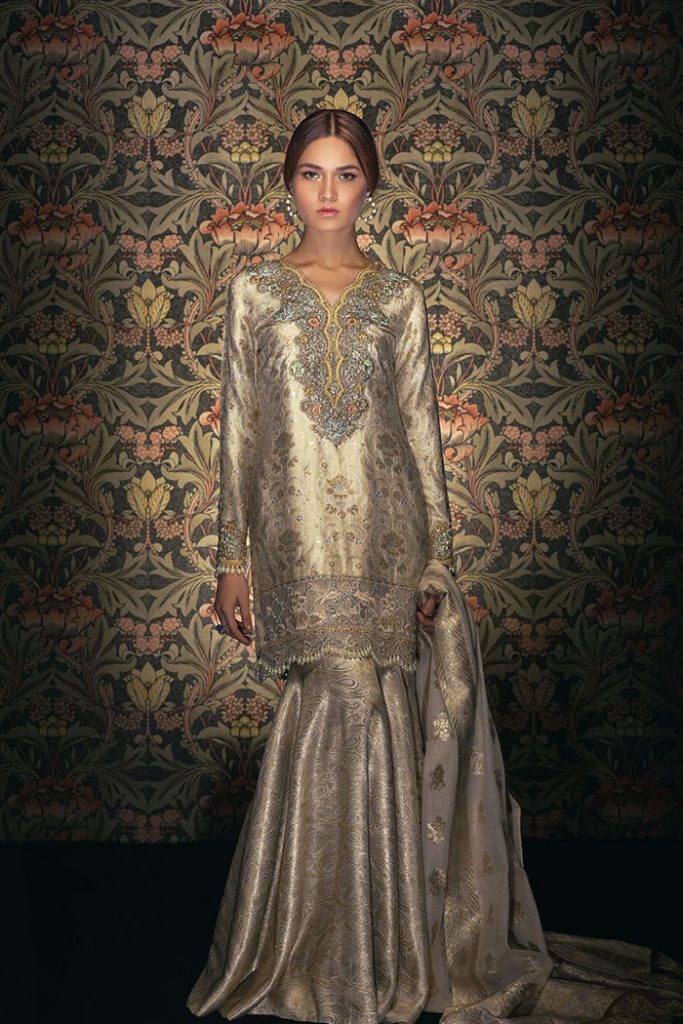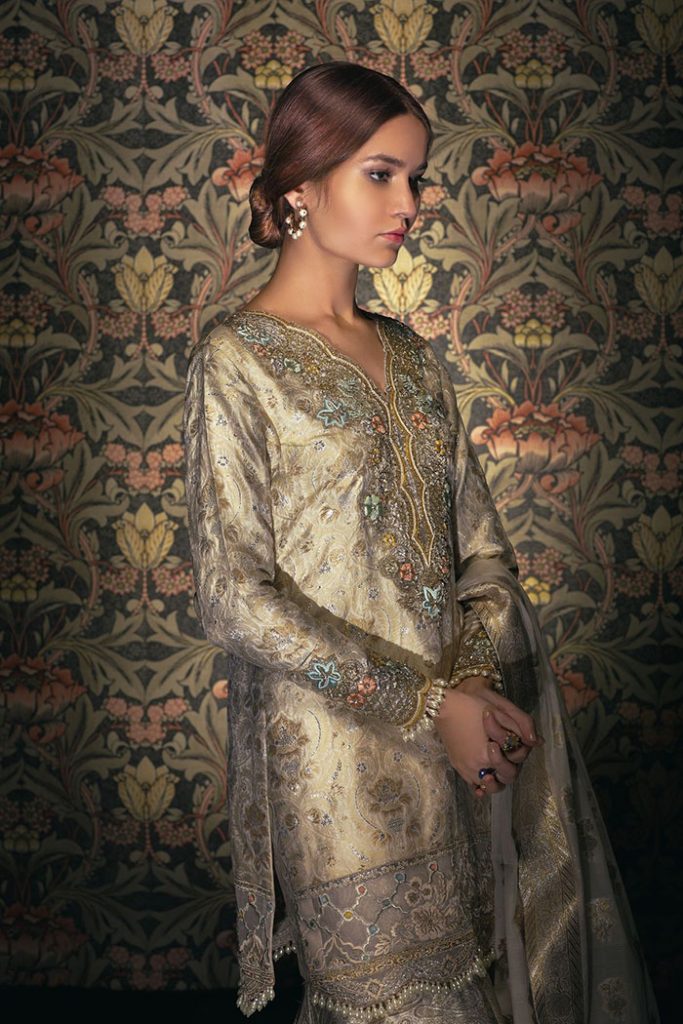 Ivory Mist:
Ivory Mist is magnificently serene, peaceful and a sleek addition to your wardrobe. Featuring elegant colors not overdone, Tena registers her creativity abundantly. Find peace in knowing that the carefully worked out neckline, daaman and sleeve cuffs shine and gleam with gold dabka, nakshi, sequins, French knots, beads and white resham balls.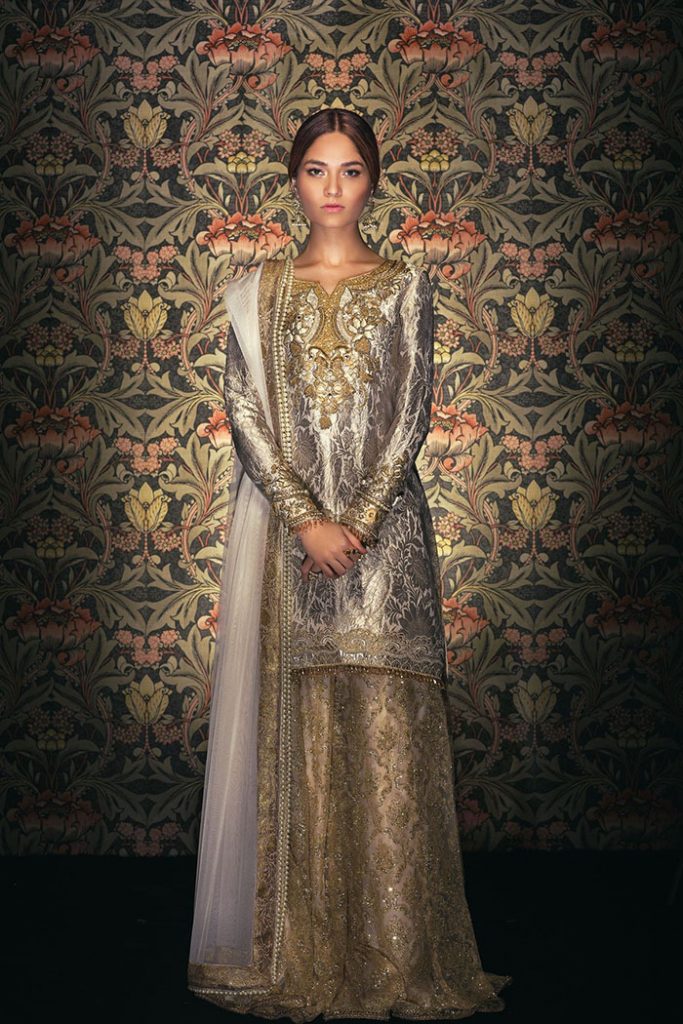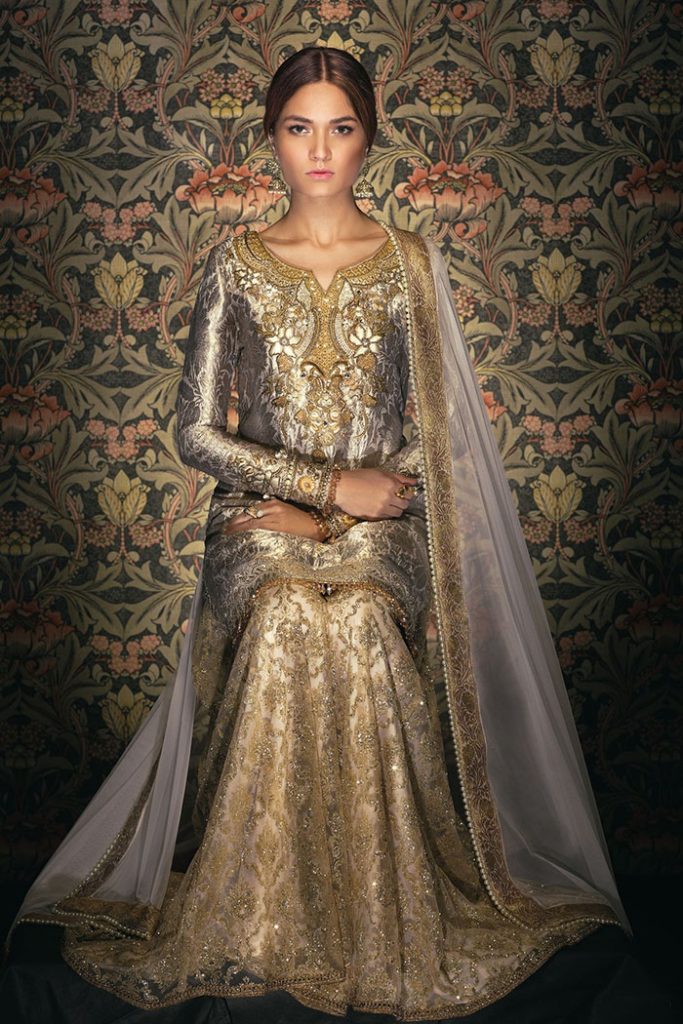 Limestone:
Lime green meysuri organza jaal kameez featuring embroidered neckline and hem mesmerizing member of this outstanding collection. You can buy this masterpiece from here.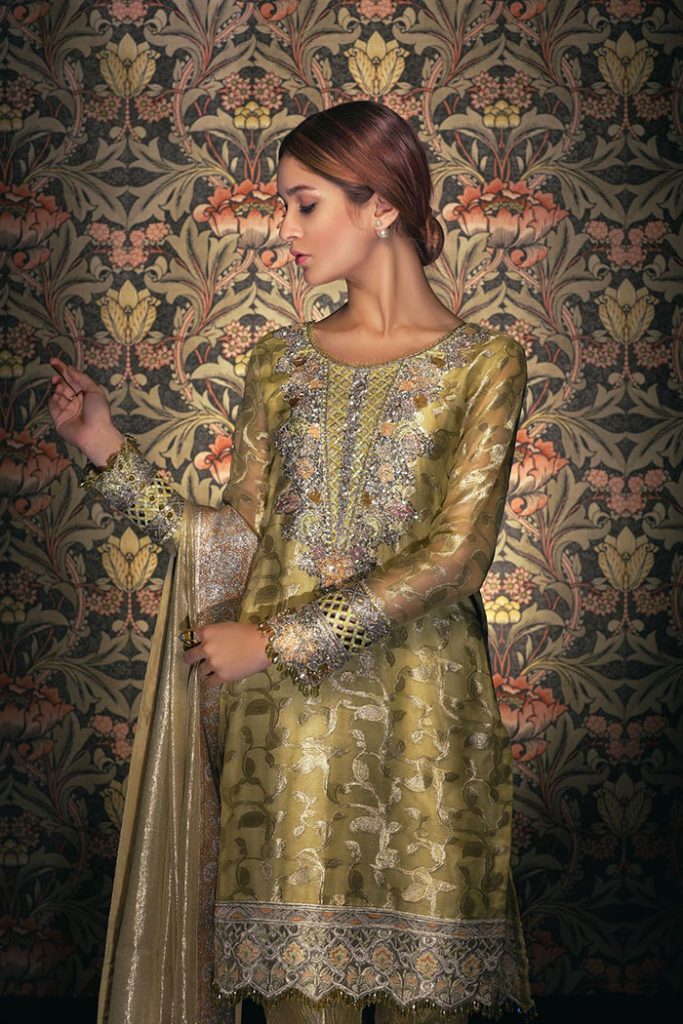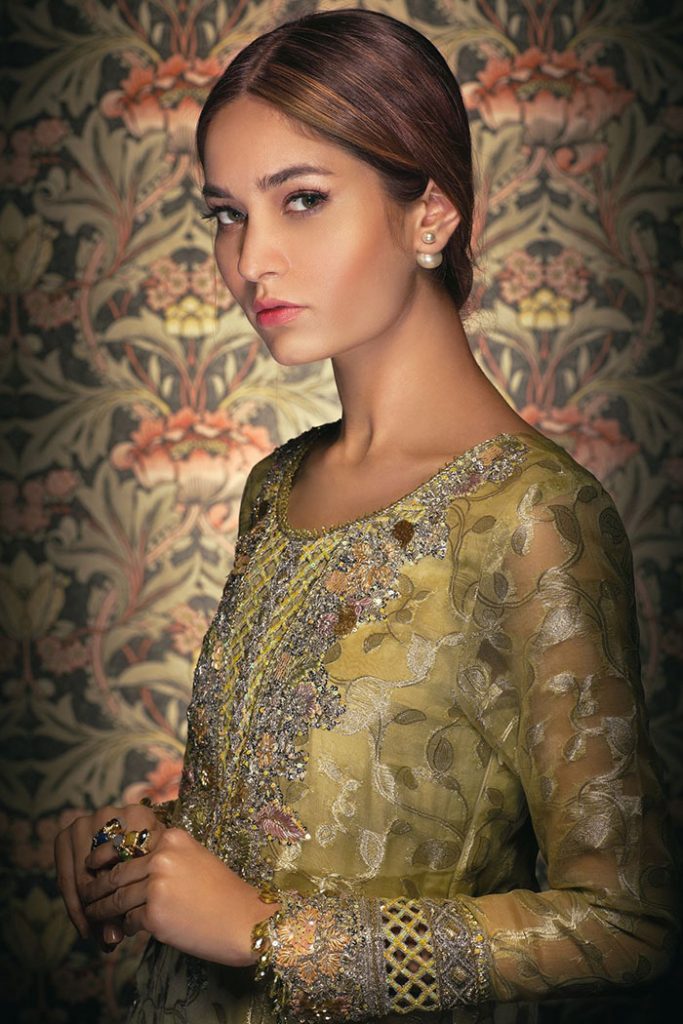 Midnight Bloom:
If you're in gloom, then check out Midnight Bloom. Like the flower blooming in midnight amidst wild bushes but sparkling with the light emanating from the moon this dress will make you prominent in any number of people. Don prominence with this dress featuring gold dabka, nakshi and sequins handwork on neckline and sleeve cuffs with resham florals which illuminate your personality manifold.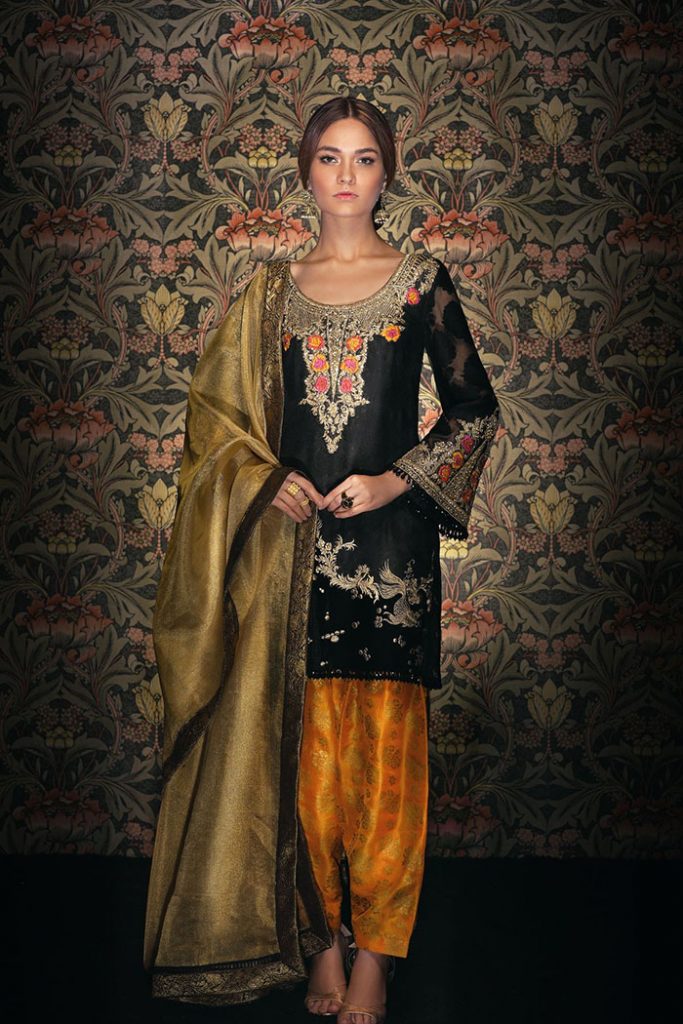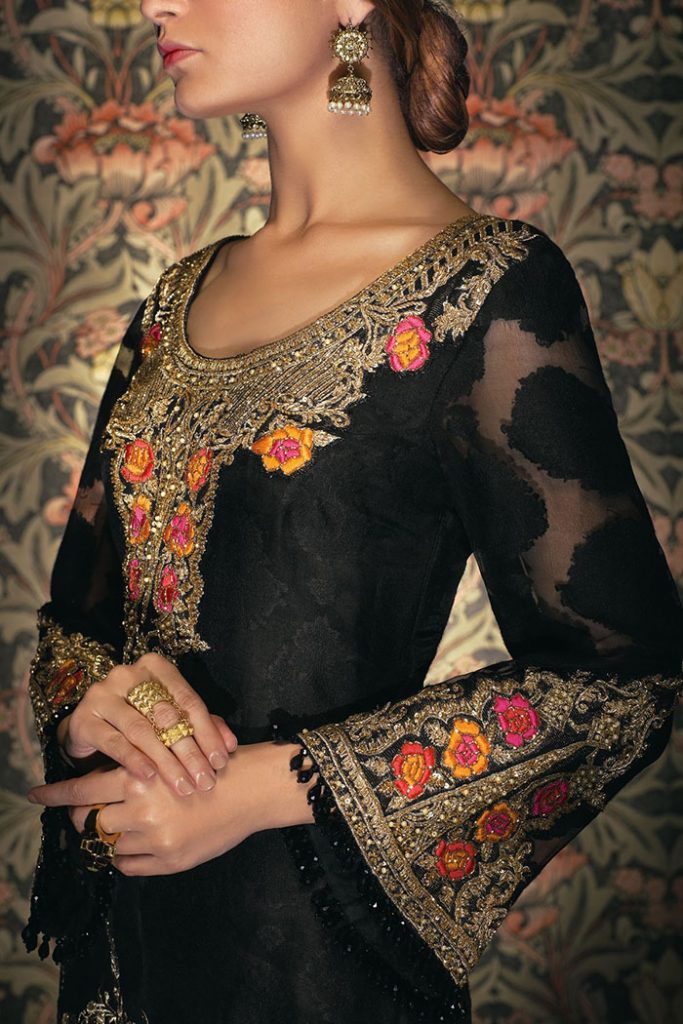 Mint Mulberry:
Mint Mulberry comes with gold tilla embroidery on neckline with bead and sequins touching. It is a marvel, a wonder and a must have.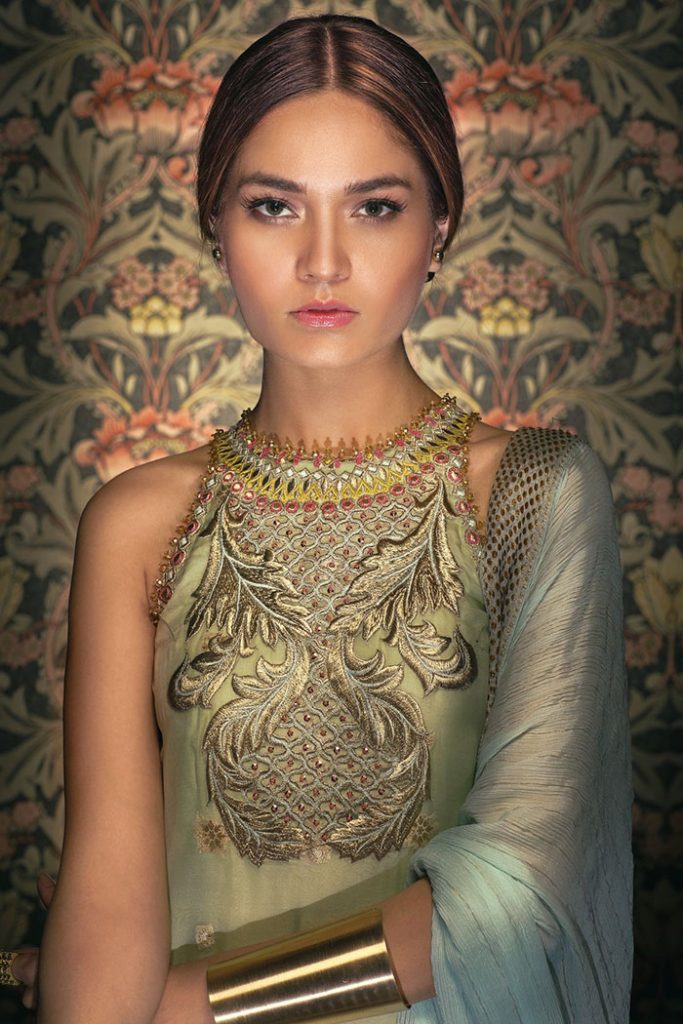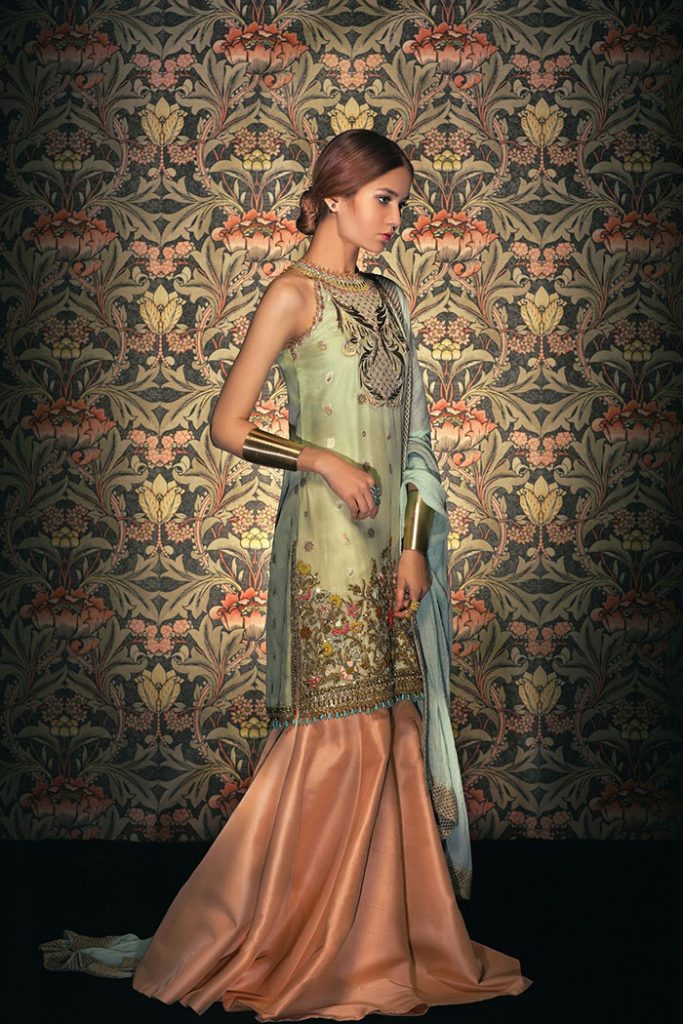 Oliveto:
Swarovski crystals and threadwork detailing on neckline and sleeve cuffs simply make this dress stand out and register Tena's trademark style. You can get this stunning dress from here.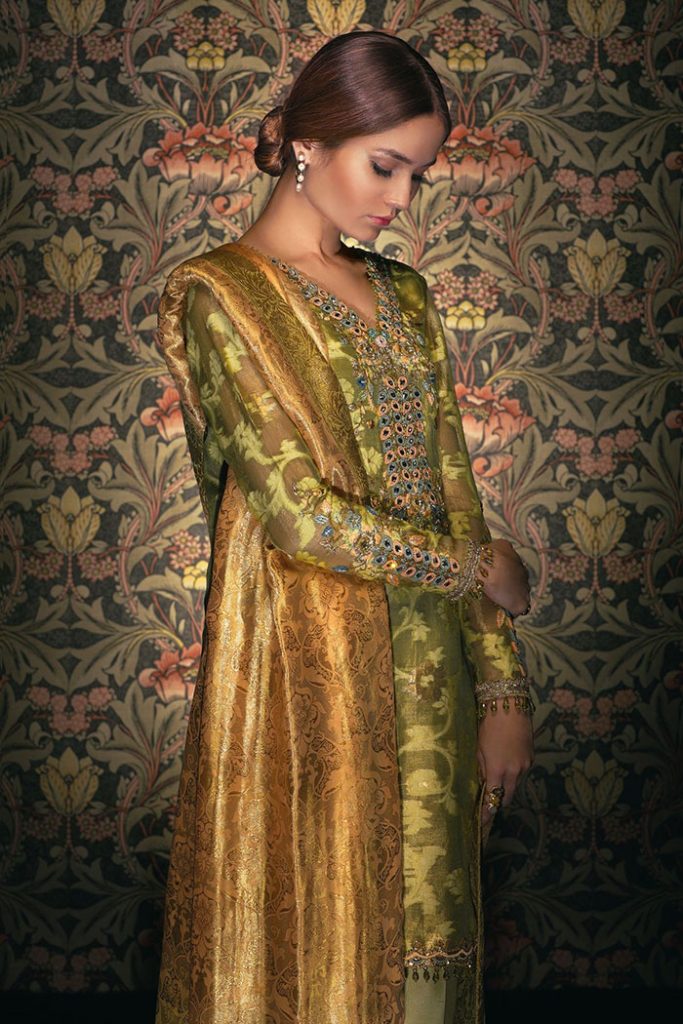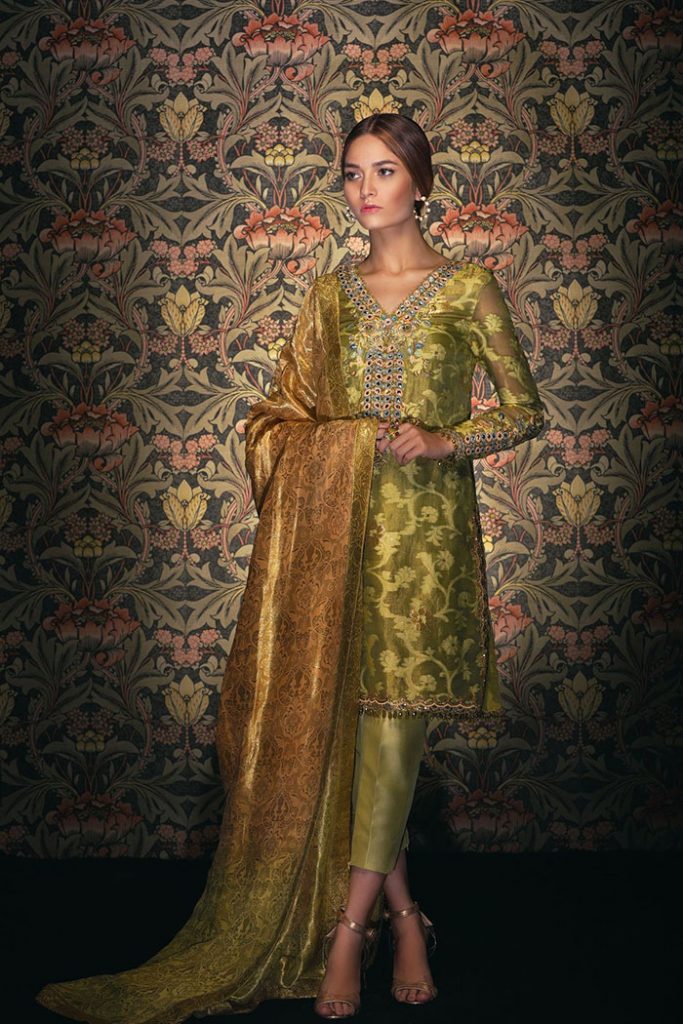 Orchid:
Orchid is a class apart addition to this collection. Featuring lilac grey meysuri (with gold patterned zarri) kameez with full sleeves orchid boasts an impact like no other dress. Moreover, neckline and sleeve cuffs are worked with silver dabka, resham, sequins and more.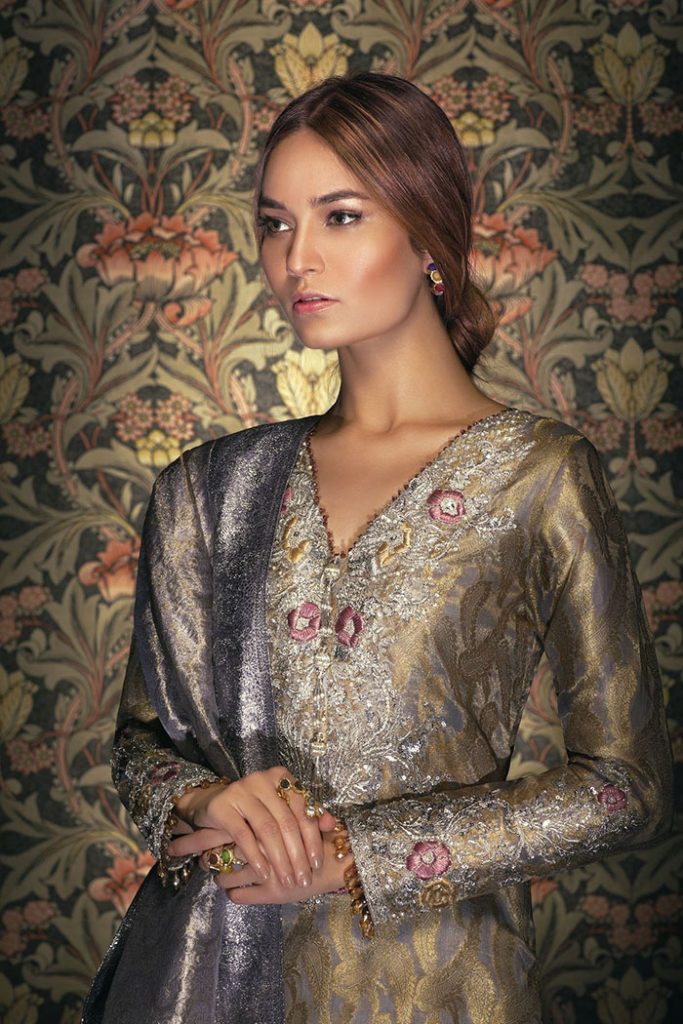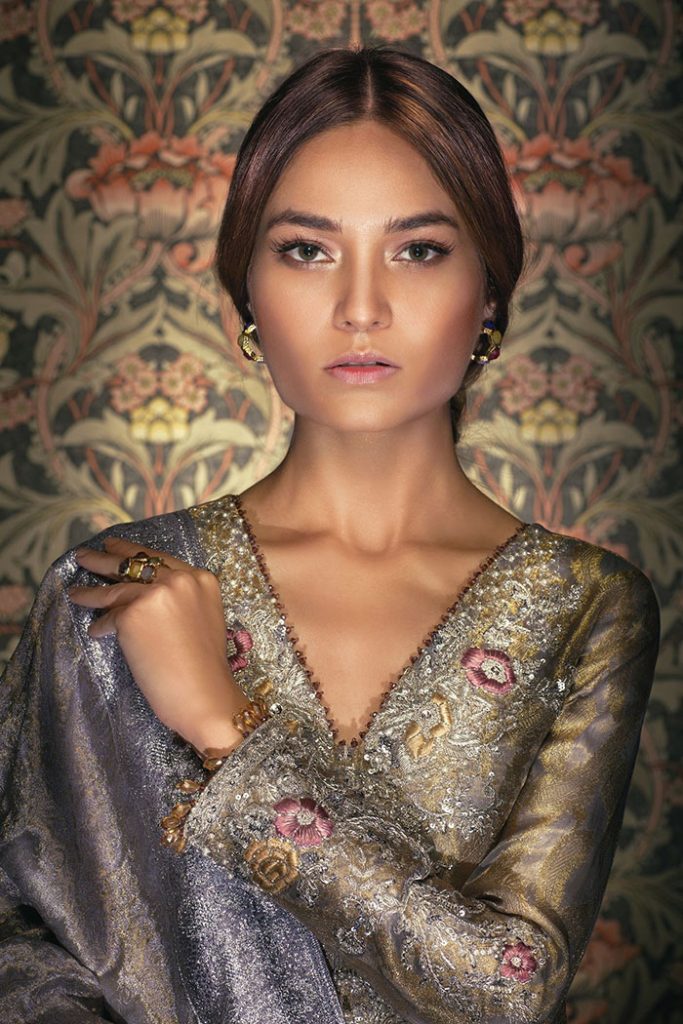 Passionfruit:
There is no stopping Durrani. She presents a wide array of diversity yet her designs are integrated in that they express her futuristic take in Irtiqa wholly and solely. For instance, take this magenta cotton net jaal fabric assymetric shirt with full sleeves. Get your hands on this red beauty here.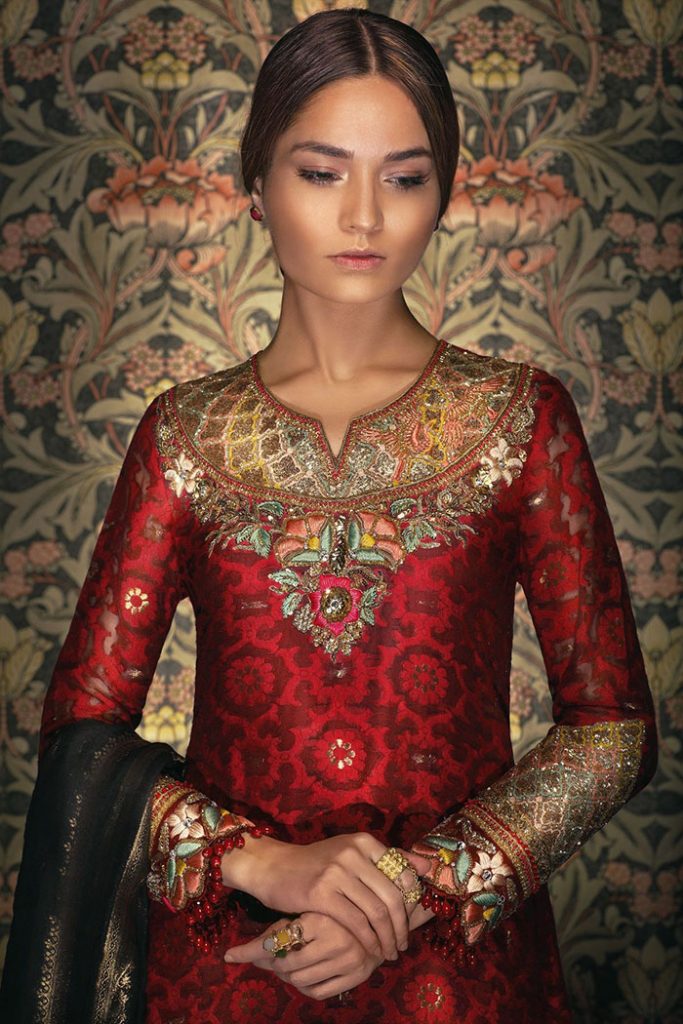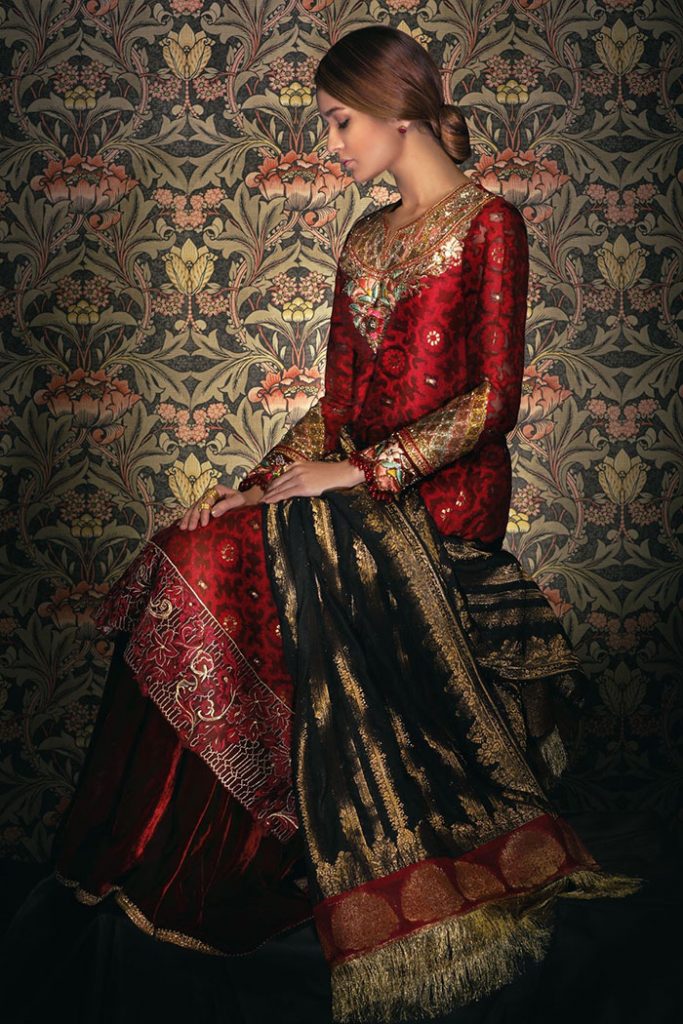 Red Alabaster:
Red Alabaster is one stunning masterpiece of this remarkable collection. Red Alabaster features gold ball finishing on neckline and daaman. The aqua handworked daaman on the front and back takes one beyond fascination and to top it off the back neckline is handworked with dabka, nakshi, crystaks and resham.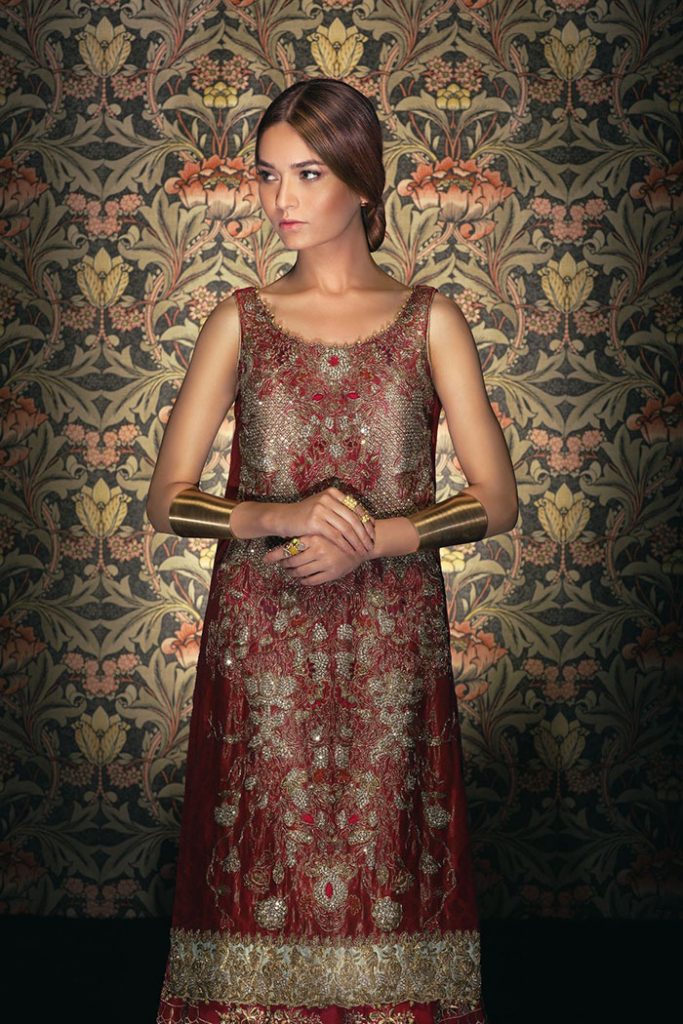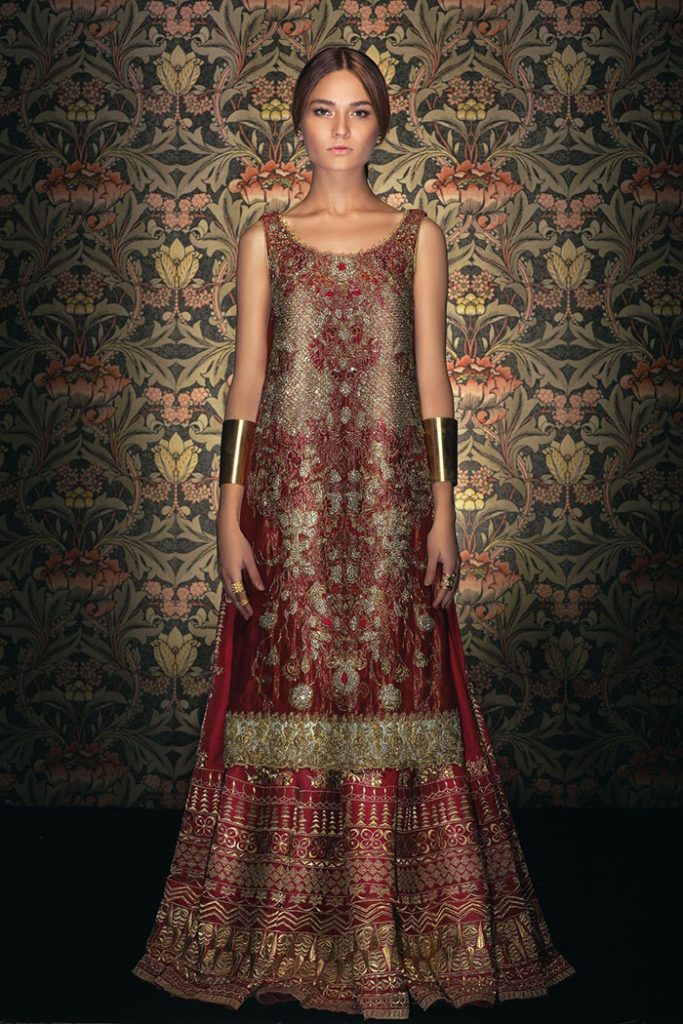 Tena Durrani is an amazing fashion icon of Pakistan. With her diversity and integrity there is simply no stopping her and she continues to represent Pakistan's huge fashion industry talent on the international and national stage effectively. This collection is a must try!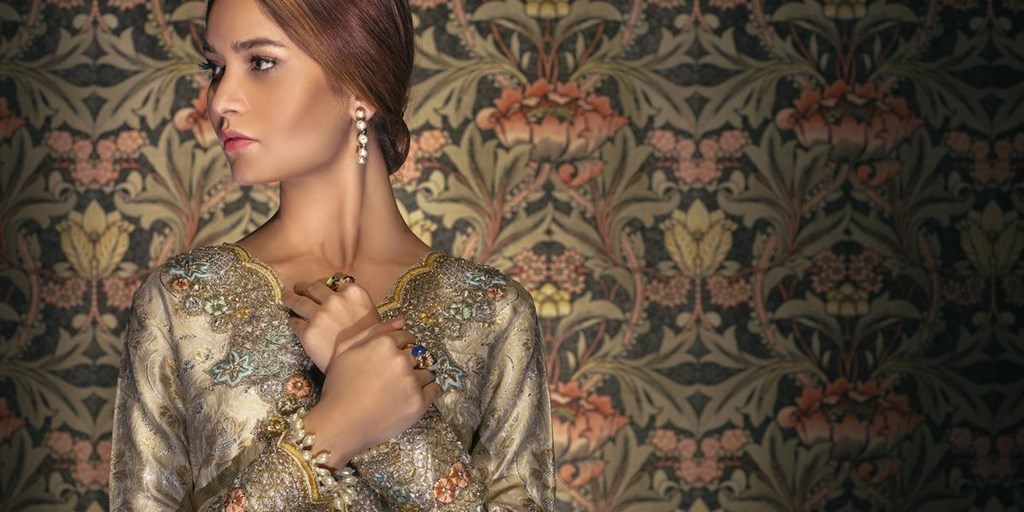 Irtiqa – Tena Durrani's Formal Collection for the Traditional YOU!
Description
Irtiqa is the name of artistic mastery combined with in-depth design knowledge, authoritative embroidery skill resonating with a unique blend of elegance.
Admin
Bridals.PK
https://blog.bridals.pk/wp-content/themes/bridal/images/logo.png