Fahad Hussayn's "Hoshruba" Bridal Collection Will Raise the Royal Bride in you
Mar 04, 2018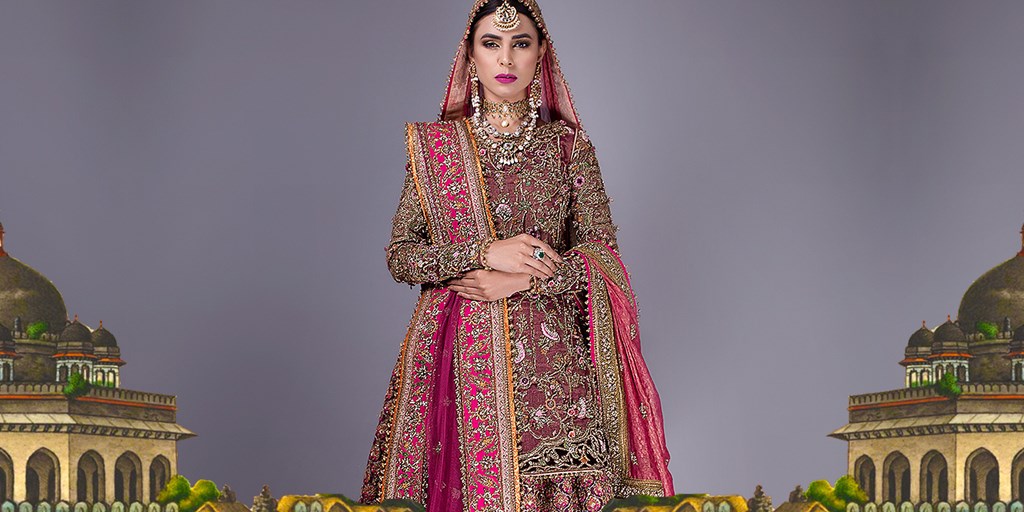 Hoshruba is a collection you will fall in love with. A perfect blend of magnificent colors and classic silhouettes, the latest signature bridal collection by Fahad Hussayn will tell you a tale of pure class and tradition. Full of cultural aura and somewhat reminiscence of our long-lost heritage, the cuts and embellishments are definitely meant for the regal bride in you. The collection follows pink and purple color palette with hints of orange, gold and green. The masterfully embroidered shirts and cholis are paired with lehengas and the look is elevated to royalty with embellished dupattas, two with some bridal dresses.
Known for his dramatic and unique designs, Fahad Hussayn not only manages to revive the historical elements of art and architecture but also combines them in his creations the way none other can do. Hoshruba is the interpretation of a royal bride with subtle makeup and statement jewelry summing up an ideal combination for this wedding season. Each dress is the epitome of elegance to make you feel like a true Maharani.
Scroll on to marvel at Fahad Hussayn's magic and be prepared to be stunned yet again.
ARSH ASHIYANI V1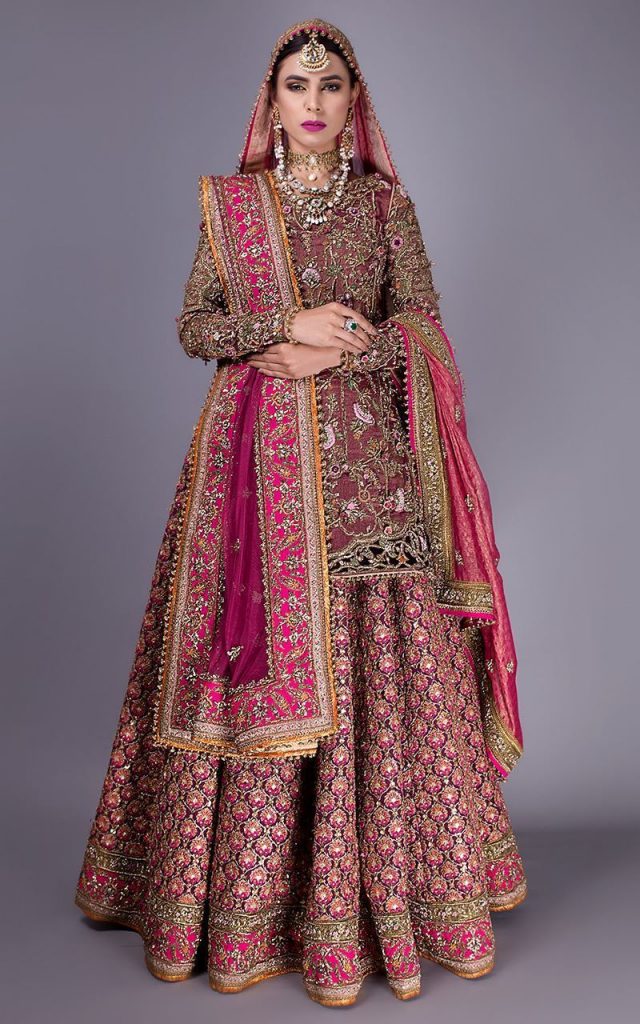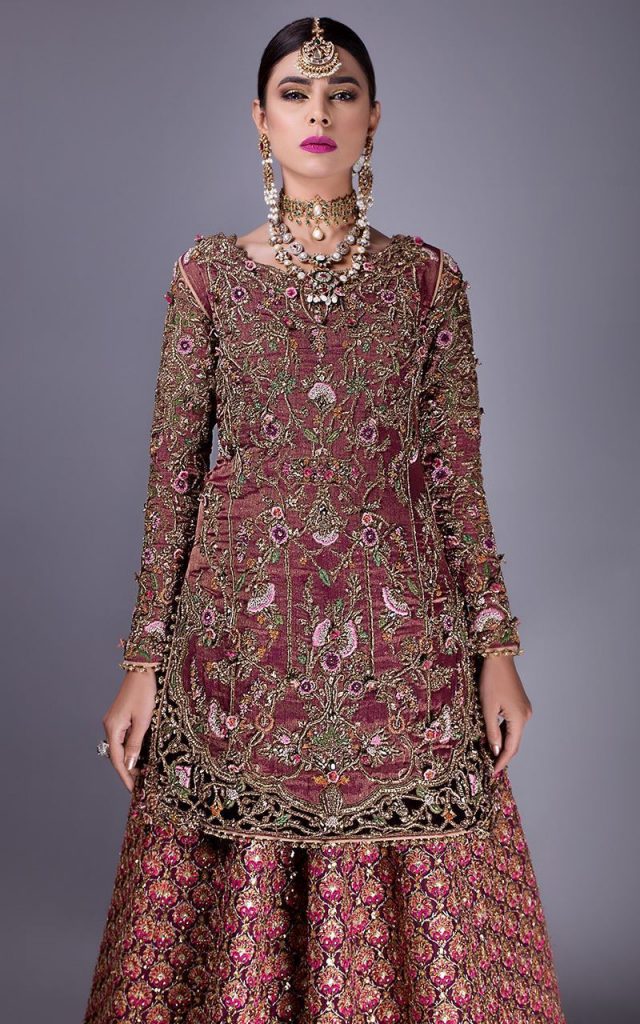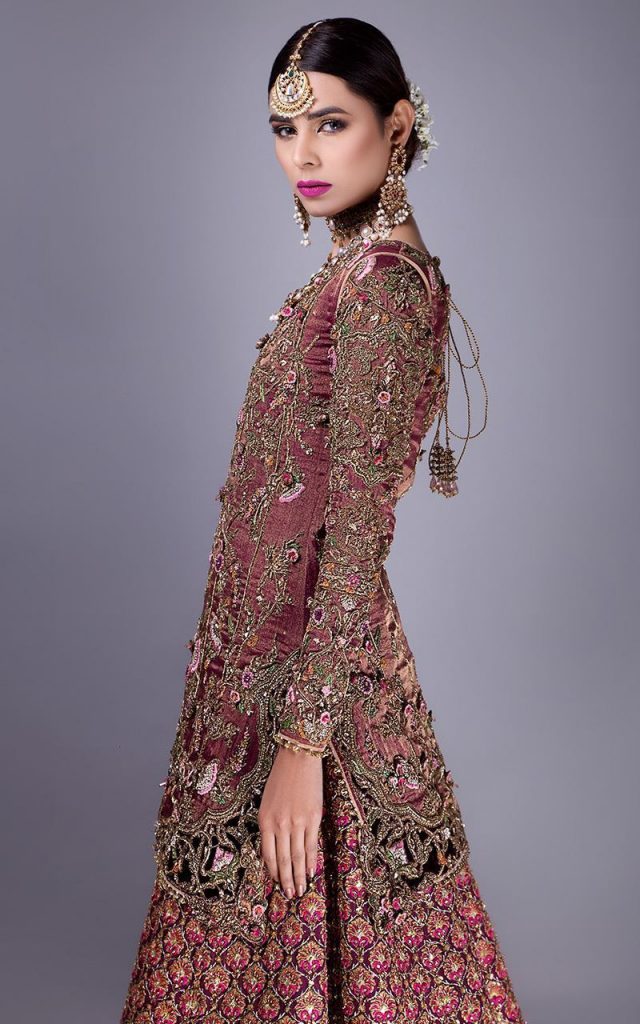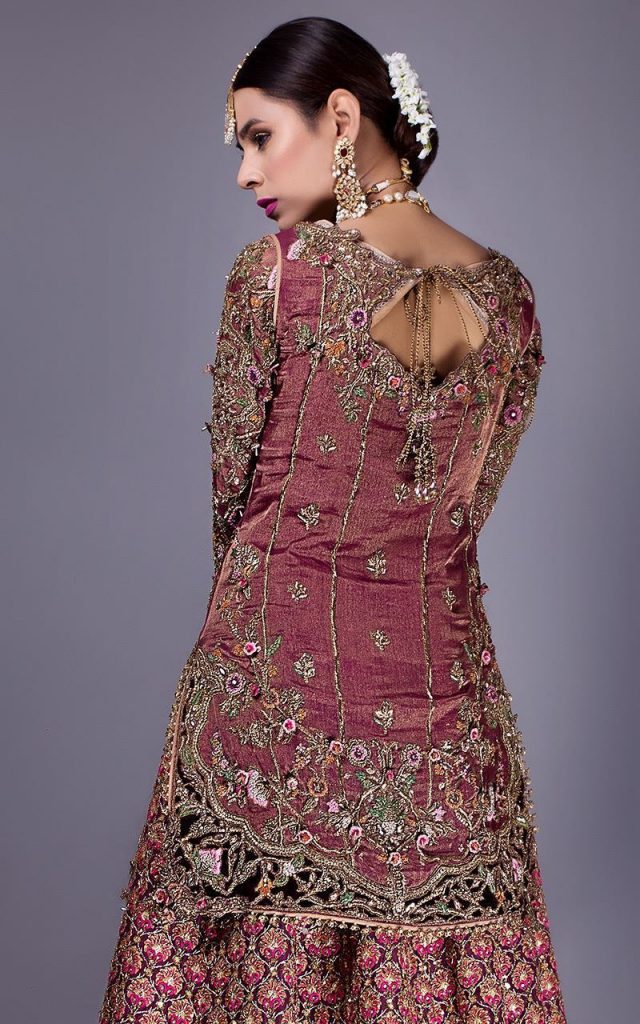 The network of 3D embroidery on the Kundanzari shirt catches the attention right away but what truly is bound to steal the heart is the captivating cutwork along the hemline. The lehenga featuring textured embroidery will take you to the classic era of majestic royalty where you are the queen of all. You can shop this magnificent bridal here.
ARSH ASHIYANI V2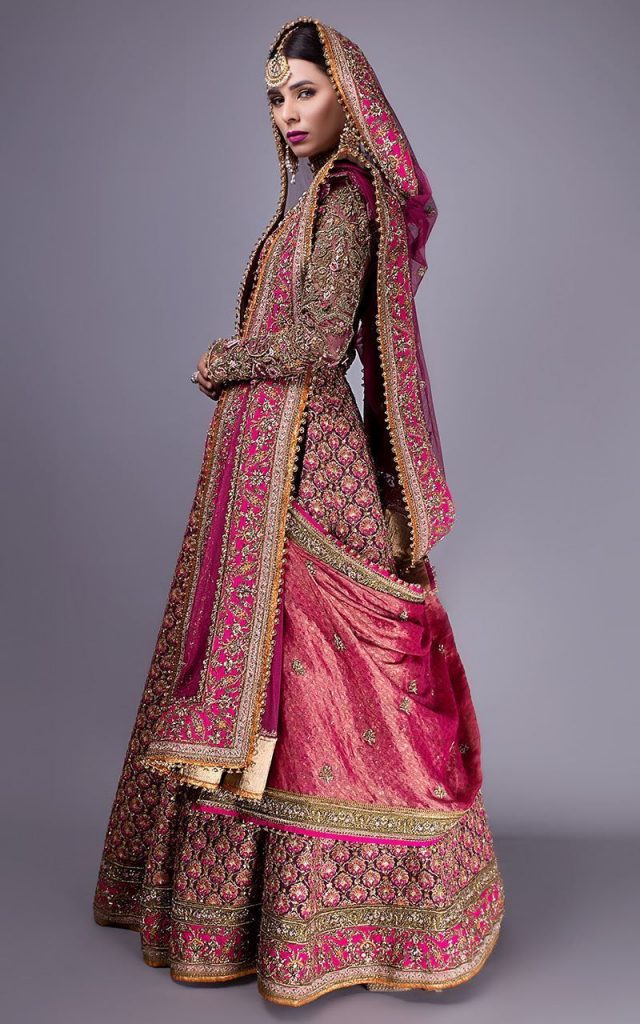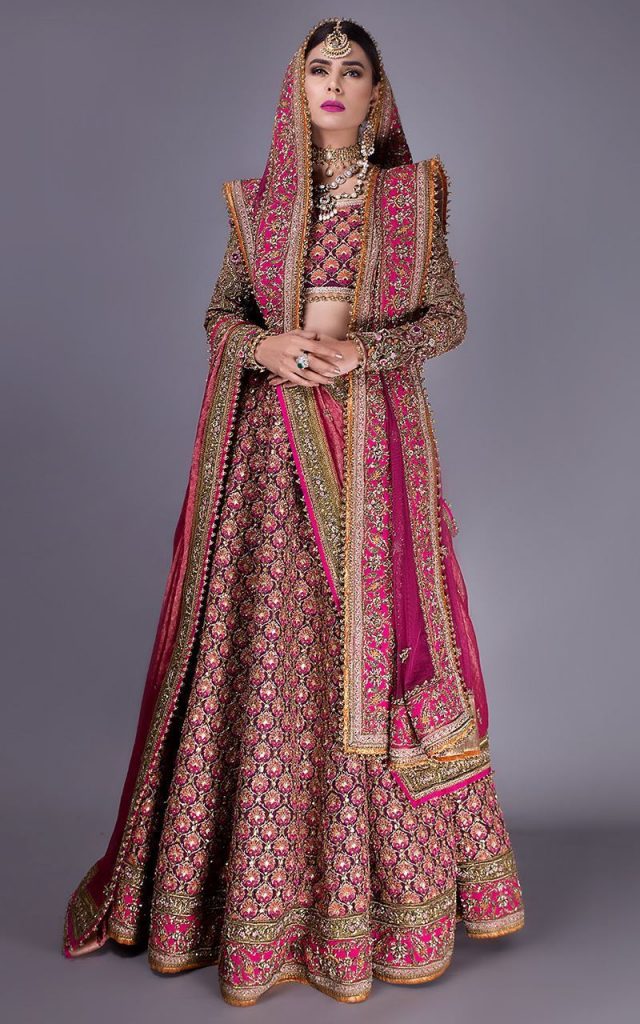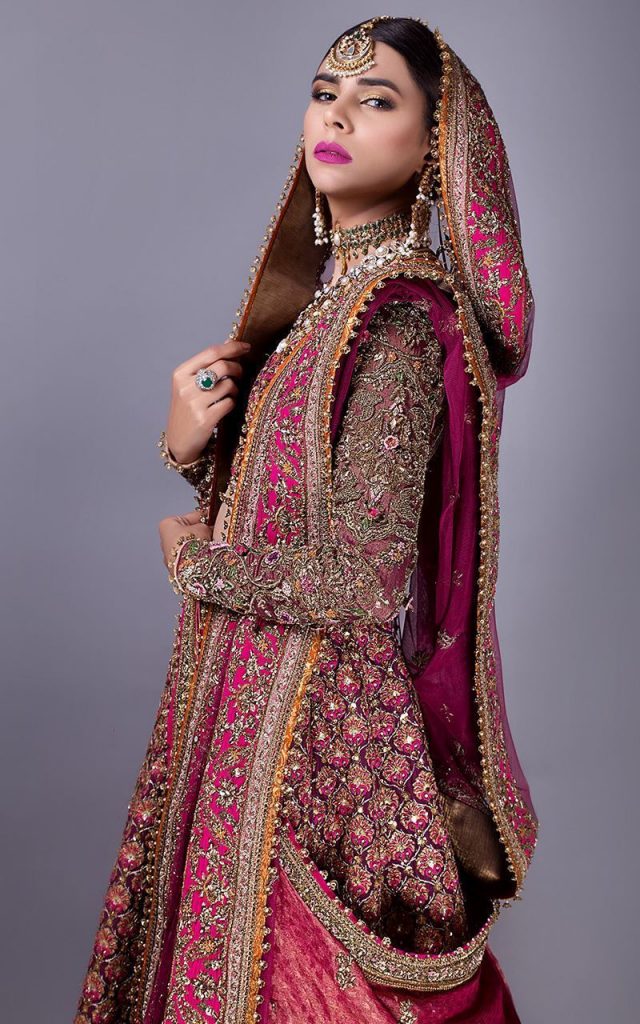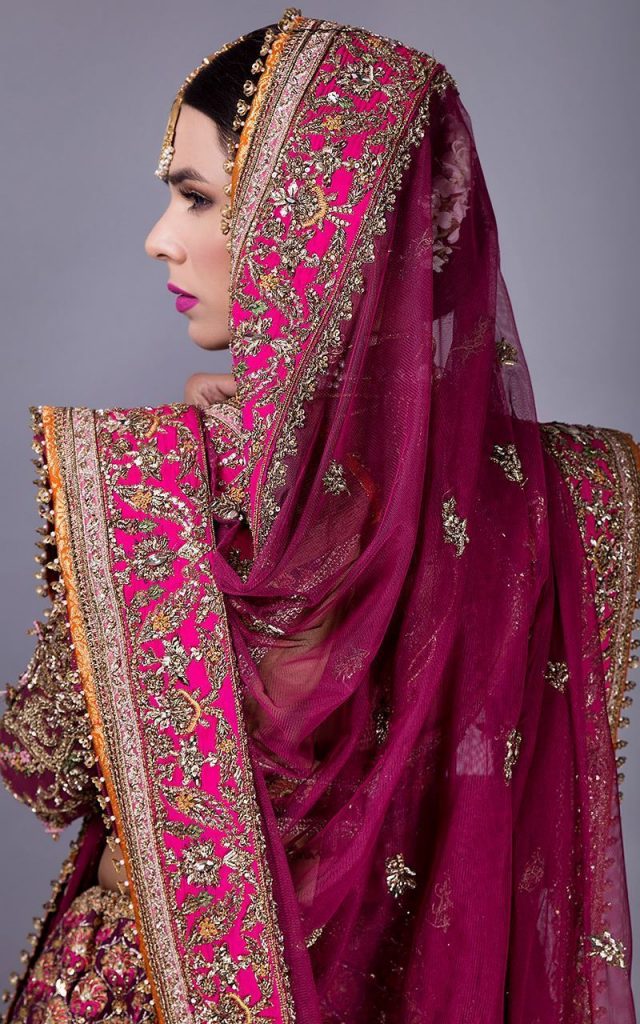 This design is a classic personification of our heritage. The pink silk blouse with Kundanzari sleeves takes us back in times when the princesses used to dress up in royalty, and wearing this dress will definitely bring back that magnificence.
ARSH ASHIYANI V3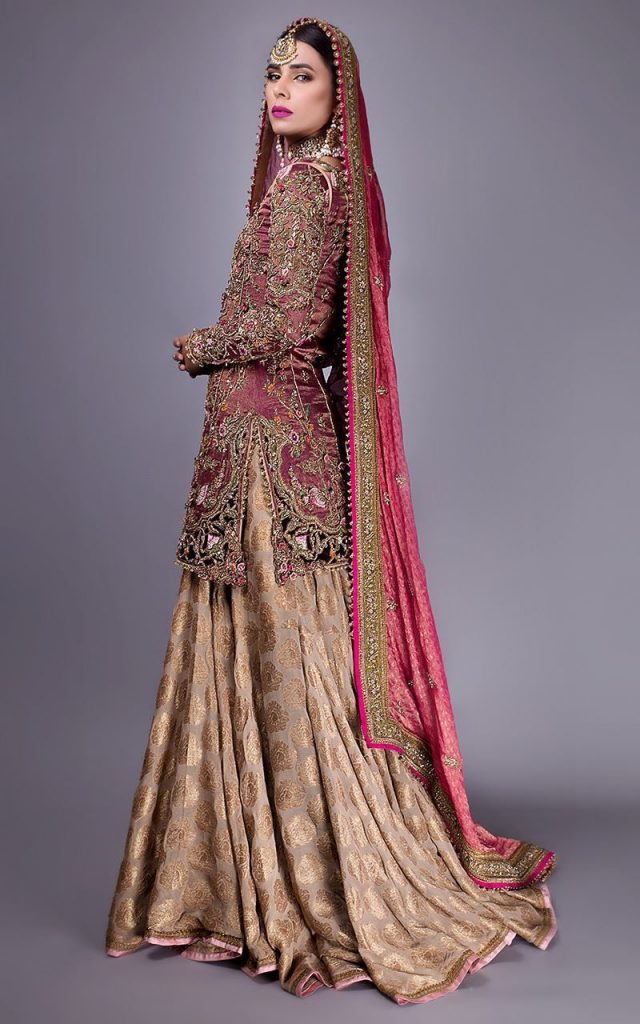 This one is a blend of style and modesty. The shirt and dupatta from Arsh Ashiyani V1 are paired with a simple chiffon jamawar lehenga. With this dress, Fahad has simply done what most have not been able to do – to combine heritage with simplicity in a unique manner.
DASTAN GOH V1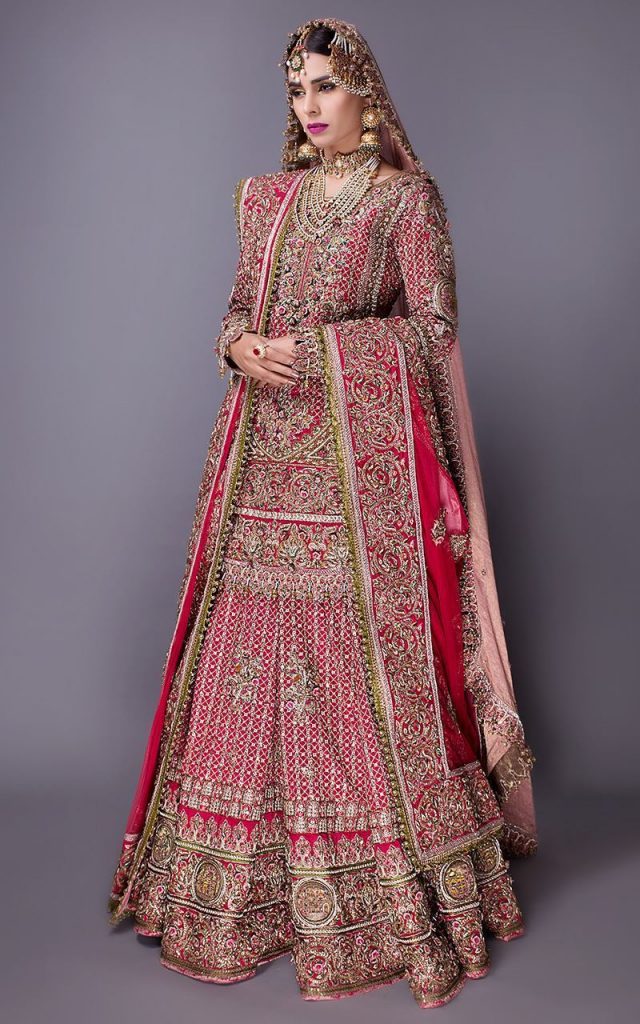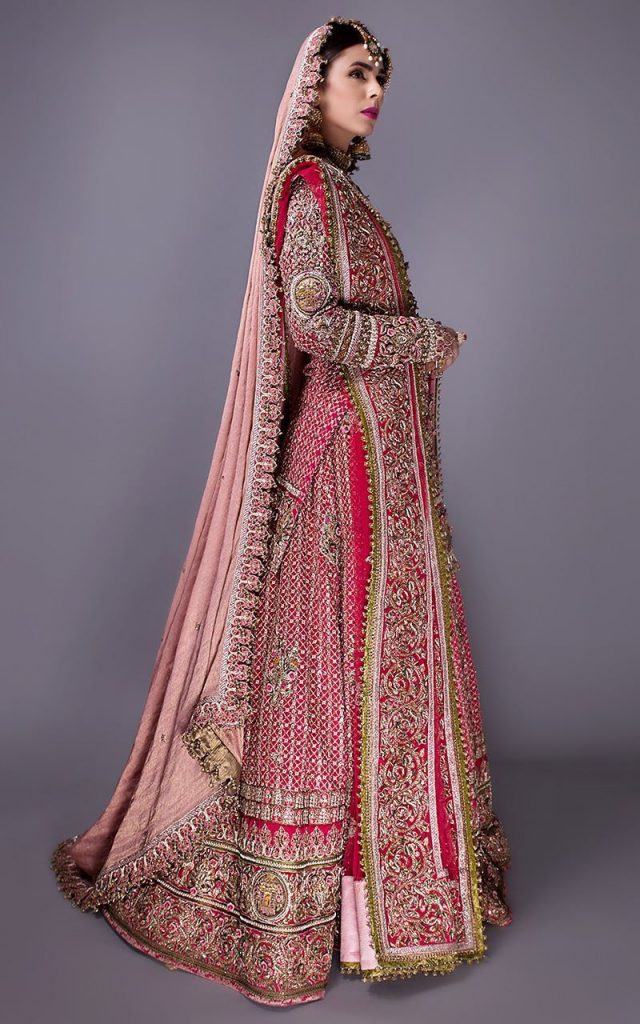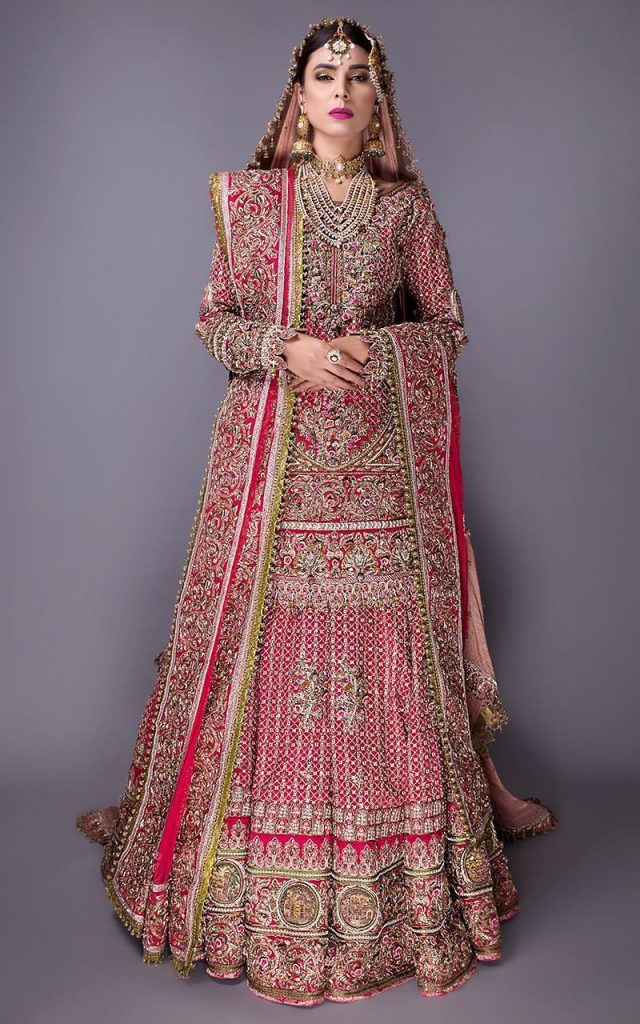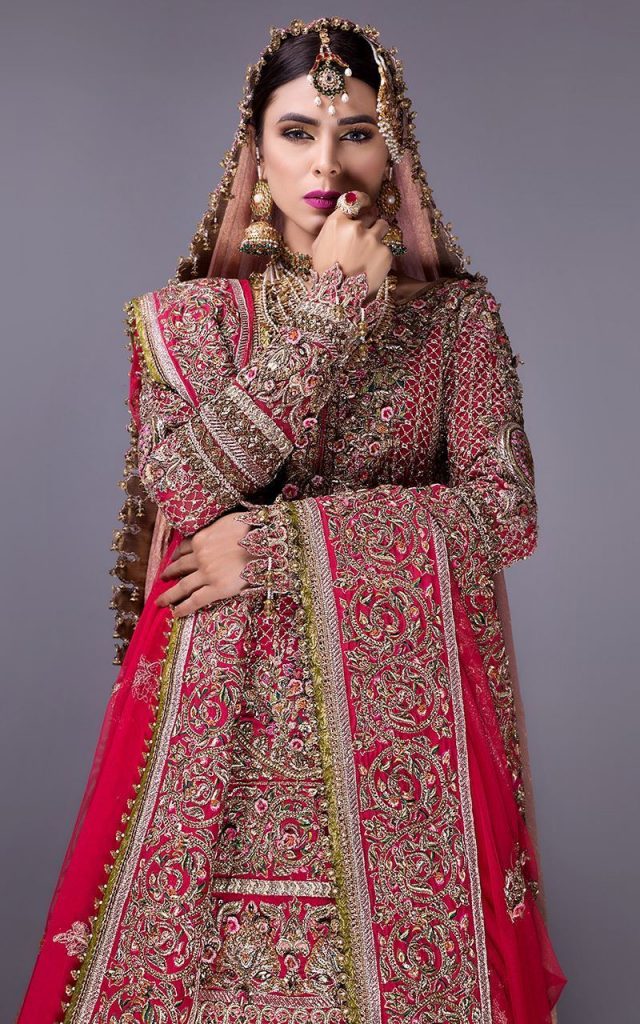 The old-world charm exuded by this royal bridal is truly unmatched. The embellishment on the dupattas is fully complementing the embroidered shirt and that majestic lehenga enables you to register a classy and noble look.
DASTAN GOH V2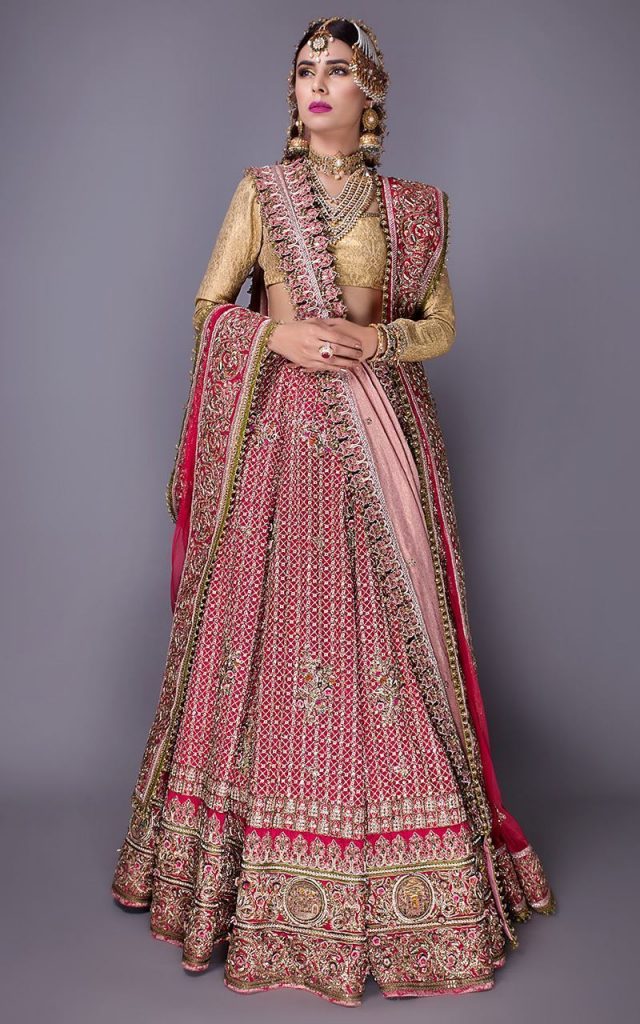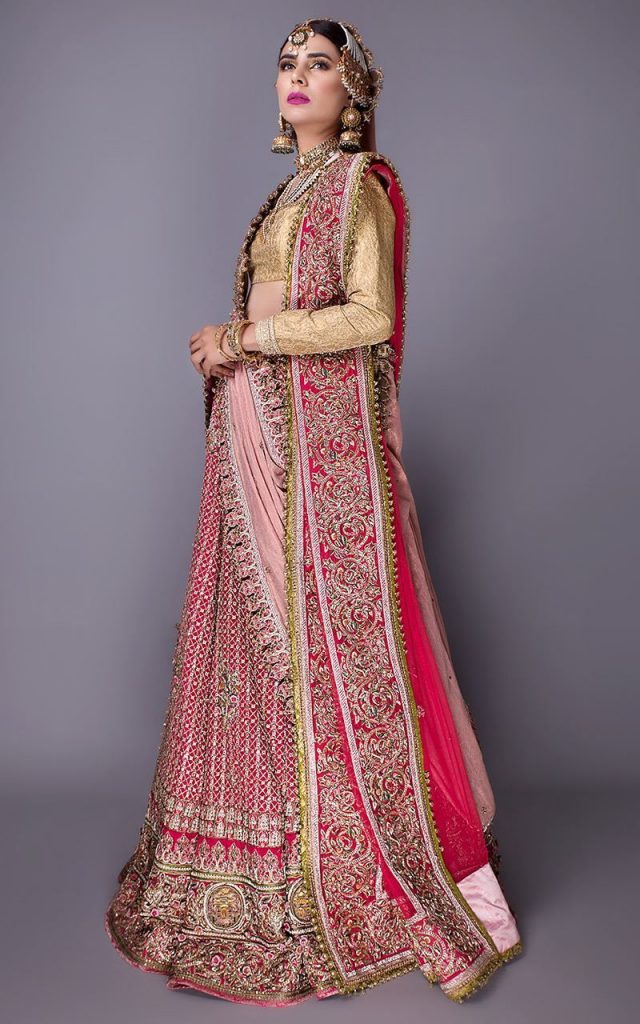 The gold jamawar choli is giving the entire bridal a spin of modesty with elegance. The heavy needlework on the lehenga lends it an exquisite touch. When paired with two dupattas, this creation by Fahad is a true magnificence to marvel at.
DASTAN GOH V3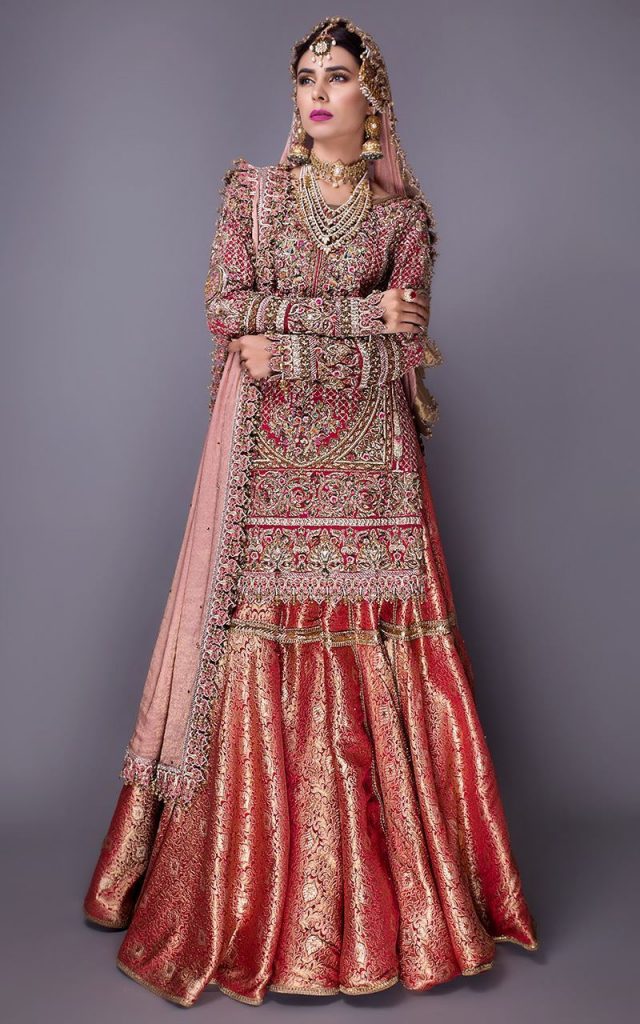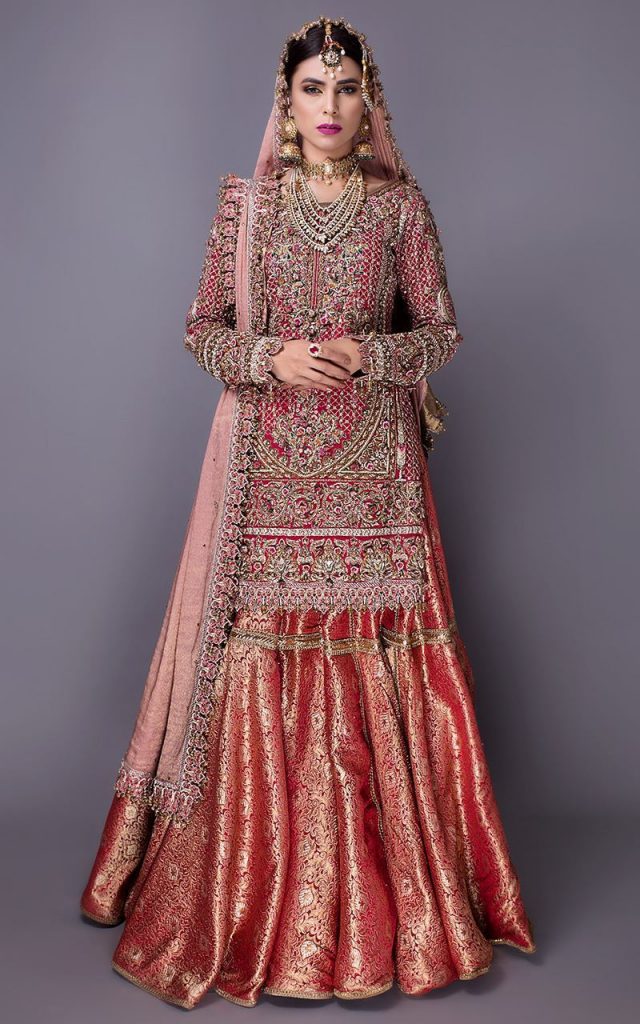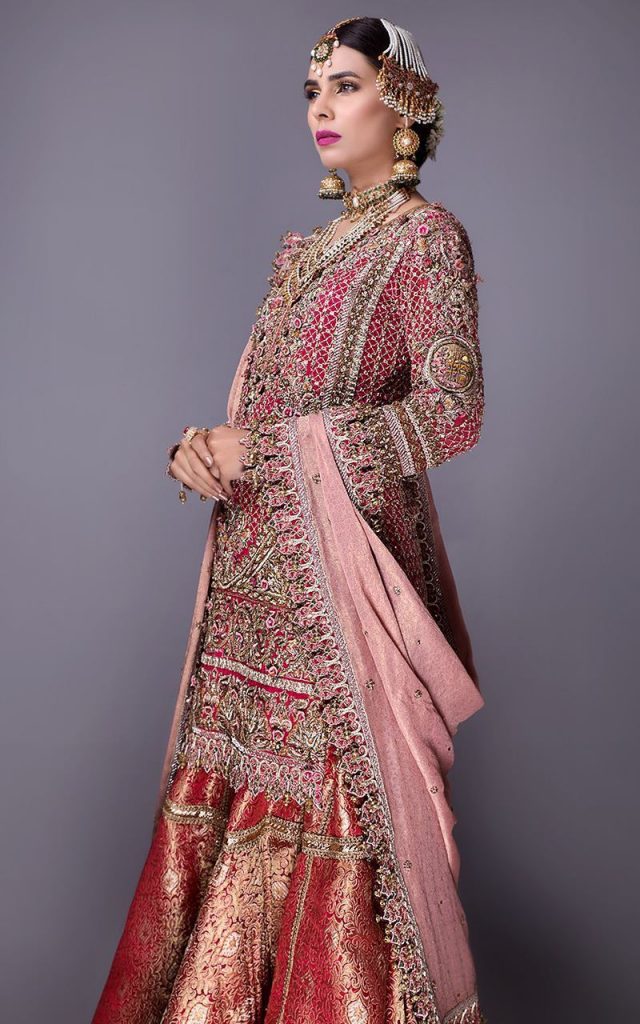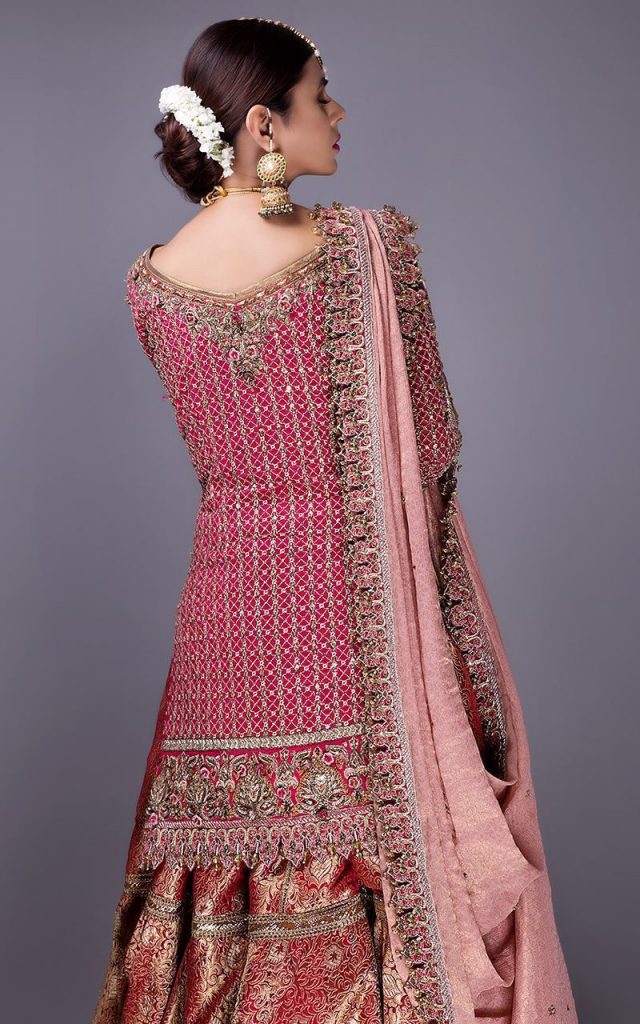 The exotic dance of strikingly gorgeous embellishments on this one would make you want to stare forever. The heavy shirt is paired with a rather simpler jamawar lehenga making it perfect for the brides who don't want to overdo it. Shop this exclusive bridal here.
Hoshruba is a collection that stands true to Fahad Hussayn' signature style and aesthetics. All the outfits are available on www.bridals.pk. Visit us or just click the Whatsapp button down below for queries, orders and appointments.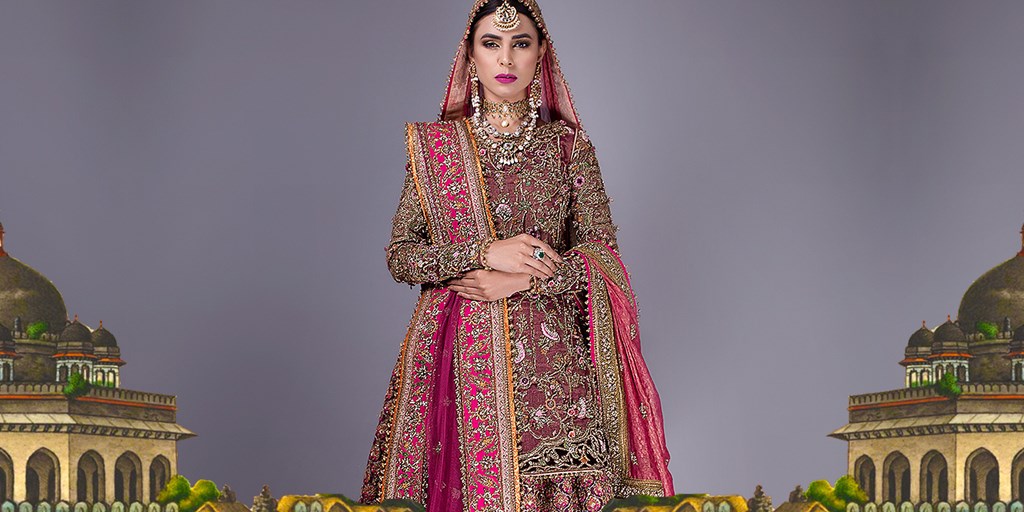 Fahad Hussayn's "Hoshruba" Bridal Collection Will Raise the Royal Bride in you
Description
Full of cultural aura and somewhat reminiscence of our long-lost heritage, the cuts and embellishments are definitely meant for the regal bride in you.
Admin
Bridals.PK
https://blog.bridals.pk/wp-content/themes/bridal/images/logo.png