Annus Abrar Is Bringing Back to Old World Charm with "Qous-o-Qazah"
Jun 24, 2019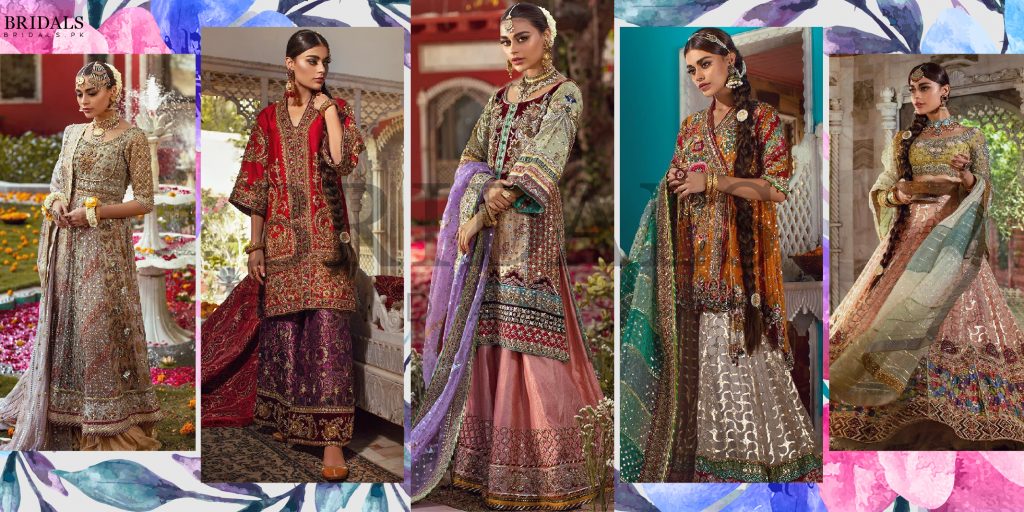 Article by: Hazafa Hasan
Annus Abrar is at it again. He debuted his latest bridal collection 'Quos-o-Qazah' on the ramp of the Pantene HUM Bridal Couture Week 2019. However, this latest bridal campaign of 'Quos-o-Qazah' with Sadaf Kanwal will shed light on why this collection might be the one that can inspire your bridal dress. As the name implies, this collection includes a veritable rainbow of colors that appeals to those with an appreciation of vintage fashion. All dresses look like something Heer Sial would wear in all their old-school finery.
We love that there isn't any typical red lehenga in the collection as frankly we are kind of over the whole-scarlet-red-and-gold-over-the-top dresses that makes all the brides look the same. At the same time, all nine dresses in 'Quos-o-Qaza' are the perfect epitome of royalty, beauty and feminism. You will be blown away by the artistic array of the ornate hues, jubilant bling and radiant inflections. The luxurious fabrics woven into regal bridal attires will be just the thing to make you stand out this wedding season.
If you want to see the dresses on the ramp of Pantene HUM Bridal Couture Week 2019, you should check out the link below. Else, proceed to scroll down to watch the collection in all its glory. Annus Abrar chose model Sadaf Kanwal to be clad in his dresses and the beautiful jewels were provided by none other than the great Ali Javeri Jewelers. After looking at the collection and the soot you will agree that it is a perfect match.
(Video: PHBCW2018)
Note: This video has been taken from Youtube and we do not take responsibility for copyright issues associated with its content or the music in the background.
EELIA
An A-line shirt in double toned pink shades is adorned with gota, dabka, and naqashi work in dull gold thread. The shirt is paired with a flared deep red gharara, a net dupatta with scattered florals in the same red color and scalloped borders compliment the dress nicely.
MUSHK
This is another A-line silhouette in peach, paired with handwoven organza pants in the same color with hand embroidered details. The hemline of the shirt is adorned with chatta patti worked with gota, dabka and naqashi details. The dupatta has a turquoise color with a gota spread and a heavily worked border.
DILARA
This Lime green choli has a whole embroidered chattah (spread) in silver dabka and naqashi and the beautiful neckline has a spread of peach rosettes designed in resham – silk thread. The back is in deep purple color with Annus' signature tassel. A shimmering light pink lehenga, with a chatta patti border gracing the hemline, makes for one spectacular outfit. The color blocked dupatta compliments the lehenga in a lovely manner.
YASMIN
A blonde yellow shirt with hot pink side panels is worked with hand block printed techniques. The neckline of the shirt has velvet applique with old school embroidery patterns. Also the hemline has a multi-colored applique. A peach hand block printed dhaka pants with gota work compliments the A-line silhouette perfectly. The lilac dupatta is hand block printed as well detailed with dabka zari.
TABASSUM
This delicate outfit is made in the very feminine silhouette called pishwas. Different hand block printed patterns are incorporated in the long, flared panels of the shirt. Crushed silk, dhaka pants with gota finish plays out really well in this outfit. The dupatta is in blush color which enhances the gota and dabka work.
SHERBANO
Burnt orange flared angrakha silhouette is a work of art with floral details and embellishments. Ivory organza dhaka pajama with hand block print is paired with this festive outfit. A color blocked dupatta in green hues with applique border completes this very unique, very pretty attire.
CHANDNI
This gorgeous fairytale ensemble is also an A-line shirt in dull gold with embellishments done in antique and copper. It's paired with a deep maroon silk gharara with velvet and gota embroidery. The dull gold net dupatta trimmed with velvet scallops has an antique zardozi embroidery on it. It is a truly lovely dress which is bound to turn a few heads.
MEHR
This dress has a long straight shirt embellished with antique dabka. The hemline of the shirt has silk thread roses made in peach, over a mint green base. A mint green dhaka styled flared gharara with gota and velvet trimmings pairs well with the shirt. The dupatta that brings this whole outfit together is a deep marron organza piece that features hand block printed details.
LAYLA
This outfit features a front open, kimono-inspired shirt that's enhanced with maroori, dabka and naqashi work. The plum pants which are made in jacquard material are adorned with velvet applique (with floral detailing in silver and gold) on the hemline.
How do you like this collection? Isn't this the most original bridal collection you have seen this season? We seem to think so. Even though the silhouettes and the styles are vintage, the colors and the pairings are truly nothing like we have seen so far. Kudos to Annus for a collection designed so well!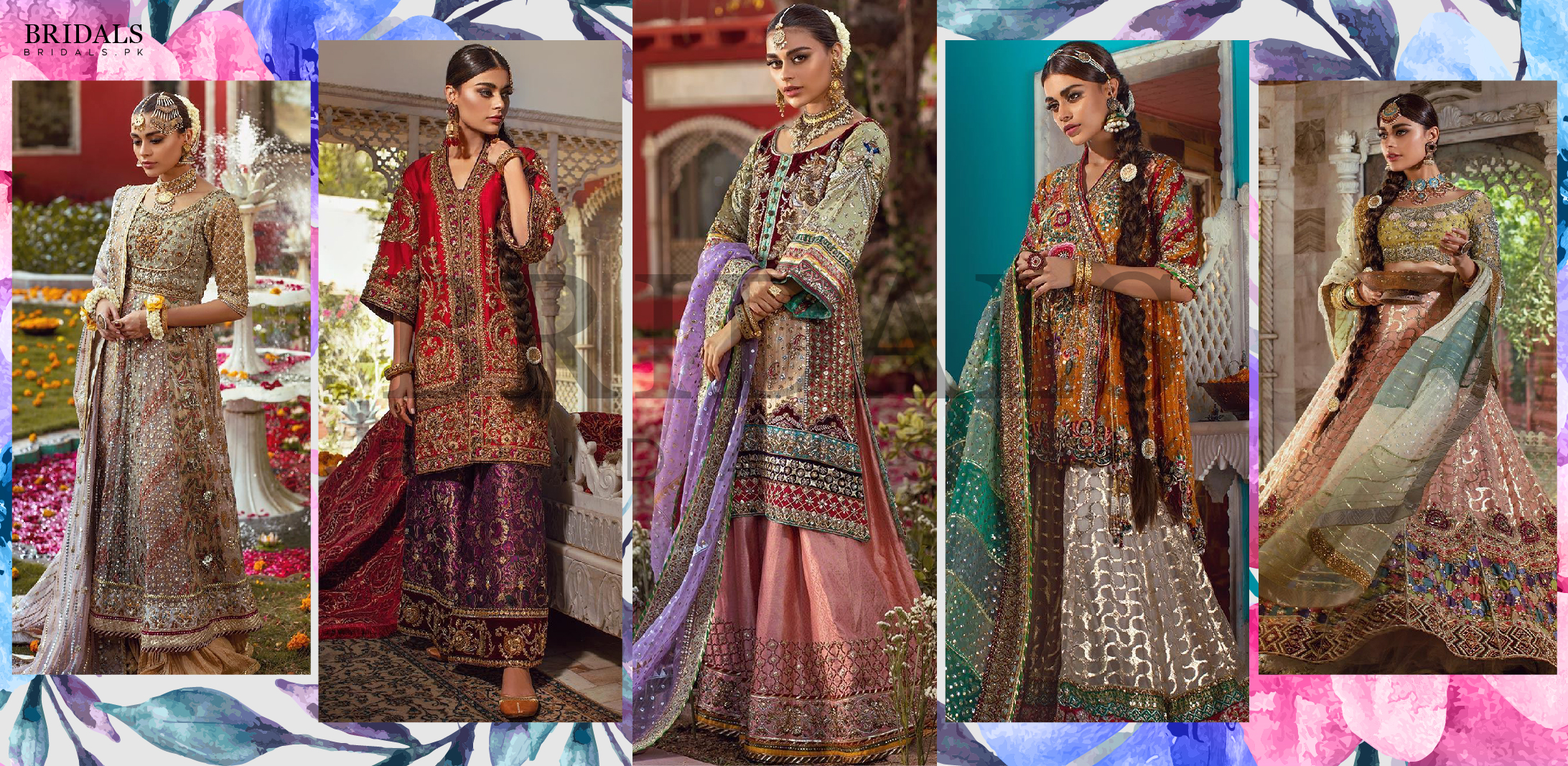 Annus Abrar Is Bringing Back to Old World Charm with "Qous-o-Qazah"
Description
Annus Abrar's latest bridal campaign 'Quos-o-Qazah' with Sadaf Kanwal will shed light on why this collection might be the one to inspire your bridal dress.
Admin
Bridals.PK
https://blog.bridals.pk/wp-content/themes/bridal/images/logo.png