SFK Bespoke Men's Collection Redefines Modern Elegant Groomwear
Mar 05, 2019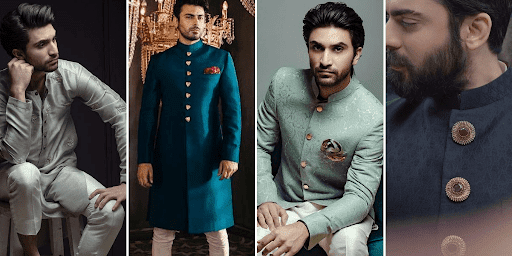 Sadaf Fawad Khan has been in the limelight ever since her husband's sudden claim to fame. Fawad had been in the industry for some time, but Shoaib Mansoor's Khuda Kay Liye helped shine his image as an actor. People of the two countries fell in love with his decent, reserved, gentleman charm. They also fell in love with his lady of a wife, when the story of their courtship and marriage surfaced and it became obvious that no matter how many hearts melt at the sight of the handsome Fawad Khan, he only had eyes for his wife.
However, being the wife of a celeb isn't all that's interesting about Sadaf Fawad Khan. She had been a successful fashion designer for 6 years now, and her designs are pretty amazing. She launched many collections for men and women over the years and gotten critiques' admiration. It's no wonder that her husband is the face of her menswear collection as he actually started the fashion label along with her. Overall, her label is crafted from a sense of pure elegance that matches her personality. In this article; we have gathered a few of her designs that will be perfect for any groom to be.
Emerald Green Sherwani
SFK designs are made in sobriety, and simplicity as a key feature in all their aesthetics. These designs are created for the powerful men, who know their place in the world and don't need an overly embellished dress to put others in awe. These sherwanis and clothes let your personality do the heavy lifting; like this classic emerald green sherwani.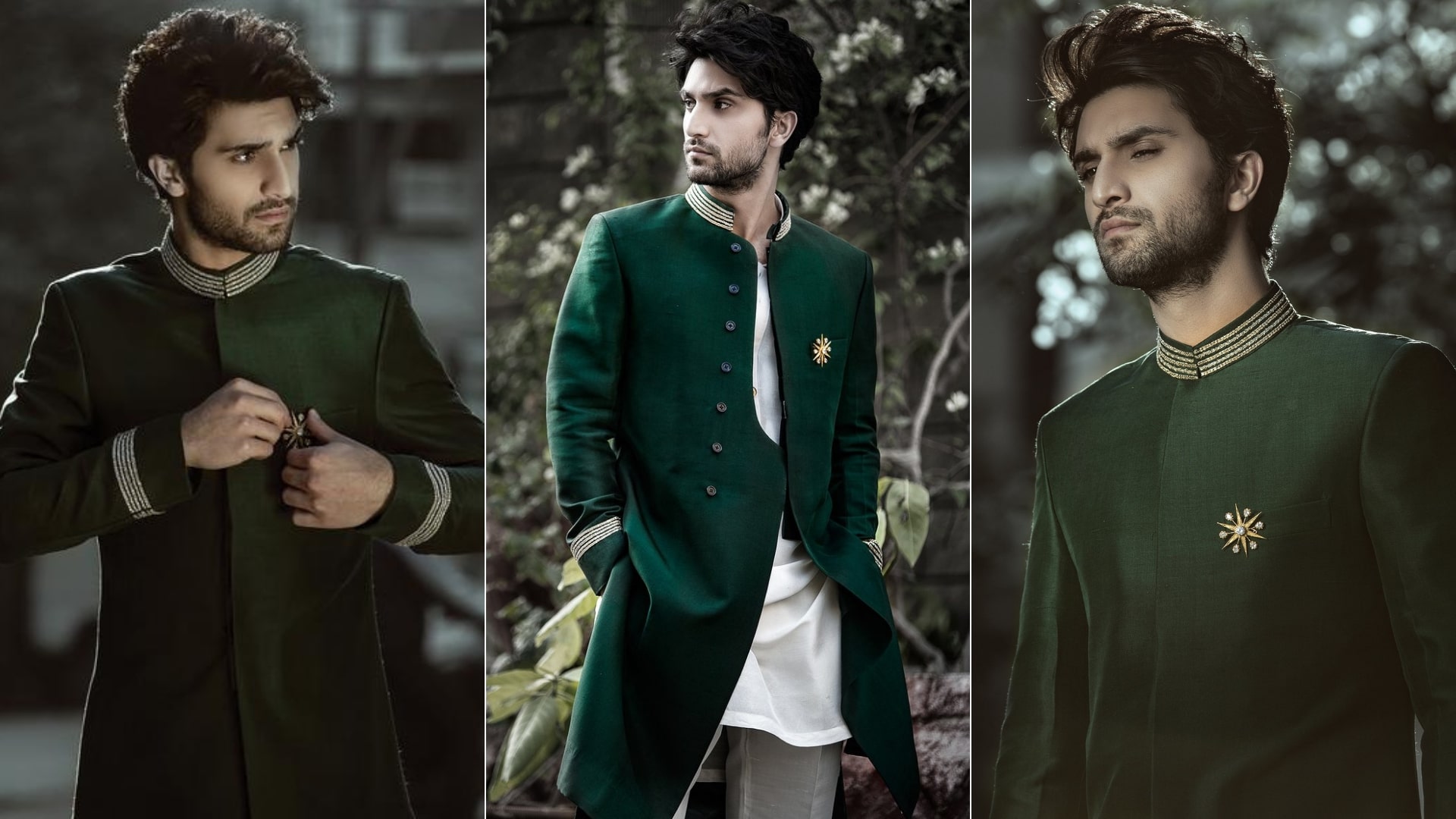 Cardinal Gem
This black prince coat is royal fashion at its prime. You can see why such an ensemble will lend an aura of untouchable elegance that cannot be bought. It has the right amount of drama and character to make you a groom who is calm and collected. These sherwanis and coats are neither too understated, nor too overwhelming. The ruby and gold buttons are the classic chic touch that looks completely brilliant.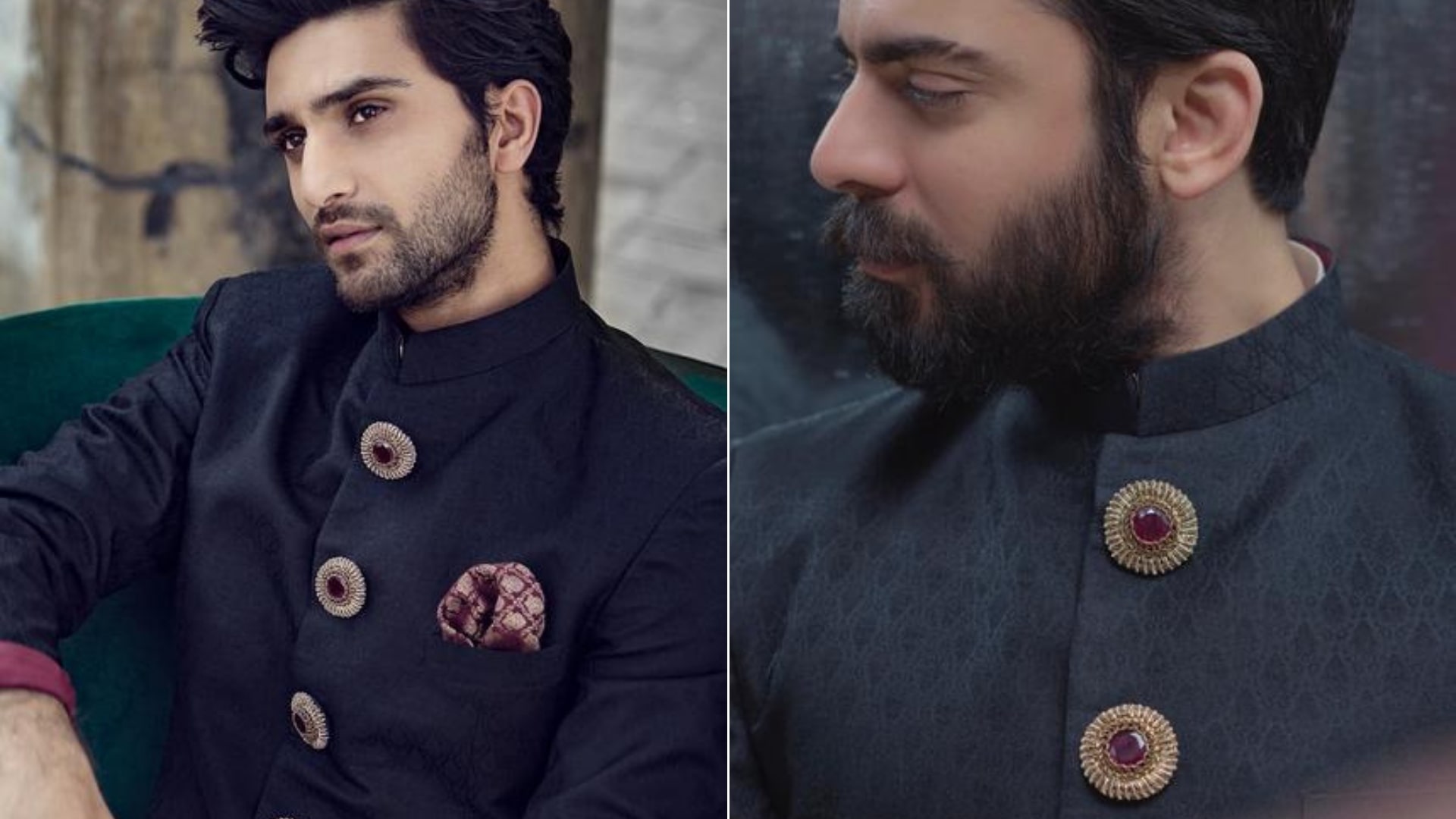 Beryl Prince Coat
This aqua prince coat is another choice that can work for your groom look at the reception or Mehendi, depending on the color themes. The self-embossed material paired with gold buttons and a pocket square complete the perfect princely look for you, regardless of the occasion.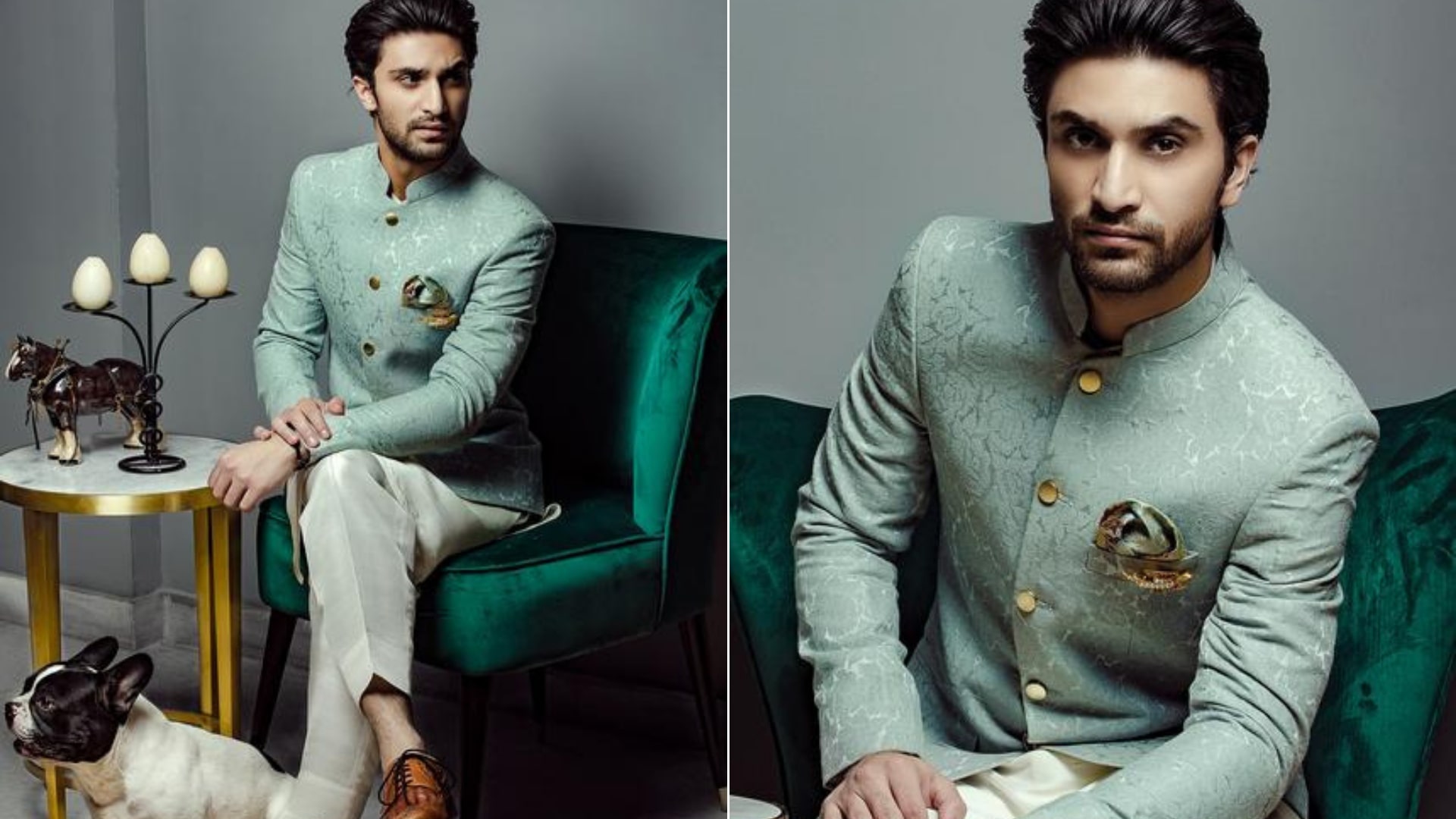 Alabaster Kurta
This silver gray kurta will make a perfect choice for the grooms to be on their Mehendi or Mayun. If you are a best man, then you can invest in this elegant kurta that's unique and eloquent in its elegance. You know there is nothing too little or too much; the color, embroidery, length; everything is perfect.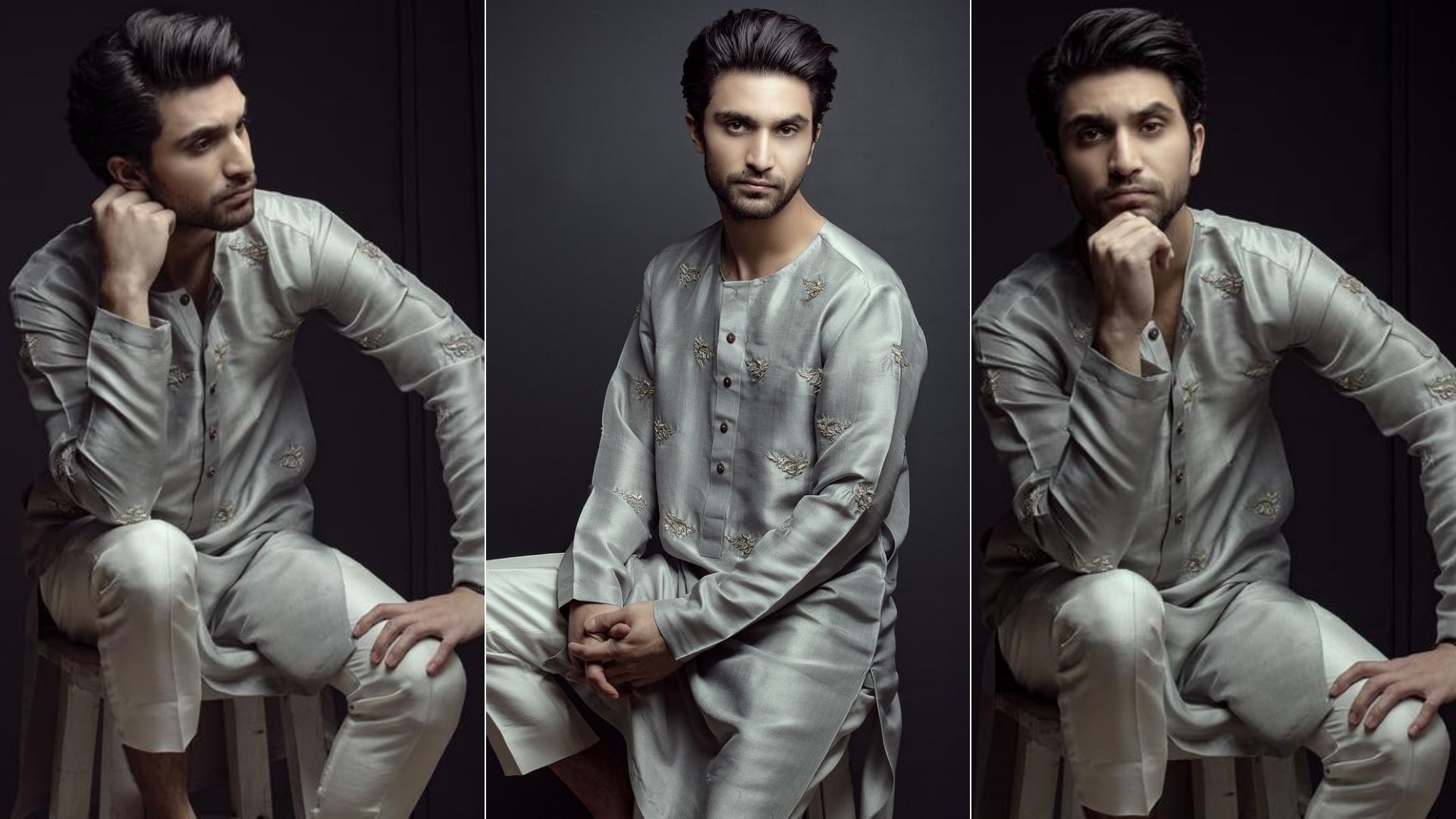 Turkish Sea
This teal coat reminds us very much of the prince, Fawad Khan played in his movie Khoobsorat. It makes up for its simplicity with an electric gem colored fabric. The gold buttons in this eccentric shape give the right touch to the sherwani. It's simple and sweet. It's sharp cut and the magenta pocket square is the exact finishing touch that makes this ensemble very regal looking.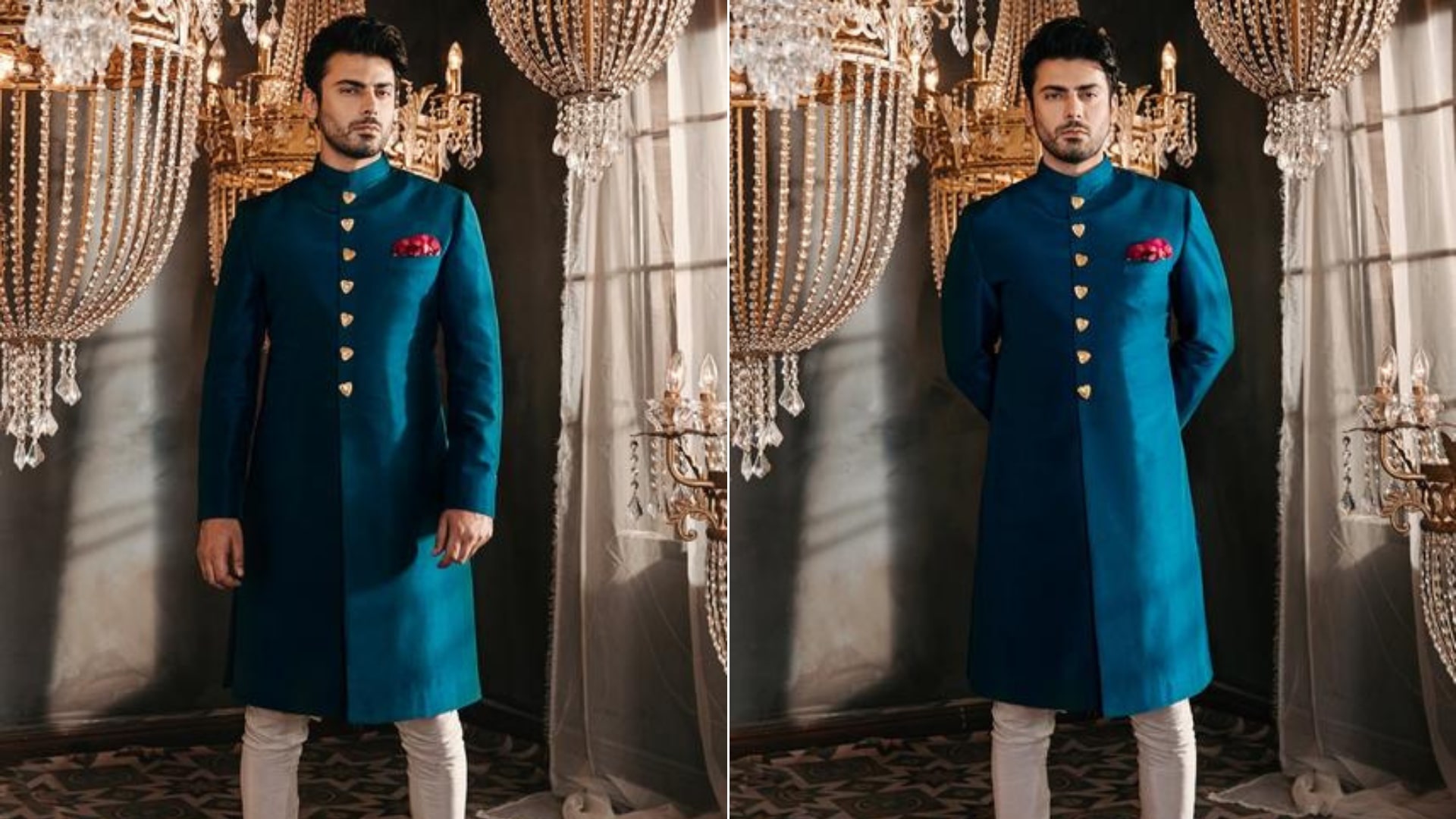 Royal Ecstasy
Borrowing the finer details of a landscape that involves exquisite palm trees, this classic ivory sherwani speaks of class and sophistication that's rare today. The richly crafted embellished cuffs of the sherwani merge the right tons of gold and silver threads, with a dose of pearl and crystal detailing that's bound to draw admiration as you walk arm and arm with your beloved.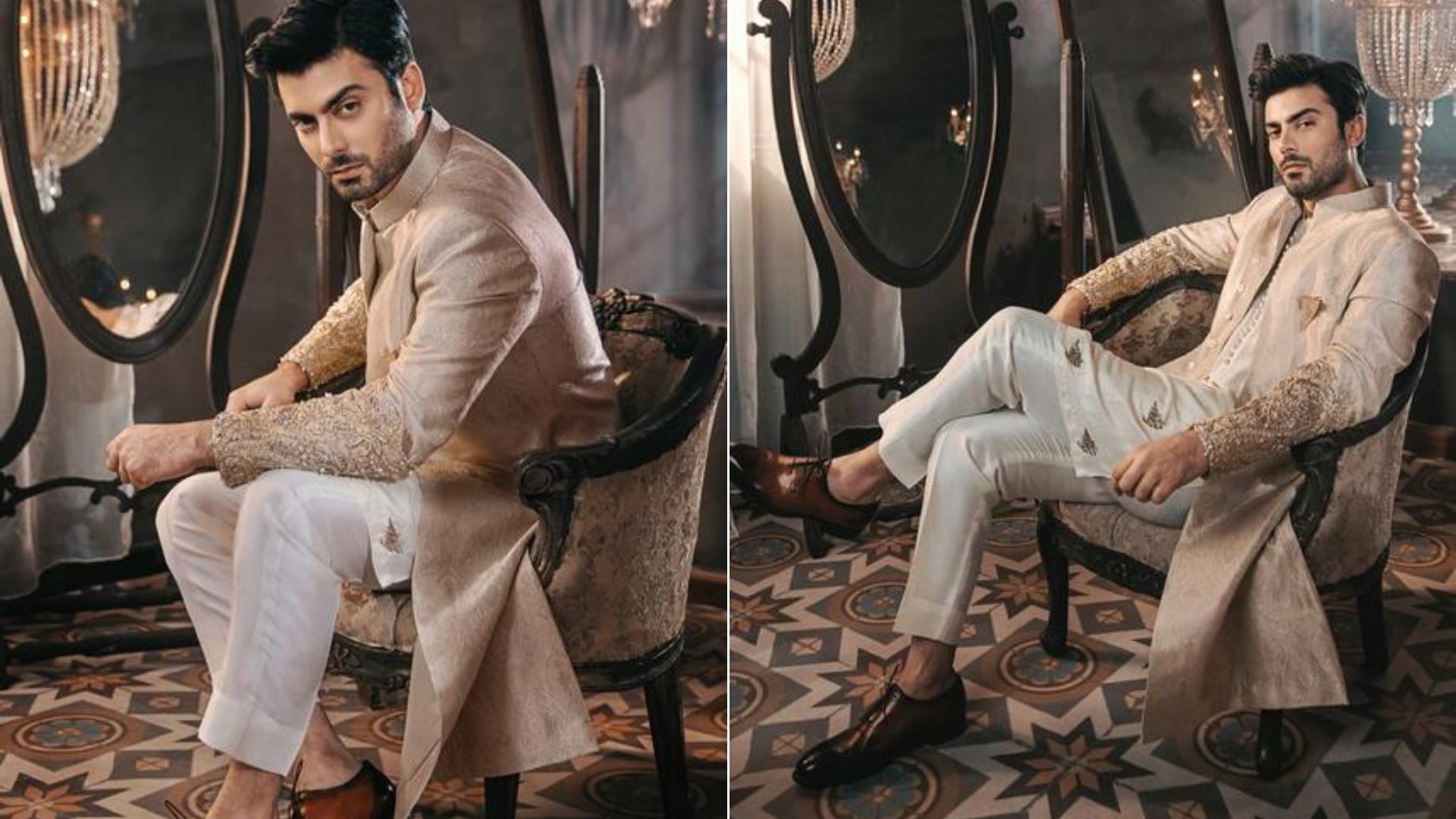 Mustard Mesh
The burnt gold kurta with embroidered front and collar is just the piece you need for a traditional Mehendi or Mayun function. It's playful without being tasteless. You know this outfit will create the right amount of graceful ease that you need for such an occasion.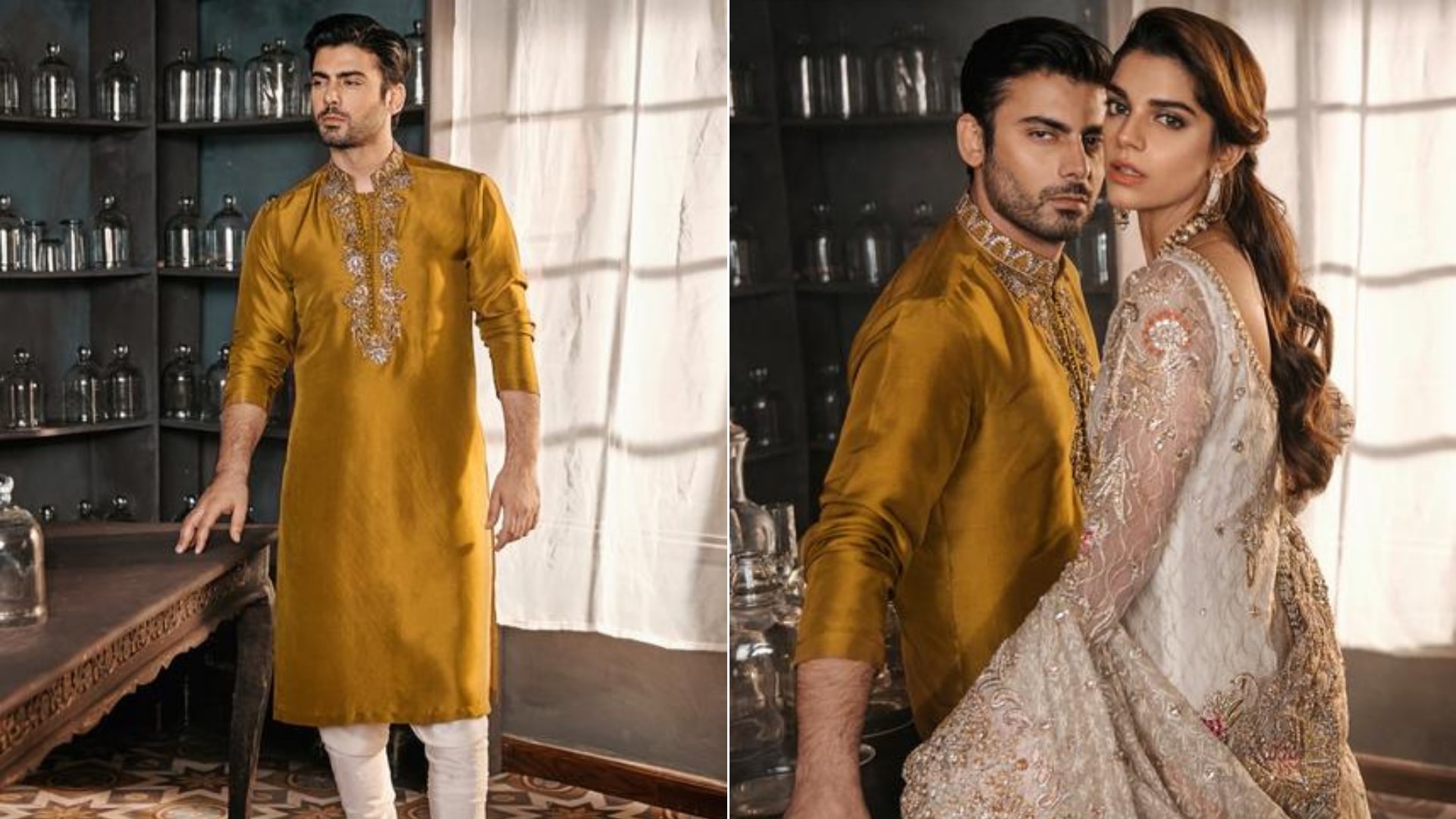 Bejeweled Waist Coat
This bejeweled waistcoat is the right choice for men to wear to the weddings of a close relative. It is bejeweled with metallic gold, ruby, and emerald colored buttons and brochure. You will like it because it's no muss, no fuss kind of an outfit, that's timeless in grace. This black colored waistcoat can be paired with any number of kurta shalwars.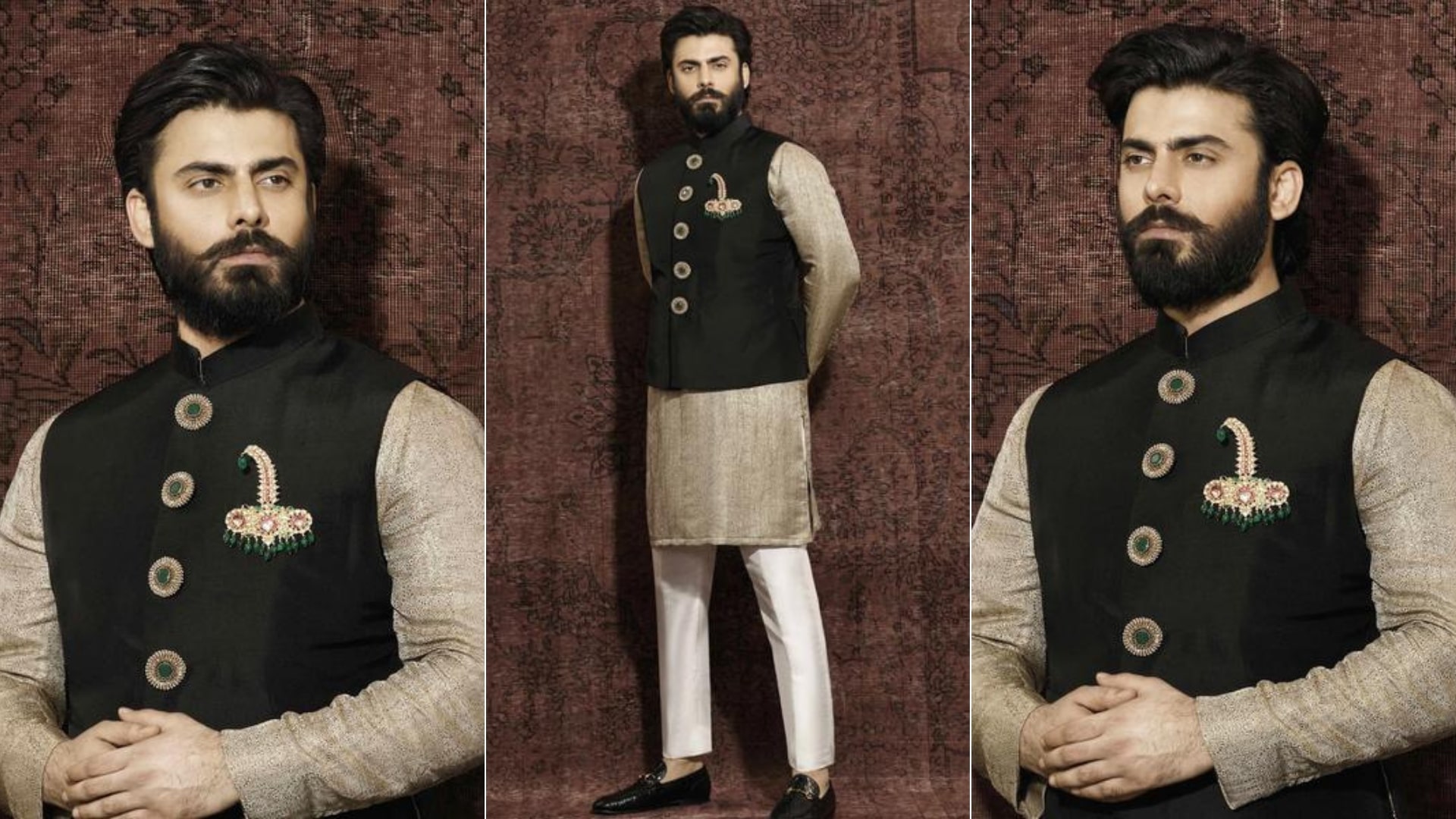 You would now agree that when Sadaf Fawad said her label had sobriety and simplicity as a key element, she was acutely on point. Her designs avoid unnecessary flash to let your own personality shine through.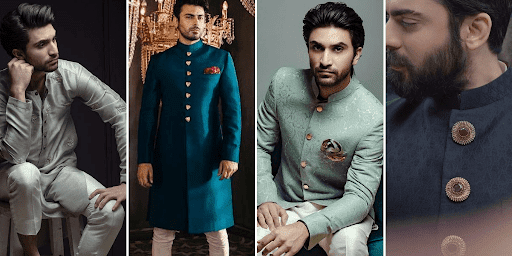 SFK Bespoke Men's Collection Redefines Modern Elegant Groomwear
Description
SFK bespoke men's collection is what you need to consider for an elegant groom's personality, that's all class and sophistication.
Admin
Bridals.PK
https://blog.bridals.pk/wp-content/themes/bridal/images/logo.png