These Celebrities Tied The Knot In Quarantine And We Love It!
Jun 03, 2020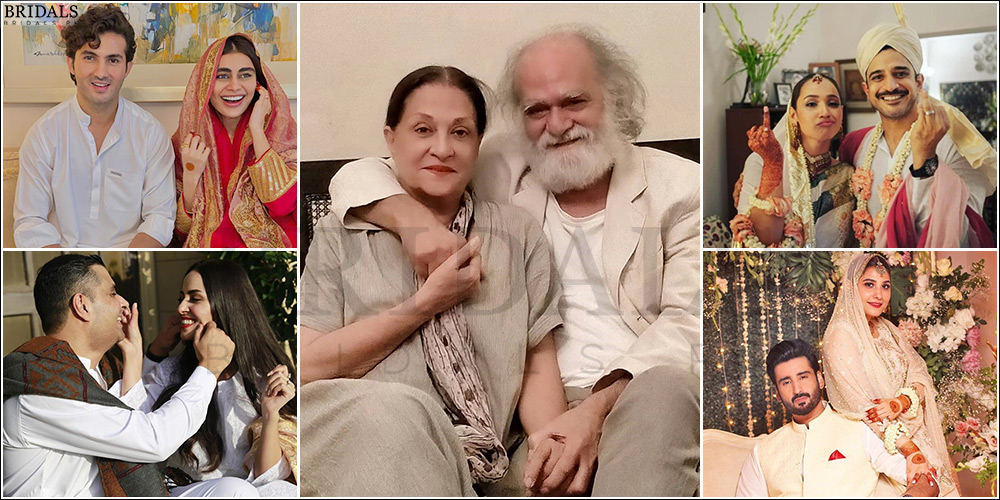 Article By: Myra Raja
Ever since the pandemic started, people put their lives on hold. Be it weddings, birthdays, any announcements, they all just paused. They say, love knows no boundaries, we are only too pleased to restore your faith in this notion. During the pandemic and quarantine, the romantics which we are about to unveil, felt they no longer could stay away and decided to be quarantined together. There have been a multitude of celebrity weddings, done according to the situation and with as little simplicity as they could muster!
1. Samina Ahmad and Manzar Sehbai
The first ones to start off with a little ray of sunshine during this rough and time were the two famous veteran actors. We have to say that this is our most favorite love story out of all! The wedding of Samina Ahmad and Manzar Sehbai. Manzar Sehbai's Instagram post had a picture of them declaring their love with the caption 4.4.20. How adorable is this! They got 'nikahfied' with their family and close relatives only. They are definitely an inspiration at 70. Their wedding was the perfect shatter to the glass ceiling our society loves to conform to. Samina Ahmad's and Manzar Sehbai's marriage shows us that love actually has no boundaries. It definitely restores our faith in the institute of marriage and most of all love! There can be an infinite light at the end of the tunnel. Only if you are willing to make it till the end and see it through. Ma Sha Allah.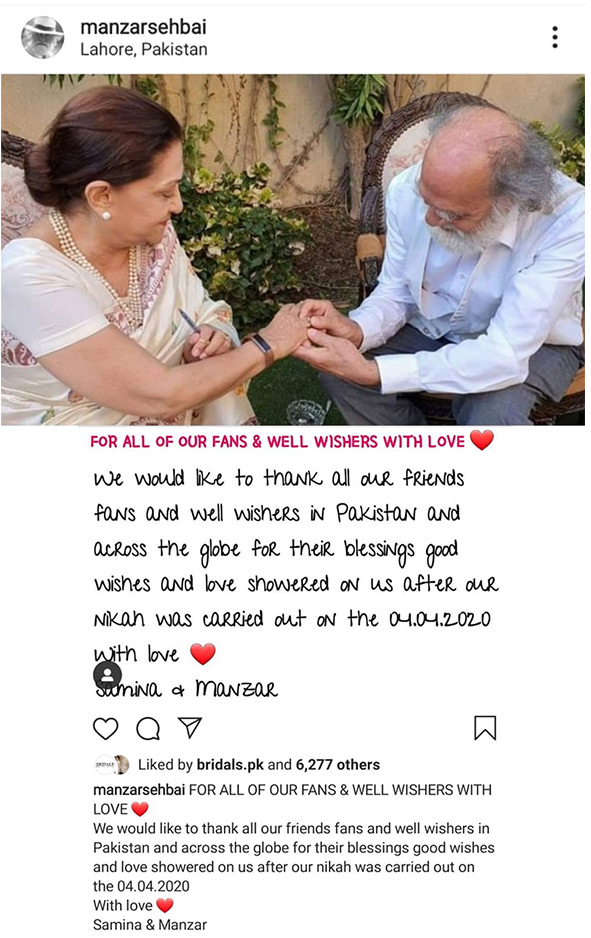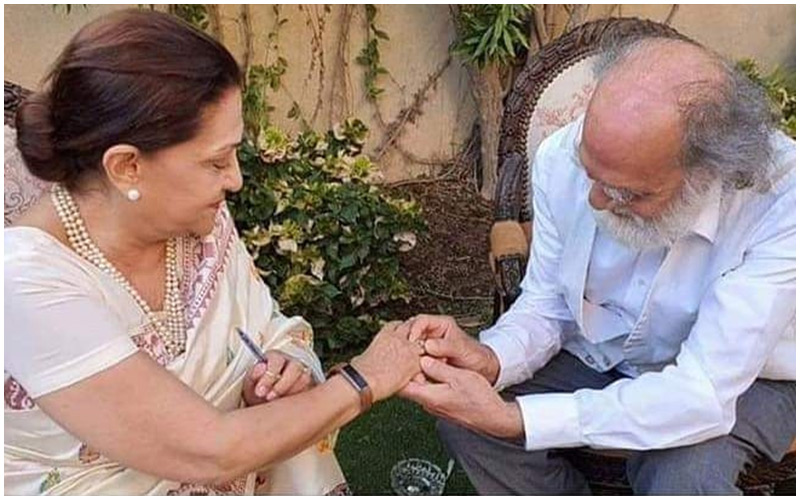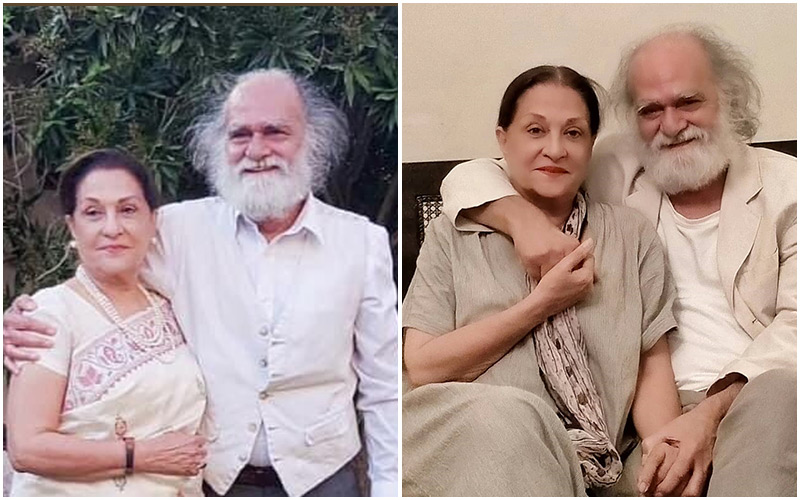 2. Nimra Khan and Iftikhar
The actress Nimra Khan was the second to follow suit. Nimra Khan and Iftikhar's wedding was held in a private wedding ceremony in London on the 20th of April 2020 and that is when she broke the news on the social media too. Nimra quoted to having said that it was totally arranged. They plan on throwing a wedding reception after quarantine. Nimra plans on staying in London and working there too. They look completely smitten with each other and we could not be happier for all those who found love in these testing times.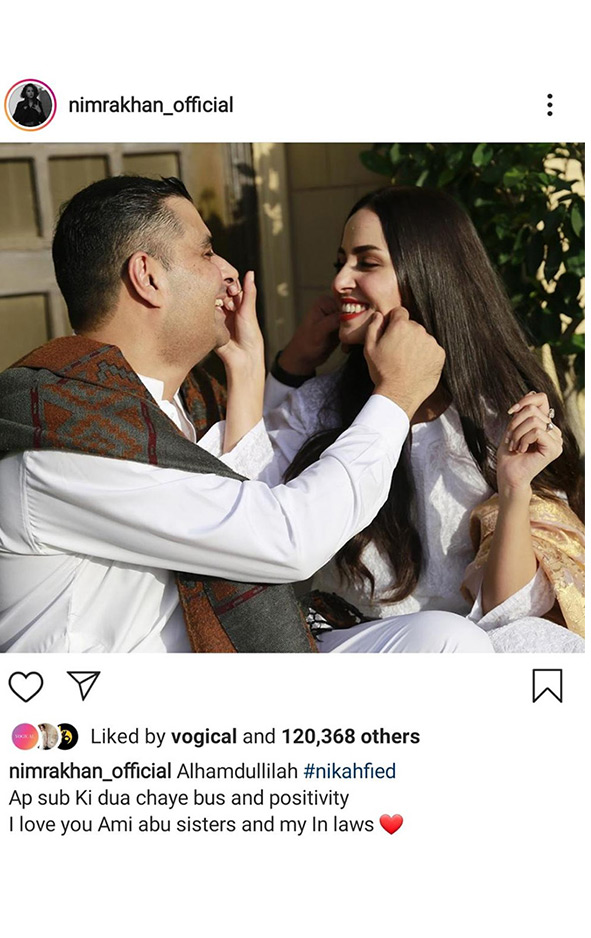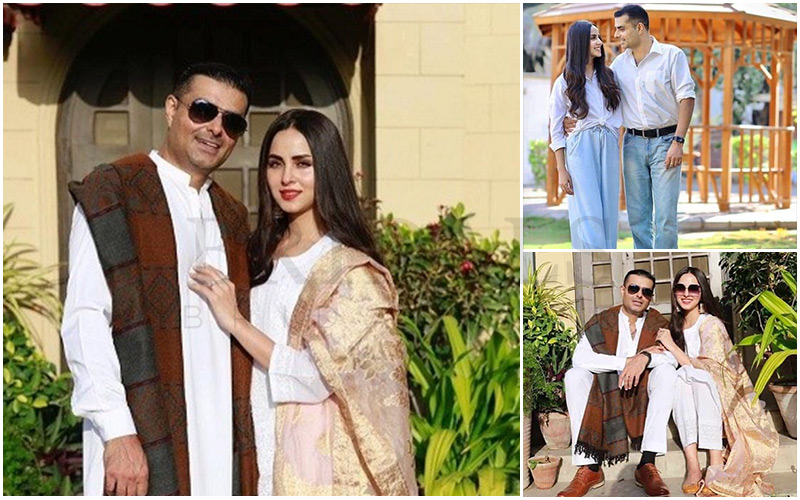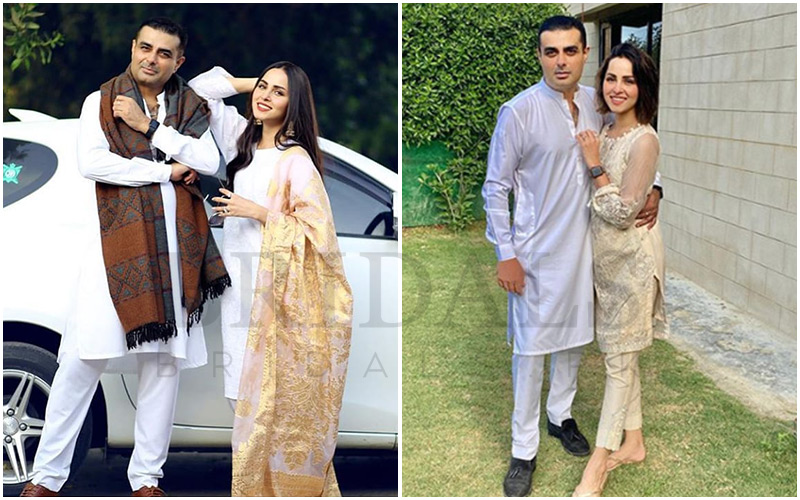 3. Hina Altaf and Aagha Ali
The next in line to jump on this bandwagon were actors Hina Altaf and Aagha Ali. Both the actors have a very interesting love story to share as well. They both claim that when they first saw each other, they didn't get along from the get go rather they became friends and as time passed, they liked and finally started having feelings for the one another. In time, they decided to get married. Aagha Ali was engaged to Sarah Khan about two years ago but they ended that and ever since then have moved on despite all the rumors. The timing was right for them as they chose the blessed day of Jummah-tul-Widah as the day they decided to live with each other forever – 22.5.2020.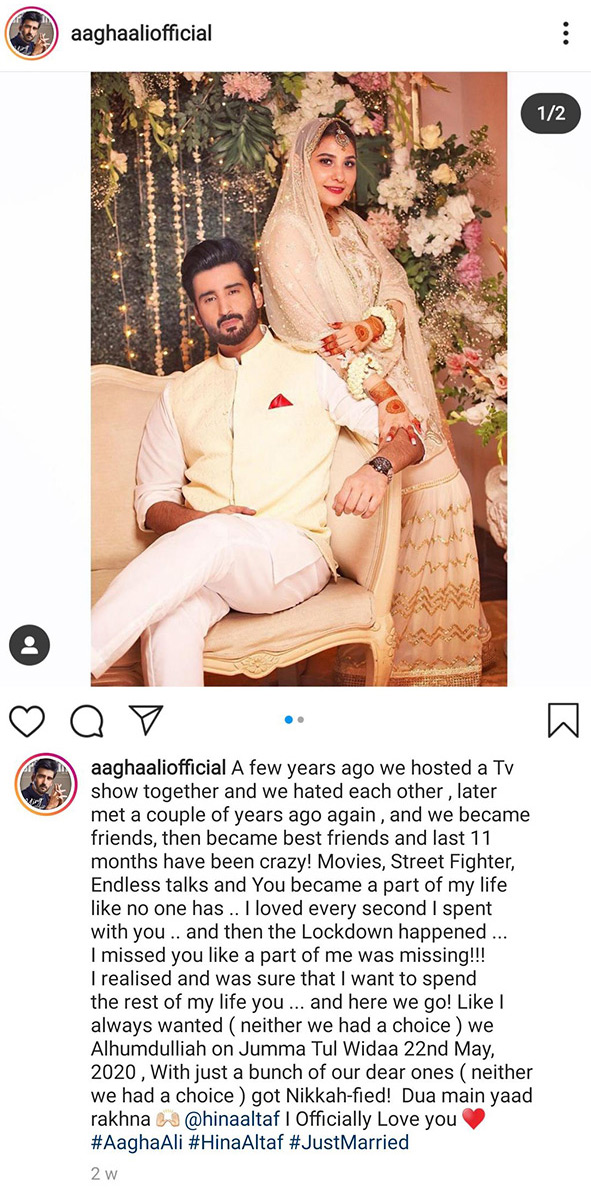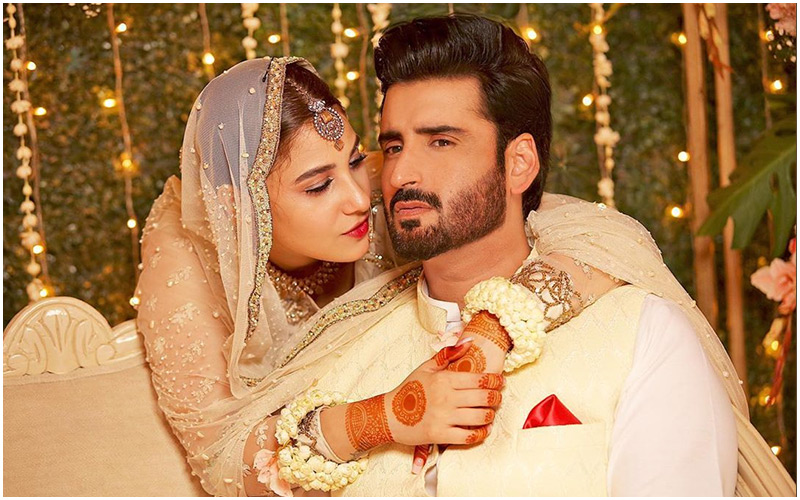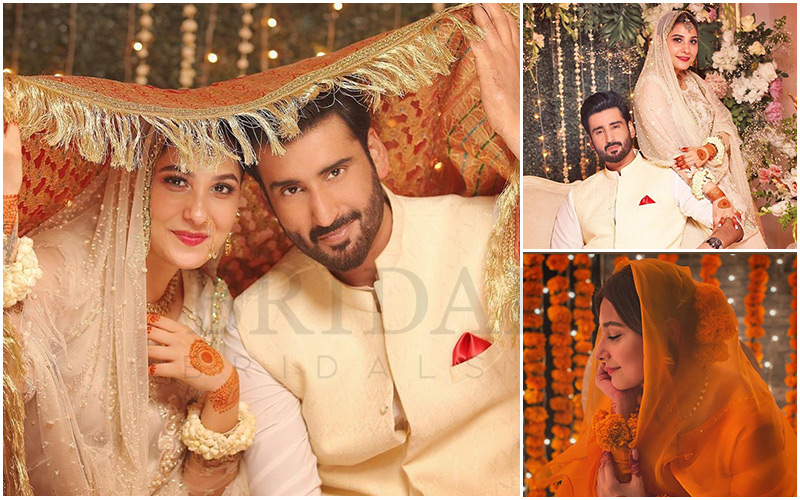 4. Faryal Mehmood and Daniyal Raheal
The next one in line are these two lovebirds who had been in a long-committed relationship. Faryal Mehmood and Daniyal Raheal are continuing the hitched lockdown series. On May 28th 2020 these luminaries and their beautiful wedding pictures took the internet by storm. They dated for two years and we were expecting this day sooner but again there is no such perfect timing! We couldn't be happier for this lovely couple. They tied the knot in a close-knit family affair and it was an oh-so perfect traditional wedding. Where the bride and the groom looked stunning adorning full on traditional attire', (more than traditional we'd say) with the groom donning a dhoti and the bride looking beautiful in a stunning white outfit.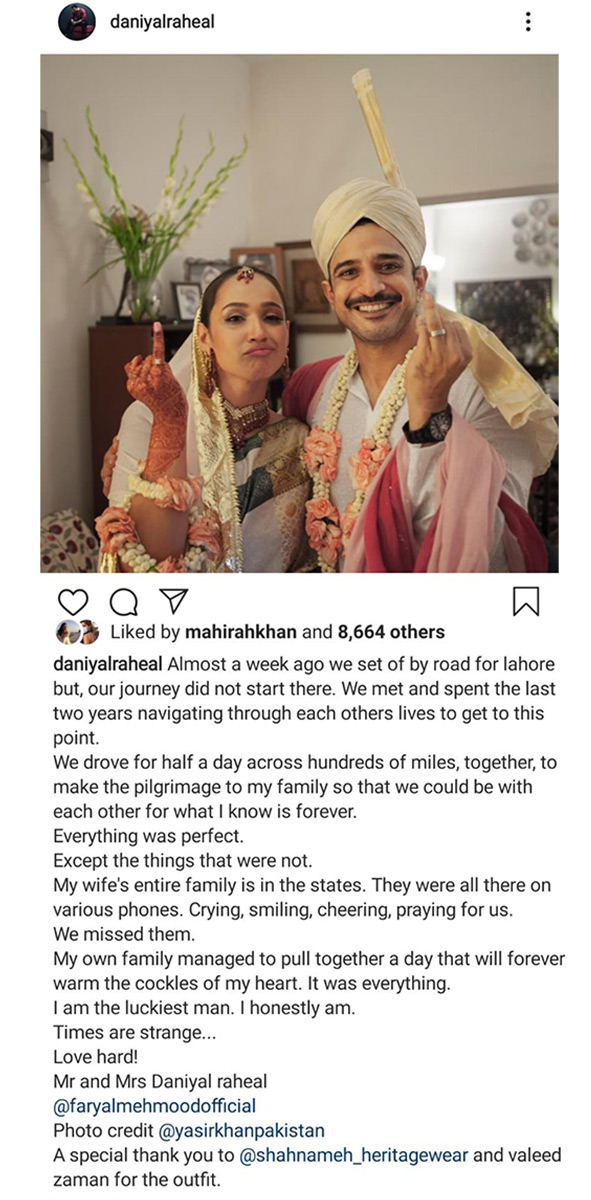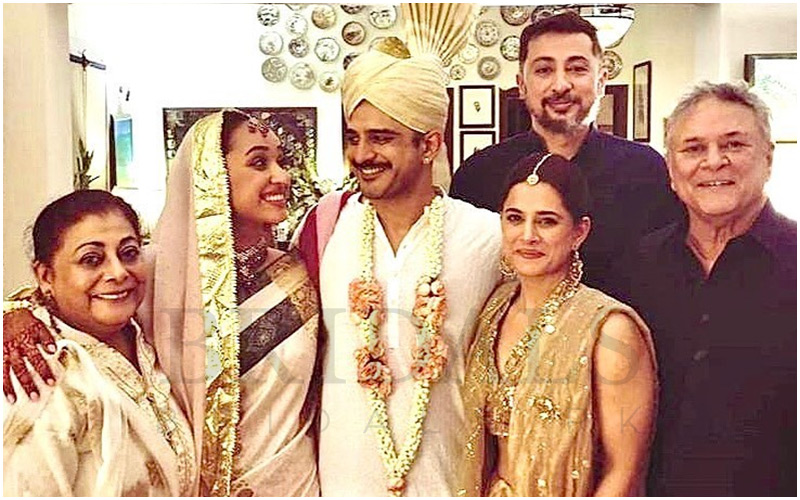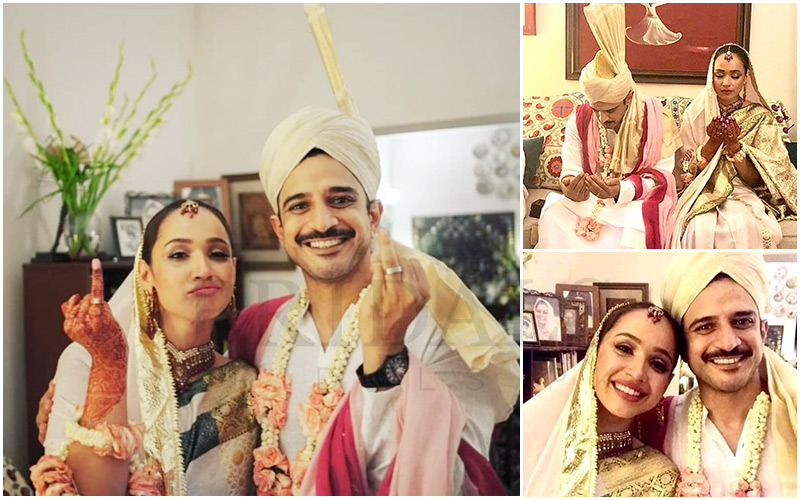 5. Sadaf Kanwal and Shahroz Sabzwari
The last but not the least, this next couple has made quite a few headlines and are #trending number one on twitter maybe! Yes, you've guessed it right, it's the Sabzwari wedding! Sadaf Kanwal and Shahroz Sabzwari had an intimate nikkah with family and close friends. Despite the rumors and the denial after Syra Yousuf and Shahroz' divorce, both the newlyweds always negated any connection to each other. Well, it's out in the open now, for all to see. Sadaf was seen wearing a red and gold jora that was her mother-in-law's and was gifted by her to her new daughter-in-law! The dates are not clear either as our papperazi saw Sadaf draped in a blue saari, against an off white wall which Shahroz has been seen posting against with henna painted hands dated April 24th, although the Instagram announcement was made on 31st May, when the entire social media went into a frenzy after they saw Sadaf change her last name from Kanwal to Sabzwari! Now, you be the better judge, go figure it out and put two and two together!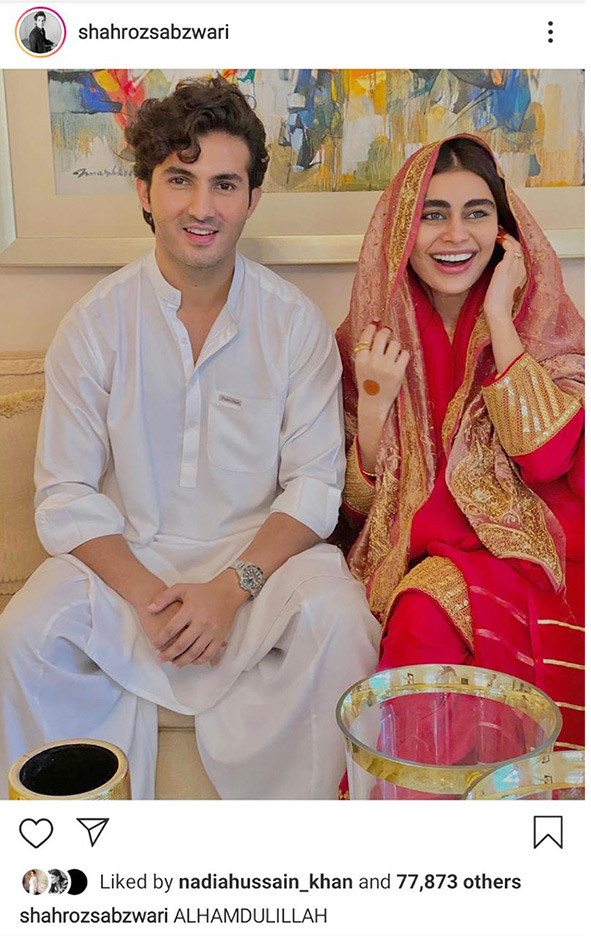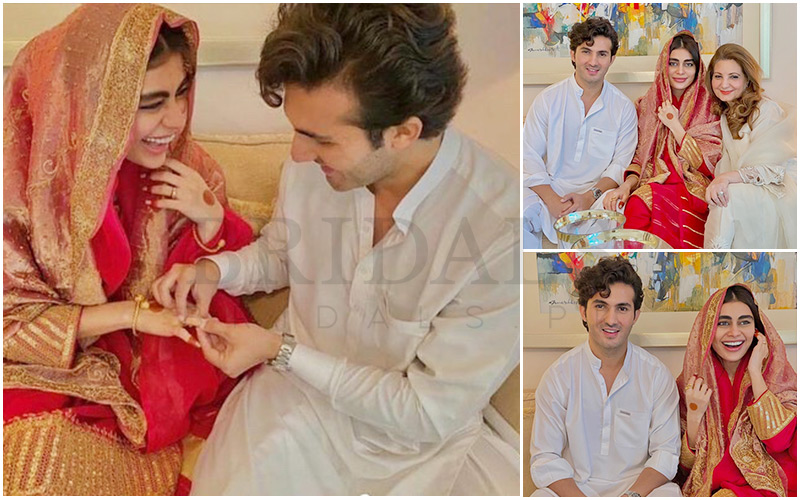 What all the weddings have in common are that the couples announced them as being married after the proceedings had been done with. Along with their pictures on Instagram as a part of their announcement. Another major and the most important thing that was in common was that they didn't throw a lavish party, it was kept simple. They all entered the new phase of their lives by their soulmate and a few loved ones by their side and we all should take inspiration from this! We wish the pandemic weddings all the best and hope that they last for all of eternity. Let's see how many more happen during this time, till then cheers to all.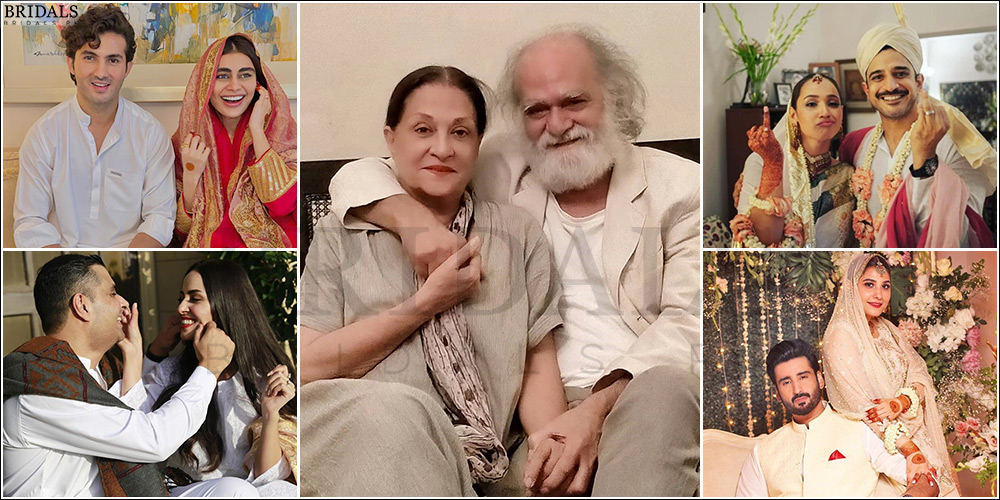 These Celebrities Tied The Knot In Quarantine And We Love It!
Description
Admin
Bridals.PK
https://blog.bridals.pk/wp-content/themes/bridal/images/logo.png