Sana Sarfaraz Walks Down The Aisle With Her Love, Amin Qureshi!
Dec 16, 2019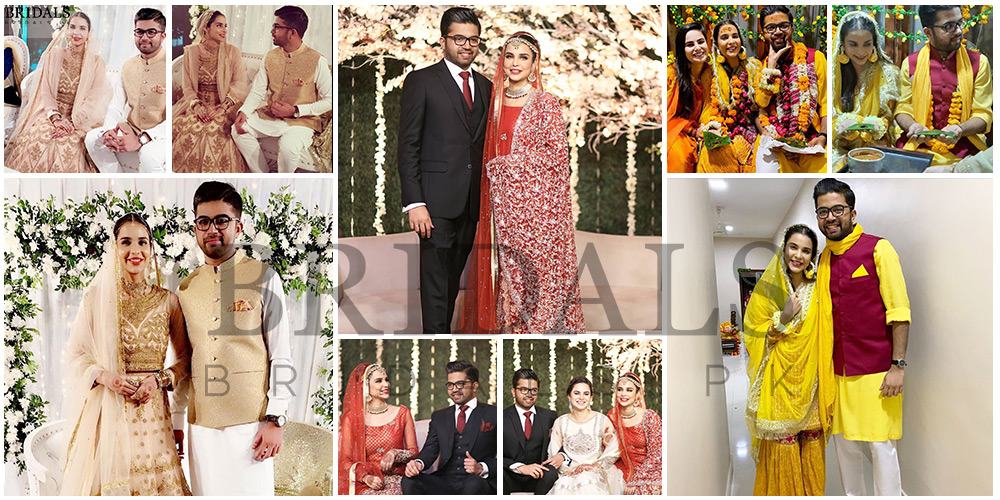 Article By: Hadia Hassan
Sana Sarfaraz just walked down the aisle with the love of her life Amin Qureshi and the whole affair was simply beautiful! We aren't even over their proposal yet! Amin Qureshi got down on one knee to propose her on the beach in Dubai. The stunning model/actress wore a dark blue dress and a silver necklace with it and the whole thing was something out of a dream! For anyone who doesn't know who Sana Sarfaraz is, she is a Pakistani actress and model known for her role in the TV show Zindagi Gulzaar Hai. Her husband on the other hand is based in Dubai and works in aviation.
Being the gentleman that Amin Qureshi is, months after the proposal he made sure he got nikkahofied to her. He finally made things official with "the most gorgeous woman in the world." We are in love with the love these two share and how Amin Qureshi dotes on her!
Here is their whole journey summed up in pictures!   
1. Proposal
He got down on one knee and proposed! She said yes! And they became each other's happily ever after and their Nikah took place a few months later! Here is the whole proposal in pictures!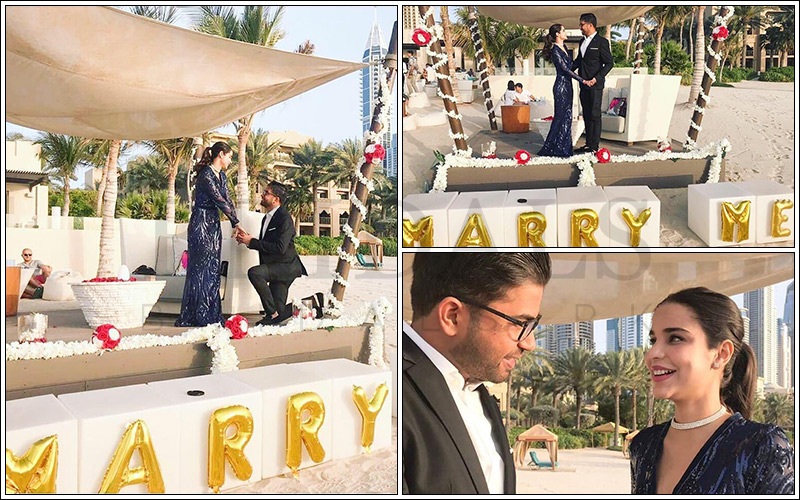 2. Nikah
Sana Sarfaraz awed us all when she posted pictures of her Nikah with Amin Qureshi on Instagram! She lovingly captioned the pictures by saying that:
 "To the man who once kneeled down and promised to stay put through thick and thin – and here we are today officially nikkahofied Alhamdolilah.
Mr. Amin, you the man of your words, I love you!"
 – Sana Sarfaraz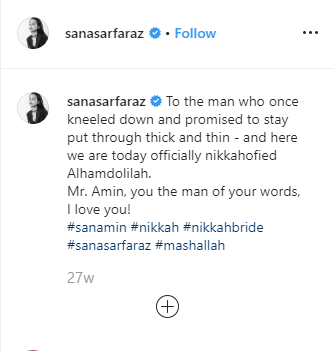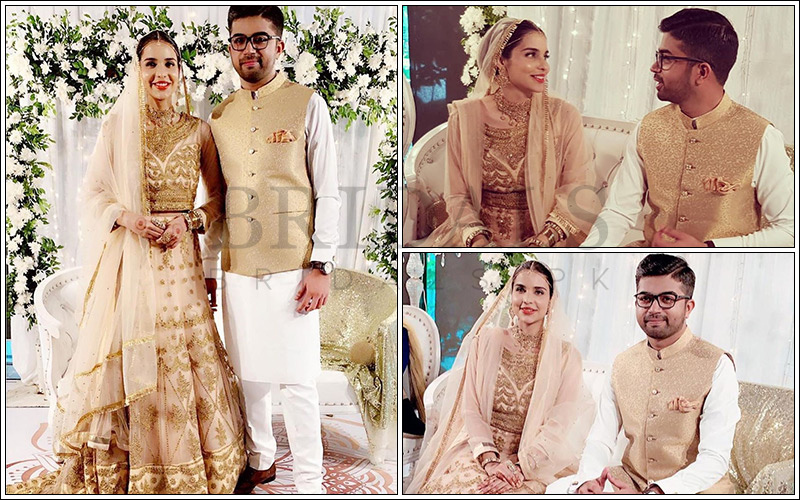 3. Mayun
Their mayun was a simple, close event and they only invited close family members to it. The ceremony was intimate, and simple! We loved how they decided to stay grounded. Here are some adorable family moments from their mayun that we can't seem to forget!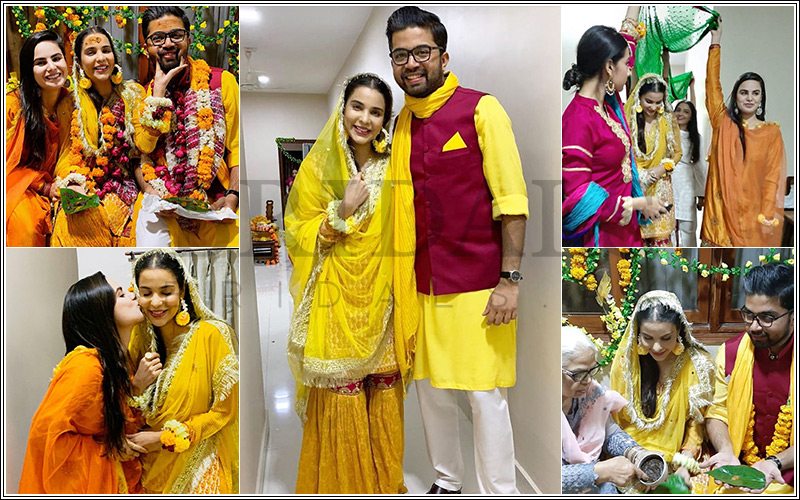 4. Baraat
Lastly, to give us a sneak peek into her baraat she uploaded pictures from her baraat and thanked everyone who made her wedding possible in the caption. She expressed gratitude to her mother and sister without whom she wouldn't have been able to walk down the aisle. She also thanked her husband who she says didn't let go of her hand even when she was at her lowest. In the end she thanked her lovely bridesmaids who tolerated her Bridezilla fits and sat down on the floor and fixed her beautiful red lehenga when they had to! Here is how gorgeous she looked on her baraat!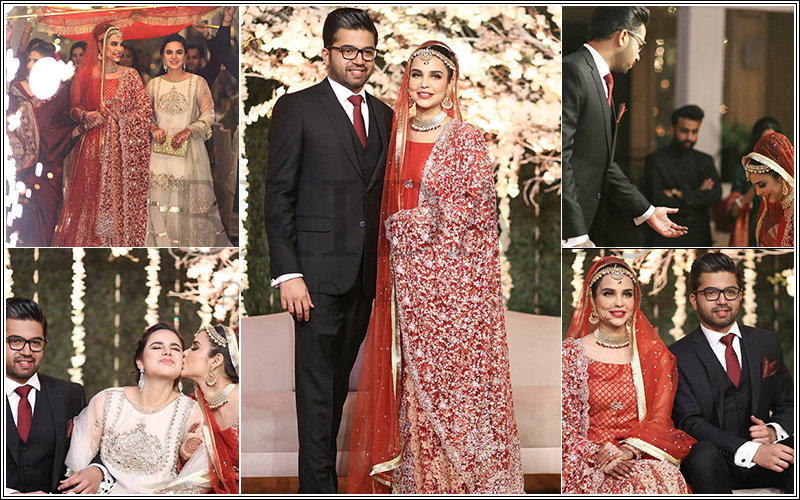 We wish these two lovebirds all the very best for their future and hope that they find their happily ever after in each other!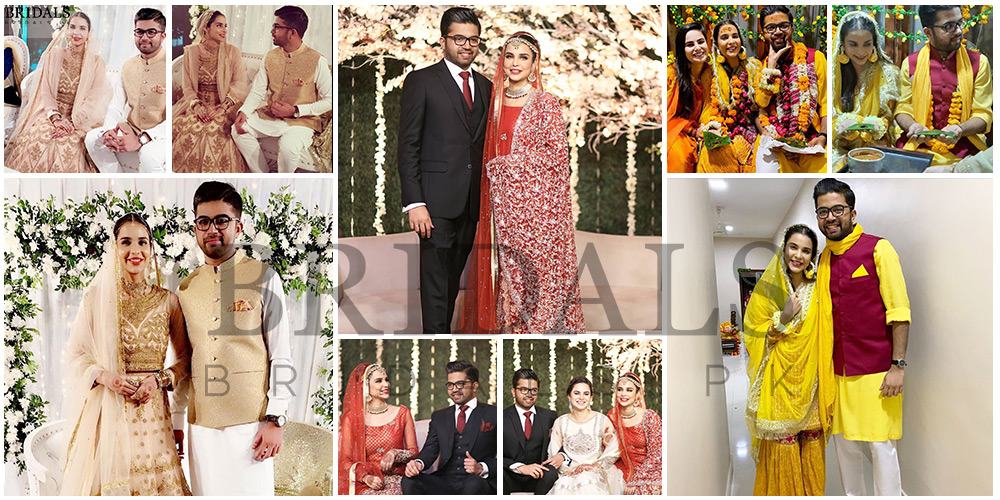 Sana Sarfaraz Walks Down The Aisle With Her Love, Amin Qureshi!
Description
Happily ever after's do exist!
Admin
Bridals.PK
https://blog.bridals.pk/wp-content/themes/bridal/images/logo.png