Jane Austen Quotes That Will Re-Establish Your Faith In Love And Marriage!
Nov 21, 2019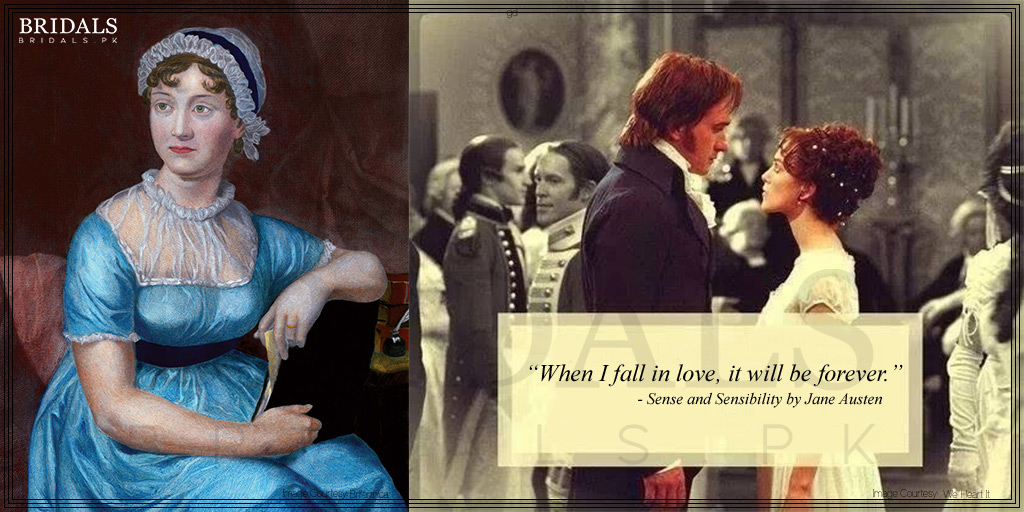 Article By: Hadia Hassan
I still remember reading my first ever copy of Pride and Prejudice back in 6th grade. Of falling in love with madam Austen's beautiful and sensible words on love. Her books gave the twelve-year-old me perspective on the society. It made me understand the finer aspects of womanhood and its judgmental ways. Of life and its harsh realities. If anything her books taught me that sometimes love is not enough to keep two people together. Factors like society, poverty and women and their endless gossip can draw a wedge between two lovers forever.
As I grew older I read more and more of her work and each of her character taught me something meaningful. I learned how to always be myself and never be embarrassed of my roots from Elizabeth Bennet. Mr. Darcy taught me how a person's shyness can sometimes be mistaken for vanity and reluctance to interact with people. Emma taught me to not go around matchmaking and to let things take their natural course when it comes to love. Marianne Dashwood taught us to never be naïve in life and trust the first eligible bachelor who life sends our way just like her sister Elinor taught us to cover up for our little siblings and to retain our composure and not hide our feelings from the person we love.
Mansfield Park taught us how poverty can destroy a marriage sometimes and Fanny Price in particular taught us that to not let people walk all over us because we belong to the lower class.
Jane Austen's books have everything a young lady needs to know before entering womanhood. All of Miss Austen's heroes were true gentlemen and girls to date drool over the men of substance she created decades ago. The words with which they confessed their love to the women they loved is absolutely beautiful!
So, here are some of our favorite Jane Austen quotes on love and marriage that you can use to confess your love to your partner! Be it quotes from Mr. Darcy's heart wrenching letter to Elizabeth Bennet or Captain Wentworth's desperate pleas of love, the following list has it all!
1. "My heart is and always will be yours."
 – Jane Bennet, Pride and Prejudice
2. "From the very first moment that I first beheld him, my heart was irrecoverably gone."
– Northanger Abbey
3. "We are all fools in love." – Charlotte Lucas, Pride and Prejudice
4. "Do anything rather than marry without affection." – Jane Bennet, Pride and Prejudice
5. "Happiness in marriage is entirely a matter of chance." – Charlotte Lucas, Pride and Prejudice
6. "When I fall in love, it will be forever." – Jane Austen , Sense and Sensibility: The Screenplay
7. "She was one of those, who, having, once begun, would be always in love." – Emma Woodhouse, Emma
8. "In vain I Have struggled. It will not do. My feelings will not be repressed. You must allow me to tell you how ardently and truly I admire and love you."
– Fitzwilliam Darcy, Pride and Prejudice
9. "You pierce my soul. I am half agony, half hope. Tell me not that I am too late, that such precious feelings are gone forever. I offer myself to you again with a heart even more your own than when you almost broke it, eight years and a half ago. Dare not say that man forgets sooner than woman, that his love has an earlier death. I have loved none but you."
– Captain Wentworth, Persuasion.
10. "I cannot fix on the hour, or the spot, or the look, or the words, which laid the foundation. It is too long ago. I was in the middle before I knew that I had begun."
– Fitzwilliam Darcy, Pride and Prejudice
So ladies, beware how you give your heart and who you give it to might we add! And if you haven't found your man yet then don't worry the right man will come along! However, if you're a modern day gentleman who's in love then use these Jane Austen quotes to melt your girl's heart!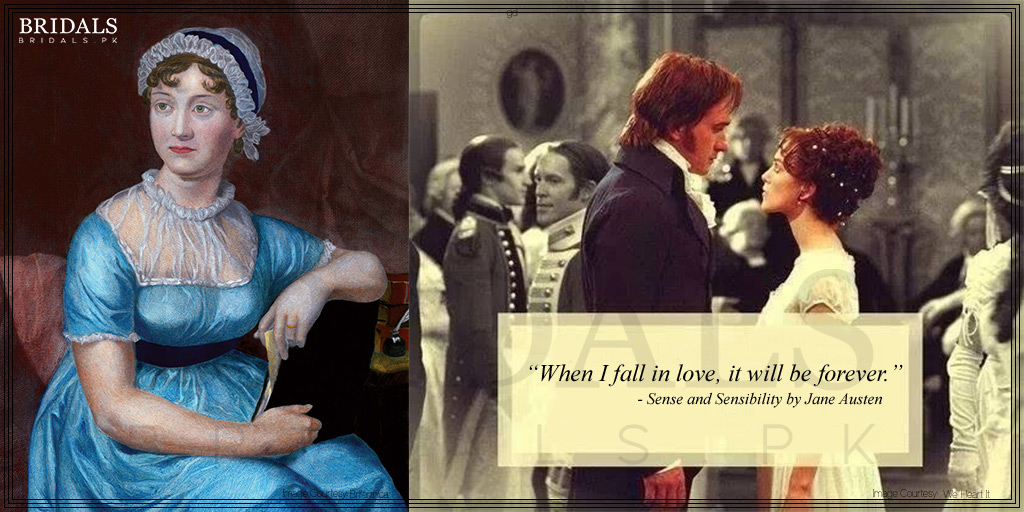 Jane Austen Quotes That Will Re-Establish Your Faith In Love And Marriage!
Description
"To love is to burn. to be on fire!"- Jane Austen
Admin
Bridals.PK
https://blog.bridals.pk/wp-content/themes/bridal/images/logo.png