Eman Suleman Ties The Knot With Syed Jamil Haider Rizvi With Love, Laughter And Music!
Jan 28, 2020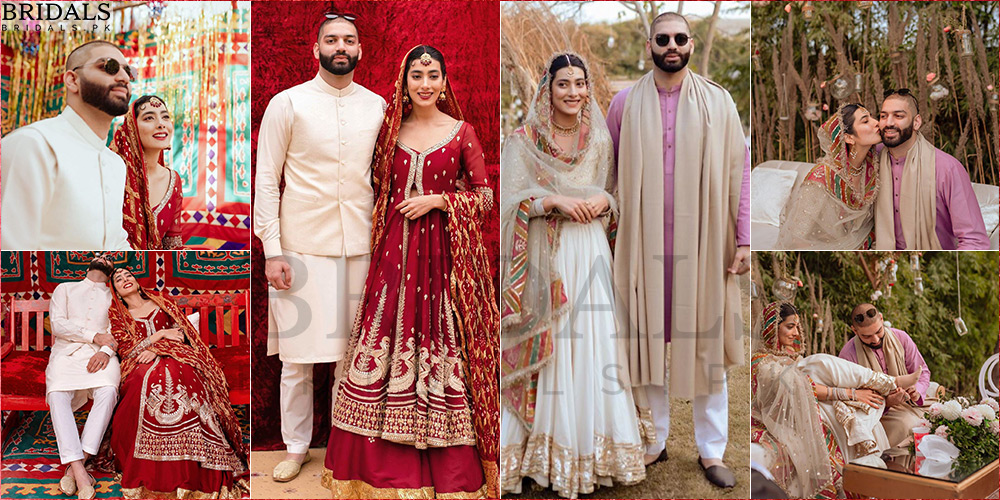 Article by: Zahra Haider
Eman Suleman, a much famous and witty model, tied the knot with Syed Jamil Haider Rizvi in the simplest of manner ever and we have been all eyes and ears since then. It's exactly like the model herself – simple, no over the top bling or anything pretentious. Close friends and family were invited and all her functions were full with warmth and love. She redefined the ongoing wedding fashion of "everything excess" by showing everyone that how things can equally have an impact even when kept simple. Eman, is as unapologetically herself and we can see a glimpse of their fun filled relationship from their wedding announcement on Instagram which was anything but serious to all the shaadi festivities.
Video: via @the_ videographers
1. Qabool Hai!
Her nikkah was quite simple yet classy and basic which is exactly what nikkah's are about. They both wanted an even simpler wedding but that wasn't in the cards for them because of their parents. But, still both of them managed to keep it as minimal as possible! She wore a lovely Zara Shahjahan ensemble for her mehndi and words can't describe the plainness and the unfussiness with which she carried herself and yet looked beautiful. She exuded simplicity at its best. The décor was done exactly how she wanted it, in whites, the same as her dress and by default whimsical. It was done by her friend Hashim Ali who was also one of the witness in her nikkah.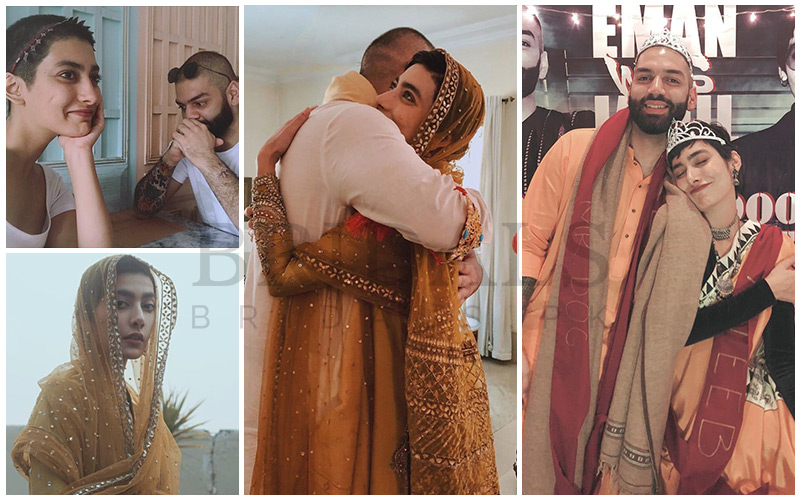 2. Shadi Mubarik!
The baraat was an ode to the era of 70s and 80s. There were red banners with shaadi mubarik and happy marriage written in gold color on them. Colorful teepee surrounded them, gold hangings and paper flower hangings, exactly how it used to happen back then. Rich in culture, rooted and full of color and life! Shazia Cheema from The House of Shazia Cheema was the event planner and she absolutely did justice to the theme of Eman's and Jamil's wedding. Eman wore a traditional bridal outfit by the talented Zara Shahjahan and she looked one hell of a radiant and gorgeous bride! It was a crimson colored pishwas with a classic combination of gold and silver dabka on it. She wore minimal jewelry. She chose to wear a traditional tika and jumka's by the great Shafaq Habib. Both the bride and the groom kept their look simple and traditional. Jamil also wore a plain off-white waist coat over kurta and pajama.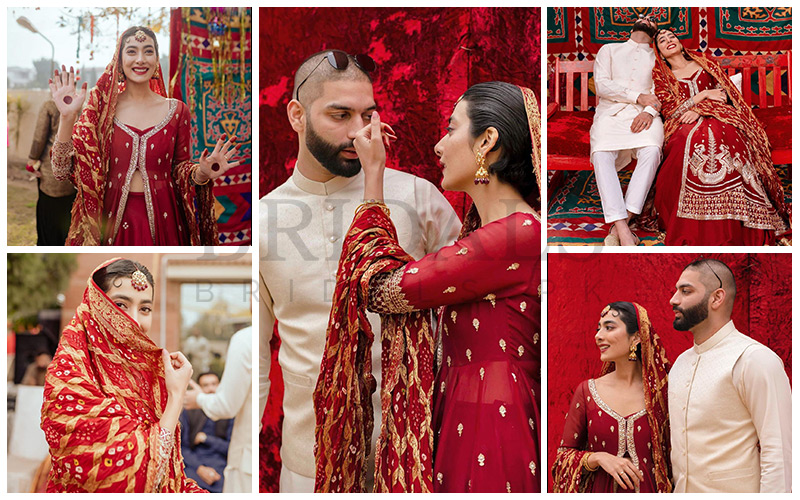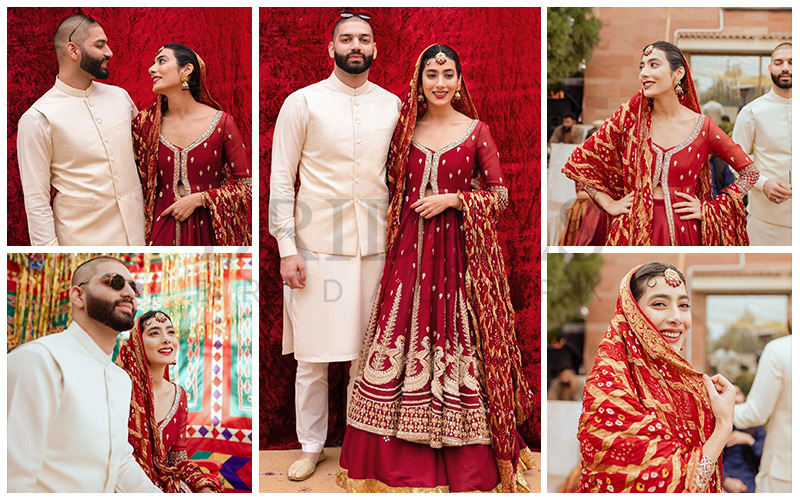 3. Ending On A Great Note – The Valima
Her valima bridal was again designed by Zara Shahjahan and once again a subtle stunner that we could not keep our eyes off.  With a traditional mala and jewelry that felt like it was made for her! The hair and makeup by Ayan Khan was also spot on. In short, she looked like a dream and what we loved about her was that she stayed true to her personality!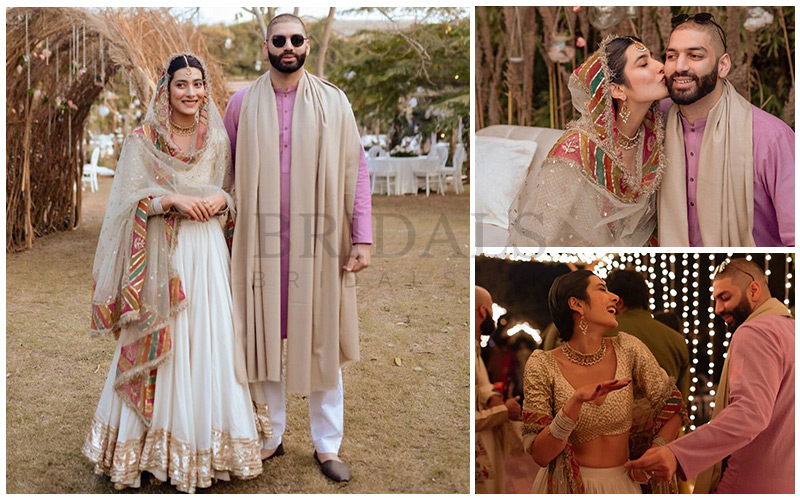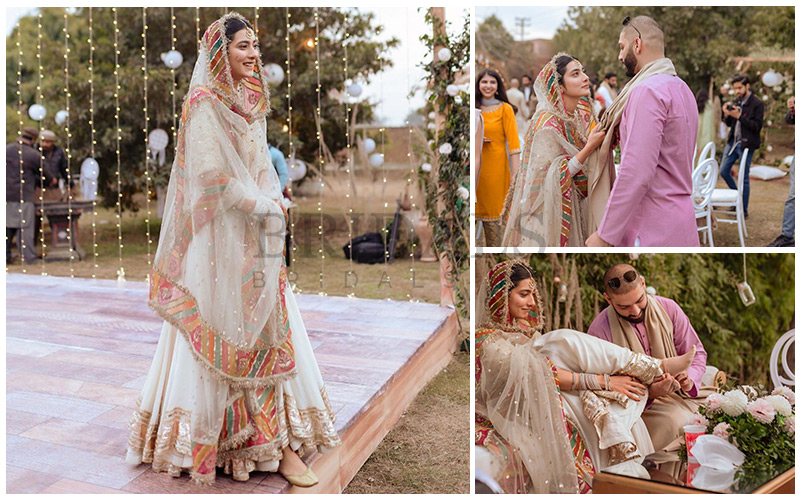 This happy couple showed all of us that when you're in love then nothing else matters. There was love, laughter, dance, food (lots of it) and good music! With a simple idea of just enjoying and cherishing their bond and lifelong commitment, we wish them a simply happy married life ahead!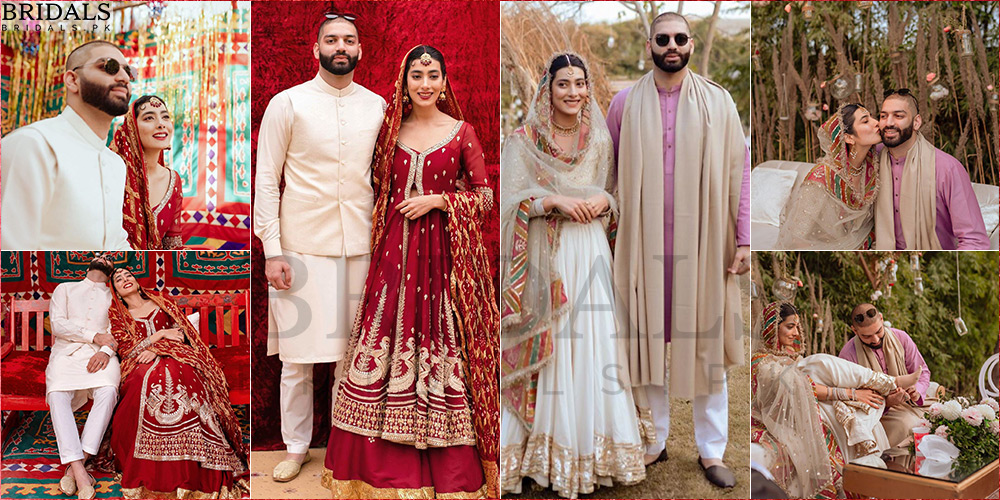 Eman Suleman Ties The Knot With Syed Jamil Haider Rizvi With Love, Laughter And Music!
Description
Eman Suleman the minimalistic bride!
Admin
Bridals.PK
https://blog.bridals.pk/wp-content/themes/bridal/images/logo.png