Highlights: Style Inspirations From Cannes 2019 For Summer Destination Weddings
Jun 07, 2019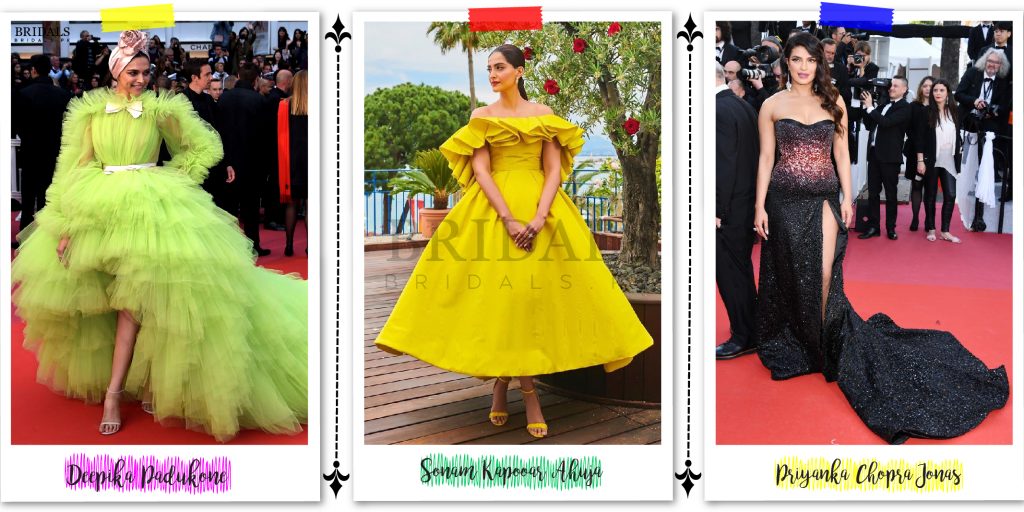 Article by: Hadia Hassan
Cannes is the world's biggest fashion extravaganza and every year actors, super models and European A-listers from around the world flock to Cannes, in the South of France to attend this legendary film festival. In the past, style icons such as Elizabeth Taylor, Grace Kelly and Princess Diana have all cast a spell on us at Cannes by donning on some of the most beautiful dresses in history. Just like stars from the rest of world some Pakistani celebrities are also invited to the Cannes every year. We were all enraptured when Mahira Khan raised the style bar for everyone else in our film industry at Cannes last year. Indian divas such as Aishwarya Rai Bachchan, Sonam Kapoor Ahuja and Priyanka Chopra Jonas are also known to put their best foot forward at this 10-day festival to inspire us with their impeccable fashion sense and man are we in love with their dresses!!!
After the display of extravagance brought to the Met Gala, stars embraced the mantra "less is more" at Cannes. This year's Festival de Cannes was all about satin and lace dresses. This is all the more reason for every bride who's tying the knot this year to simply say "carpe diem" and cash this opportunity to take massive style inspirations for her bride's maid dresses. If you're planning a destination wedding this summer, then these stunning summer style inspirations will help start your thought process and help you come up with drop-dead satin and lace dresses of your own for the wedding!
Here are some dresses from festival de Cannes that you won't be forgetting any time soon!
1. Deepika Padukone
It simply goes without saying that Deepika's sense of style is beyond commendable. After her Barbie look at the Met Gala this year, Deepika opted for a neon as well as a monochromatic color palette at the Cannes. Here are all of Deepika's mesmerizing looks from the Festival de Cannes.
Day 1: She kicked off the festival with a voluminous white and black dress by Dundas and paired it with a complete L'Oreal hair and makeup look.
Day 2: She opted for a blue and white striped suit designed by Loewe on the second day! For her second look she opted for a black tulle dress designed by Off-white. Her third look was a lacy white top with a sexy white bra and matching white pants to go with them and her fourth look of the way was a floral dress by Erdem that gave us major summer vibes!
Day 3: Deepika ended the Cannes with a summer appropriate neon green gown by Giambattista Valli Paris that is perfect for a destination wedding!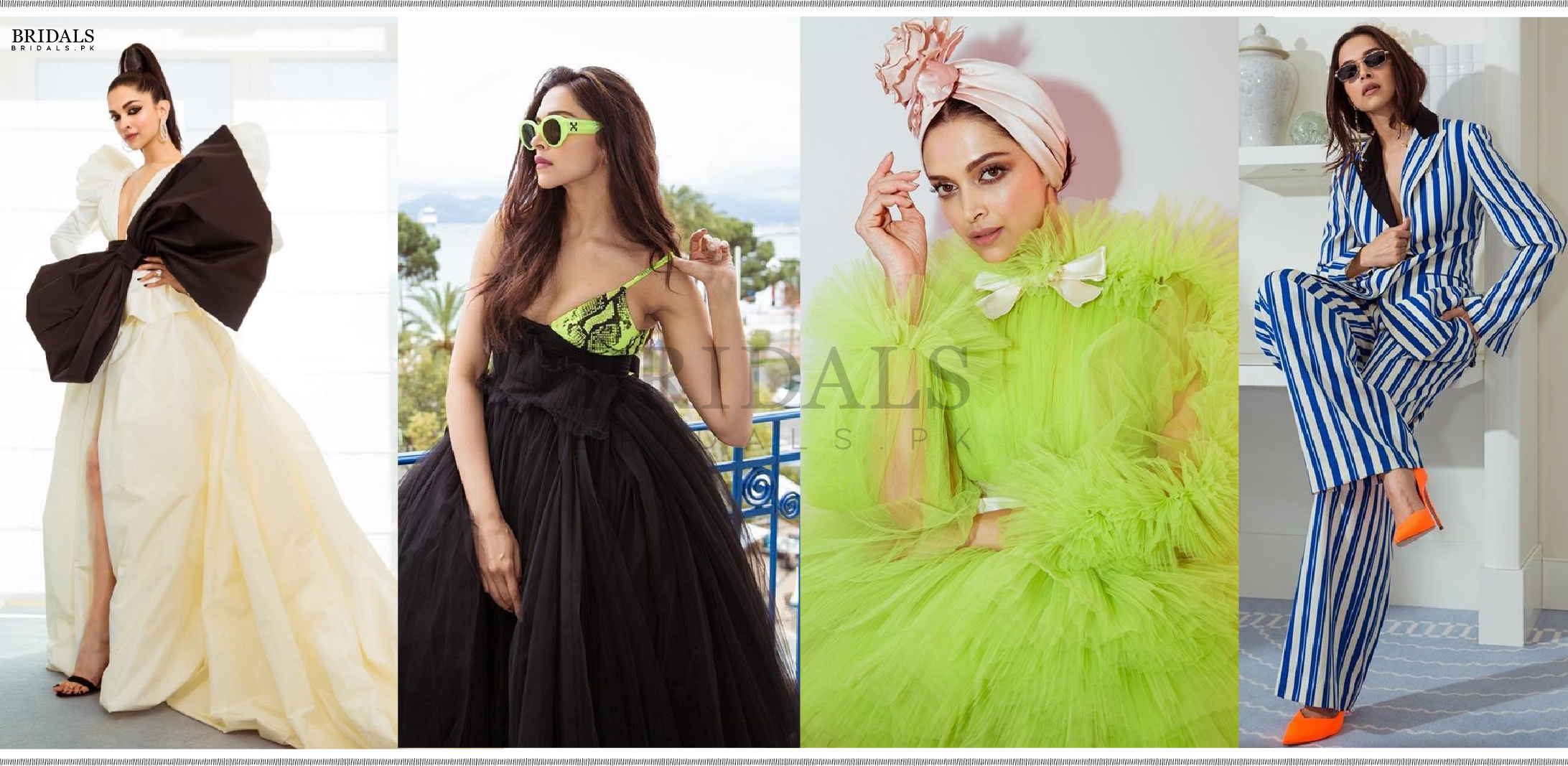 2. Priyanka and Nick Jonas
This celebrity couple is always in the spotlight and their endless PDA makes us go all mushy inside!
Day 1: Priyanka started off the festival in a stylish white pleated jumpsuit by Honayda SARL and paired it with Chopard jewels and an Akris bag.
Day 2: Priyanka decided to keep things simple just like everyone else at Cannes this year and went for a slight pastel blue dress at the beginning of the festival and paired it with Aquazurra PVC sandals and a subtle white hat. Priyanka chose to wear a beautiful black Roberto Cavalli dress and Chopard jewels at the second day on the red carpet.
Day 3: Priyanka wore a gorgeous voluminous white dress by Georges Hobeika on the screening of Les Plus Belles Années and accessorized it with Chopard jewels. Nick and Priyanka made quite the sight at Cannes and looked hot enough to set the red carpet on fire at several points in the festival. Let's admit it peeps we get some serious Nataly and Murad Osmann vibes from them!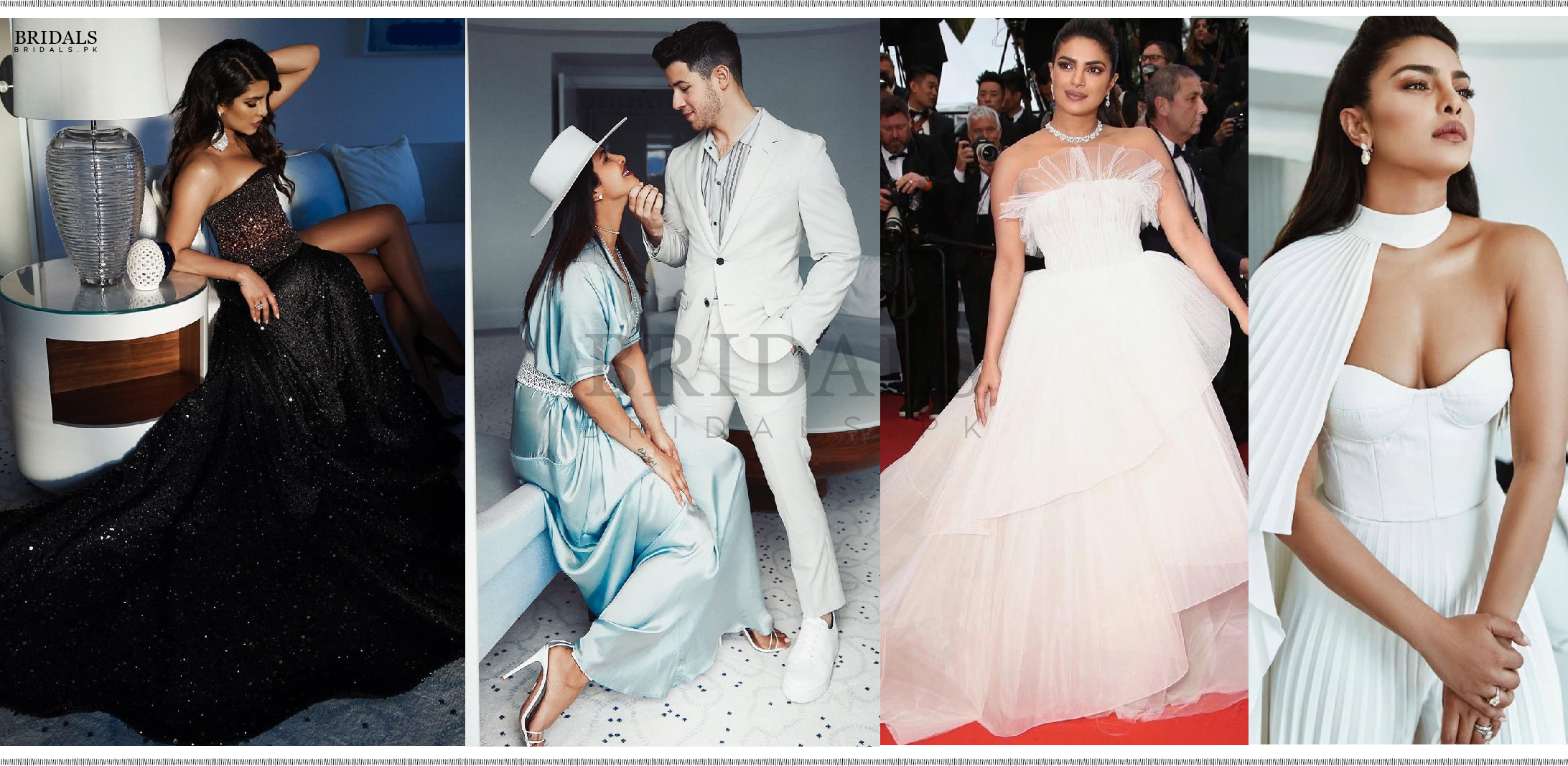 3. Sonam Kapoor
Sonam Kapoor is known for being herself no matter what. She was Chopard's front face this year at Cannes and here are all of her looks:
Day 1: We saw her clad in a red apparel from her sister Rhea Kapoor's brand for her day look. She paired this dress with Chopard's scents and diamond jewelry and looked like royalty!
Day 2: Sonam was seen wearing a dark blue Ellie Saab dress on the second day and decided to wear a gorgeous Abu Jani Sandeep Khosla dress at a Chopard dinner party. She launched Chopard's collection "Garden of Kings" and was all for their accessories and perfumes this year.
Day 3: Her day looks included a yellow dress by Ashi Studio followed by a white couture Ralph and Russo tuxedo both paired with Chopard jewels.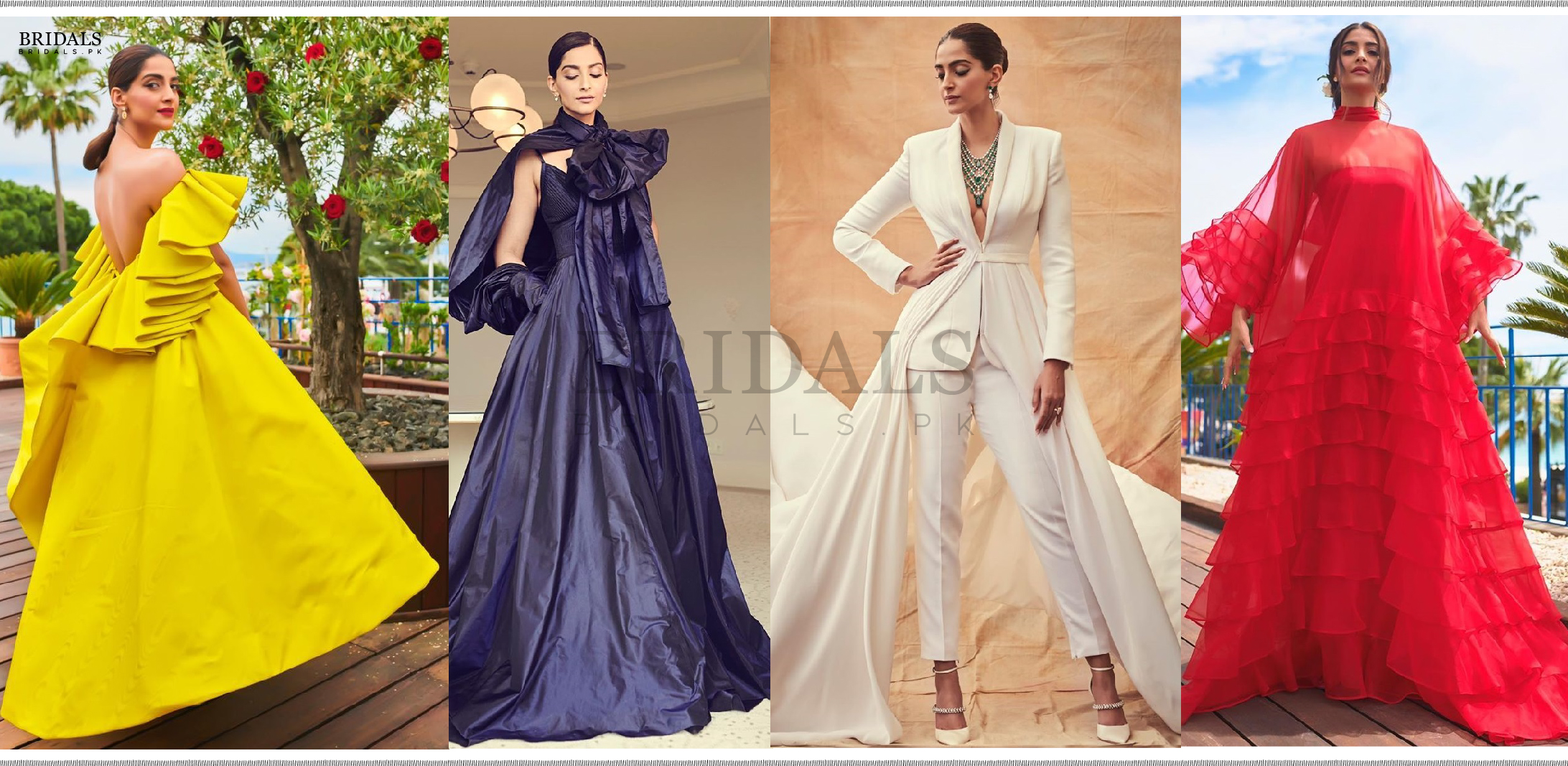 4. Aishwarya Rai Bachchan
Aishwarya started the festival by posting an adorable picture with her daughter as they both arrived in Cannes. Her daughter accompanied her all around Cannes this year and they are huge mother daughter goals!
Day 1: On her first day at the red carpet she wore a dazzling golden metallic gown designed by a Lebanese designer Jean-Louis Sabaji.
Day 2: Aishwarya too opted for a simple white jumpsuit by Ashi Studio on the red carpet and then wore a red and white striped dress to set the bar high at Cannes this year. A lot of her day looks were inspired by denim and here are some of her most prominent looks from Cannes 2019.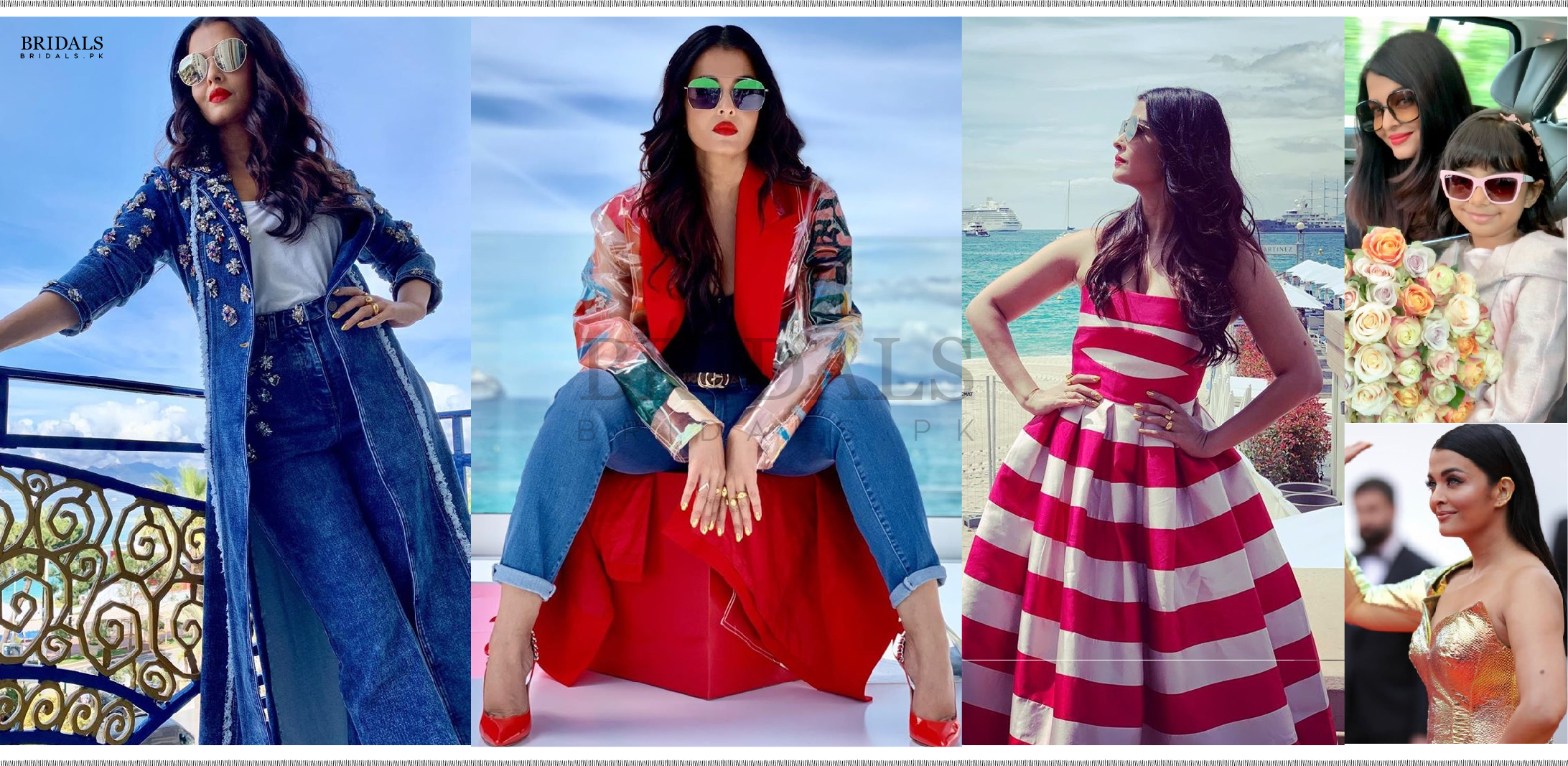 5. Selena Gomez Makes Her Cannes Debut
Selena Gomez made her debut at Cannes this year. For her first time at Cannes, we believe she nailed each looks!
Day 1: The festival started with her movie "The dead don't die and she wore a beautiful white bustier top by Louis Vuitton and paired with a matching skirt with a leg slit. And we can't get her outfit out of our minds! She changed into a Louis Vuitton off shoulder dress for the Gala Dinner.
Day 2: On her second day at Cannes she opted for a dark blue Chanel outfit during a photo call for the film.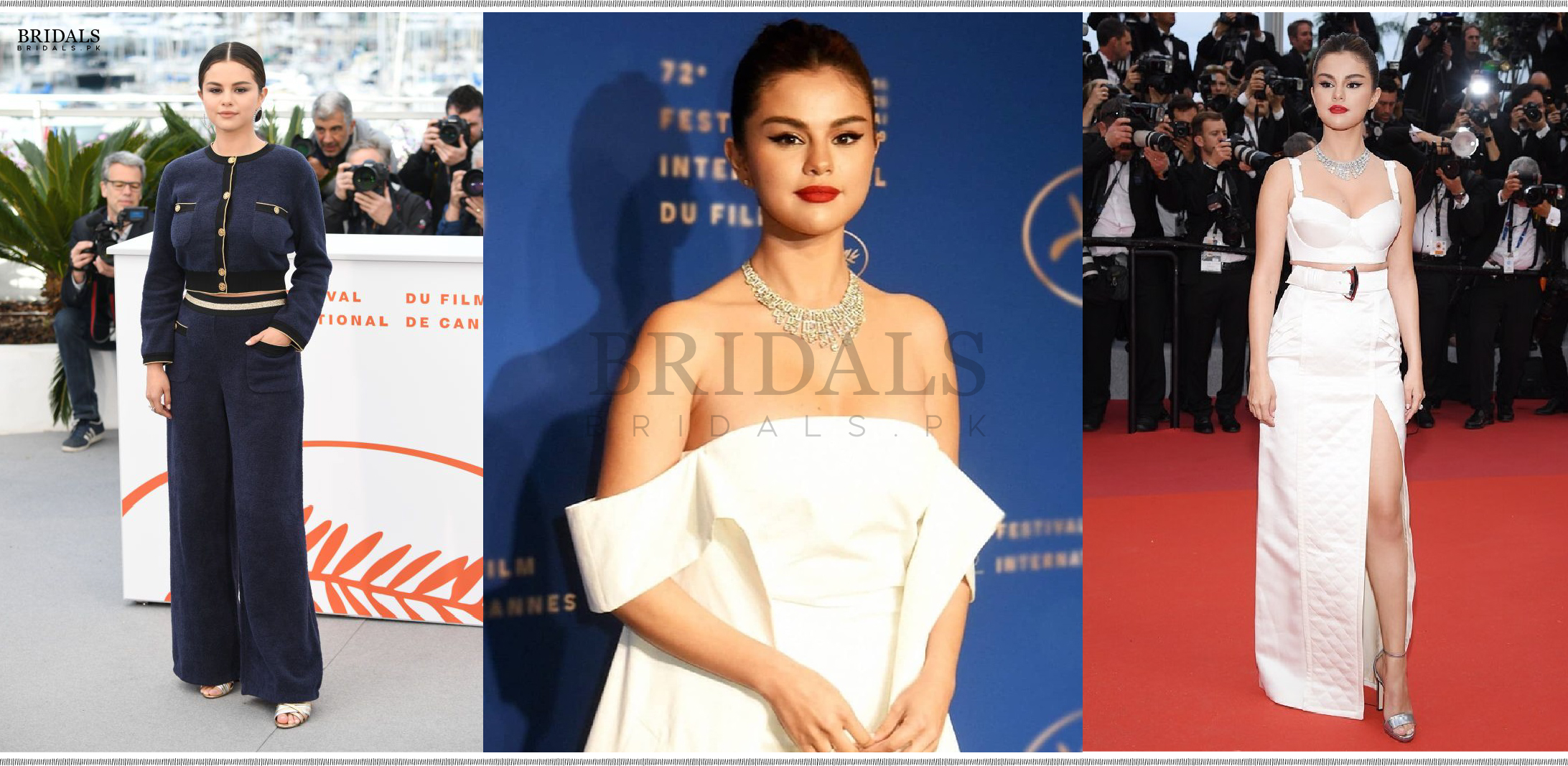 6. Keeping Up With The Kardashian At Cannes
The only Kardashian spotted setting major style standards at Cannes this year was Kendall Jenner.
Day 1: Kendall decided to channel her inner Barbie at the Cannes and wore a hot pink dress to up her game after that disastrous Met Gala gown she wore! The dress was designed by Giambattista Valli and H&M collectively and she paired it with Lorraine Schwartz shoes and accessories. This stunning hot pink dress is the perfect outfit for a summer destination wedding!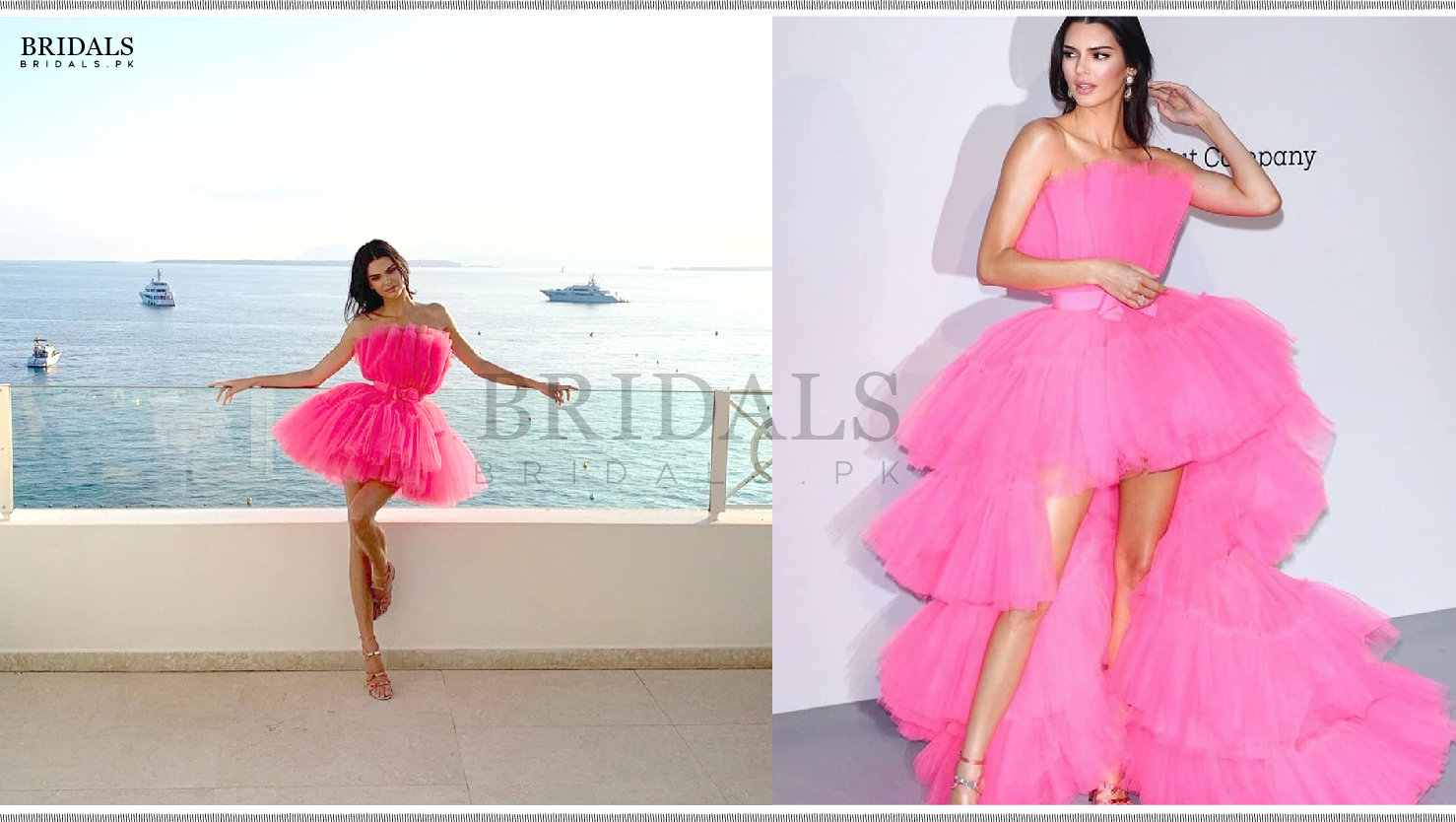 7. Bella Hadid
Bella Hadid was a sight for sore eyes at the Cannes this year. She was nothing short of a deity throughout the festival and we can't help but wonder if she's actually Aphrodite herself in disguise! Here are some of her incredible looks from Festival de Cannes!
Day 1: Bella Hadid made quite an entrance in a red Roberto Cavalli gown at the premier of Pain and Glory.
Day Looks: Her day looks included casual outfits cropped tops and jeans by an assortment of designers and we just love how she managed to rock all her casual looks.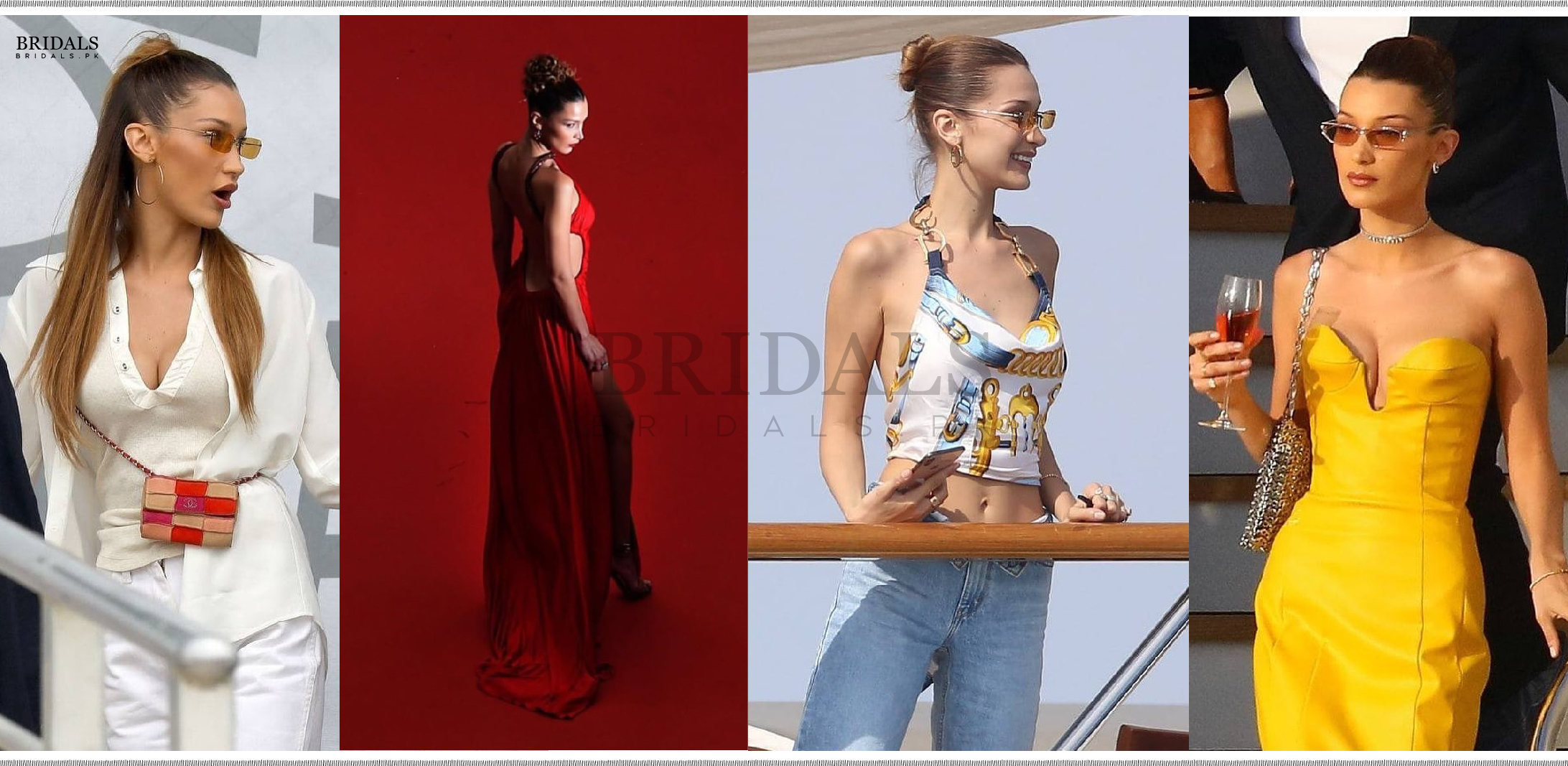 8. The Beautiful Winnie Harlow
Winnie Harlow was also among the divas who attended Cannes this year. She is known to have redefined the whole worlds beauty standards in the past. Every time we see her on the red carpet we feel proud of how she is breaking all beauty and skin barriers and going places! She makes us all believe that we are all "beautiful" despite our flaws. All we would like to say to her is you go girl!!!
Day 1: On her first day at Cannes she wore a gorgeous red dress by Jean Paul Gaultier and left us all mesmerized by her elegance at a Quentin Tarantino movie premier.
Day 2: On the second day she wore a sheer black dress designed by Ralph and Russo on the red carpet which made all our jaws drop.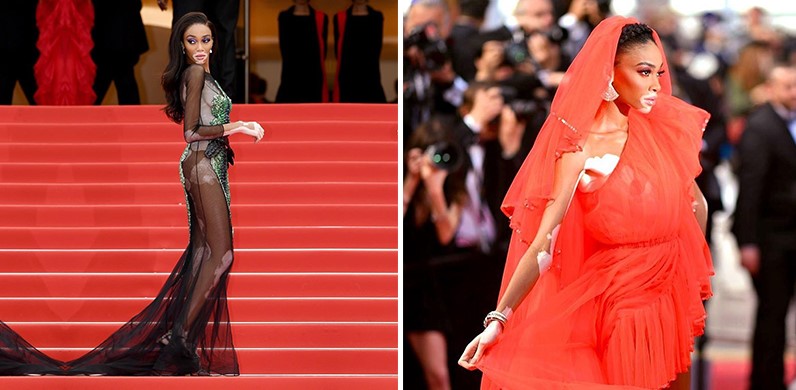 9. Nina Dobrev
Nina Dobrev was Dior's front face at the Cannes! From Dior perfumes, dresses to accessories she wore it all and we are quite taken with her looks! Bask in the glory of her beauty and take brides maid dress inspirations because Nina's outfits have it all!
Day 2: During the day she took a 15-minute boat ride to have lunch at La Guerite on the Isle Sainte-Marguerite in a white dress by Dior.
Day 3: She wore a floral dark blue dress by Dior and paired it with Dior accessories and shoes along with a complete Dior makeup look.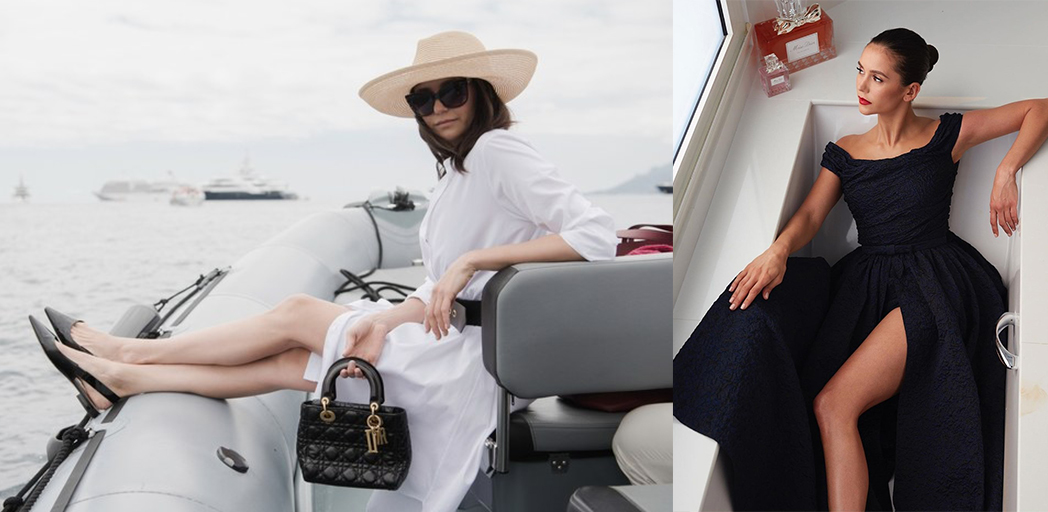 10. Eva Longoria
Eva Longoria was all over the red carpet this year and we are in love! She wore several brilliant outfits throughout her time at Cannes and left us all in awe of her beauty! She was styled by her best friend Victoria Beckham and man are we impressed! If you want to be a princess-like sparkly bride's maid, then Eva Longoria's dresses are the perfect style inspiration for you!
Day 1: Her first red carpet look included a sparkly pink Alberta Ferretti dresses with matching eyeshades by L'Oreal.
Day 2: On the second day at the red carpet she wore a dull gold chain mail gown designed by Cristina Ottaviano and looked absolutely divine.
Day Looks: For her day looks she wore multiple Max Mara ensembles in navy blue and yellow.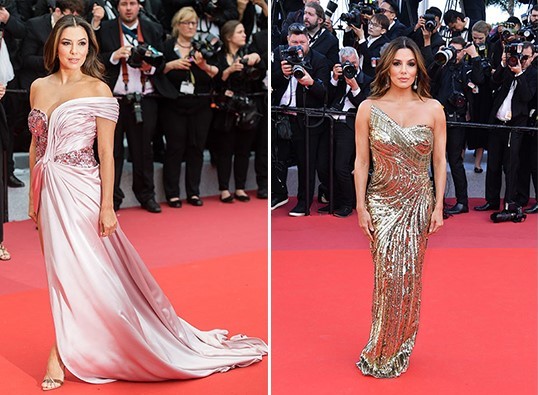 These are some celebrities that we found absolutely stunning at the Cannes! From Sonam K Ahuja to Nina Dobrev here is everyone you should take style inspirations from for your summer destination wedding dresses!