13 Beautiful Mehndi Trends For The Modern Wedding!
Apr 02, 2018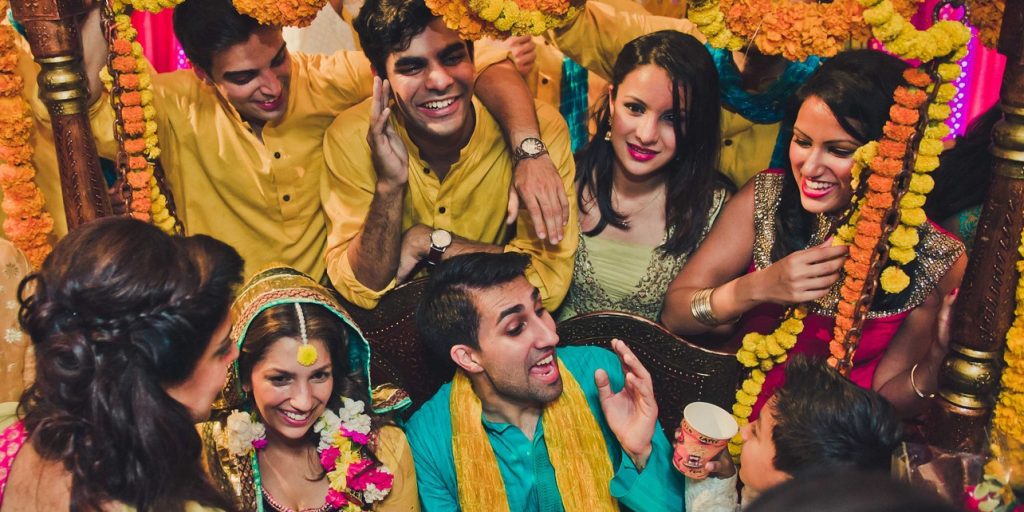 Mehndi ceremony, without a doubt, is the most entertaining wedding event with vibrant colours and festive vibes all around. Starting from the beautiful décor to a gorgeous bride and groom attire, the ceremony creates an ambience for taking perfect pictures and making each moment count with everyone enjoying to the fullest. If you're wondering what trends to follow this mehndi season, you have come to the right place. We at Bridals.pk present you some lovely mehndi trends that you can jot down in your journal:
Mehndi Makeup – 'As Beautiful As Simplicity Is.'
As Leonardo Da Vinci once stated, 'Simplicity is the ultimate sophistication,' the same is implies when getting dolled up for Mehndi attire. The makeup should follow the 'less is more' approach instead of overdoing it. The current trends are moving towards nude makeup that has been religiously worn and is now pacing up again. Modern day brides can also go for soft pink blush with a soft shade of lipstick and a winged eyeliner instead of applying heavy eye makeup.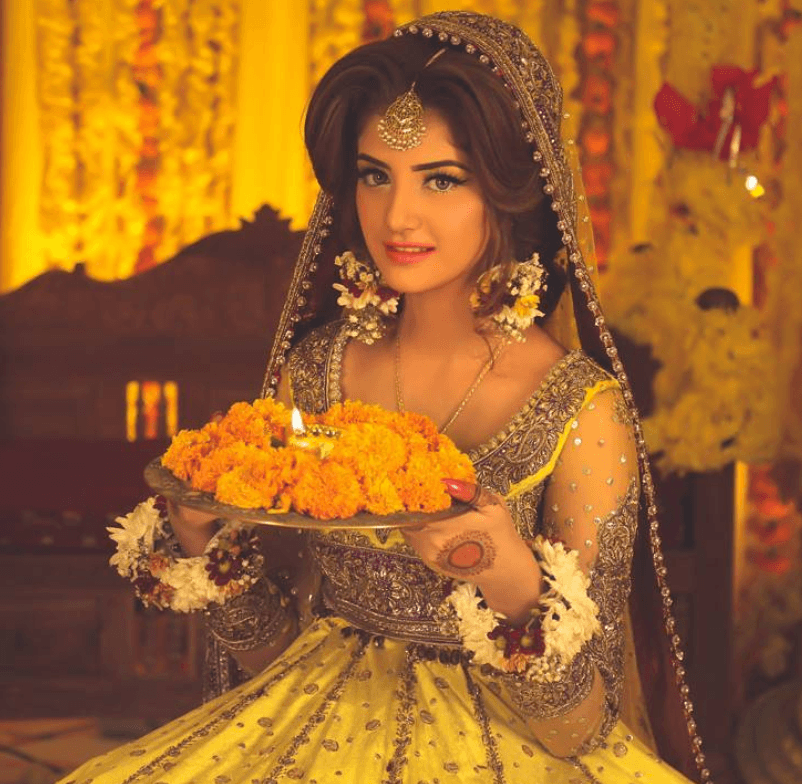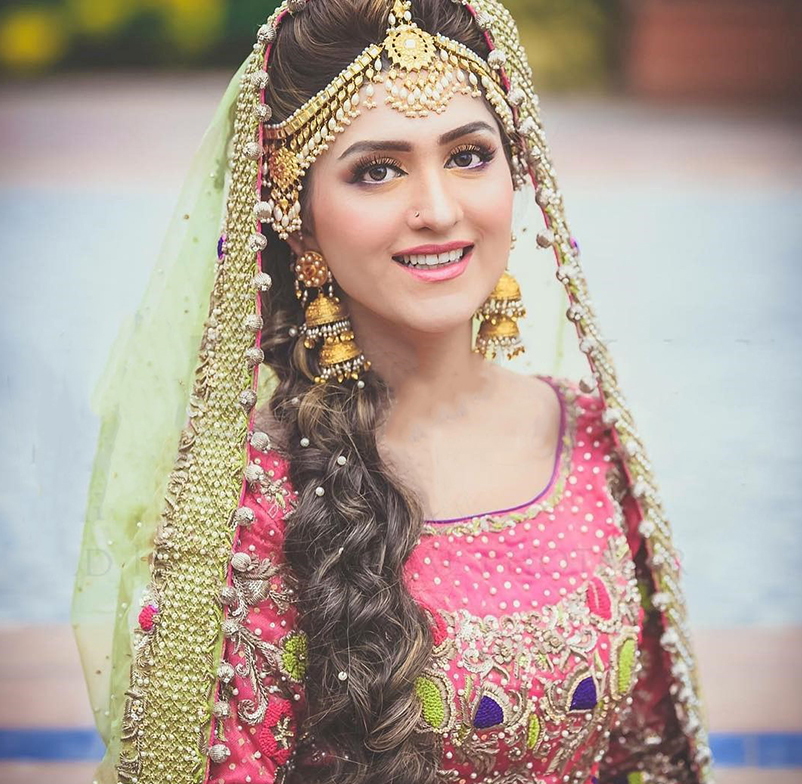 The Perfect Gharara/Sharara – The Desi Dress
Gharara or Sharara nowadays is THE dress that is trending on mehndi. Why not notch it up for your own big day! We love how this trend has caught up, giving the bride the flair that she deserves. Go for pastel colours if it's an outdoor day event and bold colours if it's a night event. Don't forget to add lots of floral designs and sunshine yellow to your dress!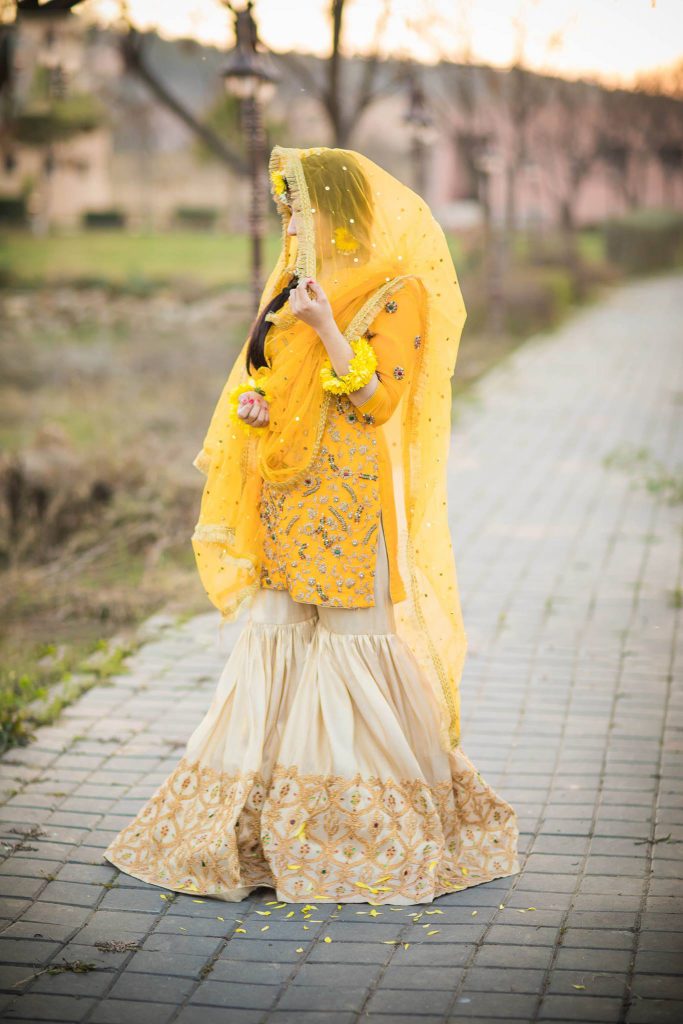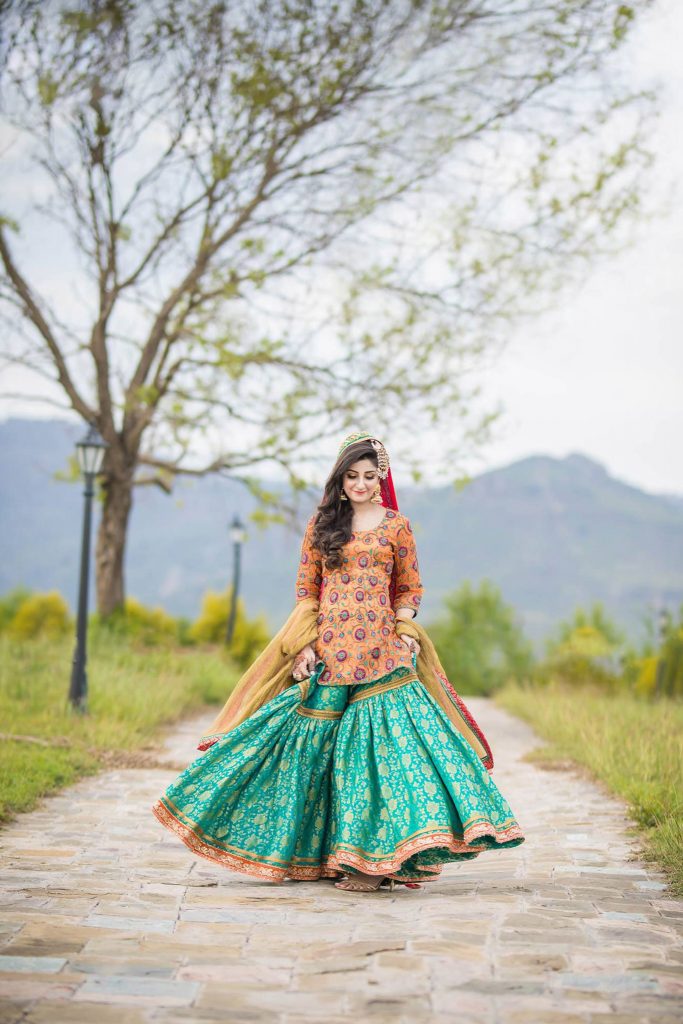 The Groom's Attire – Gentleman of the Night… or Day!
Hold the gates, for the prince is about to enter with his gang! The knight in the shining sherwani or a very stylish kurta, either way, he enters and makes his presence known. Most grooms accessorize their kurta with a dupatta which becomes a good bhangra item too. A waistcoat over kurta looks dapper when color coordinated with the bride's dress.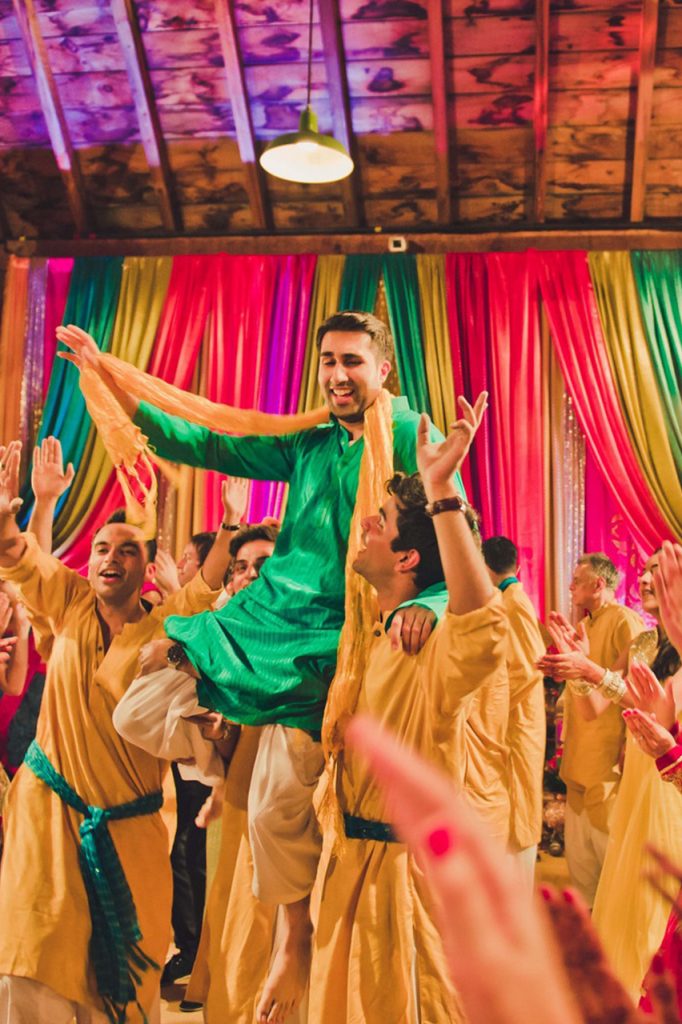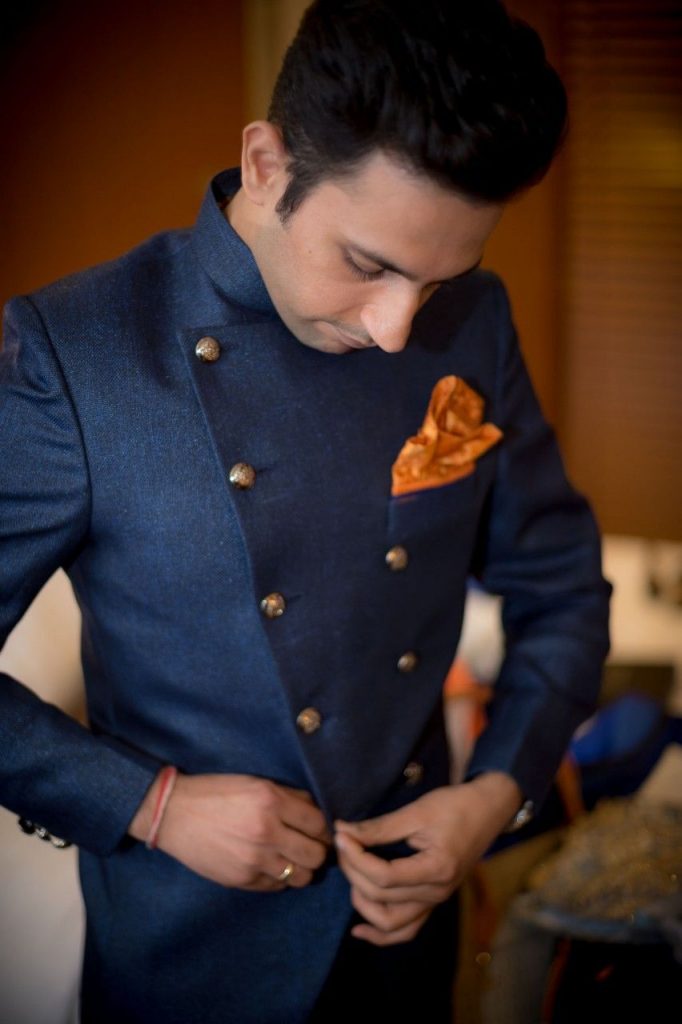 Hairstyle – Pretty Braids And Open Hair
Don't overthink or overdo your hairstyle. Our favourite current trend that we think goes best on that day is letting your hair loose. It's simple, it's trendy and it speaks your natural self. You have the chance to go for a heavy hairstyle on your Barat and Valima, so show off that volume and those curls. On the other hand, you can also follow the traditional braid and paranda trend. Add pretty little hair accessories and you're good to go!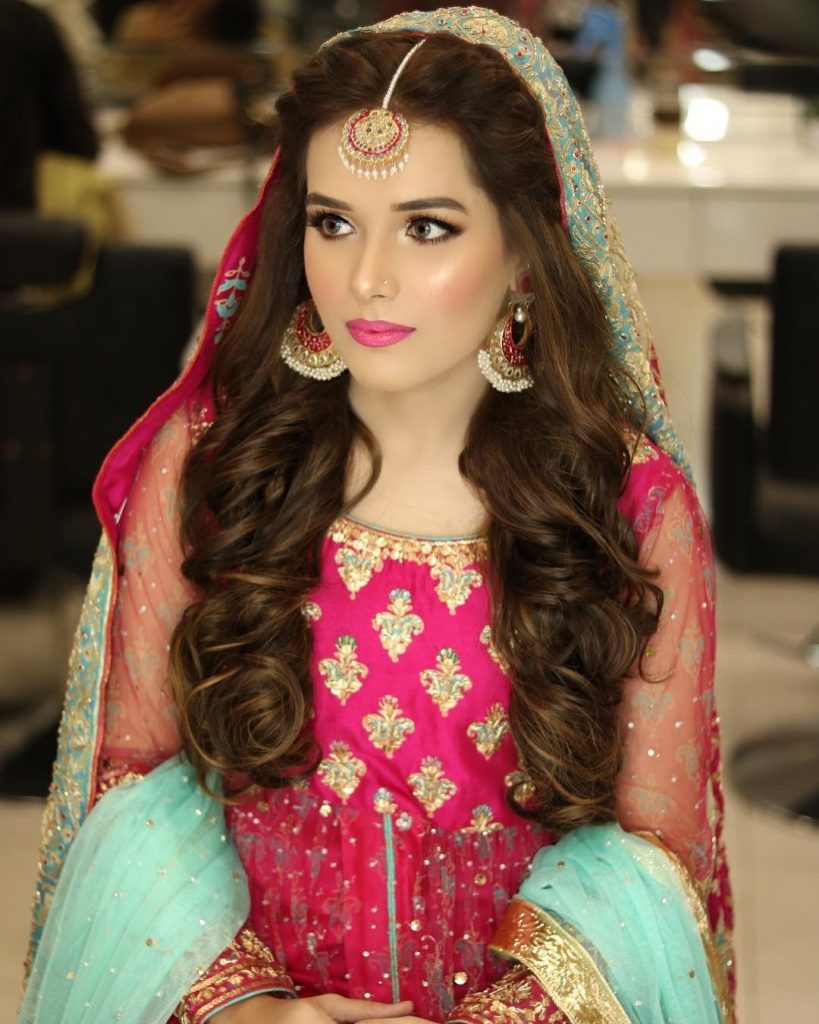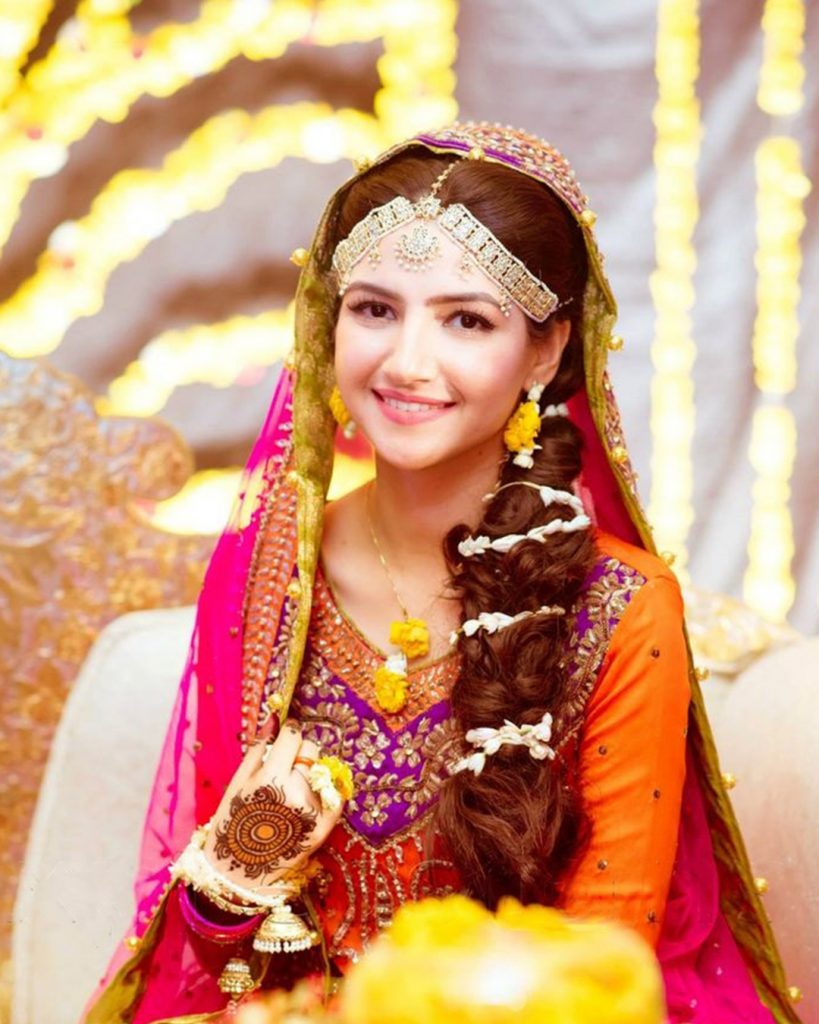 Jewelry – Glow and Sparkle!
The best part about mehndi ceremony is the variety of jewelry trends that we see evolving every season. You have gota and flower jewelry leading the way and transforming the entire mehndi attire. Instead of blooming flowers, small buds are used to create a ring connected with a bangle. A lot of brides are also incorporating metal jewelry with flower jewelry. It adds freshness and colour and let's not forget the refreshing fragrance that the flower jewelry spreads around you.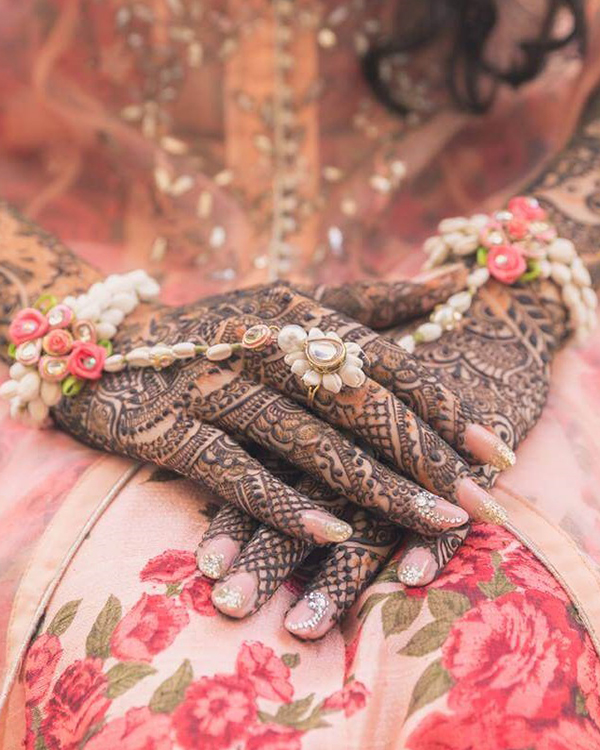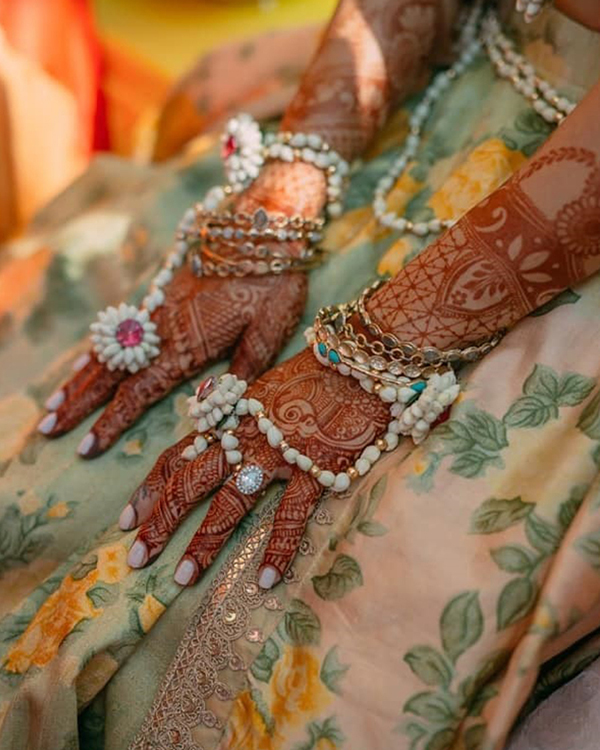 Veil – Drape with style
We have seen a lot of new draping styles come up this season and they look good! The most trending one this season is the traditional ghoongat style which looks pretty classy.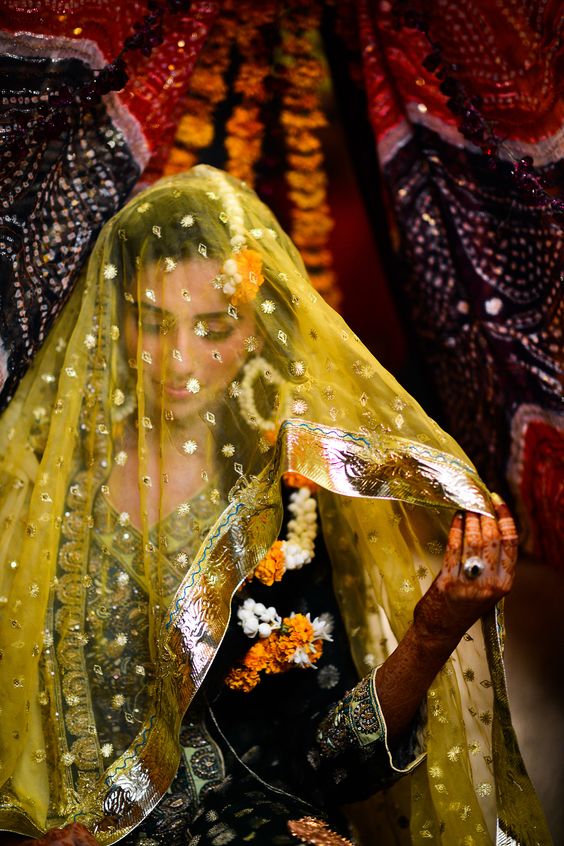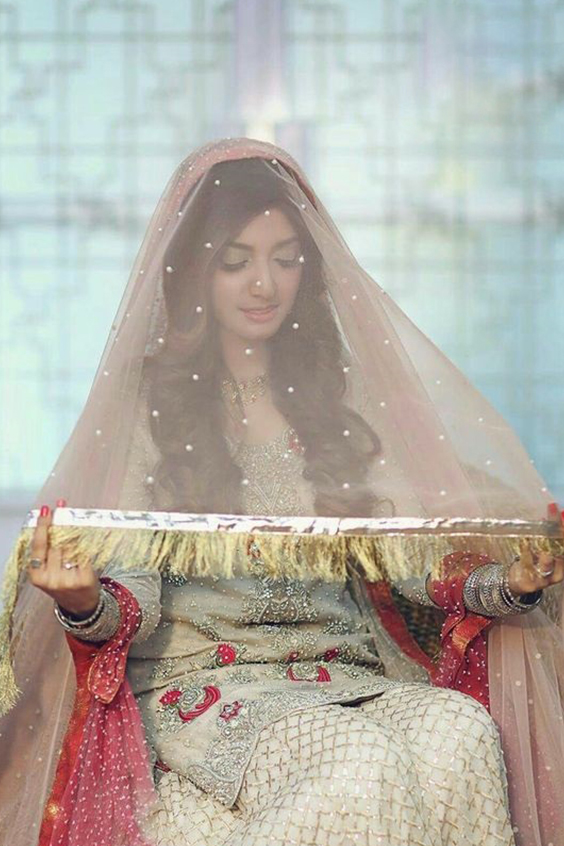 Henna – The Never-Ending Tradition
Mehndi is incomplete without applying henna. That's a fact about weddings that no one can change. A centuries' old myth states that the deeper the colour of the henna, the happier would be the bride. So brides make sure that their henna has a deep brown colour and beautiful patterns that represent their future married life. We have currently seen designs that look like you're wearing jewelry, designs that have peacocks, even caricatures, floral and abstract patterns, changing the henna game for the modern bride.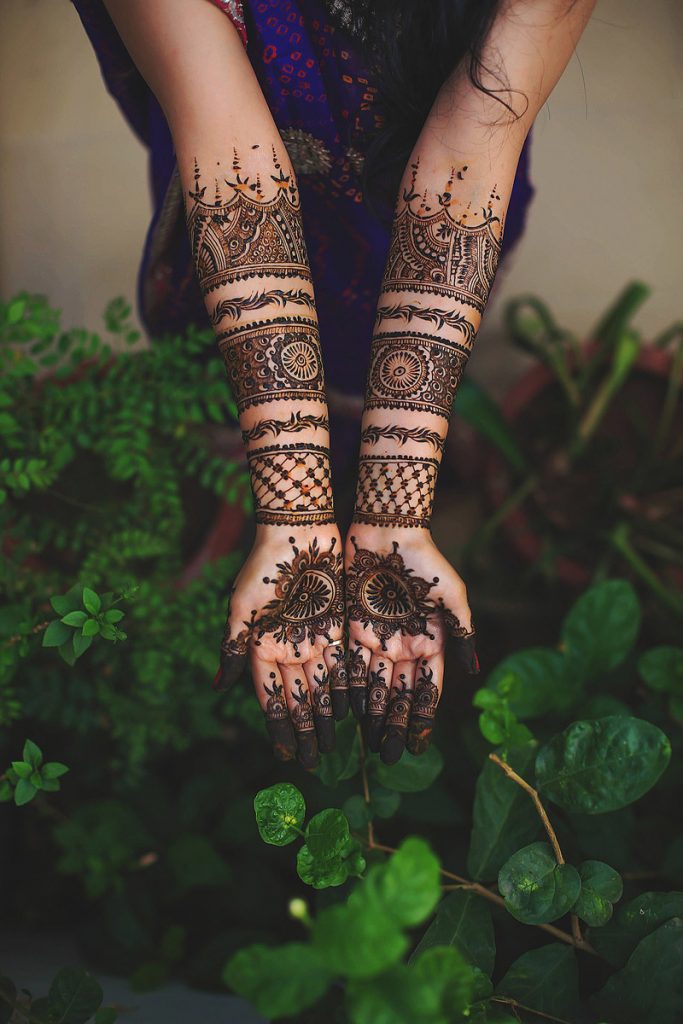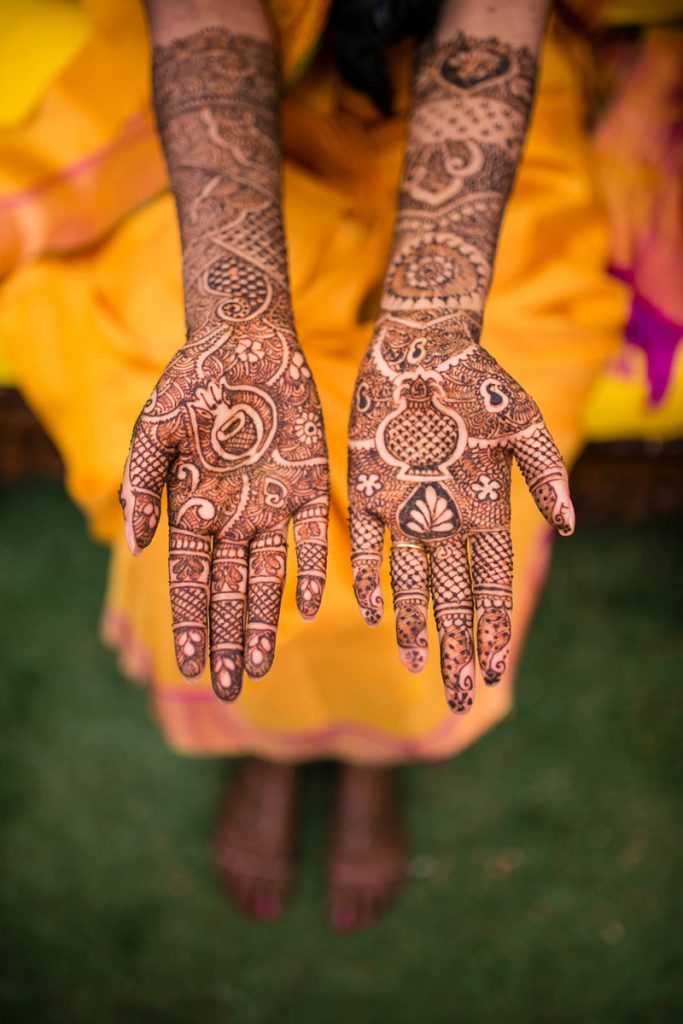 Mehndi Thalis – Decorated with love
Mehndi rituals are very entertaining and have lots of creativity in them. Every little detail has color and flowers springing out, spreading delightful vibes around. Friends, sisters and cousins of the bride take out time to decorate mehndi plates and favour baskets and the end result looks lovely.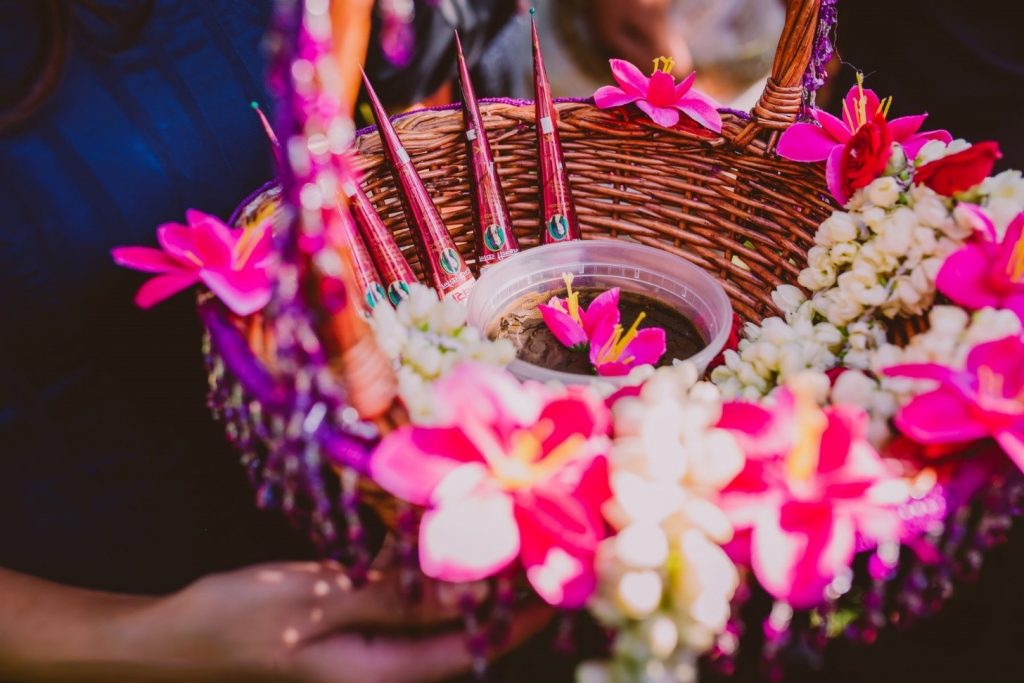 The Flowery and Colourful Décor
It should be raining flowers on mehndi day! Marigold, lilies, roses and all sorts of colourful flowers with their refreshing fragrance soothe the eye and freshen up your mind. From the stage setup to tables and the seating area, flowers are a must-have décor for your big day. Complementing the flowers are big colourful drapes that create the perfect ambiance. You can also experiment with different flowery centerpieces for tables while make a statement with flamboyant lanterns, vibrant pinwheels, paper origamis and multicolored kettles as hangings.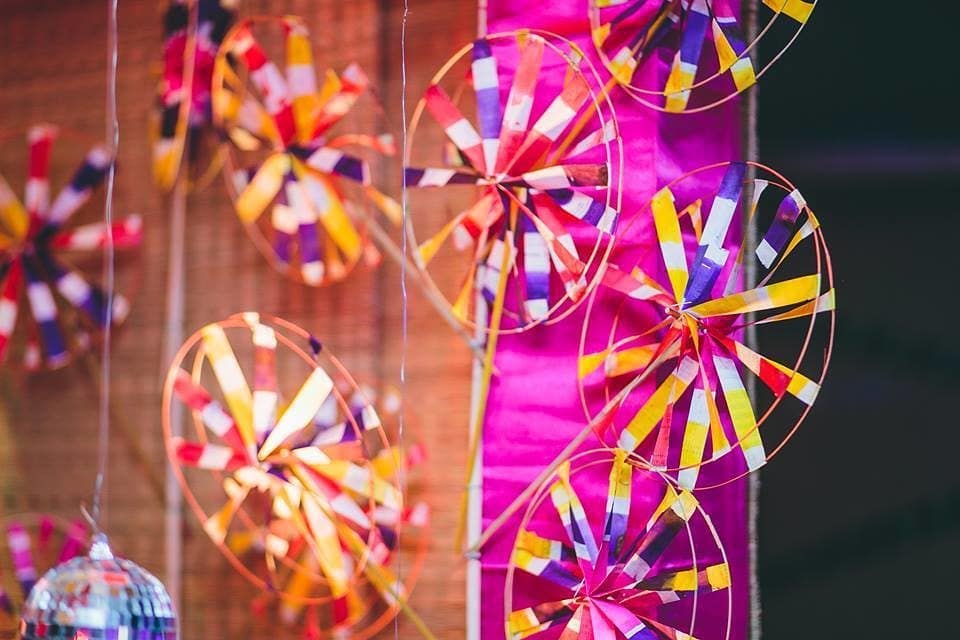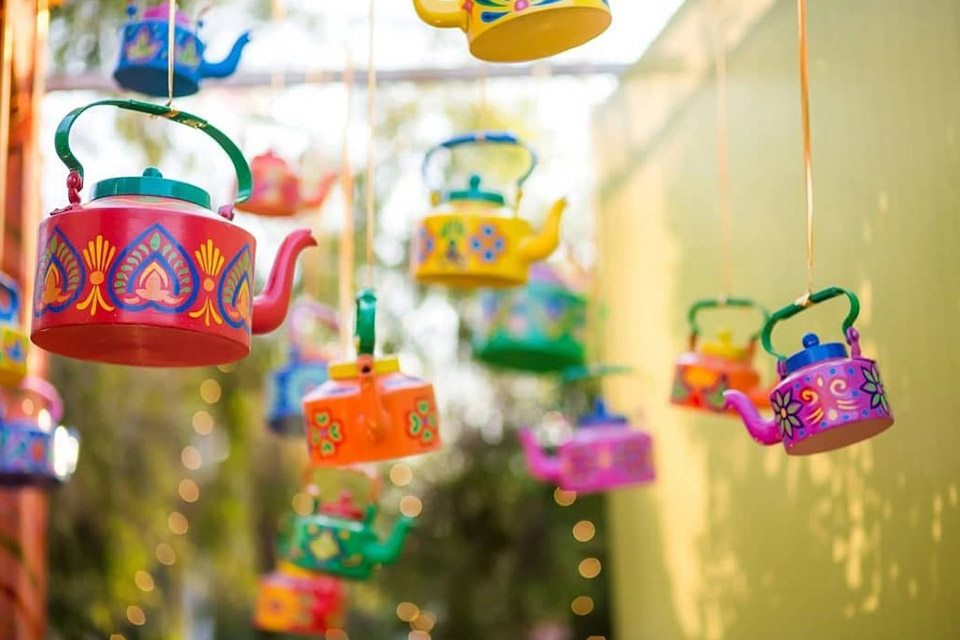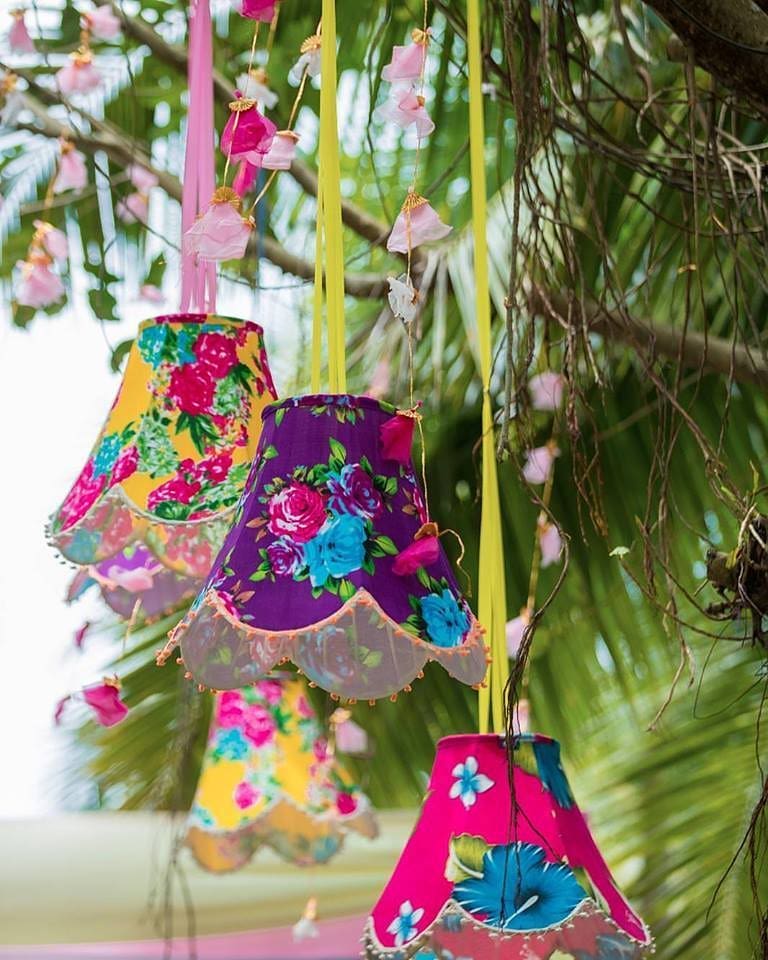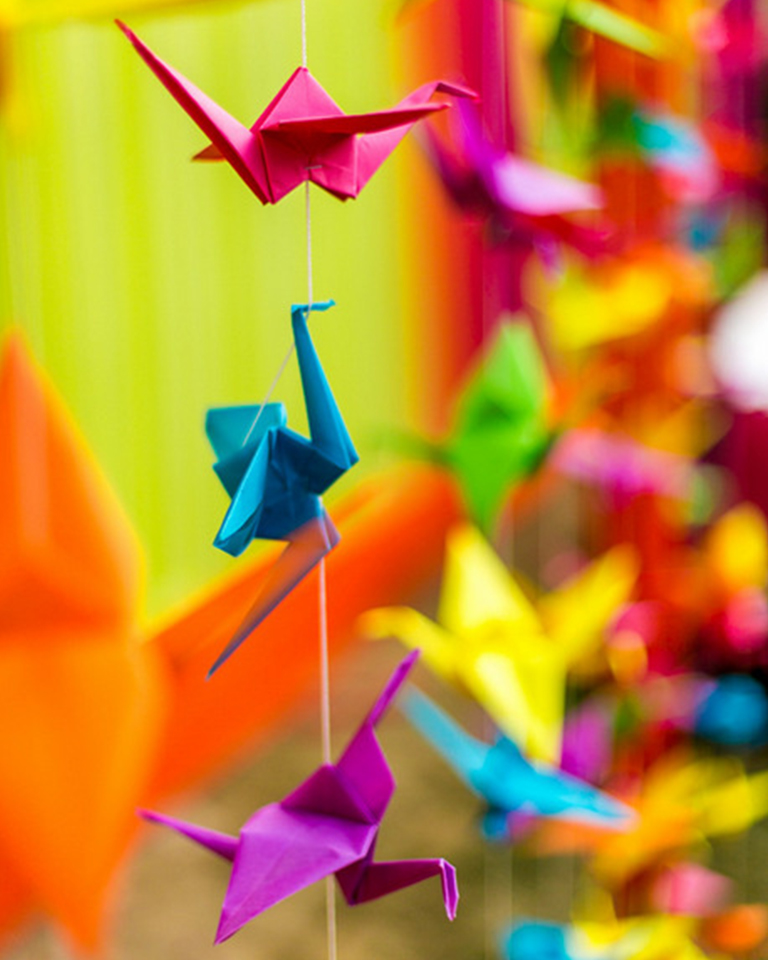 Entering with a Bang!
Gone are the days when the bride and groom used to enter the ceremony in a simple way. Brides are much choosier now and the grooms need to show their style in a different way. We have seen a variety of ways from entering in a 'Doli' to showing up in 'Triple H' style. Even bicycles and auto rickshaws are being used by brides and grooms to drive in at their own mehndi with a different swag.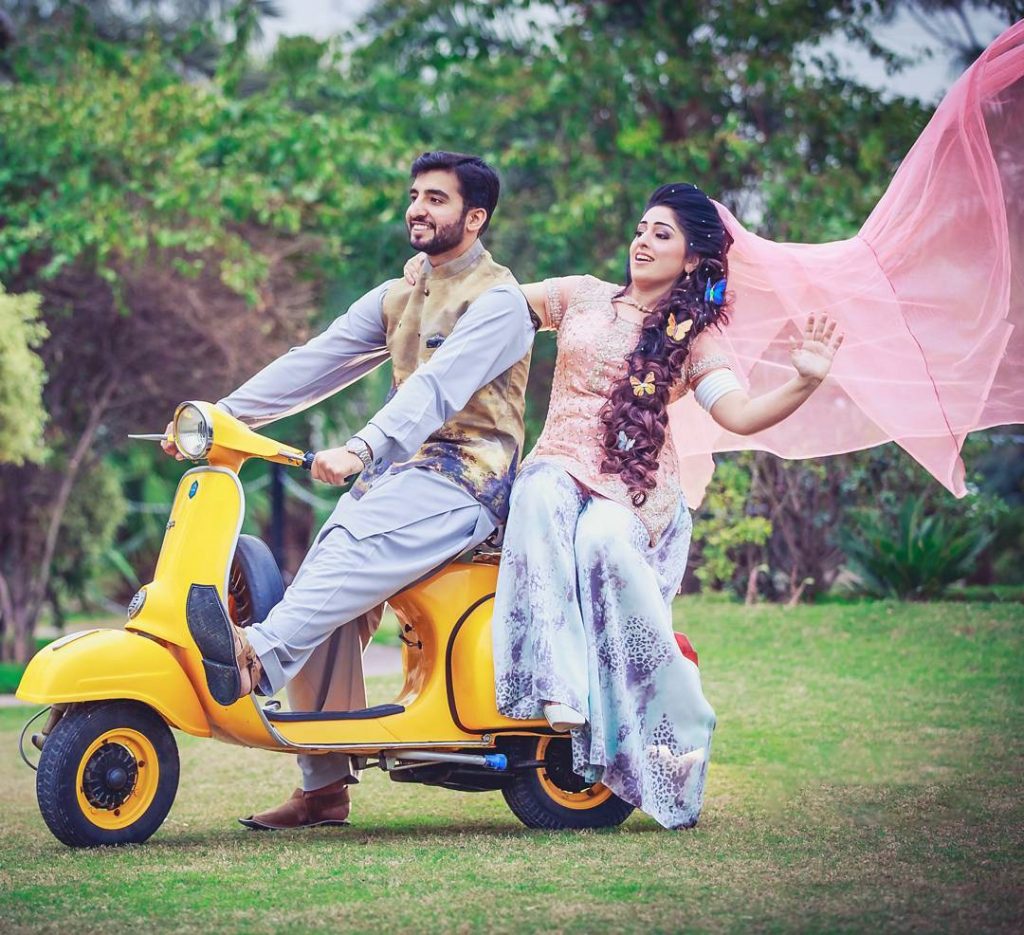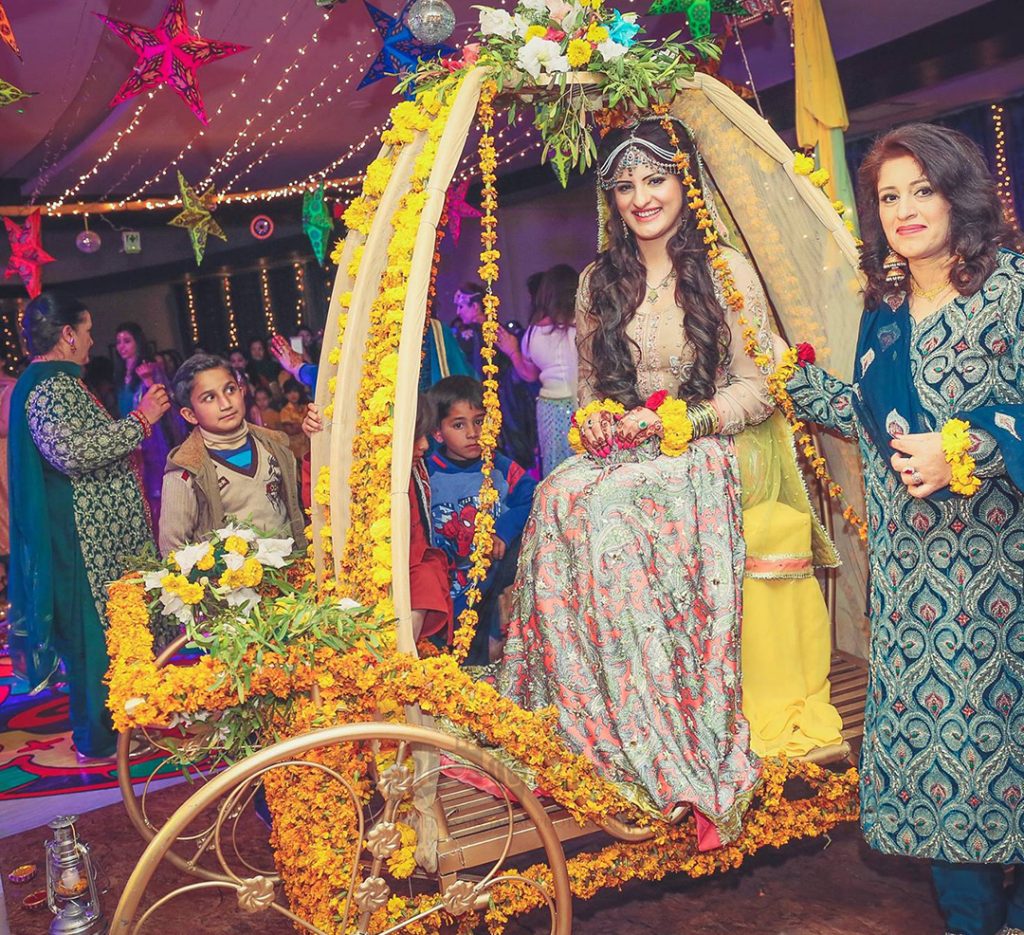 Photo Booth – Making Memories
Poses, poses and poses. Mehndi is the perfect time to make good memories and what better way than to make a fun photo booth that everyone can use! You can look back and see the crazy stuff you did and remember the good times as you go through the photos.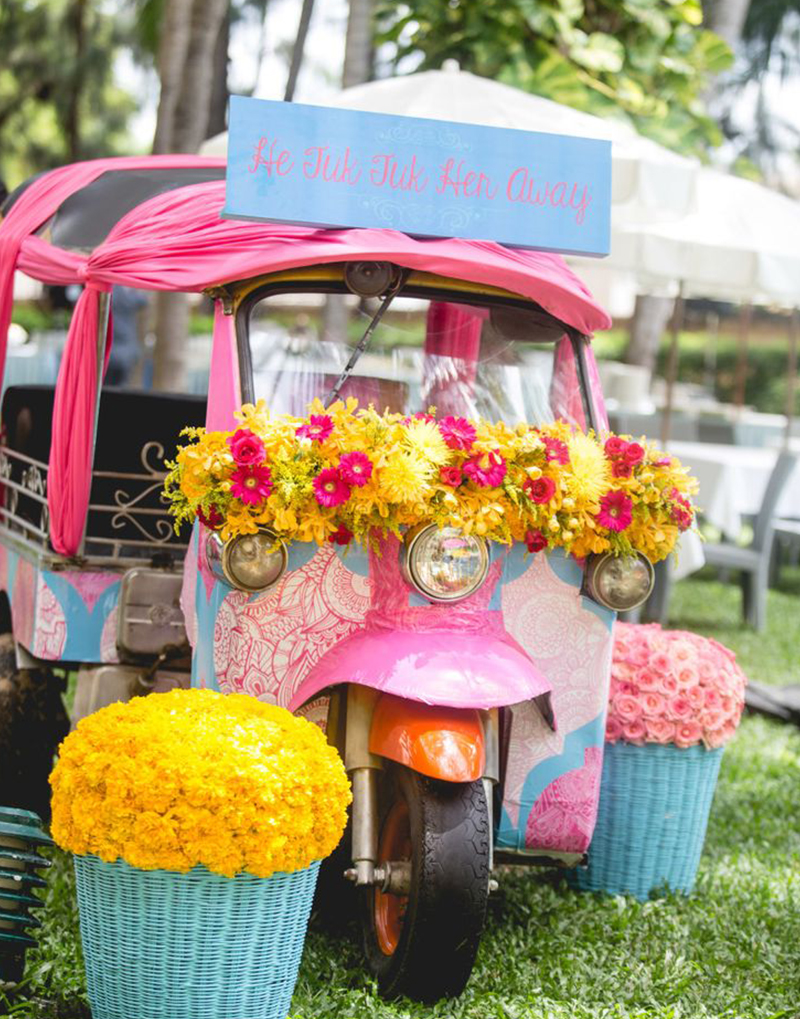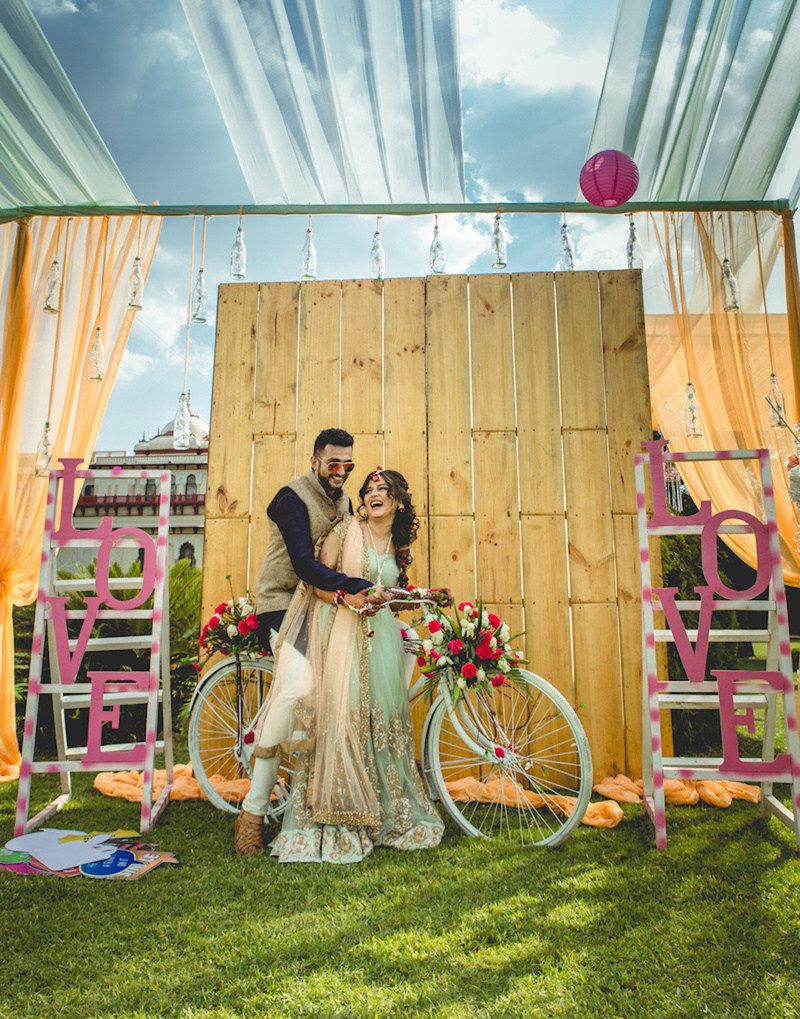 Stage Setting
We see beautiful, blooming backdrops at mehndi which is pretty much the trend being followed right now. However, people are experimenting and coming up with very creative ideas to set themselves apart. The cozy Cinderella inspired carriage stages are the next big thing at mehndi ceremonies.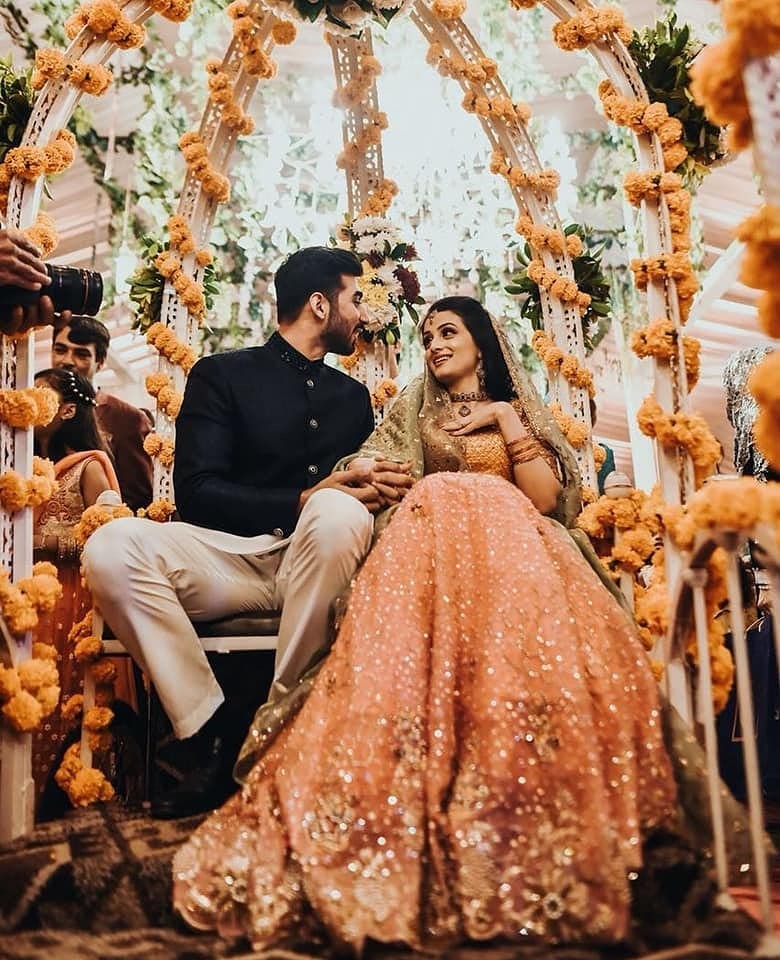 Entertainment – Celebrations All Day!
People are going for more private events that give them unlimited time to celebrate. Naturally, they have to come up with several ways to keep their guests entertained. What better way than to have a larger version of our favourite childhood board game 'snakes and ladders!' Or letting everyone play around with sparklers to light up the ceremony further!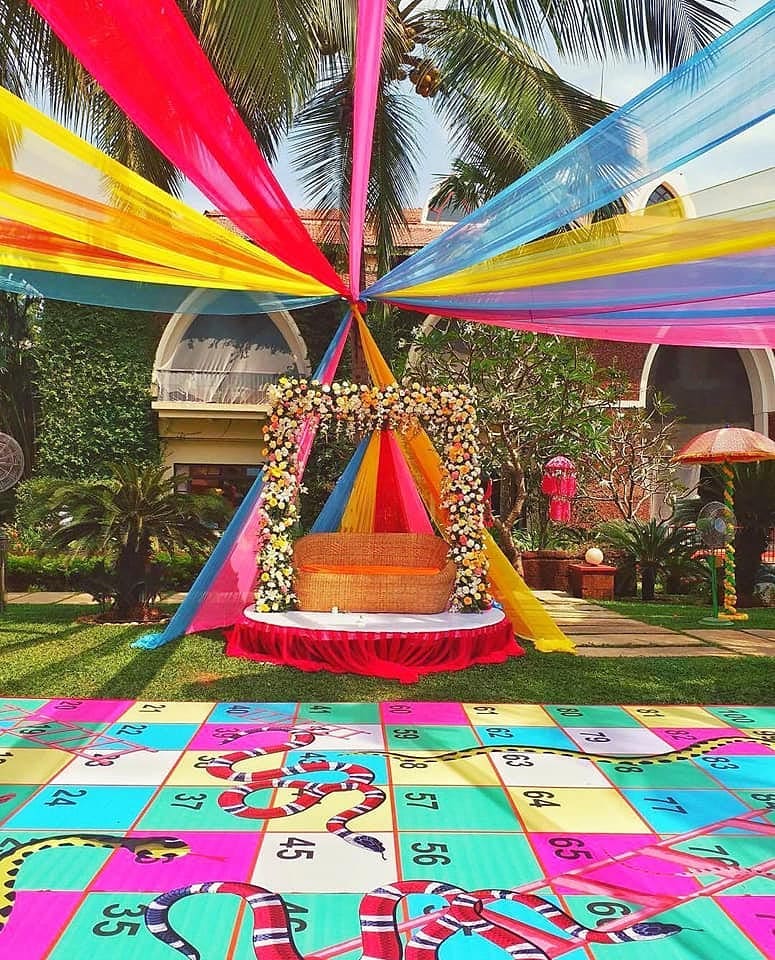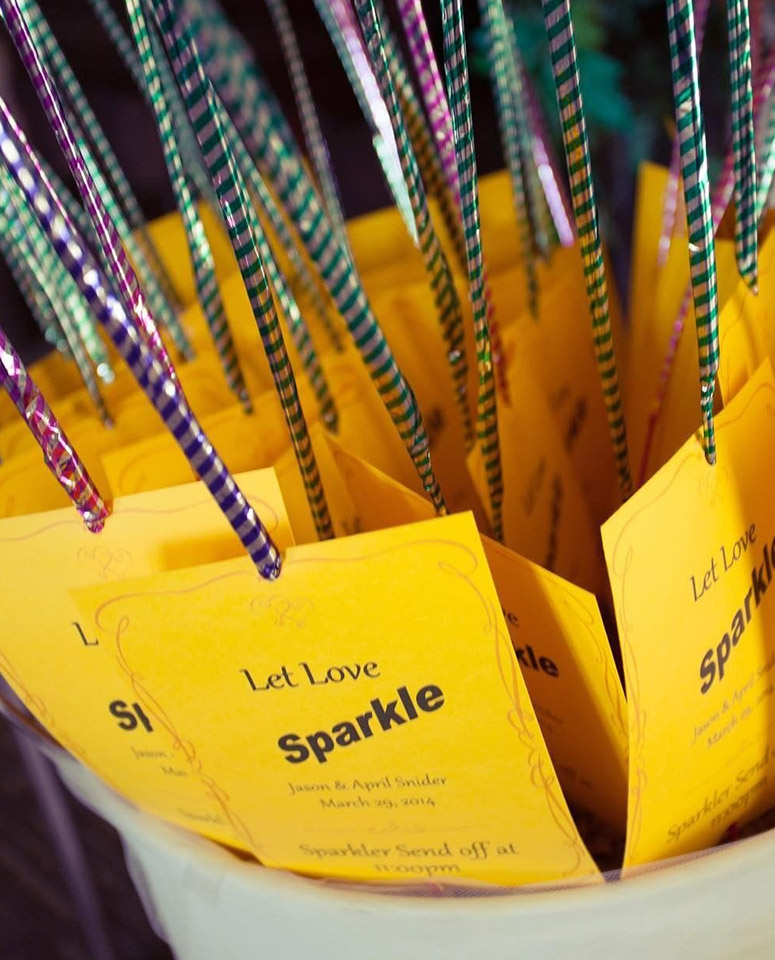 We're sure you have noted down everything in the list and are ready to follow these trends at your mehndi. All of these trends mixed together double up the entertainment and everybody ends up having a great time. This celebration brings together everyone from their busy schedules and you yourself dream about having the perfect day, so make it worth the while and most of all, dance it off!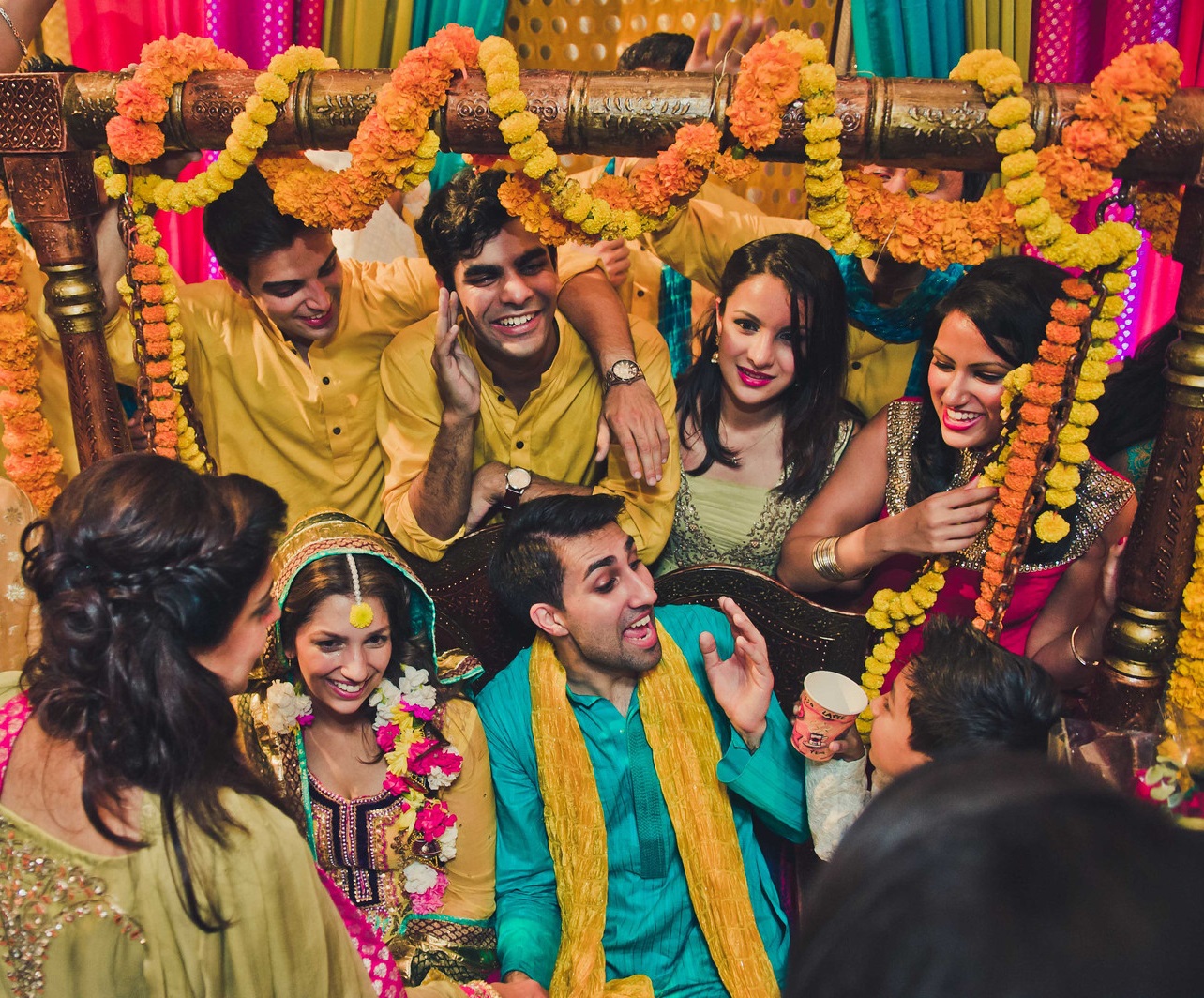 13 Beautiful Mehndi Trends For The Modern Wedding!
Description
Mehndi ceremony, without a doubt, is the most entertaining wedding event with vibrant colours and festive vibes all around.
Admin
Bridals.PK
https://blog.bridals.pk/wp-content/themes/bridal/images/logo.png