These 11 Celebrities Won Our Hearts With Their Eid Outfits!!!
Jun 12, 2019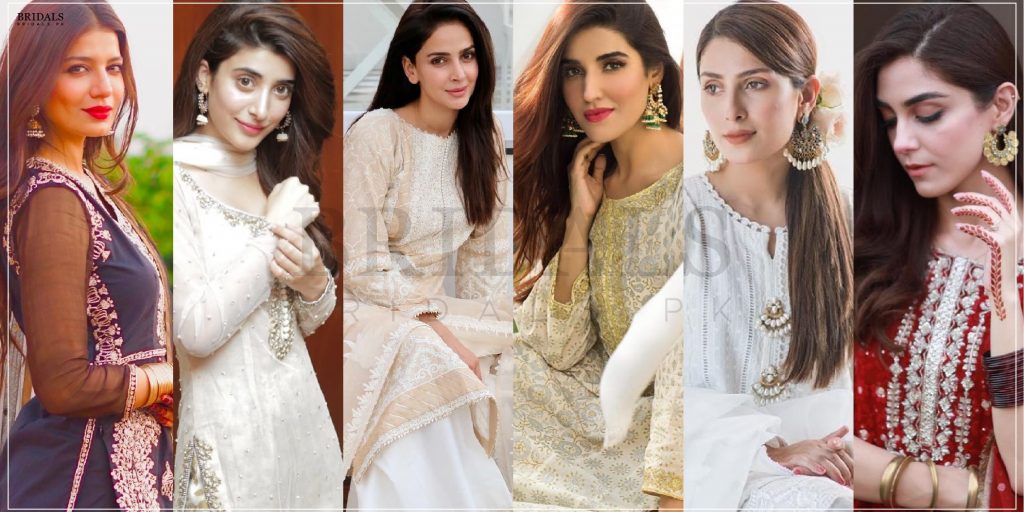 Article By: Hadia Hassan
Even though the festive period of Eid is over, but we can't help but take notes from the looks that Pakistani celebrities opted for this Eid! Some actresses and models chose to opt for pastels this Eid-ul-Fitr while others looked bold in red! A vast majority of Pakistani A-listers played it safe this year and wore graceful white dresses and managed to completely capture the essence of Eid-ul-Fitr! The go-to designer for everyone seemed to be the talented Mohsin Naveed Ranjha. The gorgeous Maya Ali, Mehwish Hayat and Hania Amir, Saba Qamar etc. were all seen wearing breathtaking ensembles designed by him this Eid. Even our second favorite pair of sisters Aiman and Minal Khan donned on apparels by Mohsin Naveed Ranjha this Eid and we are obsessed with their outfits! Other designers that our favorite divas opted for this Eid were Faiza Saqlain, Saira Rizwan and Elan official and the list goes on.
Let's admit that we were left a little dumbfounded by the onslaught of all those Eid collections being launched before Eid. But now that Eid has transpired, we have a clearer picture of what was a hit and what was rejected by the general public! So here are all the Eid looks that we have compiled from some of our favorite celebrities for you this year! Feast your eyes sweet brides and brides-to-be because now you can sit back, relax and sip that iced coffee latte, while you take notes from this fashion parade recap!
1. Maya Ali
Day 1: Red outfit by Faiza Saqlain
Day 2: Pink outfit by Mohsin Naveed Ranjha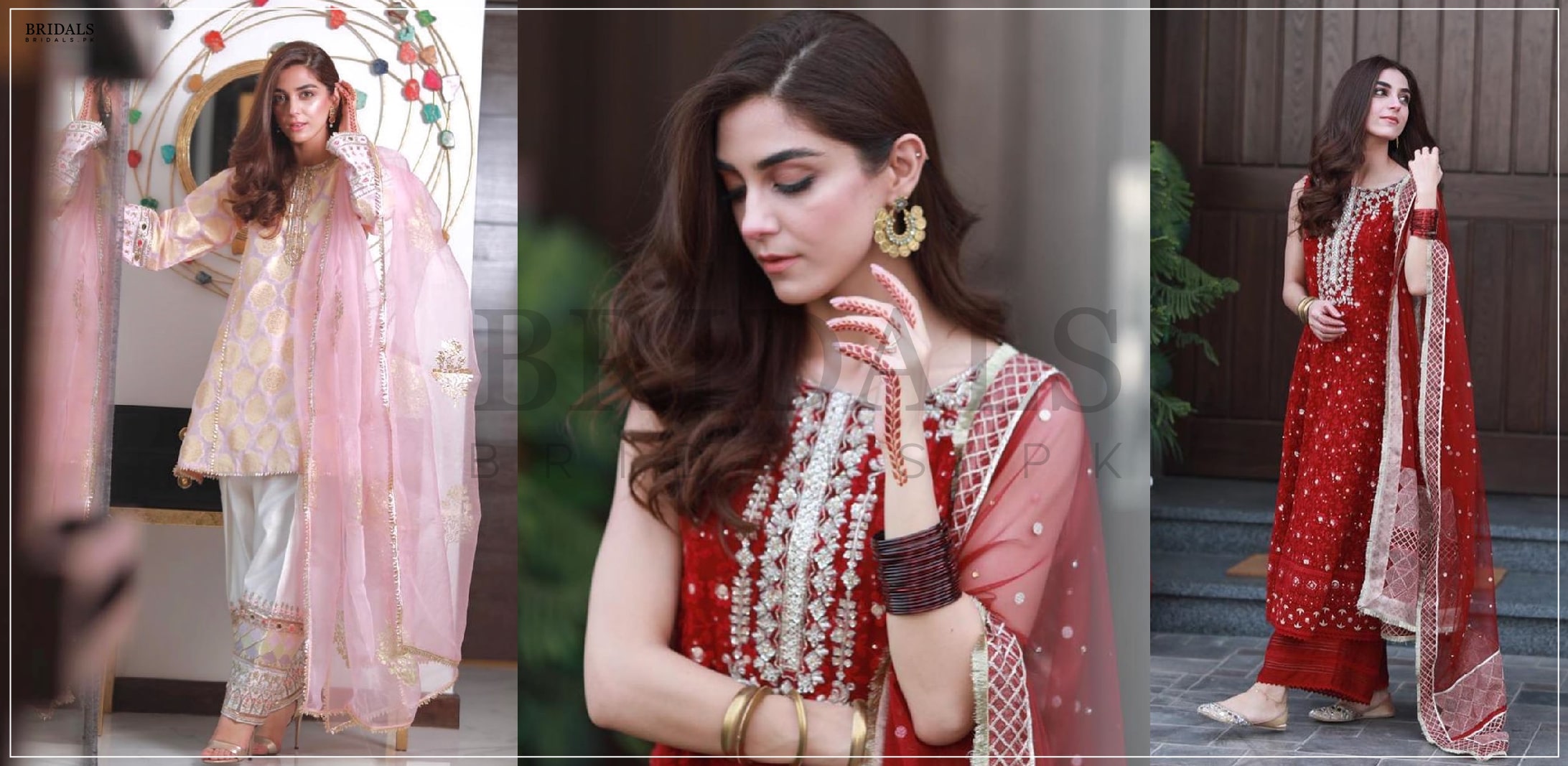 2. Hania Amir
Hania Amir made quite the sight in her freshly newly dyed red hair and beautiful ensembles this Eid. Here are all her Eid looks:
Chand Raat: Hania opted for a beautiful white Mohsin Naveed Ranjha outfit.
Day 1 and 2: She was seen wearing a dull gold souchaj outfit on the first day of Eid and wore a pastel blue gota embellished outfit on the second day.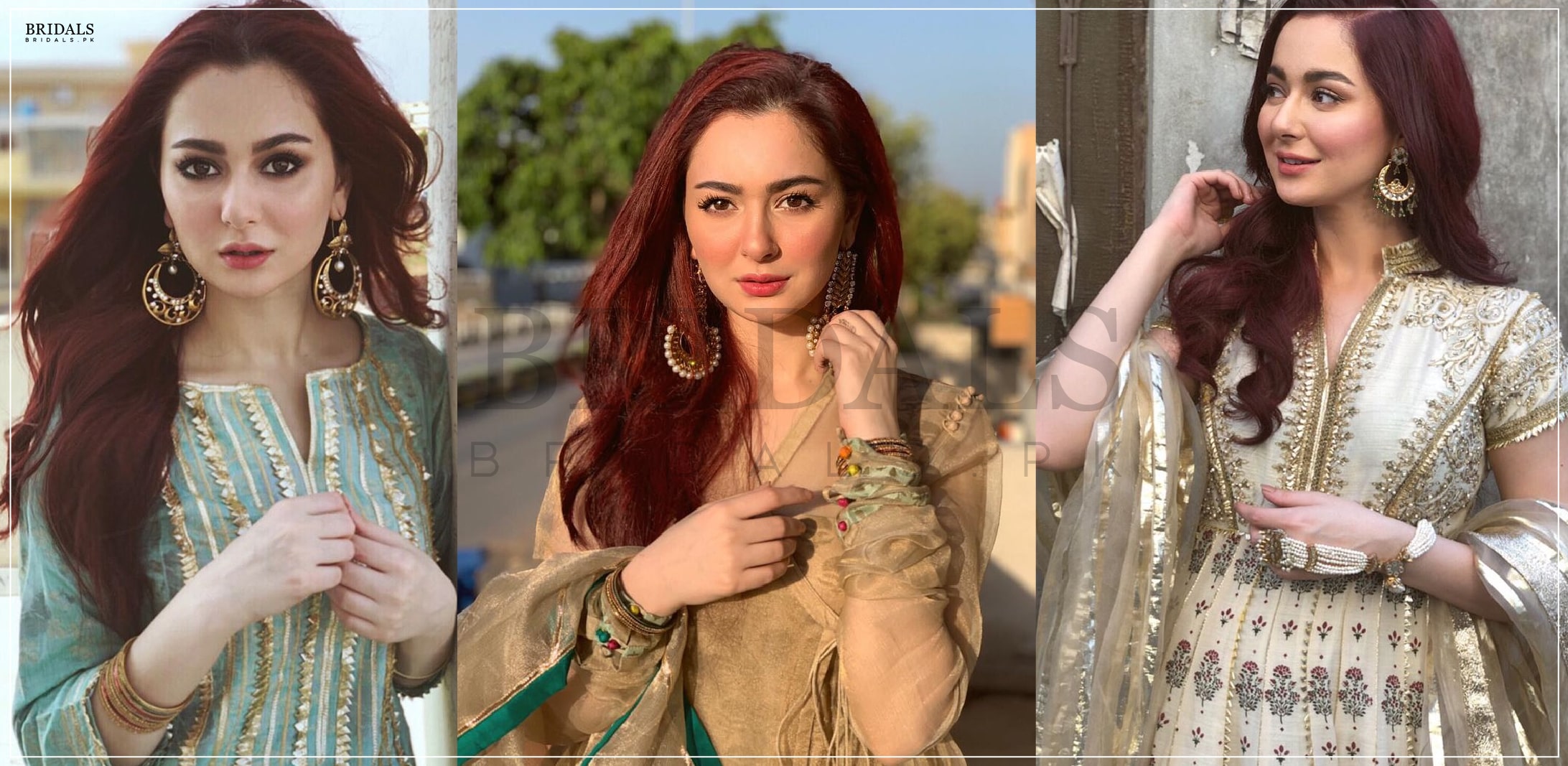 3. Urwa and Mawra Hocane
Where Mawra seemed relatively less excited about Eid this year, Urwa went all in and posted not one but several pictures of all her Eid outfits this year!
Chand Raat: Urwa posted a picture in a graceful white outfit with embellishments and we absolutely loved the traditional vibes she emanated!
Day 1: White always seems to be Urwa's color and this Eid she chose to wear a subtle white dress by Faiza Saqlain again. Mawra on the other hand wore a white dress by Nurai.
Day 2: On the second day of Eid both Urwa and Mawra opted for Elan outfits. Mawra wore a printed lilac dress by Elan official whereas, her traditionalist sister Urwa was seen wearing a pastel yellow Agrakha by them.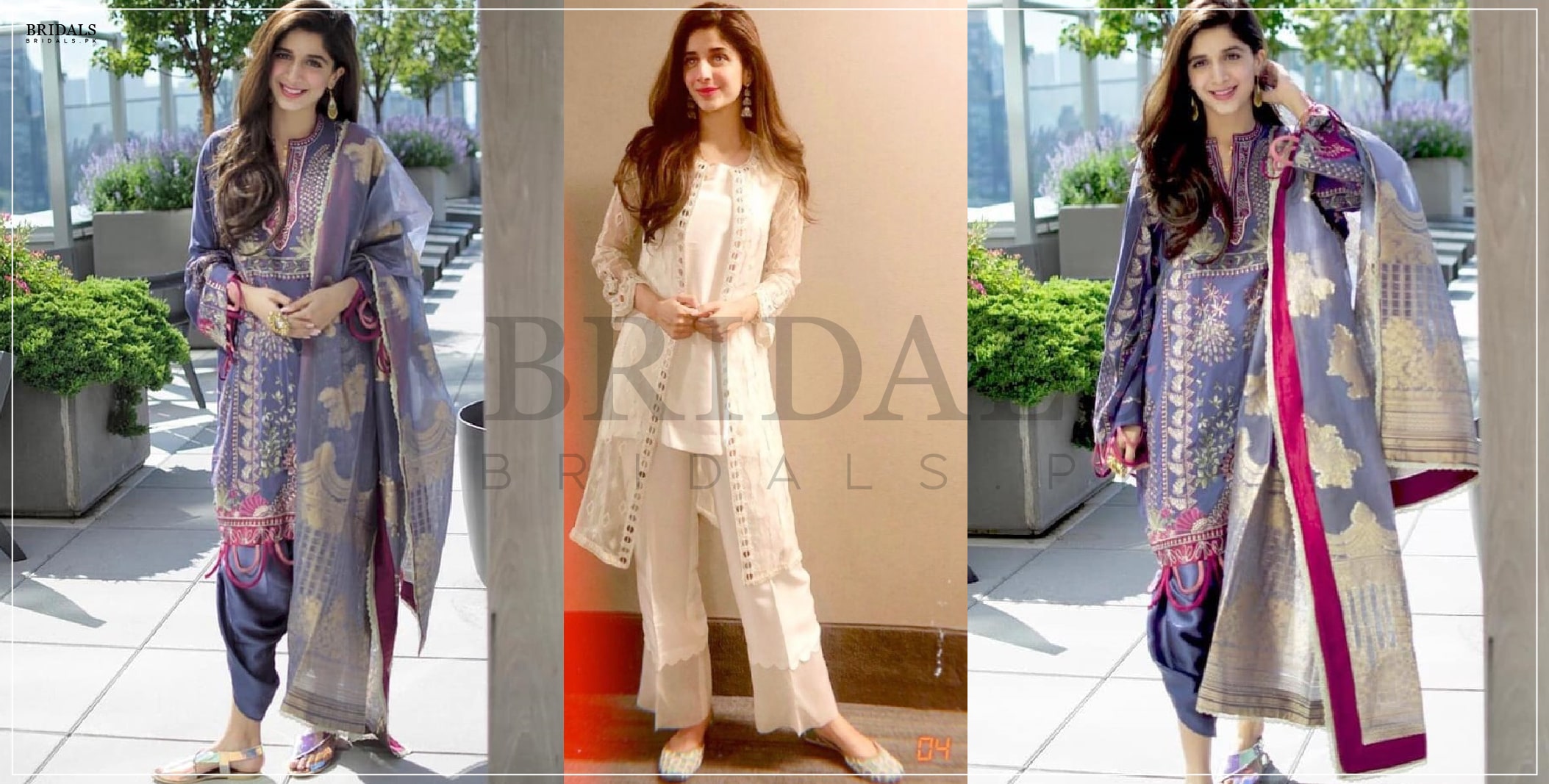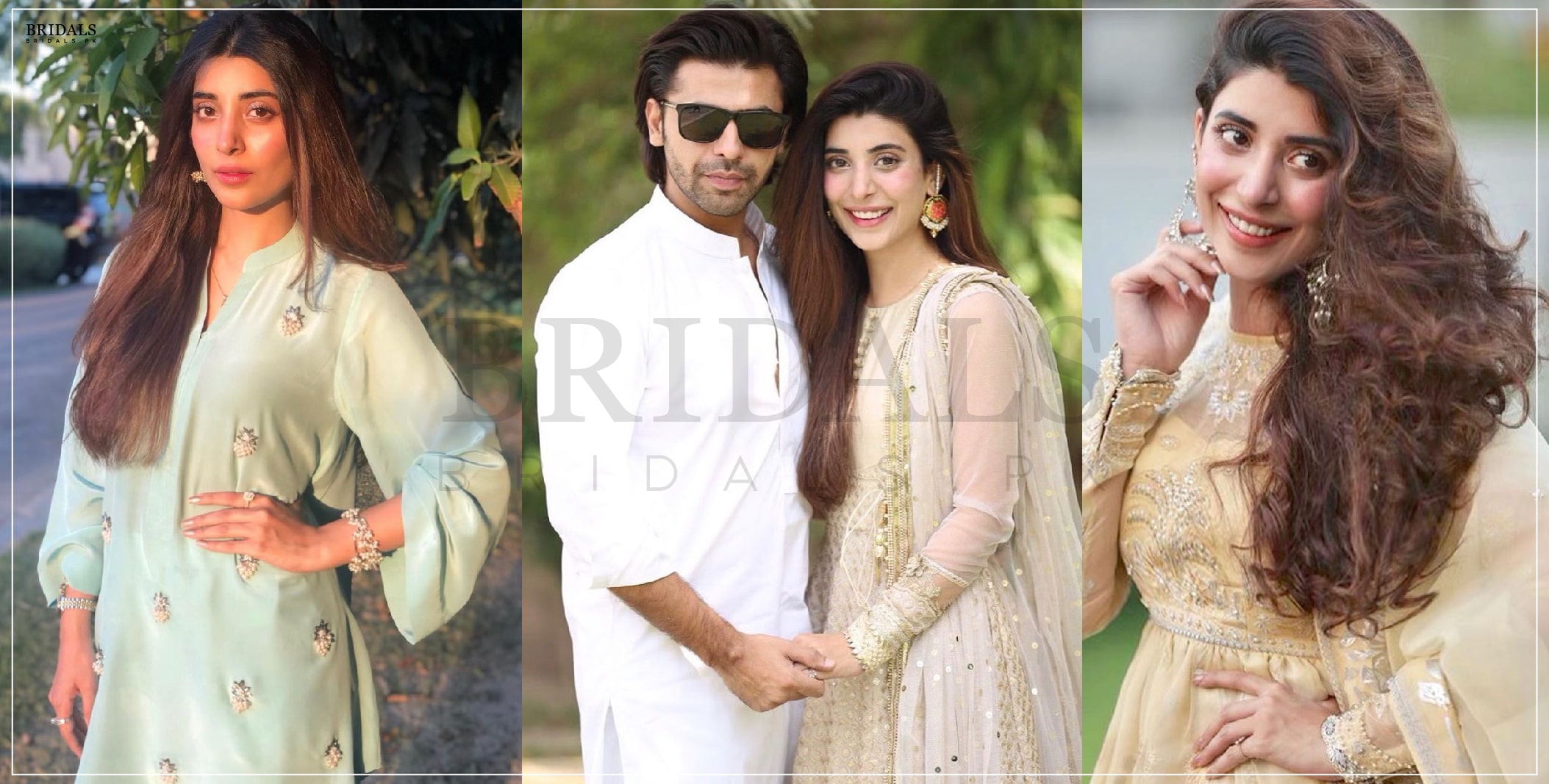 4. Saba Qamar
Chand Raat: Saba Qamar's chand raat outfit was a white and dull gold Erum Khan couture ensemble.
Day 1: Saba Qamar decided to dull things down a bit and wore a simple outfit by Mohsin Naveed Ranjha on the first day of Eid and paired it with a pair of yellow khussas!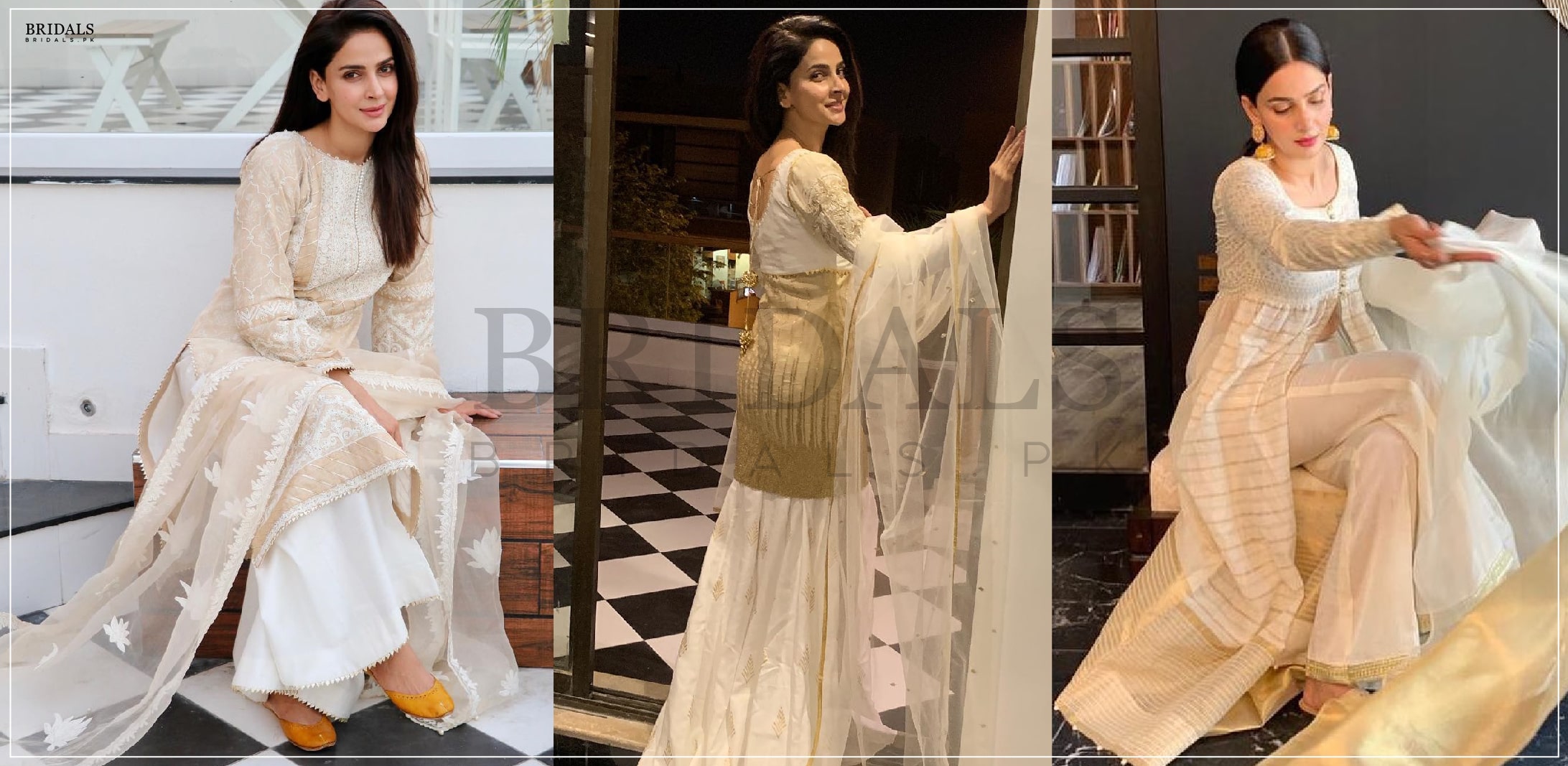 5. Aiman and Minal Khan
Our favorite twins kept things sweet and pastel this Eid, aside from Aiman's black dress on the third day.
Day 1: Both sisters chose outfits form MNR. Aiman was clad in a sea-green outfit while Minal was wearing an off-white anarkali.
Day 2: Aiman was very festive for her first Eid with husband (Muneeb) and chose a denim blue ensemble by Faiza Saqlain.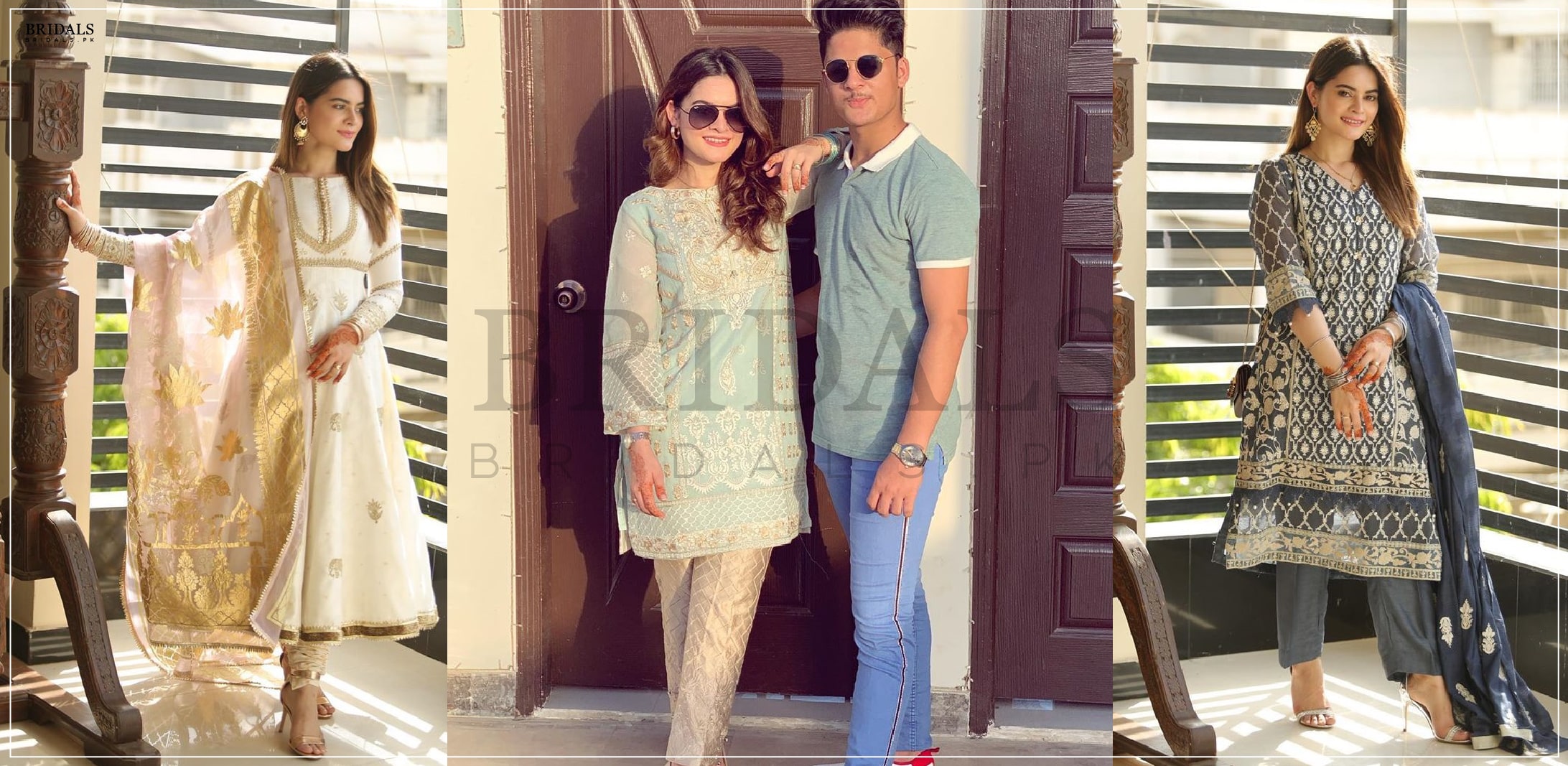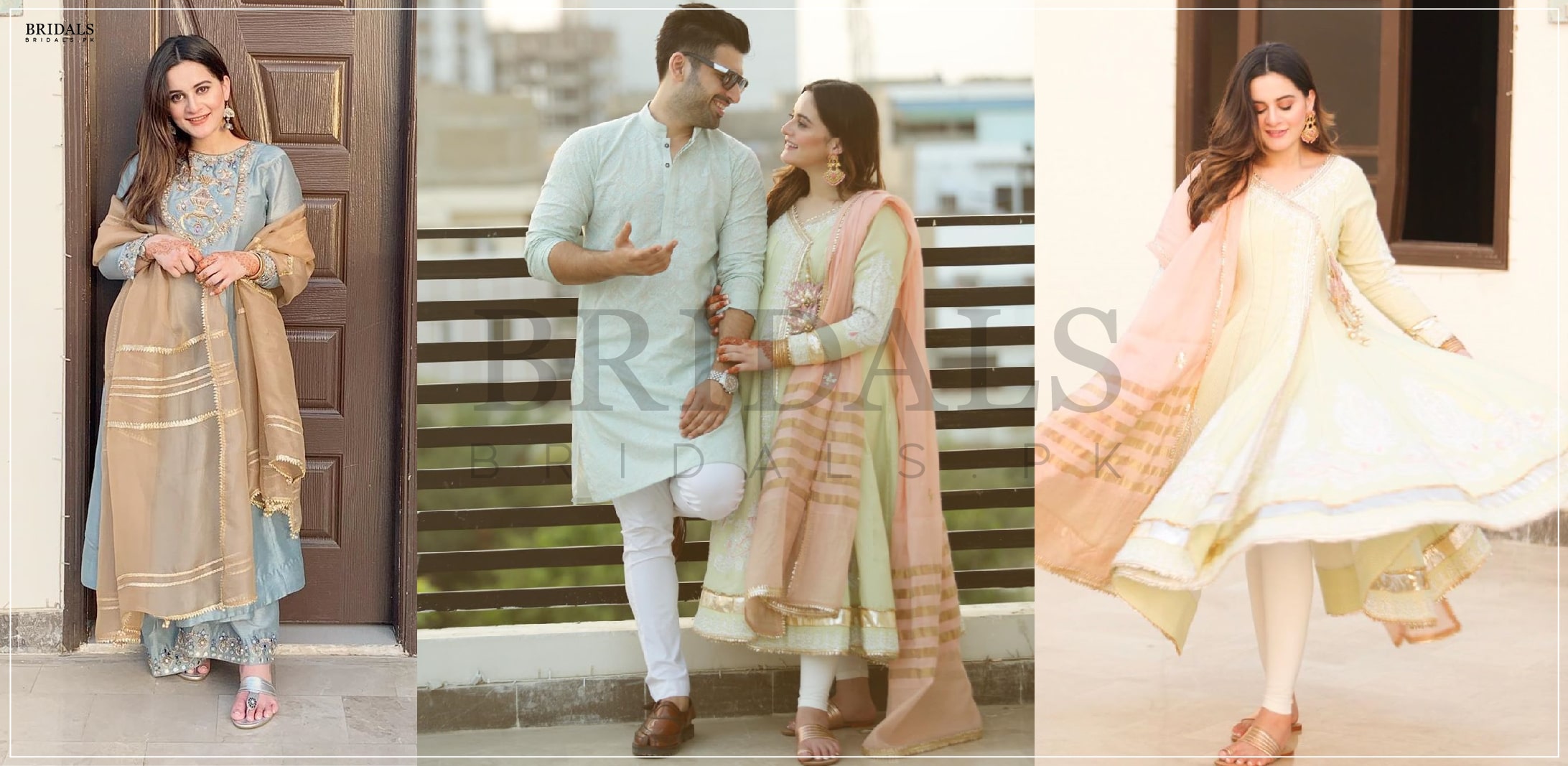 6. Hareem Farooq
Hareem Farooq chose a white, understated Zainab Chottani ensemble for her Eid day. She paired it with beige khussa and all we can say is she looked really serene.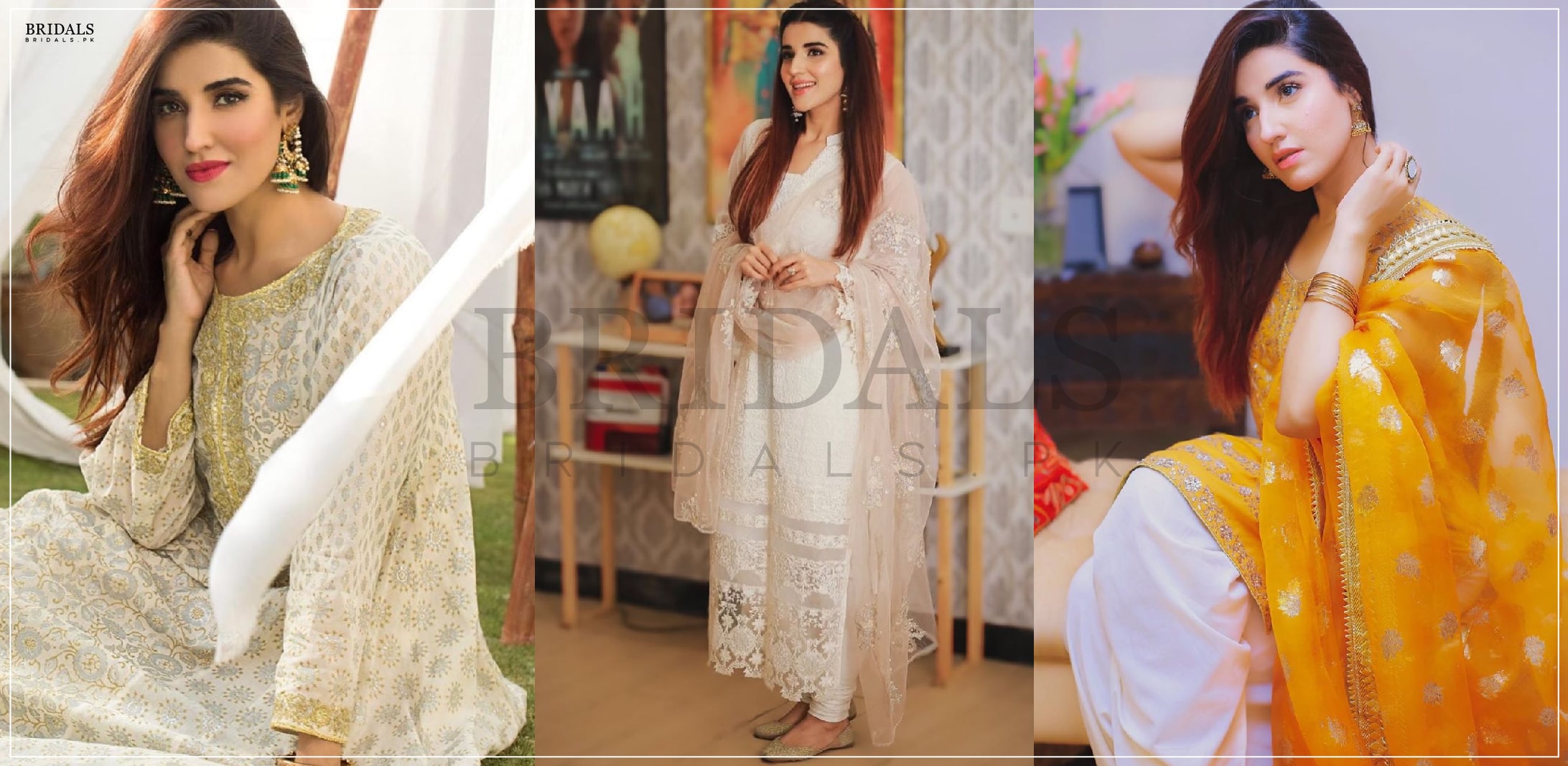 7. Ayesha Omar
Chand Raat: Ayesha Omar chose a white Saniya Maskatiya to celebrate the launch of the new season of her sitcom #bulbulay on ARYDigital.
Day 1: Ayesha Omar wore a Khadija and Ayesha's outfit for her first Eid day in ice blue. It was a rather festive dress that really looked amazing.
Day 3: For the final day of the Eid, Ayesha chose a Hussain Rehar outfit in pale creamy pink. We loved the red floral details that really gave character to this outfit.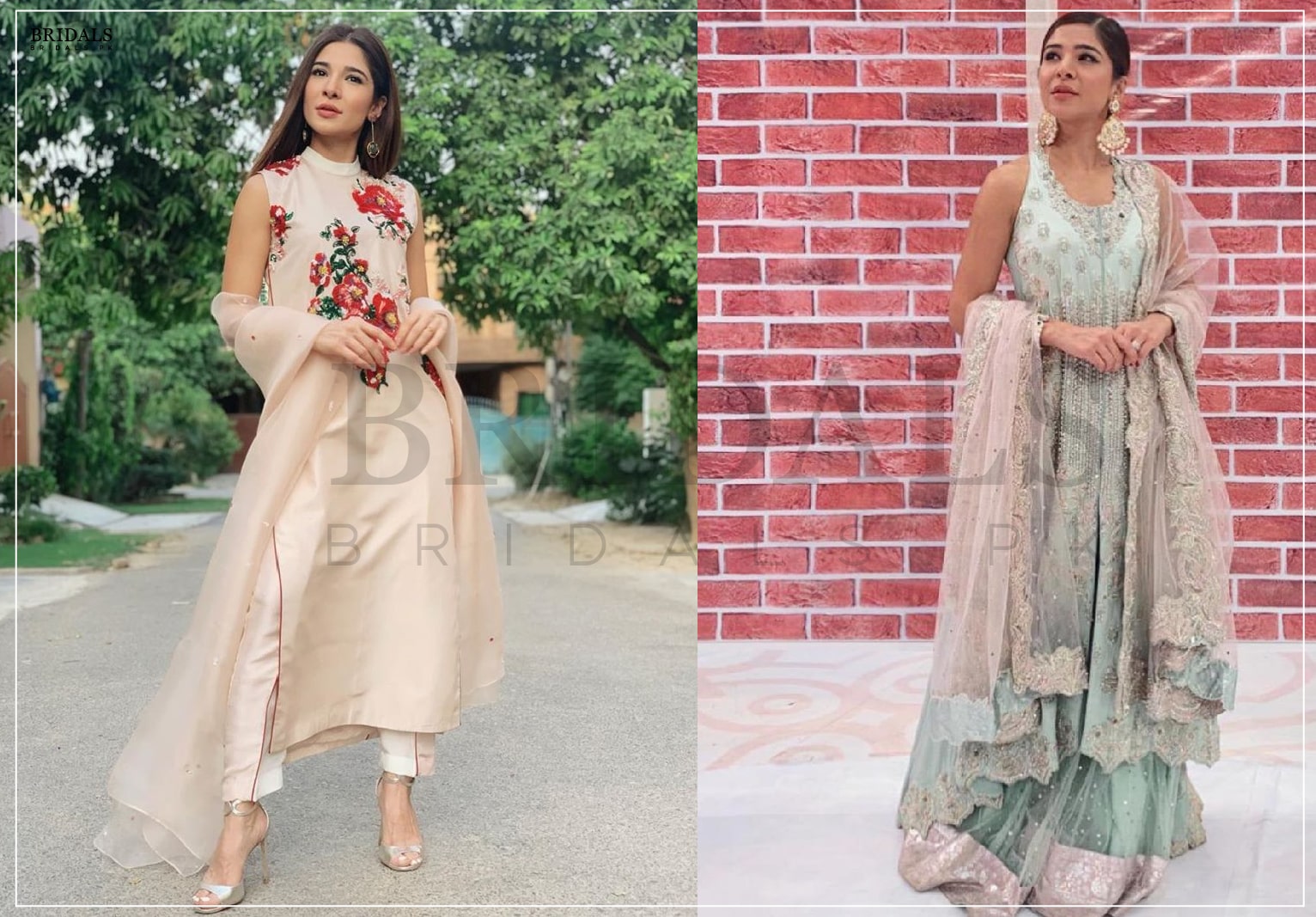 8. Ayeza Khan
The undisputed #BahuGoals of Pakistan; Ayeza Khan went all out on this Eid as well. Hint: A dreamy photoshoot with hubby and kids was also involved.
Day 1: Ayeza wore Mansoor Akram couture for the first day of the Eid. Ayeza was very grateful to the young new designer who made this very festive pink and green dress in under just 48 hours! A true fairy godmother moment there!
Day 2: A silver pink shirt with pink gharara pants is what Ayeza wore on the second day. It was an Ansab Jahangir creation and Ayeza pulled it off flawlessly.
Day 3: For the third day, she was seen wearing a Sana Abbas's all white shalwar kameez ending the pure festive days in all clarity and with extreme grace and poise! (Told you she went BIG, didn't we?)
9. Rabia Butt
Rabia Butt never fails to inspire us and this Eid too she brought forward some of her best looks.
Chand raat: She wore a simpe black outfit and posted pictures of her trying colorful bangles! She gave us major chand raat vibes in a gypsy minimal look!
Day 1: Rabia Butt quite very possibly won the Eid-al-Fitr 2019 with a smoking red outfit created by MNR. She looked like a perfect example of an epitome of beauty – very original and breathtakingly gorgeous that we are still swooning over it!
Day 3: Rabia wore a navy Saira Rizwan shalwar kameez that was also very vintage looking. She paired it with jhumkas and golden bangles that really tied up the whole look together effortlessly.
These are the Eid looks of some of our favorite celebrities! Let us know whose outfit you loved best!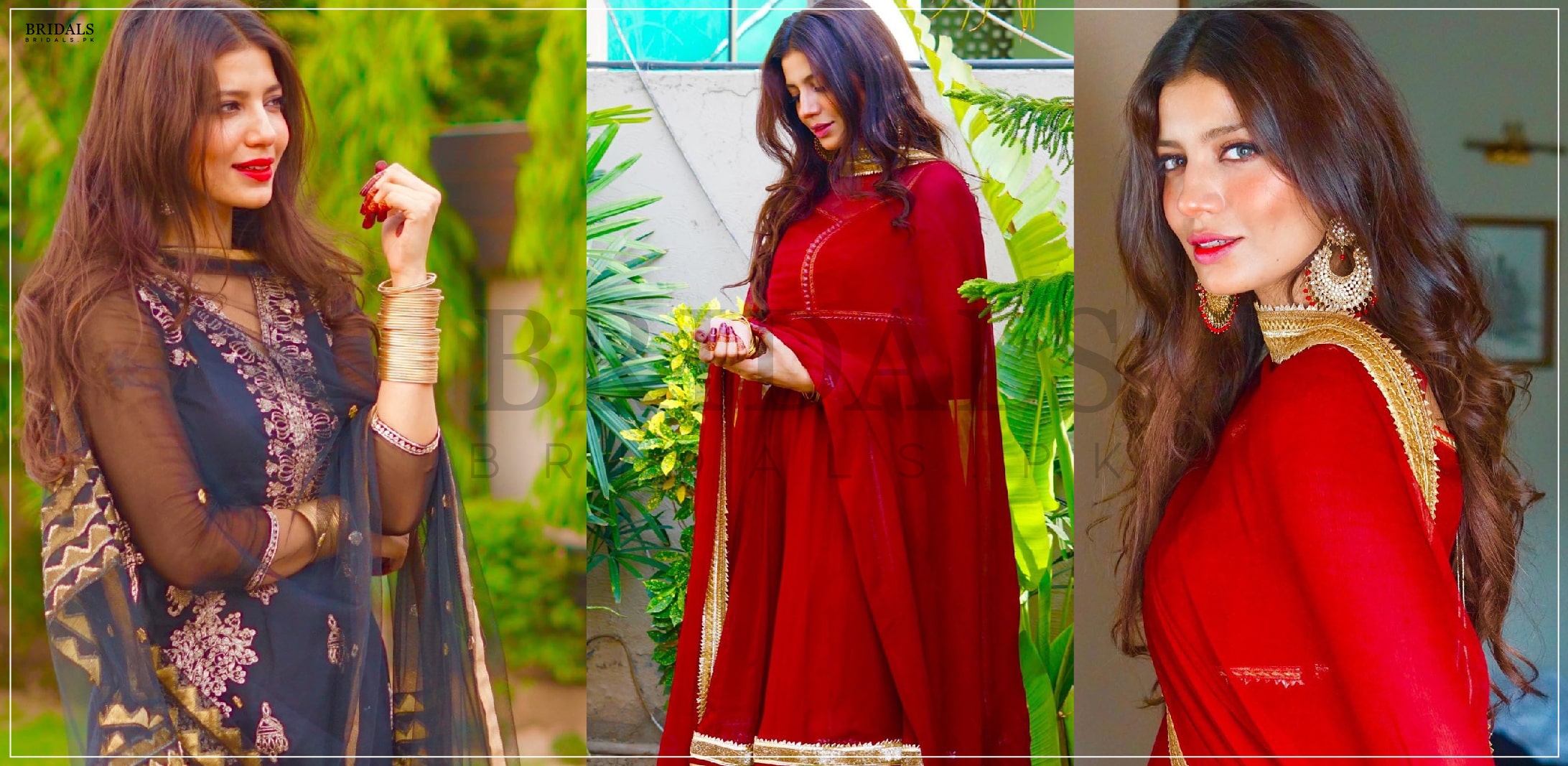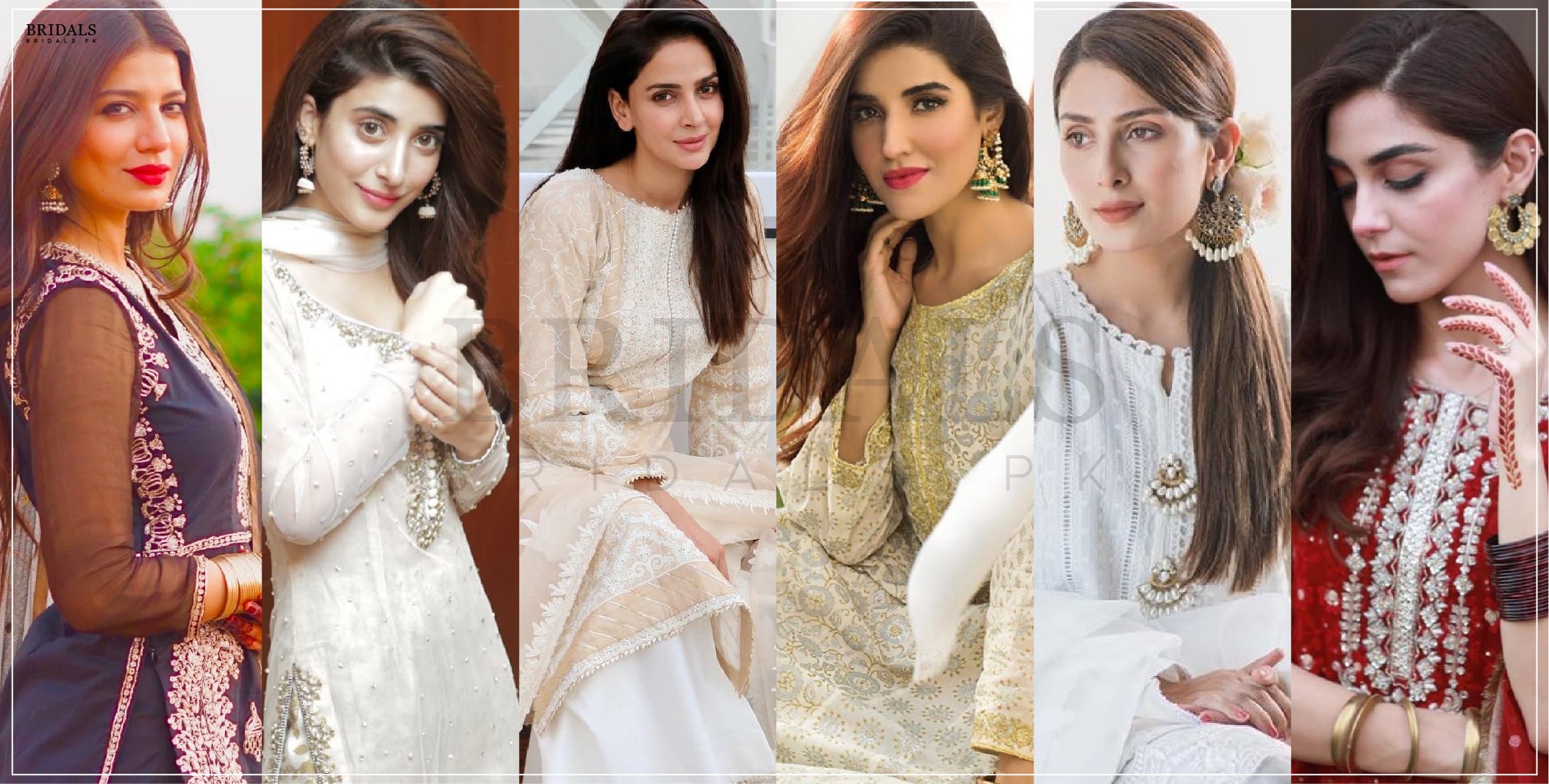 These 11 Celebrities Won Our Hearts With Their Eid Outfits!!!
Description
Find out which celebrities adopted rouge and noir as their mantras this Eid!
Admin
Bridals.PK
https://blog.bridals.pk/wp-content/themes/bridal/images/logo.png