Farah Talib Aziz Presents Elaheh: Every Bride Will Look Like a Mughal-Era Portrait
Jun 15, 2019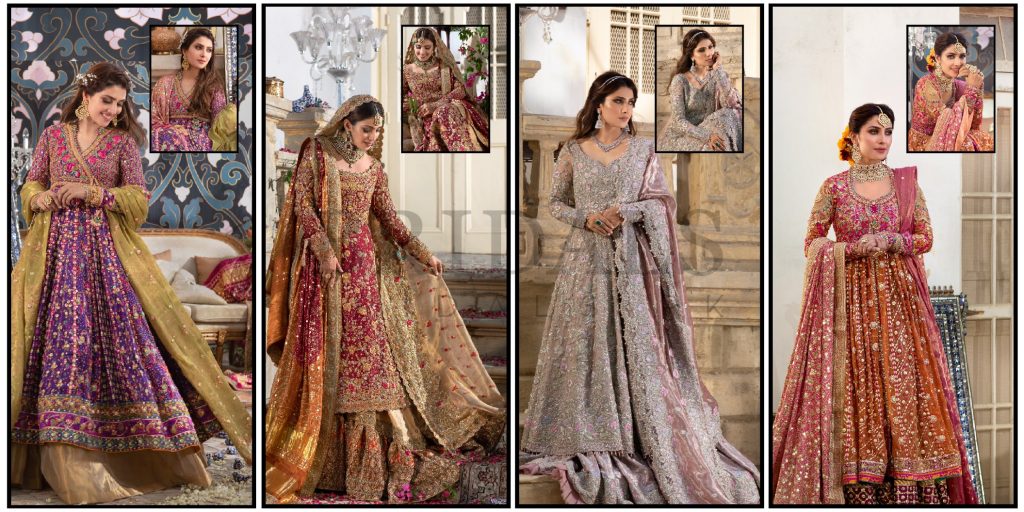 Article by: Hazafa Hasan
We have said this before and we will say this again; we at Bridals.pk love Farah Talib Aziz. The woman can do no wrong in our eyes. Her clothes (both pret and lawn) are always so pretty and feminine that they move our hearts. We feel pretty just looking at her designs. She has always been great when it comes to designing the bridal gowns and dresses. Her sense of color is a bit quirky but her silhouettes and embroidery patterns are the embodiment of all that's best about eastern fashion. She loves to experiment with her palette and as you will scroll down, you will see why it works out so gorgeously.
FTA collaborated with gorgeous Ayeza Khan in her latest bridal collection that she calls Elaheh. It's a classic FTA feast of a royal looking festival, in colors that seemed to be inspired from summer sunsets. The strong sense of regal beauty is very much there in the four outfits. The burnt oranges, magentas, lush greens, golds and reds are blended to give your bridal look the right Mughal princess touch. While there are few other dresses in blush pinks, shimmering silvers and lovely lavenders to cater to your preferences. You are bound to fall in love with Elaheh because of the breathtaking designs!
The Shahwar Bridal
The red heavily embellished bridal incorporates 3D hand embroidery with tilla, zardozi and knotted thread work. The diamante detailing and handmade jali really makes it pop. You will also find the gold banarsi farshi gharara with red/orange chatta patti to be very retro. The tissue dupatta with Dhaagha booties (flowers) to be the perfect final touch.
Afsaneh Bridal
Ethereal in blush pink, Afsaneh features intricate silver embellishments, diamantes detailing and hand-embroidered rosettes. The silhouette is a kalidaar shirt with handmade jali and 3D embellishments. The classic threadwork throughout is done in a contemporary way to really give your look the ideal modern touch. The trailing farshi gharara is made from blush and mauve banarsi silk. The dupatta is the best final touch with its silver tissue fabric that features heavy diamantes spread with a four-sided Chantilly lace applique border. It's every girl's dream come true!!!
Rangeen Kalidar
The perfect Mehendi or Shendi outfit, this kalidaar is appropriately festive with traditional orange and pink hues, embroidered with gota, zardozi and handmade florets. The hanging tassels and edges really bring out the flair of the dress with the right detailing. Additionally, an orange dupatta compliments the whole outfit with colored borders. The double tones kataan silk lehenga in emerald green is embellished with gota and threadwork that offer the right contrast.
Sheesh Anarkali
The regal purple angrakha is made with charmeuse silk into a kalidaar cut, with a widespread flair. The dress is hand embroidered with sheesha and gota. The festive shades of magenta pink, Mehendi greens, turquoise blues and gold thread details.  The olive green and gold dupatta compliment the outfits with gold and sheesha booties (flowers). The golden lehenga with can-can supports and compliments the outfit into a perfect completion.
Speechless? Told you that you will love this latest Elaheh Collection now didn't we? Farah Talib Aziz has casted a spell on all of us and yet again as she has shut the show down by raising the couture bar extremely high!
Farah Talib Aziz Presents Elaheh: Every Bride Will Look Like a Mughal-Era Portrait
Description
Farah Talib Aziz has casted a spell on all of us and yet again as she has shut the show down by raising the couture bar extremely high.
Admin
Bridals.PK
https://blog.bridals.pk/wp-content/themes/bridal/images/logo.png